Seagate External Drive Cannot be Detected/Recognized in PC Windows 10/8/7

By Mike Ferrer, Last updated on 12/12/2018
Background
External hard drive has great advantage in storing a large amount of data, so a lot of people would like to buy an external hard drive with USB port in order to save a number of data conveniently. Seagate external hard drive is often widely used by many people due to its good performance. However, some people may find that the Seagate external hard drive is not recognized by computer when they plug the external drive into the USB port of the PC. If it is a new Seagate external hard drive, you may take it back to manufacturers to ask them to solve the problem. However, if the Seagate external hard drive has been used for a long time, but it cannot be recognized suddenly with unknown reason, what should you do next?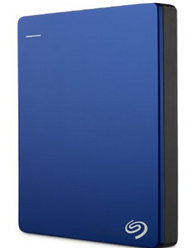 NOTE: The solution for unrecognized seagate hard drive also applies to other brands of external hard drive like toshiba, samsung, wd... and even the internal hard drive.
Seagate external cannot be detected or recognized and won't show in PC
There are many possible reasons that may explain why your hard drive is not showing up or detected, and the most frequent causes may come from the following.
Virus infection that brought the seagate external drive not recognized
Power failure that made damage to the hard drive
Logical damage of seagate disk due to long time of use and go corrupted all of sudden
Software failure that made the disk fail to work
Other damages or human operations...
Seagate External hard drive not detected in Disk Management
If you cannot find your external hard drive at Disk Management, your external hard drive is probably damaged. You need to try it on another computer. If it is still not working, you'd better to change another external hard drive. The detailed solution for this one may be:
Step 1: Recover data from the hard disk if they are of importance. (very important!!!!!)
Step 2: Change a usb cable, not working? Change another PC, not working? ->Step 3
Step 3: Usually we would recommend you turn your software to a local recovery center to ask help from a professional. If you cannot afford the price, then just buy a new hard drive.
Step 4: Usually this is risky and needs some corrage to perform under the condition that you do not want the inside data and you cannot afford a local repair service. -> Open your disk to see whether there is anything you could do to adjust the disc and the head of reader. You may watch the video on this page.
External hard drive is undetected in PC but showing at Disk Management
Quick solution to fix undetected external hard drive without software
You can find the "Device manager" under "Computer Management", find your external hard drive and uninstall it, then you can plug your external hard drive, then restart your computer, check if it works.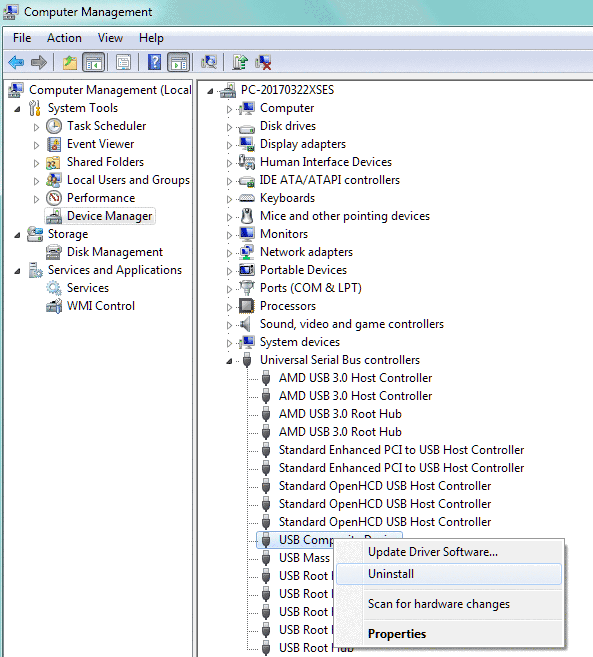 How to fix external hard drive cannot be recognized?
If reinstalling the undetected external hard drive does not work, you need to try another solution, but before this, you need to recover data first, because most of the solutions to fix undetected drive can format your data on it.
Recover data from undetected/unrecognized external hard drive
If you don't have any clue when Seagate external hard drive is not recognized by computer, here are some useful suggestions. First of all, you should make it clear if the Seagate external hard drive is physically damaged. If it is not physically damaged, you can rely on iCare Data Recovery to perform data recovery on the Seagate external hard drive. You don't need to worry that the external hard drive is not recognized. As long as you connect the external hard drive to your computer and run iCare Data Recovery, the software is able to detect the Seagate external hard drive even if cannot be recognized by PC. Then the software is able to deep scan the external drive to search for all files stored on the Seagate external.
How to Recover Data from Unrecognizable Seagate External Drive

Step1. Free download and install Seagate hard drive recovery tool on computer. Run the software and choose proper recovery module.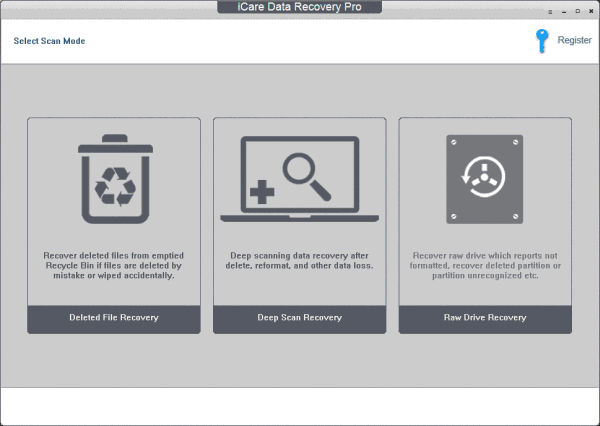 Step2. Choose the Seagate external hard drive and the software will scan it for lost files. You need to wait when the software is scanning.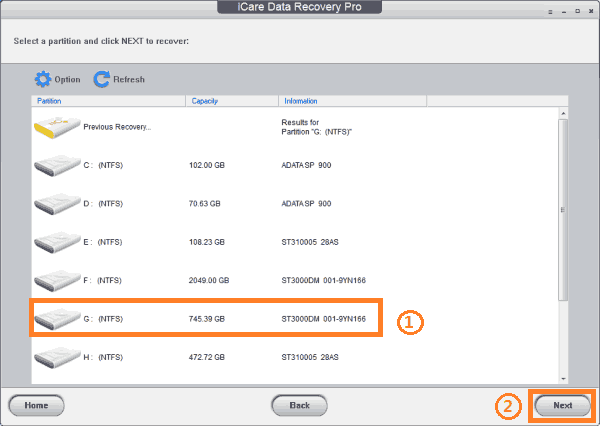 Step3. Preview the files after scanning and then choose the files lost from the Seagate external hard drive to recover and store them.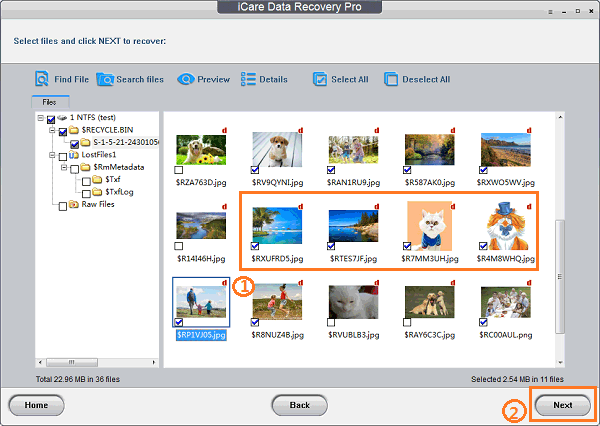 Pleases do not try any further operation to fix the Seagate external hard drive when it is not recognized by your computer! The first thing you should do is to use a data recovery tool to scan the Seagate external and recover all inaccessible data from it. iCare Data Recovery Pro is able to work on Seagate external HDD to recover any file even when the device is not recognized by PC.
>> Download the data recovery software now and install it on computer's hard disk partition. Then, you can run it to deep scan the Seagate external hard drive to search lost files.
Fix Seagate hard drive not detected in Windows 7/8/10 by formatting
After you have recovered the data, you can fix the undetected problems with the format tool of Windows system.
Warning! Any formatting or using of cmd diskpart/chkdsk would bring damage to the inside data of seagate hd, so it is required that you have already get the data restored before fixing this issue.
Video Tutorial: how to fix seagate hard drive not recognized
Format the pen drive, first try quick format tool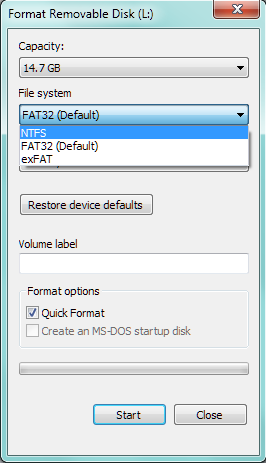 Format external hard drive to fix undetected error
If Windows fails to complete the format, you can try Disk Management to format it.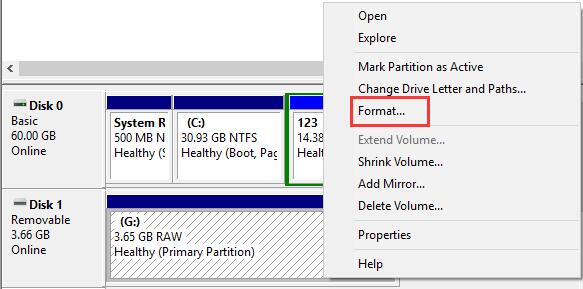 Format the undetected external hard drive with Disk Management
The most effective tool to format the undetected external hard drive is CMD command prompt, you can also try this way first.
Run CMD by pressing "Win+R" and then type"format l: /fs:ntfs"(l is the drive letter of your raw external hard drive)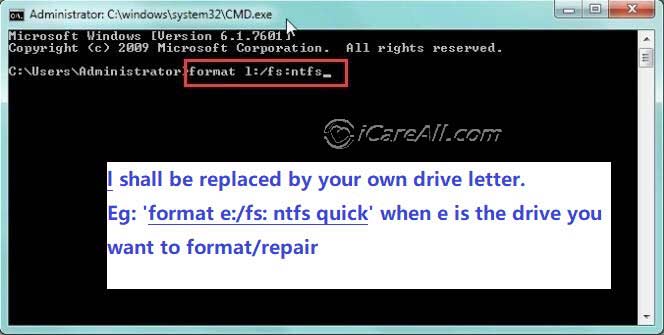 Repair corrupted external hard drive with CMD
Other similar articles that you may want to read
---
Related Articles
Other Articles