File or Directory is Corrupted and Unreadable on Seagate External Disk
Last updated on 17/01/2017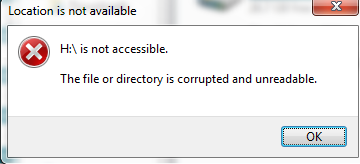 Seagate external hard drive recovery when its file or directory is corrupted and unreadable - iCare Data Recovery for unreadable Seagate portable HDD recovery
When connecting a Seagate external hard disk drive to your computer or laptop, it may be recognized as an external device in "My Computer". However, when you double click the external device and try to open it, Windows system may pop up an error message:
X: drive is not accessible. The file or directory is corrupted and unreadable (X refers to the drive letter of the Seagate external hard disk drive).
When receiving this error message on your Seagate external hard disk drive, you may want to fix the error without losing any data from the external.

>>Quick Solution for Corrupted Seagate Portable Disk Restoration
Download iCare Data Recovery Pro to find back data from corrupted and unreadable Seagate external hard disk drive on your computer.
File Recovery from Seagate External Disk When File Directory Is Corrupted
The reasons for the error mentioned above may be different, but if you don't want to lose any data, iCare Data Recovery is helpful. iCare Data Recovery is a specialized data recovery tool for almost all Windows users to solve all kinds of data loss problems from all storage media including external hard disk drive. This software can work on all brands of external hard disks, so you can rely on it to recover data from your Seagate memory device drive when Windows tell you the error message.
Video Tutorial: how to recover corrupted and inaccessible file or directory
Steps to Restore corrupted and inaccessible external disk file

Step1. Free install iCare Data Recovery on the computer. Insert the Seagate external disk to the computer and start recovery with the program.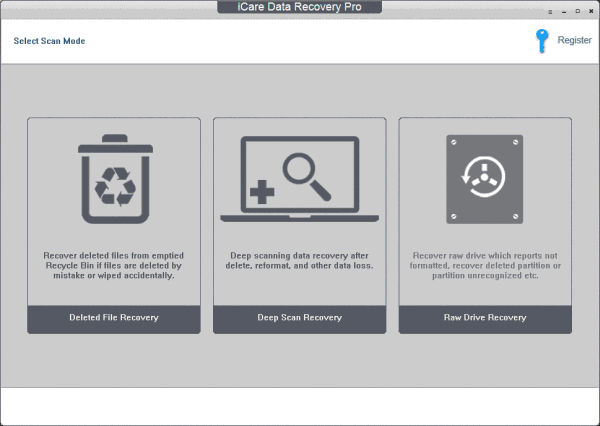 Step2. Click the disk which saved your lost  and start to scan.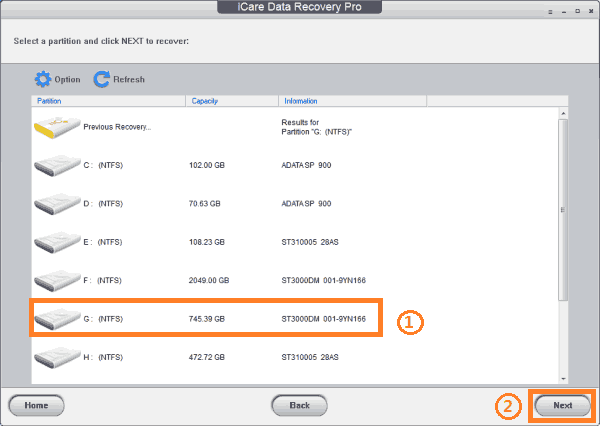 Step3. When scanning is finished, preview the files list on your disk and choose which to recover.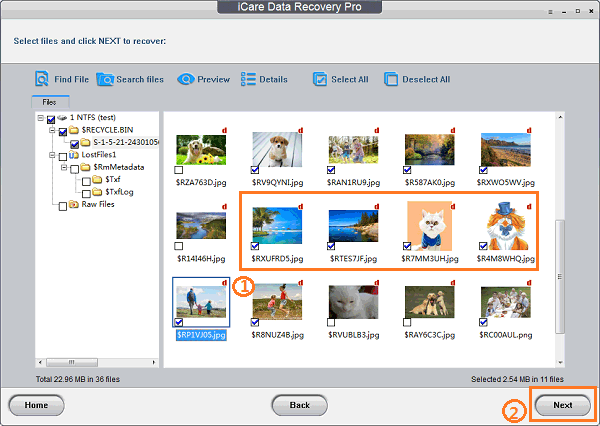 With the data recovery software, you can also recover files when pen drive file system is corrupted and becomes inaccessible.
Useful Tips for Seagate External Hard Disk Recovery
1. Don't format the Seagate external hard disk drive to try to fix the error before you can recover all important files successfully.
2. You had better stop doing anything to repair the error before data recovery.
3. Take good care of the Seagate memory card drive to protect it from being destroyed or damaged.
4. If you can backup important data regularly, you won't feel so upset when receiving the error message and cannot access the external hard disk drive. Therefore, it is recommended to backup important data regularly to avoid unexpected and unnecessary data loss.
>> Free download iCare Data Recovery now to get back files from Seagate storage device which is not accessible because file directory is corrupted.
Possible Reasons for File Directory Corruption on Seagate External Hard Disk
Usually, if Windows shows the message: file or directory is corrupted and unreadable on your Seagate external hard disk, the most possible reason is that the external hard disk is corrupted and Windows system cannot recognize it anymore. Well, the reasons that may cause an external hard disk to be corrupted might be:
1. The Seagate device is infected with virus
As a computer user, you may visit different sites every day. You may also know that your computer can be infected with virus easily if you visit some sites that have virus or Trojan. If your compute is infected with virus, your Seagate external hard disk drive will also be infected with virus if it is connected to the computer. You must be quite familiar with the harm of virus, it will corrupt the external hard disk or files stored on the external. If the files or storage device is corrupted by virus , you may receive the error message like the file or directory is corrupted and unreadable.

2. There are damaged sectors on the Seagate external hard disk drive
A Seagate external hard disk might be corrupted due to bad sectors. In this time, you may also receive the error message. You can run Windows error-checking tool to fix the damaged sectors and try to format the device after data restoration.
Anyway, the error message mentioned above might be caused by various reasons. As long as your device has not been physically damaged, you can use data recovery program to repair data on the external disk.

Related Articles
Other Articles