SanDisk SD/SSD/USB FLASH Format error Including corrupted RAW Sandisk won't format in Windows 11/10/8/7 - 3 Fixes
Summary:
We trusted SanDisk products for data storage and they showed great liabilities among many kinds. However we cannot deny the possible errors that may happen to digital storage device even it was SanDisk after using the micro SD card or cruzer flash drive for a while like the errors 'You need to format it'. Here in this article we will show you 3 ways to fix the SanDisk format error or when Windows can't format sandisk sd/usb.
SanDisk storage media is not formatting
What if Sandisk SD card or pen drive turned out not formatting to you one day all of a sudden? As the following picture showed what it was like?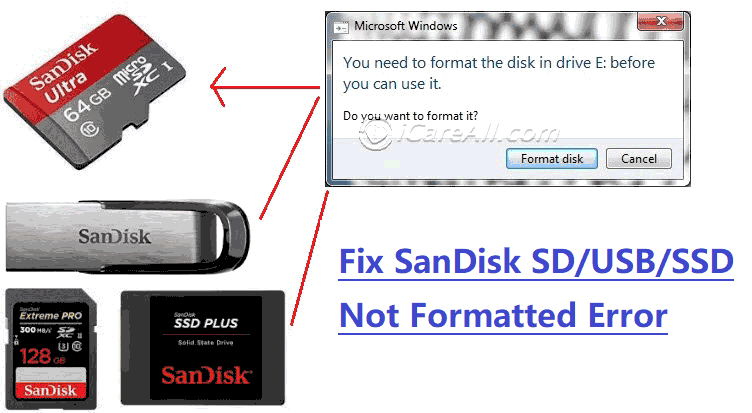 When your SanDisk storage device is also reporting some same kind of errors, don't worry, the following parts may guide you the right way out smoothly and safely.
Solutions Parts
Here in this article we would share the following solutions.
Should I format a Sandisk SD/Cruzer
When your SD/Micro SD on your mobile or camera cf card asked you to format it, its filesystem is damaged and is mostly in 0 bytes, should you format it on your phone or camera?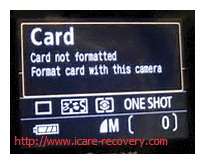 Sandisk 'Card not formatted Format card with this camera' message
Not only on camera, android phone, but also it showed the same error on Windows PC laptop or desktop when you get your sd/cruzer connected to it, you are not recommended to format it.
DO NOT FORMAT THE SANDISK IF THERE WAS SOMETHING IMPORTANT INSIDE OF IT
Stop using your Sandisk media and stop making changing to it
Do not repair it(Never do CHKDSK or repairing bad blocks, remove virus etc) before data were successfully restored. This repairing can only be operated when you make sure no important files are inside.
SanDisk Free Recovery Software Download - 2 free Sandisk recovery tools
In this part, we would like to share two free programs that can not only recover files from not formatting error but they are more capable of Sandisk recovery, for example, recovering deleted files from Sandisk, recovering files after formatting Sandisk, recovering files from damaged Sandisk etc.
Part1: Recovering files from Sandisk with iCare Pro - free
iCare Pro is free for recovering files from Sandisk and it could find as many files as compared with some same kind tools. All you have to do is to download this program for free, connect your Sandisk to a Windows PC and then start recovery.
Step1. Insert the SanDisk memory card to your computer. Download, install and run the data recovery software on your computer. Choose a proper recovery module.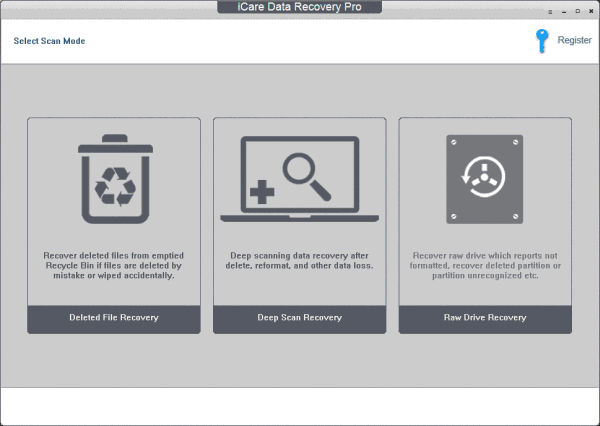 Step2. You can select the SanDisk card as target device so that the software can scan it for lost files. Then, you only need to wait when the software is scanning.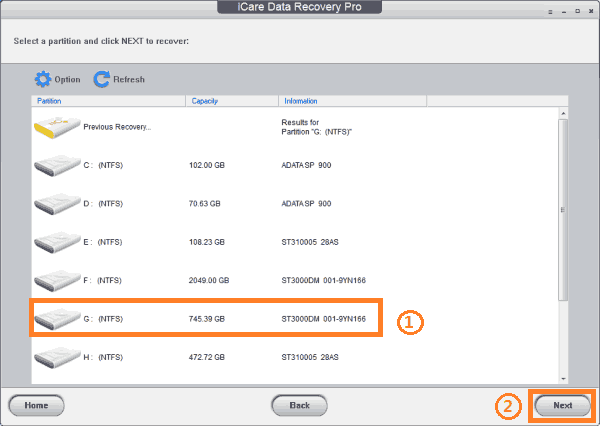 Step3. You can preview some files after scanning. Then, you should choose a needed files and save them.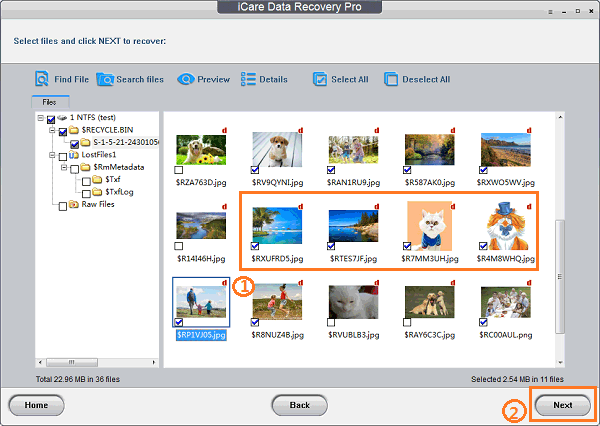 Or you may watch the following video for a recovery guide.
iCare Data Recovery software is memory card&flash drive/ssd recovery software, which supports:
* CompactFlash
* MultiMediaCard
* RS-MMC
* xD-Picture Card
* SD card, miniSD Cards , and microSD Card photo recovery after format
* Gruvi DRM memory cards
* Memory Stick, Memory Stick PRO, Memory Stick Duo, Memory Stick Pro Duo, Memory Stick PRO-HG Duo, Memory Stick Micro (M2)
And more types of Sandisk cruzer, SSD...
Part2: Recover files from Sandisk with Recuva -free
Recuva has free and paid edition that you may directly download the free edition which has all the functions provided in the software. The only difference between the free and paid one is commercial users needs a paid code.
For most users if it was for your own personal use, you may directly use its free one.
Recuva is mostly welcome on the internet for recovering deleted files for a long history.
Here are the download links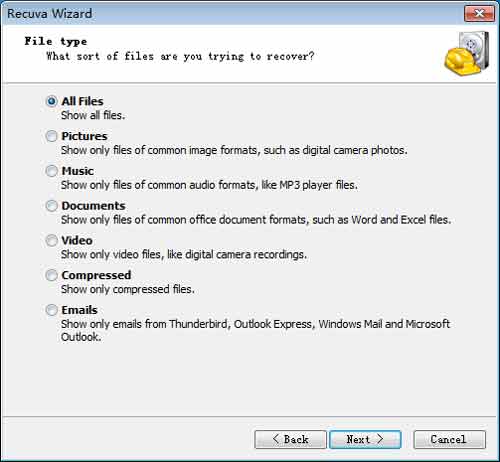 Steps for using Recuva
Use it on your PC Windows 11/10/8/7
Get your format problem media connected to PC and run Recuva
Let Recuva scan your device
Save your files onto another media
The only drawback on this freeware is that it may not find the most files compared with other recovery software.
How to format a Sandisk SD/Cruzer with SD/USB Formatter
There are many ways that you may format a media and here we would like to share 2 frequent ways that you may format a Sandisk with Sandisk formatter tool on Windows 11/10/8/7 pc laptop or desktop.
Preparations: you need to get your Sandisk sd or micro sd, cf connected to PC with a card reader, if it was Sandisk cruzer or ssd, you need to get it connected to PC directly or with a usb cable if it needs.
Format Method #1 - Format by right clicking option
This is the simplest format method available on Windows PC.
You may open 'This PC' and see your Sandisk is inside, and then right click your Sandisk.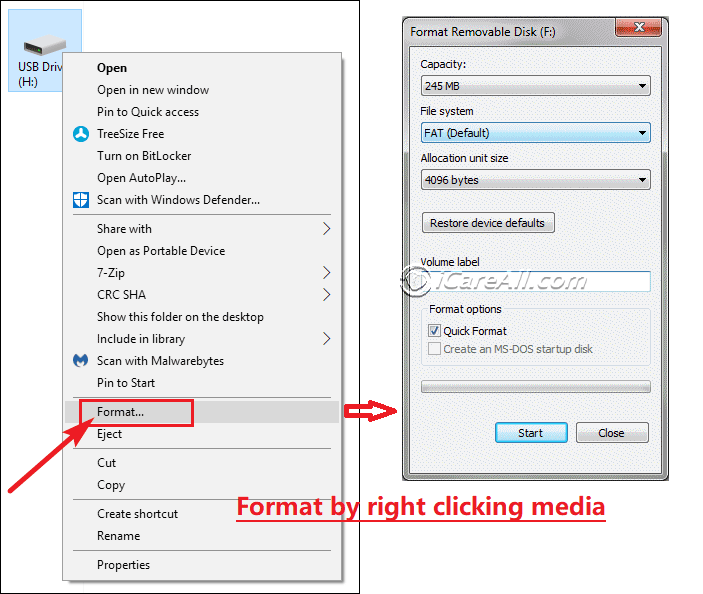 Right clicking Sandisk to format
Format Method #2 - Format Sandisk under Disk Management
Here is how to find Sandisk under Disk Management in Windows 10.
Right click 'This PC' -> 'Manage' -> 'Disk Management'
Click 'Disk Management' with your mouse (left click, one click no double), and it would load all media device on your PC that can be detected in Windows 10.
Right click your Sandisk under Disk Management sees it, and then click the 'Format' option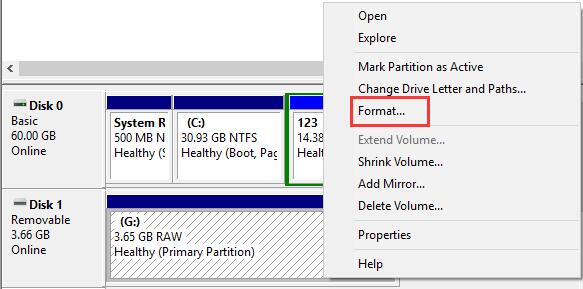 Right clicking Sandisk to format under disk management
If the above two methods failed to format your Sandisk, try the following 10 free ways and tools free.
Recommend: 10 free disk/usb format tool to force a formatting
3 Top Ways to Fix Sandisk won't format error or Windows unable to format Sandisk
VERY IMPORTANT: YOU CAN ONLY REPAIR YOUR SANDISK WHEN THE DATA HAVE BEEN RESCUED OR THERE WERE NO DATA YOU NEED INSIDE THE SANDISK MEDIA.
SOLUTION#1: Repair damaged sandisk using cmd diskpart
Type 'cmd' -> Type 'list disk' -> Type 'Select disk *' -> Type 'format fs=ntfs quick'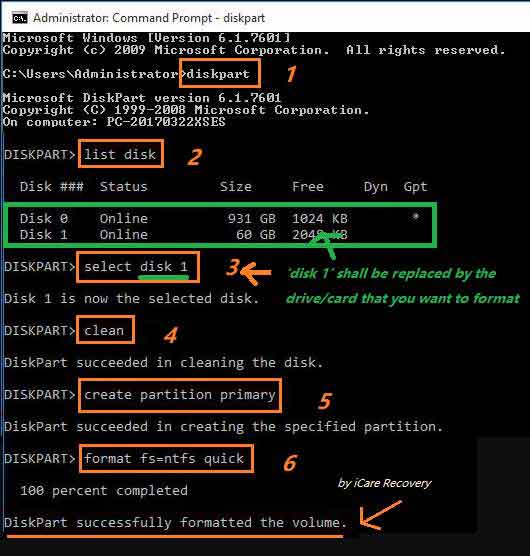 Fix sandisk using cmd
If you want to convert the file system to fat32, or exfat, you may try:
'format fs=fat32 quick' or 'format fs=exfat quick'
For more details about how to use cmd to repair damaged Sandisk, you may read this article: how to repair Sandisk using diskpart to format
Video Guide: how to use cmd to repair damaged Sandisk by converting it to fat32/ntfs
SOLUTION#2: Repair corrupted Sandisk using filesystem repairing
It is provided by Windows file system repairing that you may get it by right click your Sandisk and then see its property -> Tool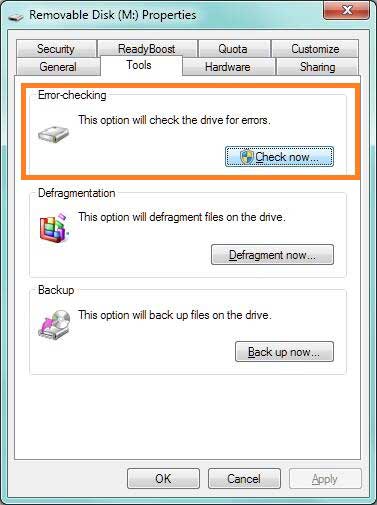 Fix corrupted sandisk by Windows repairing tool
And then you need to check all options here, and then click 'Start'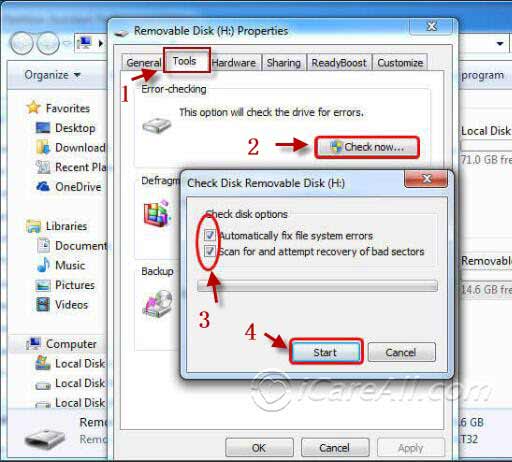 Fix corrupted sandisk by Windows repairing tool
SOLUTION#3: Repair the damaged Sandisk by deleting it in Windows and then creating a new volume with it
You may know how to open the Disk Management in the previous front part of this article if you checked it carefully.
Again: 'This PC' -> 'Manage' ->'Disk Management'
Right click your Sandisk and then go to the option 'Delete' to get it deleted,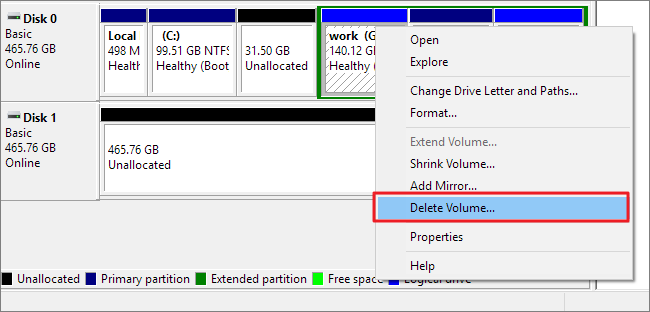 Fix sandisk by deleting it under disk management
And then create new volume also under disk management.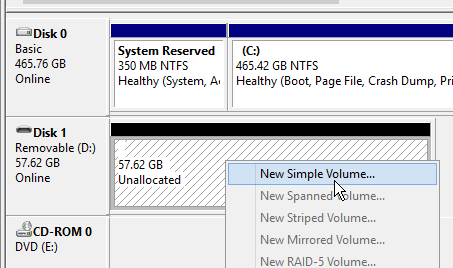 Fix sandisk by creating new volume under disk management
For more free solution of repairing damaged Sandisk, you may check it out here
Recommend more solutions provided on this page: how to fix Windows was unable to format Sandisk
SanDisk Device RAW vs. Not Formatted Error
SanDisk is a corporation that develops various kinds of products such as memory card, USB flash drive, external hard drive, etc. When any device shows not formatted error, its file system would turn to RAW.
==>> To fix not formatted and RAW error on any SanDisk device, please go to this page - How to convert RAW to NTFS file system>>
==>> You can also change RAW to FAT32, please refer to this page - Change RAW to FAT32 without formatting>>
About SanDisk
SanDisk Corporation is an American company that designs and manufactures flash memory card products. The company has a division named SanDisk Enterprise which develops and manufactures a secure USB drive. SanDisk Enterprise was created to provide a solution for enterprises and government agencies to allow mobilization of the corporate computing environment with password protected USB flash drives.
SD/MICRO SD, SSD, CF, MP3&MP4, USB FLASH are some most popular SanDisk products. Or we also call them: Secure Digital memory cards, Sandisk cruzer usb flash drives, micro SD memory cards, internal Solid State Drives, CompactFlash Memory Cards, SanDisk MP3&MP4 player storage capacity, SanDisk Ultra Flair USB...
Some Sandisk users sought help on the internet especially some tech forum. We just collected some of the cases that they were asking for solutions:
SanDisk cruzer not reading and asking for a reformat
SandDisk CompactFlash is 0 bytes not formatted error
Formatting Sandisk 2gb memory card but cannot format
SanDisk cruzer usb 3.0 FLASH DRIVE not formatted
Can I recover data after format unformatted SanDisk
USB Sandisk 256CF Disk in Drive F is not formatted
Last updated on Nov 01, 2022
Related Articles
Hot Articles
External Resource