SanDisk USB Flash Drive RAW File System
If your SanDisk USB flash drive shows RAW file system, you had better stop all operations that you want to perform on the drive to fix the error. RAW drive error does not cause data loss from SanDisk USB flash drive as long as you take correct measures. On the contrary, any improper operation might result in huge data loss.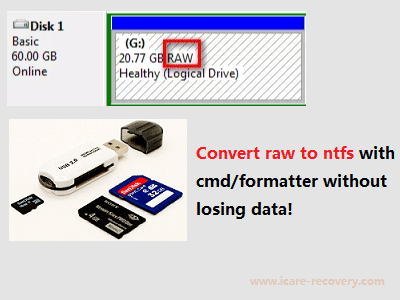 Repair Sandisk raw file system
Video Guide: repair raw Sandisk that is corrupted
Also read: how to format raw usb
SanDisk USB Flash Drive Recovery When Turns to RAW File System
Usually, system will ask you to format disk drive when your SanDisk USB flash drive turns to RAW file system, but you should remember that the first thing you should do is to recover data from the RAW drive. iCare Data Recovery Pro has the function of retrieving inaccessible files from SanDisk USB drive which reports RAW drive error. This data recovery software can be compatible with Windows OS for RAW drive error without touching or hurting any original data. Now, follow the guide below to restore data when your SanDisk flash drive has RAW format error:

Step1. Download and install iCare Data Recovery on your computer. Then, plug the SanDisk USB drive to your computer and select a proper scan mode after running the software.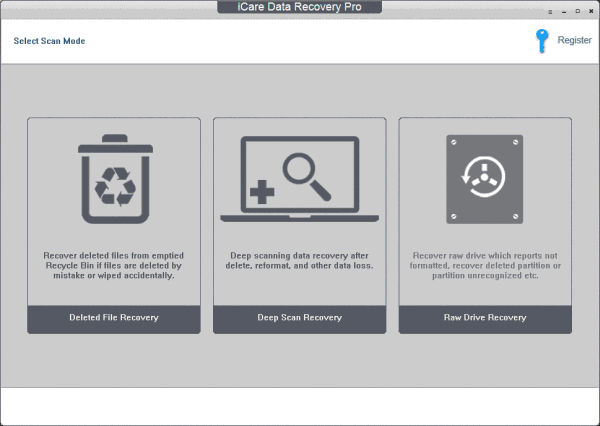 Step2. Choose the RAW SanDisk USB drive and then wait the software to scan it for lost data.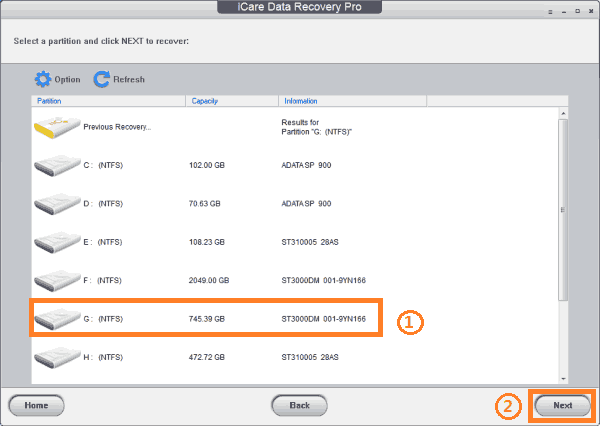 Step3. Preview lost files when scanning is completed and then save the lost files to another drive.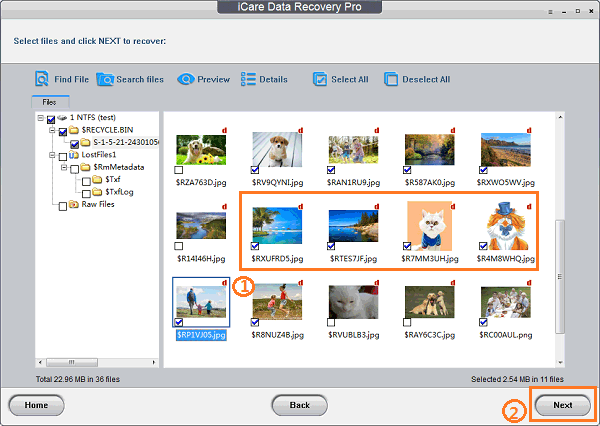 More solution for Sandisk Pendrive raw repairing
Cases about SanDisk USB Thumb Drive RAW Format Error
"I bought a 32GB SanDisk USB flash drive about one year ago, but recently this USB drive has some problem because it becomes inaccessible. When I open it, I received a message saying USB flash drive needs formatting. Checking Properties, the file system of SanDisk flash drive became RAW. Is there a way to recover files from the inaccessible RAW SanDisk USB drive?"
"There is only 0 byte space on my 16GGB SanDisk flash drive when I connected it to my computer. I have many videos and office files on the SanDisk flash drive, but system says the flash drive has RAW file system and I need to format it. Can I recover deleted files from USB drive with CMD if I format it to fix the RAW error?"
"How do I convert RAW to NTFS for my 64GB SanDisk USB thumb drive? If I format the USB drive, I will lose all data on this drive. But I cannot open the USB drive if I do not format it.How to repair usb raw to fat32?"
"Please show me the solution for RAW SanDisk USB drive data recovery. My PC reports Windows was unable to complete the format USB thumb drive. Why? If anybody knows, I will appreciate it very much for your help!"
Solution: Convert raw Sandisk to NTFS/FAT32
The Bottom Line for SanDisk USB Stick Recovery That Shows RAW
You do not need to perform format when your SanDisk USB flash drive shows RAW. iCare Data Recovery and deep scan the RAW drive and search all types of files in batch. This data recovery software also enables you to preview found files before you decide to recover them.

Also read: usb drive raw recovery
---
Related Articles