Free USB Flash Drive RAW Format Recovery
Background
Your USB flash drive becomes RAW? Windows prompts you to format USB flash drive? You cannot open your USB pendrive?
Take it easy, all of these problems can be solved. Keep reading!
Flash thumb drive shows raw error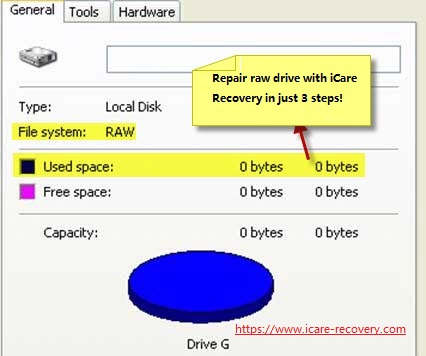 usb drive raw file system
Change RAW USB Flash to NTFS/FAT32
Video - Convert raw usb fat32
Also read: how to format raw usb fat32
Step1: Run CMD.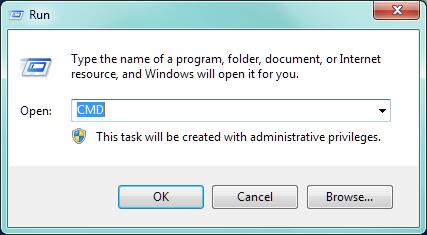 Change raw to ntfs with CMD
Step2: Type"format X: /fs:ntfs"(X is the drive letter of your raw hard drive)
You can also convert raw file system to fat32, and the command line should be the following,
format F: /fs:fat32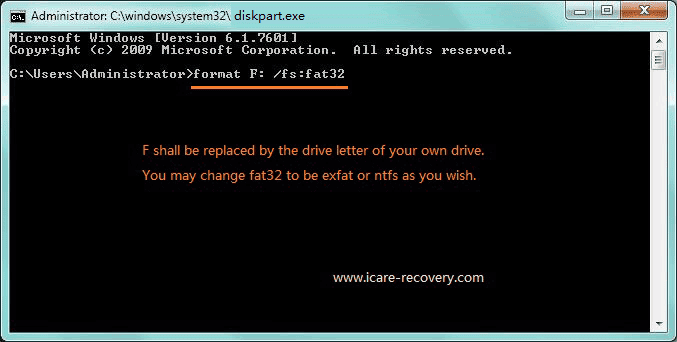 Change raw to fat32/ntfs with CMD
If data on the raw usb is not important, you can directly format it with a free usb format tool.
==>> If the RAW flash drive cannot be formatted by Windows, you can refer to this article for solution - Windows is not able to format error>>
How to recover data from RAW usb drive
To put it straightforward, you need three things: your USB flash drive, iCare Data Recovery Pro, a USB connection cable. iCare Data Recovery Pro is free for 1gb data recovery, and the other two things, I believe, you are already prepared. Plug your USB flash drive to computer via the cable. After the computer recognizes it as a drive letter, you can follow the step-by-step procedures to perform RAW USB flash drive file recovery.
Free USB Flash Drive Raw Recovery

Download iCare Data Recovery Pro Free to recover files from raw usb flash/thumb drive including photos, videos, music...
Step 1. Start iCare Data Recovery Pro. You will get a wizard containing four recovery modules. Choose a module for your case.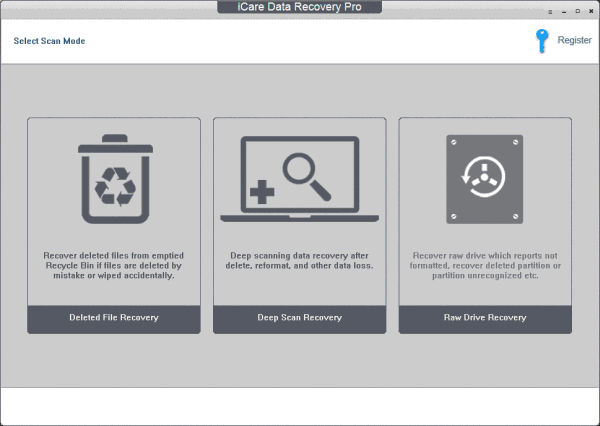 Step 2. Select your flash drive and click "Recover" button to scan all files existing on your USB flash drive.
Step 3. Then you will see a scanning wizard, which will automatically close after the scan. Tick a partition (normally, it is already ticked) to preview and choose "Show Files".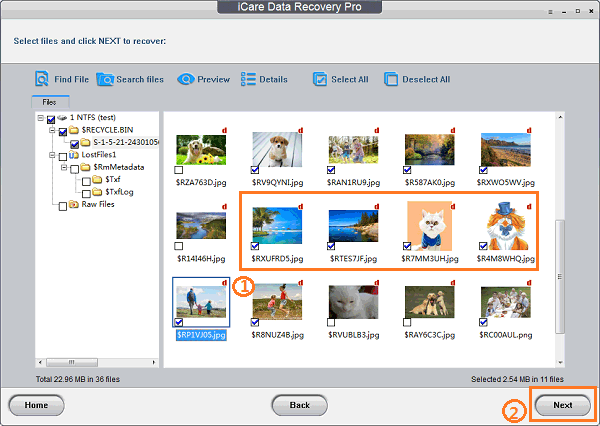 Step 4. Check the quality of the recoverable files and mark those you want to recover. Hit "Save Files" to save them.
After data recovery, you can perform RAW file system converting so as to convert the USB flash drive from RAW to FAT32 or RAW to NTFS without losing data.
Symptoms of RAW Flash Drive
You must feel familiar with this message "drive is not formatted, do you want to format it now". When Windows warns you to format your USB flash drive, it means your flash drive gets damaged, and the data on the drive cannot be accessible. If you open the property of your drive, you will find that the file system has become RAW, and the available space is 0 byte.
Then your USB flash drive is called a RAW flash drive. It also shows in other forms, such as the file names become weird and strange, drive cannot be detected etc. Although your flash drive becomes RAW, it is not useless yet. We cannot recover files from it, while the recovery software can do it.
Causes for RAW Flash Drive
USB flash drive is password protected. When the USB flash drive is password protected, Windows cannot read or write it. You should firstly unlock it before plugging it into computer so that Windows can open it.
The file system is not compatible with the computer system. Sometimes, users may accidentally format the pendrive to other format, while the computer system cannot recognize this format. Therefore, you should make sure that the format of files is compatible with the connected computer.
The flash drive is corrupted by virus. When the file system is corrupted by virus, the files on it may become RAW, and cannot be accessed. You should download some anti-virus programs to prevent the virus attack.
Manually operation leads to the corruption of USB flash drive. Strongly unplugging the USB flash drive when the process is still on will cause the damage of file system on the USB flash drive.
Tips for USB Flash Drive Usage
Do not do as the Windows message warning you to format your drive. Using iCare Data Recovery Free instantly to recover files on it.
No more new data. If you input new data to your RAW file drive, the old data may lose permanently.
Click "Safely Remove Hardware" when you want to pull your USB flash drive out. This option will notify Windows to stop transferring data to/from it, in which case the file system can be protected. If Windows prompts that your drive is still in use, you can not instantly unplug your drive, but close all related Windows and programs to stop any operation on this flash drive. 
When USB flash drive turns to RAW file system, you will receive USB drive not formatted error message. Sometimes, you would select "Yes" to format the USB drive and then find that all data was erased due to formatting. In this situation, as long as you do not write any new data to the formatted flash drive, you can run iCare Data Recovery software to unformat flash memory and retrieve lost files.
Also read: The type of file system is raw USB
---
Related Articles