5 Best Free Hard Drive Diagnostic Software
How to Test Whether Internal/External HD Is Corrupted?
Hard drive went wrong? Need a hard drive recovery? Target the problem at first!
Computer USB hard drive could not be recognized on your Windows PC?
Computer cannot boot up due to hard drive errors?
PC freezes or restarting frequently?
Or computer hard drive gets corrupted for long time use or else reasons?
No worry! Many effective hard drive diagnostic tools out there could be your chances. Go check the below tested best free ones and see which one of them is practical for your situations.
Also read: how to repair bad sector on hard drive [5 free tools]
Best Free Hard Disk Testing Software - 5 free tools
Honestly, in order to help people resolve such computer hard drive diagnosing issues, our team does have downloaded and tested many excellent hard drive testing tools available online and picked the best ones of them for everyone to use. Hope the below software list also could help you out:
1). Windows Error Checking Tool (CHKDSK)
Windows error checking tool, also briefly called CHKDSK, is a Windows built-in hard disk diagnostic tool that could help people test whether the selected drive is healthy or not. With a detailed scanning report shown, you can also check the hard drive details well there.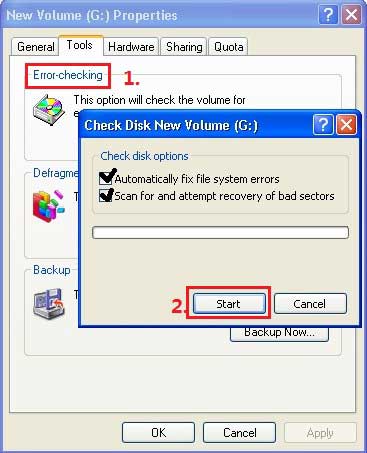 Video - how to use CHKDSK or error-checking tool for repairing hard drives
Pros:
*It is easy to open and use. (Right click target hard drive partition=> Properties => Tools => Check Now)
*It is able to help automatically fixing file system errors while scanning.
*It is also able to help scanning for and attempting recovery of bad sectors. 
*It also allows users to test a separate hard drive partition, not the entire drive, which often takes less time to finish a scanning.
*The scanning result report will be shown automatically and all testing details also will be listed there. 
*It is available for all Windows PC users.
Cons:
*It offers only basic hard drive testing and fixing features.
2). Seagate SeaTools
Seagate SeaTools is also free hard drive testing software that is designed with a series of effective testing options for people to test and fix hard drive with ease and success, like Fix All, S.M.A.R.T Check, Short Drive Self Test and Advance Test, etc. So, go download its Windows or Dos version to test the health of your computer internal or external hard drive.

Video - how to use SeaTools on Windows for disk repairing
Download url: https://www.seagate.com/support/downloads/seatools/seatools-win-master/
Pros:
*It is free and easy to use.
*It will automatically scan and list all connected hard drives while starting up.
*It offers multiple language services, like English, Spanish, Italian, Chinese, Japanese and More. Merely hit Help tab to change language services.
*It offers many powerful hard drive testing features, like Fix All, S.M.A.R.T Check, Short Drive Self Test, Advanced Test and more
*It also offers other system tools, including check antivirus software status, Boot drive properties, Device manager, Malicious Software Removal Tool, and other Microsoft System tools.
*It offers two versions for all home users, including the Windows and DOS versions.
Cons:
*You are supposed to close all programs before any installing and running in case of any unexpected data loss troubles.
*It often recognizes and tests the hard drive as a whole, not separated partition, which may take longer time to finish a complete scanning and testing.
3). Western Digital Data Lifeguard Diagnostic
Western Digital Data Lifeguard Diagnostic is also a completely free hard drive testing program that is designed to work with Western Digital hard drives only. Hence, if you do need to diagnostic the health of a WD internal or USB portable hard disk, this software is worth trying.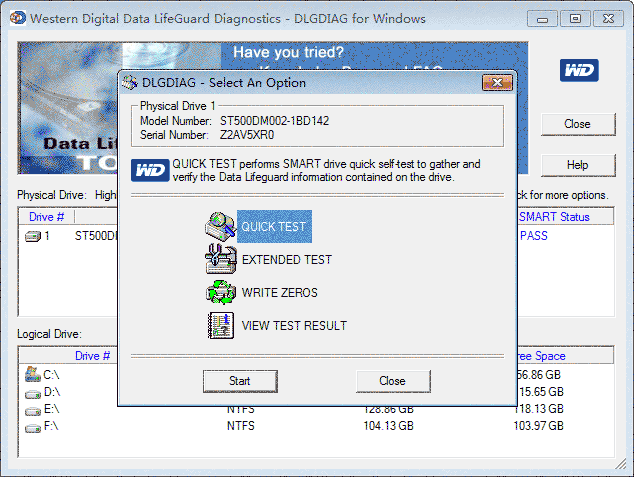 Video - how to use Western Digital Data LifeGuard Diagnostic for disk diagnose
Download url: https://downloads.wdc.com/windlg/WinDlg_v1_37.zip
Pros:
*It is also an easy-to-use freeware.
*It offers two effective options to test the selected drives: Quick Test and Extended Test.
*Its Write Zeros option is also able to help users erase operating system and file systems of the highlighted hard drive
*It also reads entire hard drive as one, not separated partitions.
*It allows to process a number of hard drives a time.
Cons:
*Its Quick Test may not work with some earlier IDE drives, SCSI drives and some external drives.
*Its extended test option may take longer time. 
*It is designed to test and fix Western Digital hard drive only.
4). HDDScan
As a completely free hard drive testing tool, HDDScan offers Surface Tests, SMAST Offline Testes and more to help people know the hard drive state. Moreover, as an all-in-one program, except diagnosing the hard drive state, this software is also able to help monitor temperature, build command line, identity information and more.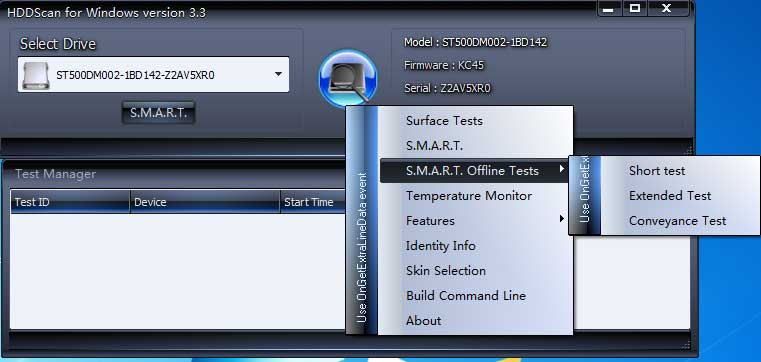 Video - how to use HDDScan
Download url: https://hddscan.com/download/HDDScan.zip
Pros:
*It is completely free.
*It offers effective hard drive testing features for all users, like Surface tests, short tests, extended test, conveyance test and the likes.
*It also offers other features for users, like temperature monitor, identity information, build commend lines and more.
*It supports all type of hard drives with different brands.
*It works well with all Windows OS versions, like Windows XP, 7, 8, 10, Vista and more.
5). DiskCheckup
Disk Checkup is also another free hard drive tester that also can help people diagnose the allocated hard drive and also support most of hard drives with different brands.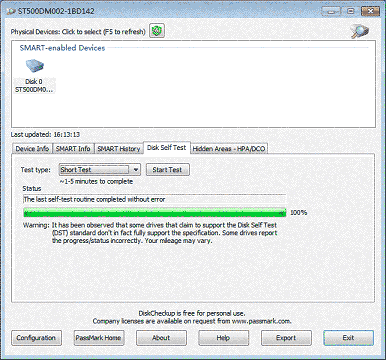 Pros:
*It is also free and user-friendly.
*It offers different language services.
*It helps people show the details of the allocated hard drive information.
*It also allows people to perform a Short Test or Extended Test to diagnose the highlighted hard drive.
Cons:
*It does not support some hard drives that have a SCSI or hardware RAID connection.
Conclusion
No matter whether your hard drive is tested to be healthy eventually or not, in case of any unwanted hard drive file deleting or losing issues, always back up all important documents, photos, movies, music, games and files well elsewhere in advance. Of course, if the hard drive is proven to be seriously corrupted, like having too many bad sectors, also remember not to save anything important there again to avoid any hard drive data loss troubles in the future.
Last updated on Sept 14, 2023
Related Articles