How To Recover SD Memory Card Using CMD (Including formatted sd)
Last updated on Sept 14, 2023
CMD to Recover SD Card
There are two cmds that may work for your sd card.
Chkdsk

, the one to get corrupted/logically damaged sd card repaired free without formatting by using this following command line (You need to replace h with your own sd card drive letter that labled on your computer, for example, if your sd card shows E drive in your computer, you need to type 'chkdsk e: /f' and press enter.)

Diskpart

, the one to get sd card card work again by changing its file system or reformating it (Start cmd in Run and press enter, type diskpart, and then type list disk, get your sd card selected by typing 'select disk 1' for example, and then 'clean' to get it cleaned, and the rest in order in the following photo.)
The Question: How do I recover formatted sd card using cmd?

=> Answer is no! Windows does not support an UNFORMAT command line. However you may follow the guide on this page to use a free format recovery tool which offers a better option of command line recovery.
Also read: unformat sd card
Video - Recover formatted sd card free
Also read: sd card format recovery
Background
This is a number of users who may wonder whether there is cmd guide for data recovery after formatting SD memory card like SD, SDHC, SDXC, micro SD, micro SDHC and micro SDXC, etc.
Can You Recover Formatted SD Memory Card Using Command Line?
How do you recover data from formatted SD memory card using command prompt? Any one who can tell me how to recover a formatted SD memory card using command line? The formatting was done by mistake and the memory card had important photo and recorded videos of important work.
What does cmd usually offer in Windows
What you can do with command prompt for sd card?
fix bad sectors
chkdsk
format sd card fat32/exfat/ntfs
Command Promopt Alternative for Formatted SD Card Recovery
Here we introduce a free alternative of cmd command line to recover formatted memory card. Be free to download iCare Data Recovery Pro which supports for SD card recovery after formatting.
Choose 'Deep Scan Recovery' that can do a format recovery for your memory card.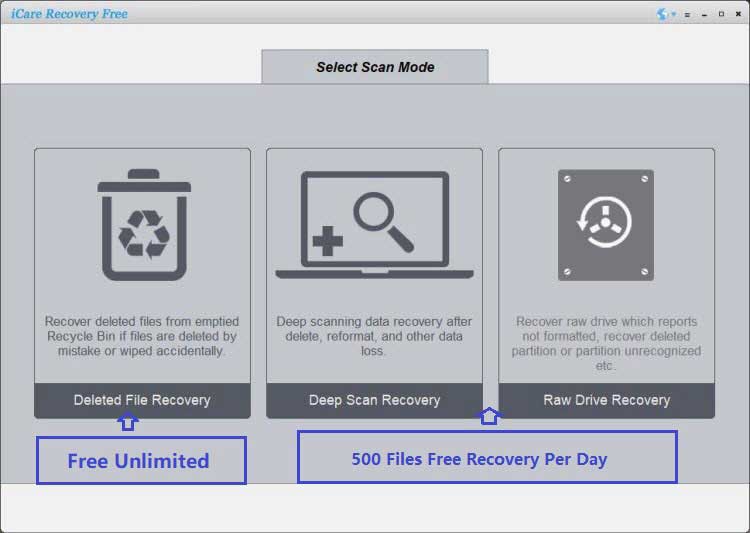 Free Command Prompt Alternative for Formatted Card Download
Free download iCare Data Recovery Pro to start a free format recovery which provides better interface than the cmd when cmd does not provide a format recovery.
Video Guide - Recover Files from Formatted SD Memory Card
Note: this program works on Windows 11/10/8/7/Vista/XP that you may download it on a Windows PC.
It needs a code to upgrade if you want to recover data that exceeds than 1GB.
Hot Articles
Related Articles