Transcend 8GB SD Card Is Not Detected in PC
"I have an 8GB Transcend SD card for my smartphone, but the card cannot be detected by Windows when I connected it to my computer just now. I can find nothing in My Computer after connecting the SD card, but I found that the SD card shows as an unknown device under Disk Management. However, I cannot access the SD card. When I right click the SD card under Disk Management, Windows pops up a message to say there is no disk in drive, insert a disk in drive and try again. I have tried to reinsert the SD card for several times, but the problem still exists. Please tell me how to restore files from the Transcend 8GB corrupted SD card."
Solution - Transcend 8GB SD Card Recovery When Is Not Detected by PC
The similar problem that SD card cannot be detected troubles lots of people, but you don't need to worry about data loss as long as the card is not physically damaged. Third-party data recovery software can help you restore files from an SD card when it is not detected by PC. This data recovery software allows you to recover files from SD card such as micro SD card, mini SD card, MMC, SDHC, and other types of memory card. You can restore any type of lost files in batch from the 8GB Transcend SD card with a few steps.
Step-by-step Guide to Recover Files off 8GB Transcend SD Card
Free Memory Card Recovery
(386 users' review)

Download iCare Data Recovery Pro Free to recover files from mobile phone camera memory card including photos, videos, music...
Step1. You need to connect the 8GB Transcend SD card to your computer through a card reader. Then, you can download and install the data recovery software. Finally, you can select a recovery module.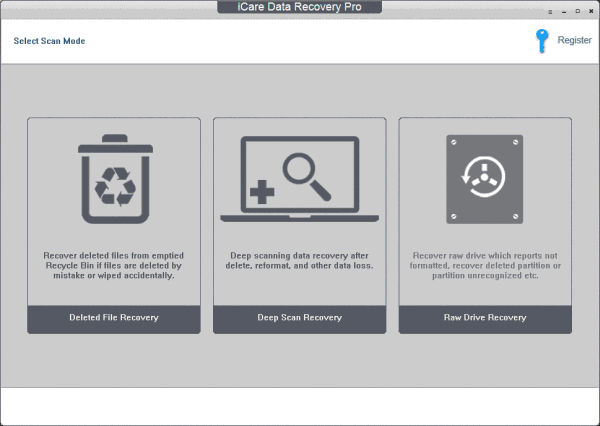 Step2.  You can select the SD car as target device so that the software can scan for lost files. Then, you only need to wait when the software is scanning.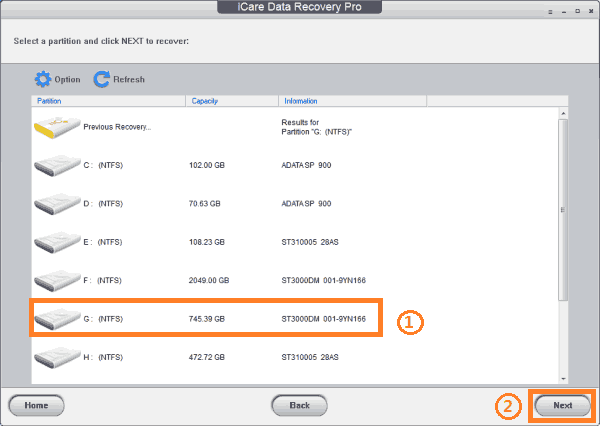 Step3. You are allowed preview found files after scanning and then you can save the files you need.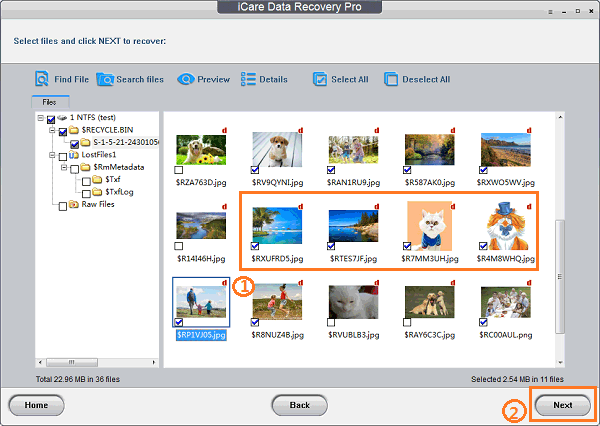 Something You Can Do When SD Card Is Not Detected by PC
Data recovery software is specially designed for data recovery when data stored on SD card is not accessible or readable, or the data is lost due to deletion and formatting. When an SD card is not detected by PC, you still have something to do before perform a data recovery.
First of all, you can connect the SD card to another computer to see if it can be detected normally. Or you can also insert the card to the digital camera or smartphone to see if you can access files stored on the card. Sometimes, data can be restored simply by inserting the SD card to another device.
In addition, if the SD card is still not detected by PC, you can check if the SD card has a drive letter under "Disk Management". Then, you can check if the drive letter of SD card is confused with other partitions on the same PC. If so, you can change a drive letter assigned for the SD card.
Other Situations That You Need Data Recovery Software
SD card not detectable is only a situation for data loss, and there are many other reasons that can cause data loss on an SD card. In those situations, you can also use a data recovery tool to restore lost files. Here are other situations that you need data recovery software:
SD card is not recognized by computer
Windows says that you need to format disk in drive (SD card) before you can use it
SD card changes its file system to RAW
SD card is not accessible
Data loss from SD card after deleting by accident
Formatting SD card on purpose or due to mistake
---
Resource
iCare Data Recovery Pro : Recover data from unrecognized transcend sd memory card
Related Articles
Hot Articles
Related External Resource