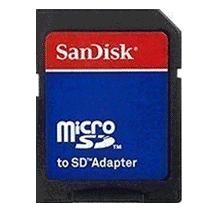 Unrecognized micro SD card data repair when it is not working
"I have a 16GB micro SD card which has been used in my Blackberry mobile phone for several years. The micro SD card is full of precious music, videos and pictures. Several days ago, my Blackberry phone switched off all of a sudden without any warning when I was listening to music. When I turned on the phone, it says cannot find a storage media. Connecting the card to computer, it cannot show in My Computer. Instead, the computer cannot recognize the micro SD card. I want to ask how to get back the files from the micro SD card not recognized by my Blackberry phone and computer." - a user is seeking." - a user is seeking help
"My micro SD card cannot be detected on mobile phone and computer, but it still contains lots of important files. Can I restore files from an unrecognized micro SD card and how?" - a user
Solution - Download memory card recovery software to your PC and then connect your micro SD to PC with a CARD READER (REQUIRED). Simply click run micro SD card recovery software to start recovering.

>>Quick Solution for Unrecognized Micro SD Card and its Recovery
Trg iCare Data Recovery Pro to restore data from micro SD card which stops working or undetected by smartphone.
Solution - Repair Data from Micro Memory Card That Can Not Be Detected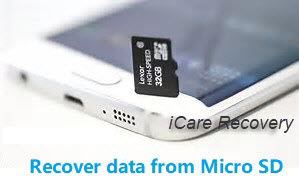 If the micro SD card cannot be recognized, which means you will not be able to read any file from the card. In this case, stop using the card and run iCare Data Recovery Pro, the professional data recovery software to rescue files from micro SD card. Simply connect micro SD card to your computer via a card reader (Please do not insert it into phone directly) and install the data recovery software on your computer.
Steps to Repair Files from Unrecognized Micro SD Card
You can follow the instructions listed as below to recover lost files from the micro SD card when it cannot be recognized by mobile phone, digital camera or by other devices:

Step1. Connect the micro memory card to computer. Download the data recovery software. then select a recovery mode to start.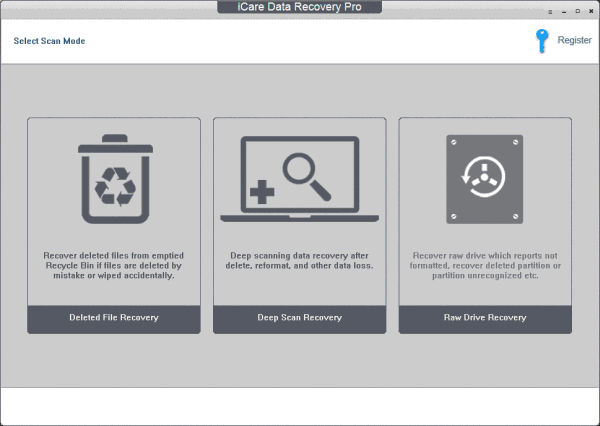 Step2. Choose the micro memory card as target disk to scan for its lost files. Wait patiently when scanning is in process.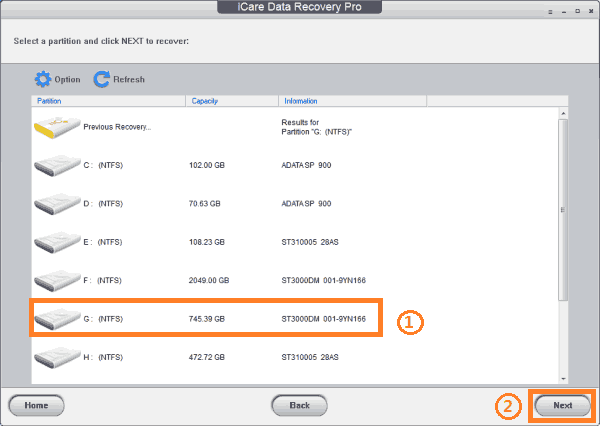 Step3. You are permitted to preview the found files after scanning. select the files needed to recover.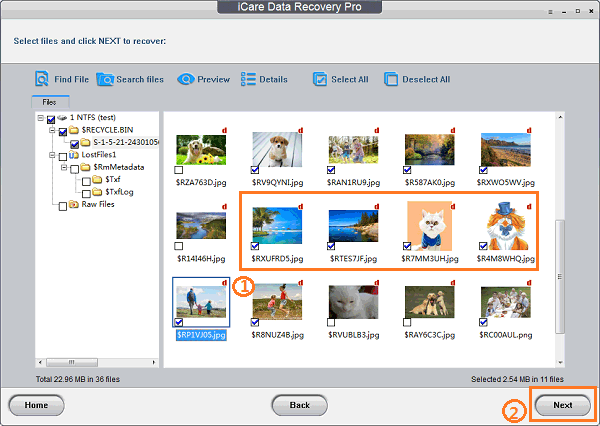 How to Repair Data From Undetected Micro SD Card?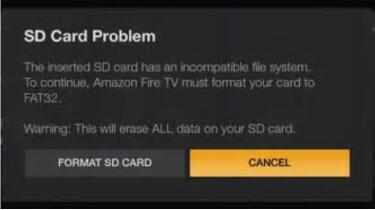 Any methods you have even known for undetected micro SD card repairing can be put in use after data recovery stage. Micro SD card may stay undetected due to hardware failure or micro SD card error, In order to find its best solution, you have to analyze each problem. Follow the instructions listed as below to fix micro SD card can not be detected by any device problem:
1. Unplug and insert micro SD card
A micro SD card can become irresponsive when it is plugged into smartphone or computer. Please follow instructions below for performances improvement:
If mobile phone reports micro SD card is removed insert a new one, you can turn the phone off and insert another micro SD card or insert the card to another phone if possible.
If PC cannot recognize micro memory card, you can change to another card reader or USB cable for accessing micro SD card. Then, try to plug the micro SD card into a different USB port or computer.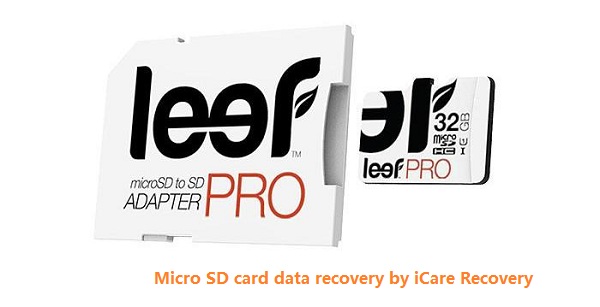 2. Update driver for micro SD card
A micro SD card can be read by Windows system with or without a proper card reader or USB cable, somehow it does run by a proper driver. If the installed driver cannot be compatible with the type of micro SD card, it will also fail to load the contents of the card. You can access Device Manger directory on computer and update driver for micro SD card. Or you can check update for Windows to update all program
3. Go to Disk Management run format on micro SD card
If micro memory card is undetected by cellphone or PC after formation, simply connect the micro SD card to a Windows computer via a proper card reader and open Disk Management directory. If the micro SD card shows "an unknown or unsupported device" message, Right click on device icon and reformat the card.
4. Repair unreadable micro SD card with CMD
You can run diskpart from CMD to format micro SD card or run CHKDSK command to fix the unreadable micro SD card problem attached to your computer.

Recommendations: Fix SD card not detected >>
Micro SD Card Can Not Be Accessed By Mobile Phone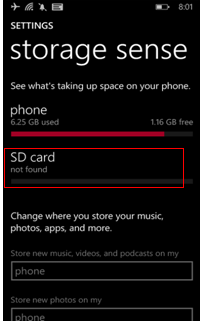 In modern days most mobile phones have internal memory for data storage, but you can also use an external memory card as another storage units. Several year's ago, when mobile phone still didn't have internal memory, you have to insert a memory card to a mobile phone for saving different types of files like photos, videos, music, etc. Micro memory card is one of the most widely used memory storage for mobile phones, If the micro memory card cannot be read by the phone, you will not be able to save any files afterwards. Even worse, you cannot access any data from the micro SD card either. A micro SD card might deny its access when there is something wrong with the phone or the card is simply corrupted. If there is some problems on the mobile phone, you only need to insert the card to another phone and the problem can be resolved easily. If the card is corrupted, you will rely on the data restoration software to restore deleted pictures.
Symptoms when smartphone cannot detect your micro SD card:
Phone says no micro SD card, please insert a card

Android phone cannot find micro SD card

Cellphone says there is no valid media when you try to save data to the micro SD card
Micro SD Cad Not Showing up on Computer
When the micro memory card is not read by mobile phone, it also will not be identified by Windows even it is connected to your computer. Symptoms such as below may appear:
The icon of Micro SD card does not appear in My Computer

Micro memory card shows when being connected to PC, but the

Micro SD card appears in My Computer, but PC says please insert a disk into drive when you double click it
In this case, the data recovery software can help you repair files from micro memory card. What you should do is to stop using it and then install the data recovery software to your computer. Select deep scan mode in order to search for all files from the card. After scanning, the software allows you to preview the files that found by the software.
It does not matter why micro memory card becomes not readable on Android phone or your computer. You have the opportunity to recover all inaccessible data from the unrecognized micro SD card before any formatting.
>> Download iCare Data Recovery Pro and launch its deep scan on the unreadable micro SD card for lost files recovery such as images, videos, music, and more.

Recover data now!
---
Related Articles
Hot Articles