SD Card Not Detected in Camera fixes [8 free]
Why is my camera not reading my sd card? How to fix sd card not working in cameras such as Canon Nikon Pentax Fujifilm Sony Panasonic Lumix, Olympus, GoPro Leica camera...
The solution introduced on this page is for sd card, sdhc/sdxc memory card not reading or not showing up in cameras.
Why is my SD Card not Showing up in Camera, sd card error or camera error?
Why won't my camera read sd card? How do I fix an undetected sd card on camera?
If it's the problem from the sd card, it's easy to resolve; if it's the error from the camera reader chips, it's a tough and complicated job that can only be performed by professionals or with the help of local digital repair service.
Before all the repairing, it's better to determine which part is making the camera sd card undetected error. Here are the ways to
Insert your sd card in other digital devices such as another camera or phone/computer; if the sd card could be detected and displays correctly on other devices, it means the sd card is working fine. However it does not mean the error is 100% from the camera since it's highly possible that the sd card unrecognized on camera error could be incompatible file system between the sd card and the camera. (Some small/old cameras only see small sd card with FAT file system)
The sd card is not working with any device, computer, camera, phone or other media, it's likely the sd card has physical damages and what's worse, if it could not be repaired it is dead.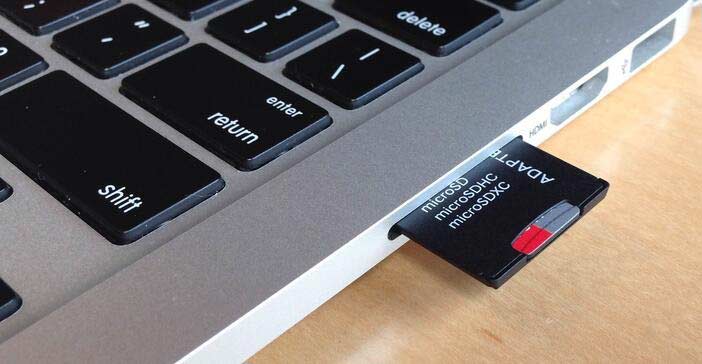 Try sd card on different devices such as pc, phone, other cameras to determine whether the sd card is dead
Camera SD Card Not Detected Fixes With/without PC [8 fixes] - SD Card Error
Here are some quick fixes when your camera such as Nikon Canon Sony Fujifilm Panasonic Olympus is not reading sd card or memory card not showing up in camera.
#1 - Power off, pull the sd card out of the camera, insert it again and see whether it would work.
#2 - Take out the sd card, insert it to a computer and restore images/videos from the sd card if data matters with the help of free sd card recovery too - iCare Recovery Pro.
If images were not important to you, you may ignore this part and directly fix sd card with the following methods.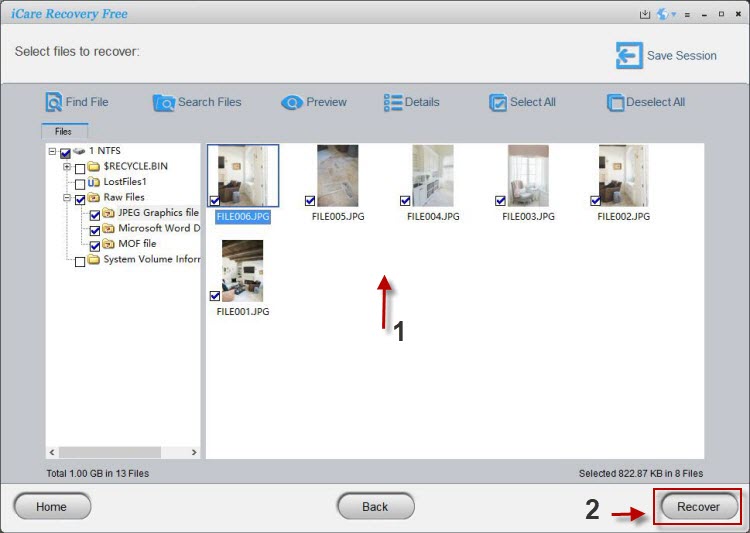 Retrieve images from sd card with icare recovery pro free (totally free if recovered data is within 1GB)
Restore images/videos from sd card within 3 steps: 1, Download, install and insert sd card with card adaptor; 2 Scan sd card with iCare Pro; 3, Recover files from sd card.
#3 - Change the sd card to FAT file system with camera if it's the camera that won't read sd card which can be detected or show up fine in other devices such as pc, phone, other devices.
The truth: some small cameras or old cameras may only recognize FAT file system that is often used in small memory card by manufacturers.
You may format sd card with the camera under its setting that is instructed in the following photo. This is a key to fix the sd card not showing files or pictures on sd card are not displaying correctly.
Note: Formatting sd card would erase all files on the sd card, so please retrieve them at first or back up images to somewhere else at first if the sd could be read on a computer.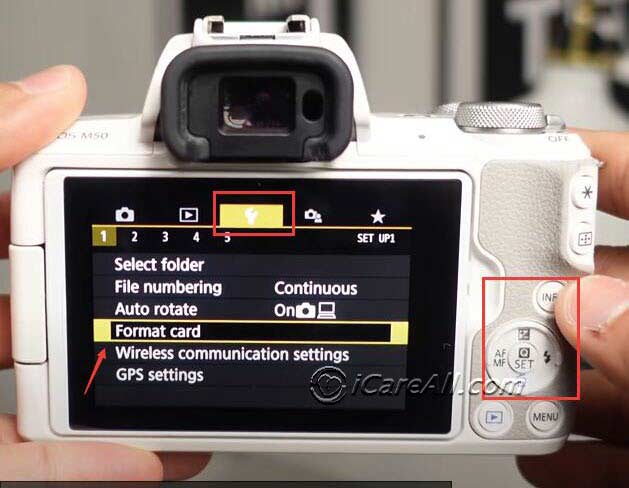 #4 - Format sd card to FAT under computer with right click format option and then most camera would read your FAT sd card.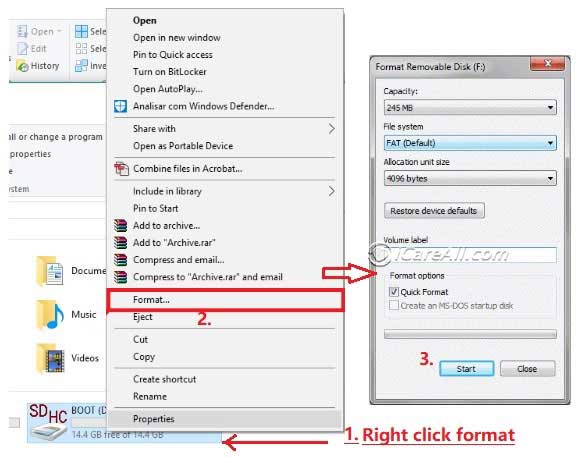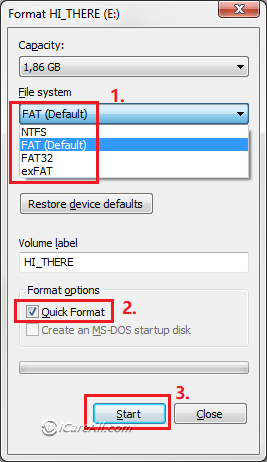 Format sd card FAT
Basic knowledge: why would sd card that has FAT file system can be recognized by cameras?
SD Card file system by factory settings: 1GB, 2GB -> FAT; 32GB -> FAT32; 64GB or above -> EXFAT.
It's the file system history that advances from FAT, FAT32, EXFAT for memory cards. When a camera can read EXFAT file system, it is 100% compatible with FAT; while if a camera that is usually small or old can only read FAT file system sd card, the camera won't read large sd card such as 32GB sd card that holds FAT32, and 64GB sd card that holds EXFAT file system.
If the sd card is still not recognized on camera after changing its file system FAT, it may have driver incompatible issue, logical errors or physical damages. Use the following methods to repair memory card at first as DIY sd card recovery with no cost.
#5 - Update sd card driver on Windows 10 computer by updating its driver in Windows device manager.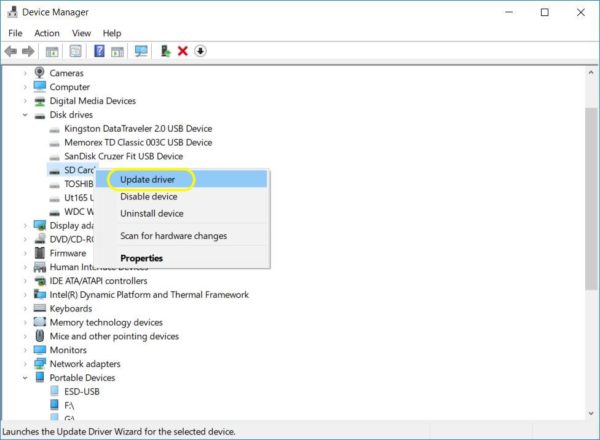 Video - how to update sd card driver in Windows
Also read: sd card driver install - 4 free ways
#6 - Repair sd card with chkdsk cmd on Windows computer 10/8/7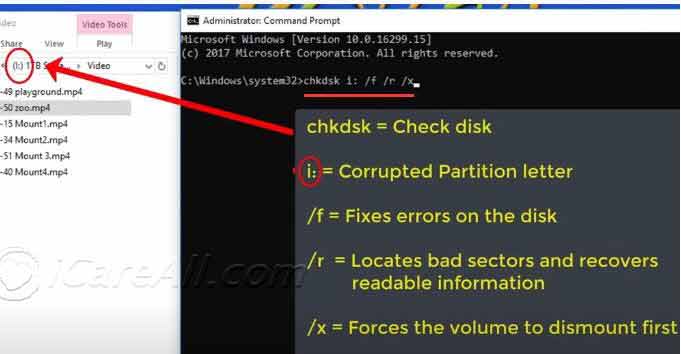 This following video will show you how to repair sd card using chkdsk, which is often used by advanced users who are familar with command prompt.
#7 - Take out the sd card, clean it with a swab
Unmount sd card from your camera, clean it to remove spots that may have covered the reading chips of the memory card.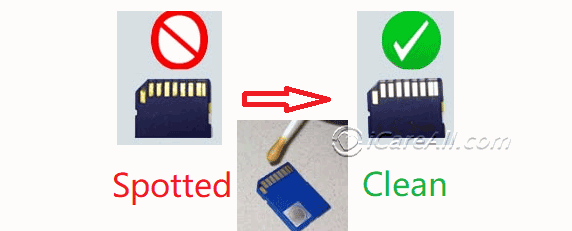 Clean memory card chip when it is not detected
#8 - Change camera reader, which is more complicated and difficult for non-geeks.
Watch the following video that shows how to repair damaged digital camera which does not read sd card due to the card reader damage. (You may turn to a local digital device repair shop for help if they provide such service)
Camera SD card Not Detected in Computer Windows 10
If camera sd card is not showing up in Windows computer, you may change a drive letter for sd card under device manager.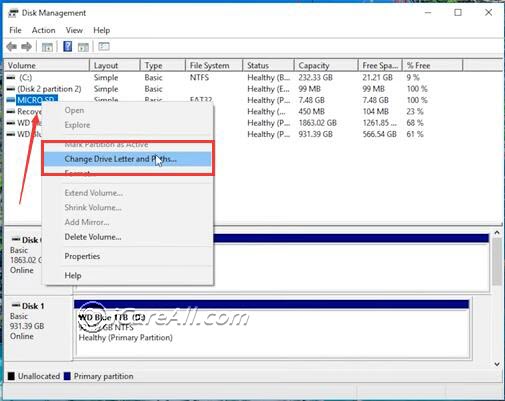 If it still does not show up in computer, the following link will guide you more fixes to repair the sd card.
SD card not detected on pc? Fix it here: SD card not recognized on pc [10 fixes]
Camera SD Card Not Detected on MAC
This part includes two scenarios:
#1, sd card is not detected by camera, you may want to repair sd card on mac and Disk Utilities provided by mac may work for you and it is free.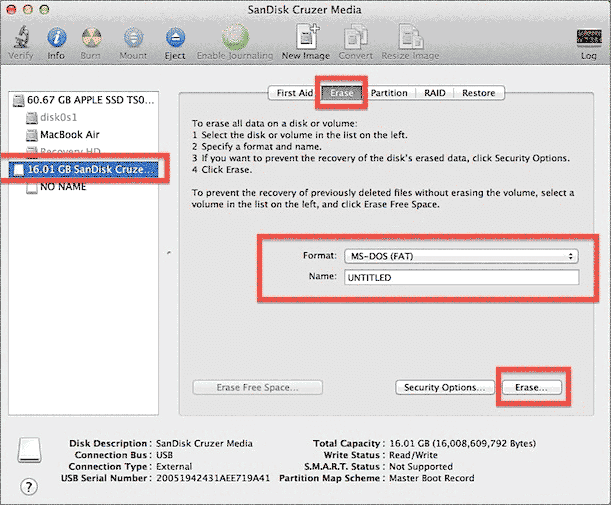 #2, sd card is not detected on MAC too
If your sd card can not be detected by camera, and then you tried to insert it to a MACBOOK OR mac computer, it still cannot be recognized, what can you do?
Follow this guide for a complete sd card not showing up fix on mac: sd card repair on mac
FAQs
Pictures on sd card not showing on camera, can't view images on sd card in camera?
If sd card images are not showing in camera from its photo gallery, you need to make sure two points:
If the sd can be found in camera, or sd card detected on camera? If yes, -> pull sd card out and insert it to computer to transfer all images from sd card to computer as backup at first, and then format sd card with camera
If sd card is not detected on camera, the previous fixes introduced on this page may worth a trial
How do I access sd card on my camera?
If you want to open sd card on your camera, you may turn on your camera, find its storage, and access sd card there or view it on a computer as a choice with camera connected to pc.
You can use the SD card reader to copy photo or video files to a computer for viewing.
You can use the USB cable to connect the camera to a computer for viewing.
If sd card cannot be accessed with the following error, it means the sd card is damaged.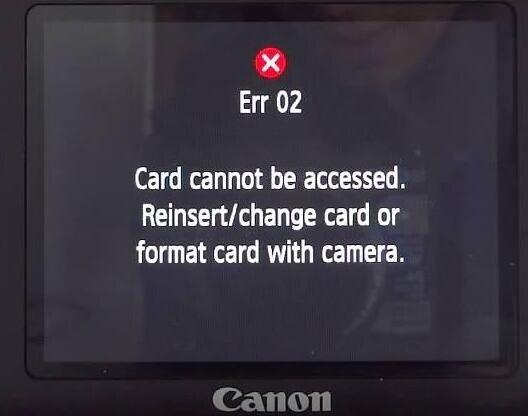 Fixes on this page: how to fix sd card cannot be accessed on camera
SD Card detected but not showing images
If the sd card is detected on camera or computer but not displaying its photos, it means it has logical errors, you may change its drive letter in a computer.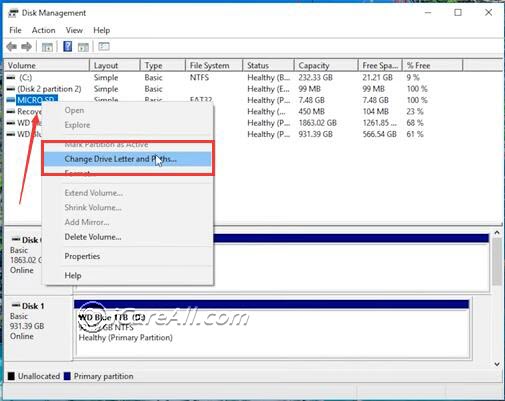 The Truth: when your sd card cannot be fixed by neither ways, it may have physical damage that cannot be fixed. You may ask experts for help. Or buy a new memory card to replace it.
Last updated on Sept 14, 2023
Related Articles
Related External Resource