"Card cannot be accessed" Canon Camera - 6 fixes
What does it mean when your Canon camera says sd card cannot be accessed with the error message 'Err 02 Card cannot be accessed. Reinsert/change card or format card with camera'? How to fix card2 cannot be accessed error on Canon?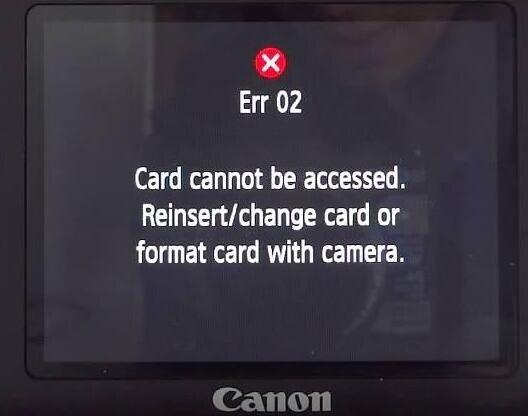 The Case - Canon camera not reading sd card
Why does my Canon camera says card cannot be accessed? My sd card reported 'card cannot be accessed' on canon 7d all of sudden. How do you fix card cannot be accessed error in Canon camera and recover data? Please help me.
Resolution: when digital camera Canon won't read sd card or cf card, there are four scenarios that may need your attention.
The sd card is logically damaged that can be fixed by sd card repair tools -> the following part includes some sd card repair ways&tools.
The sd card has bad chips or other physical damages -> clean it with swab or do some other cleaning
The digital camera memory card slot is spotted -> clean it, or it's dead
The camera canon has physical damages -> ask Canon support for help
Solution: here are some free fixes for fixing the error card cannot be accessed on your canon camera.
6 Fixes for Canon Card Cannot Be Accessed Error
Required: if your sd/cf card can still be recognized on a computer, do make a backup for all files on the sd card to a computer at first and then try the rest fixes to make data safe and secure.
SD card damaged? Try the following fixes.
Fix #1 - Recover data from Canon inaccessible sd/cf card with iCare Pro Free
As free damaged sd card recovery tool, iCare Recovery Pro Free would let you recover images, videos from Canon memory card for free when you insert your sd/cf card to a computer with a card reader and then run iCare, scan memory card, and save data.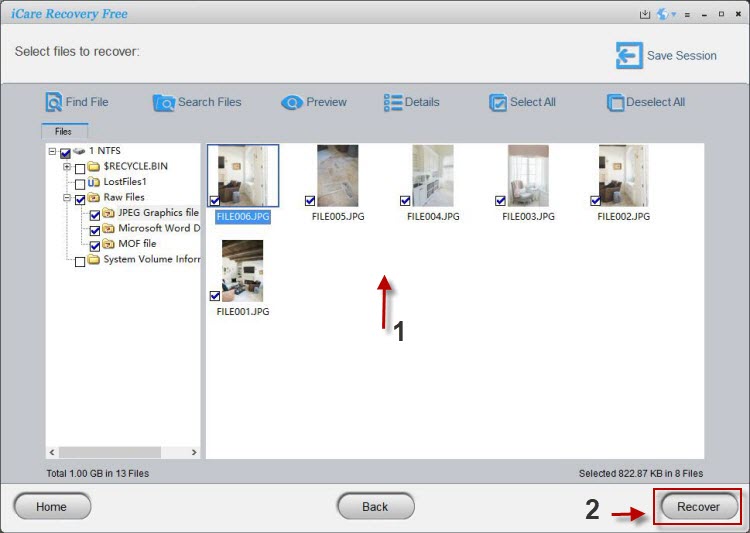 Note: if you do not care information on the memory card used on your Canon camera, you may simply ignore this fixing #1 and directly go to the #2 fix.
Fix #2 - Format SD Card on Camera (Highly Recommended, key to repair logical damages)
As the best way to fix the Canon camera card cannot be accessed error, formatting the sd card with Canon camera would make an end to this error immediately!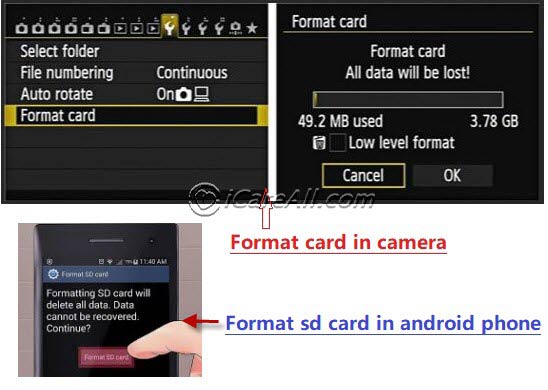 If a simple formatting failed to fix the card cannot be accessed error, you may come back to this screen photo and get 'low level format' selected in the format card option.
Note: Formatting would erase every image and video on the camera memory card, please do restore files from inaccessible sd card in advance, or backup sd card photos, videos to somewhere else if you could still get other device or computer to read the sd card when it is just not reading on Canon camera.
Fix #3 - Format SD/CF Card in Windows 11/10/8/7 Computer
Formatting a Canon memory card would be easy if you insert it to a computer, right click the sd card, go to its format option and a window like the following image would show up for a memory card formatting.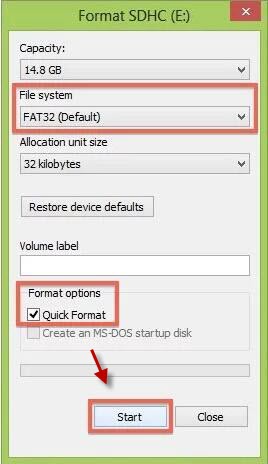 You may try to format sd card fat32 at first, and if it does not work, format it to exfat.
Logical errors between a camera and memory card may happen when they have different file system, for example when camera could recognize a fat32 memory card, it won't recognize your FAT sd card.
Fix #4 - Format SD/CF Card under disk management
Connect memory card to computer, open disk management, right click sd card in disk management -> Format, to get it formatted and see whether it could work.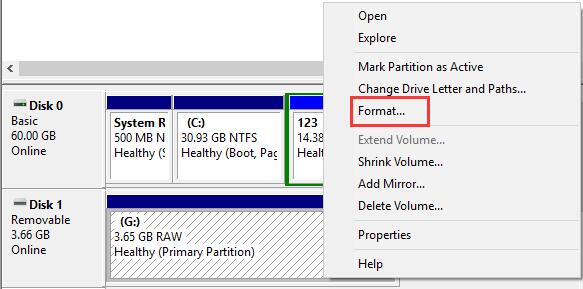 Still Failed and sd card not working on Canon camera? Try the following methods.
Fix #5 - Clean memory card SD/CF with a swab
An old memory card may get spotted that would prevent it from being recognized or detected, you may firstly try cleanning it with a swab, and insert it back to camera to see whether it would work.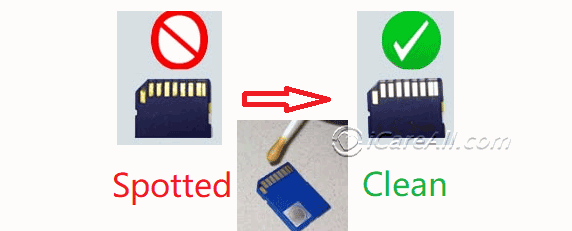 Clean memory card chip when it is not detected
Fix #6 - Repair corrupted sd card by chkdsk
Chkdsk is able to repair damaged sd card if it has logical errors. Command prompt 'chkdsk /f' or 'chkdsk /f /r' or 'chkdsk /f /r /x' would work for you if you need to repair the memory card. See how to operate the chkdsk repairing canon sd card in the following video.
Video - Repair damaged sd card on computer
Note: chkdsk failed? See solution: chkdsk is not available for raw drives sd card fix
Fix #7 - Repair damaged Canon camera
The error from the camera canon itself could be another cause if it reports sd card reading error. You may check if it's the damage from the digital camera. Or you may turn to a Canon support for help to see whether the camera is damaged.
How to tell which is damaged, the sd card or the canon camera?
If the memory card is dead, it could not be fixed by neither way. You may use another memory card to test whether it would work good on Canon to see whether it's the error from the memory card or the camera.
Tips: If the sd card reports raw file system, cannot be formatted, or chkdsk failed to repair the sd card, it has high possibility that the sd card is damaged instead of the damage from the digital camera canon.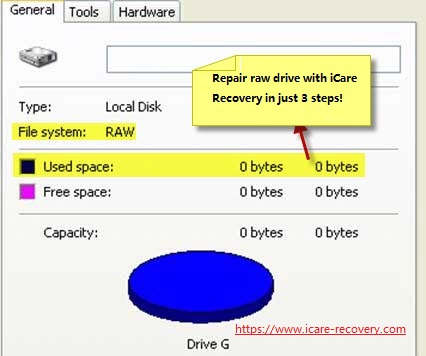 RAW memory card recovery
Also read: how to format raw sd card, or 7 free sd card repair tools
FAQs
Question: card cannot be accessed canon t1i
Answer: It's the same solution for card cannot be accessed canon t1i or canon eos 7d/10d 'card cannot be accessed' since this error may happen to many kinds of memory card on different types of canon cameras of different types. Canon card cannot be accessed could be fixed easily if it's the logical damages.
Also read: fix card cannot be accessed canon, or fix sd card cannot be recognized error
This article may also help these following errors
Card cannot be accessed canon rebel t7
Card cannot be accessed reinsert/change the card or format card with camera canon
sd card cannot be accessed canon
canon camera says card cannot be accessed
canon card cannot be accessed
---
Related Articles
External Resource