Data Recovery from Various Kinds of Digital Devices
Last updated on 16/03/2017
This page shares tutorials for data recovery from different kinds of digital devices internal hard drive, external HDD, pen stick, thumb drive, SD memory card, digital camera, smartphone, etc.
Table of Contents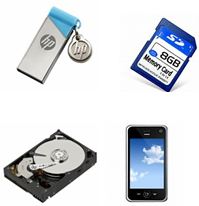 Digital Device Recovery Manual
Any data stored on a digital device can be lost due to simple mistake like format / delete or storage media error.
1. Recovery of Digital Media Guide
For all kinds of digital devices, you can use data recovery software to rescue files when any data got lost. This is a tutorial for file recovery from various kinds of media devices in all data loss problems with help of iCare Data Recovery Pro:

Step1. Free download and install the data recovery software on PC. Start the software and choose a scan mode.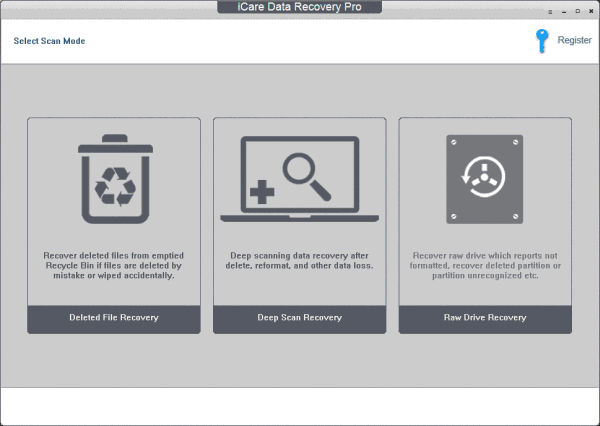 Step2. Select the digital device connected to the computer and then wait the software to scan to search lost data.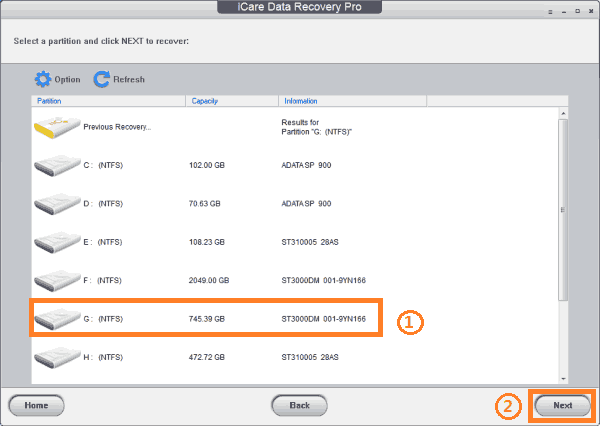 Step3. Click each found folder to view the files. The software allows to you preview photos and documents. Then, select and save the files to any device instead of the original one.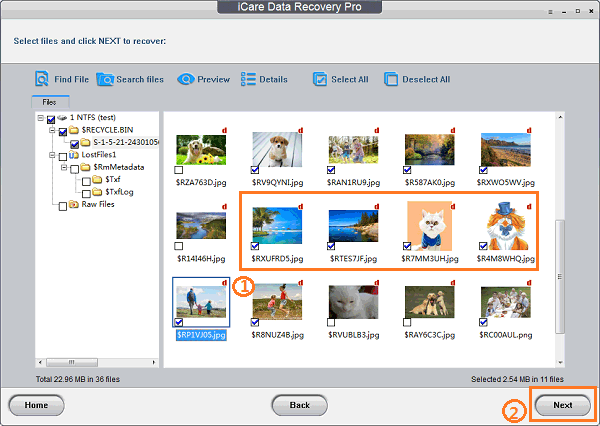 If your digital media reports any error message that lead data to be inaccessible or lost, you can repair the problem after file recovery.

Recommend: Fix errors>>
Hard Drive Recovery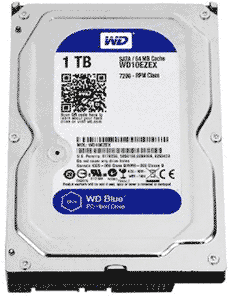 Common reasons for hard drive data loss includes:
Delete files from a hard disk drive by accident
Hard drive formatted by mistake
Drive is not accessible. The file or directory is corrupted and unreadable
Drive is not accessible. The parameter is incorrect
Drive is not accessible. The volume does not contain a recognized file system
Drive is not accessible. Access is denied
Drive is not accessible. The request could not be performed because of an I/O device error
iCare Data Recovery Pro offers useful methods to recover files from hard drive when encountering the data loss disaster above. This software supports:
Hard drive manufactures:
Hard drive manufactures that have good reputation are Seagate (world's largest hard disk manufacture), Western Digital (world's second largest disk manufacture) and Samsung, Kingston, Toshiba, Dell, SanDisk and Hitachi. Apart from those manufactures, there are some others like Buslink, Silicon Power, etc.
Hard drive capacities:
Several years ago, a 500GB hard drive was regarded as a large drive. Today, hard drive has been up to 5TB, which can meet users' demand for data storage.
External Hard Drive Recovery
Portable hard drive is similar to hard drive, but it is more convenient to be plugged to different computer. Therefore, you may meet the same data loss situations as that of a hard drive. Here, we do not introduce details. If you run into data loss problem on an external HDD, please refer to the hard drive recovery mentioned above for external hard drive recovery.
Memory Card Recovery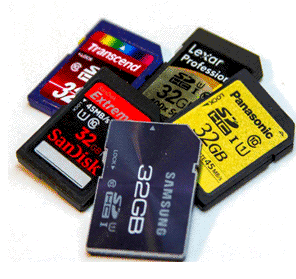 In general, memory card files loss could result from human mistake (delete and format) and memory card problems (RAW, not formatted, unsupported file system, write-protection, virus attack, etc).
For a memory card photo recovery, you just need to remember:
1. First urgent thing – Restore files from memory card with iCare Data Recovery Pro
2. Repair the errors on memory card using proper methods such as formatting memory card.

Recommend: For SD, micro SD, mini SD, SDHC, SDXC, CF, XD, SM card recovery in any problem, please see: memory card recovery solutions>>
USB / Pen Drive Recovery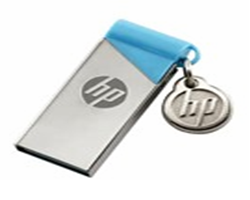 USB drive a small device that can be put in a pocket of your clothes, so it provides convenient for many people to backup and transfer data. Pen drive is a type of flash drive.
iCare Data Recovery provides solution for USB flash drive / pen stick recovery in following cases:
Smartphone Recovery
Smartphone has already replaced the traditional mobile phone nowadays. International Market Research Organization IDC (International Data Corporation) recently published a smartphone market share of 2016. In 2016, smart phones sold 1.47 billions in global, among which the top five smartphone manufactures are Samsung, iPhone, Huawei, OPPO and Vivo. Their market share is 21.2%, 14.6%, 9.5%, 6.8% and 5.3% respectively
Among different brands of phones, iPhone runs iOS devices, while the other mobile phones run Android device.

In addition to the phones above, android device phones have Blackberry, HTC, LG, Xiaomi, etc. The key point for android phone recovery is that the software you use can recognize android phone normally. If you are an android device user, you know that a smartphone that runs android OS does not only have ROM, but also supports to insert a memory card.
2. iPhone / iPod / iPad Device Recovery
iPhone, including iPhone 6 plus, 6, 5C, 5S, 5, 4, 4S, etc, runs iOS operating system such as iOS 9.3, iOS 9.3.1, iOS 9.3.2, iOS 9.3.3, etc.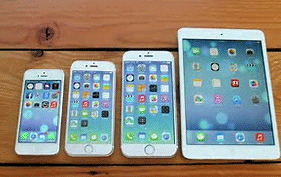 iPod – iPod touch, iPod nano, iPod shuffle, iPod mini
iPad – iPad 2, The new iPad, iPad mini, iPad air, iPad pro
For iOS device recovery, you have following choices:
Recover files for iPhone, iPod, iPad from iTunes backup
Restore data for iOS device from iCloud backup
Retrieve files for iPhone, iPad or iPod with data recovery software

Recommend: iPhone recovery>>
3. Windows Phone Device Recovery
Windows phone is a type of mobile phone released by Microsoft. The successor to Windows phone is Windows 10 mobile.
iCare Data Recovery is able to recover files from Windows phone in different situations.
Digital Camera Media Recovery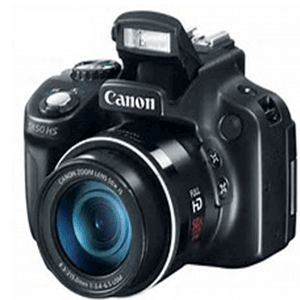 Use iCare Data Recovery for different digital cameras recovery:
Digital camera brands: Canon, Nikon, Samsung, Kodak, Sony, Olympus, FujiFilm, Panasonic, Pentax, LeiCa, Minolta, Hasselblad, and more.
Camera media data loss situations:
Digital camera cannot detect memory card inserted
Accidentally format or delete files for memory card of digital camera
Digital camera says SD card RAW file system
Digital camera storage media is not accessible
---
Articles Related to Digital Media Recovery
External Hard Disk Recovery (Portable HDD, Hard Disk Drive)
USB Flash Drive
---
Related Articles from other guide
Seagate external disk recovery : recovering data from seagate external when it was not recognized by PC, reformatted by mistake, raw drive or other problems and need to restore inside imporant data.
Data Recovery Free software guide: use free software to recover data from various kinds of data loss.
How to use data recovery software : guide that shows how to use data recovery program to bring lost data back.
Free software to recover lost data: freeware to bring lost data back
Dynamic disk recovery software - restore data from dynamic disk when it was formatted, deleted, damaged etc.
Windows 7 data recovery software: data recovery from Windows 7 operating system related media drive
FAQ Data Recovery : most frequent data recovery cases
Hard Disk Data Recovery Software - recover data from hard disk when laptop desktop hard disk usb external disk encounters data loss or other problems
Format Recovery Resource : data recovery guide related with format reformat unformat
Memory Card Recovery : data recovery from memory card when it has encounters various kinds of error
Windows Data Recovery : restore data from Windows digital media when files were deleted
Digital Device Recovery: recovering data from various kinds of digital devices.