5 Free SanDisk SD Card Repair Tools
Last updated on Sept 14, 2023
SanDisk SD card is unrecognized, can a SanDisk SD card repair tool help?
"My 16GB SanDisk micro SD card stopped being recognized due to power outage. My PC stopped working and shut down when I was copying some data from my SanDisk microSD card. After rebooting PC, micro SD card is unrecognized by PC. How can I fix the problem without losing data on the micro SD card?"
If you want to repair the SD card, backup the data onto somewhere else at first! Data inaccessible? Recover the data with iCare Recovery Pro Free.
Recover data? Follow this guide: Sandisk sd card recovery software free
FREE Data Recovery from Corrupted SanDisk SD
When it is unable to access SanDisk SD card or any SanDisk digital devices like SanDisk SSD, Sandisk External hard drive, iCare Data Recovery Pro can restore files for free with only 3 steps.
Free SD/MicroSD Recovery

Download iCare Recovery Pro Free Edition to restore data from memory card sd card, micro SD card for FREE that can help recover 1GB data totally free. Connect sd with card reader (required), start free recovery with iCare
Preparations: Connect your Sandisk memory card to PC with a card reader.
Step1. Download iCare Pro, Run the software and choose a recovery module.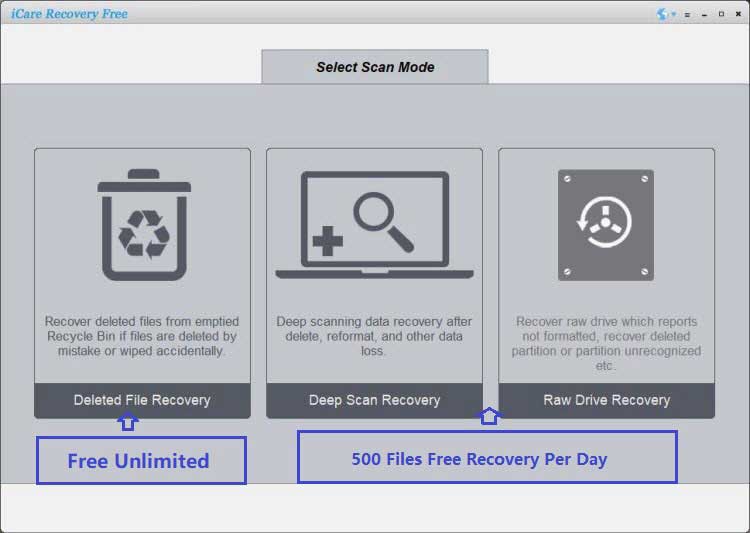 Step2. Select the SD card to scan.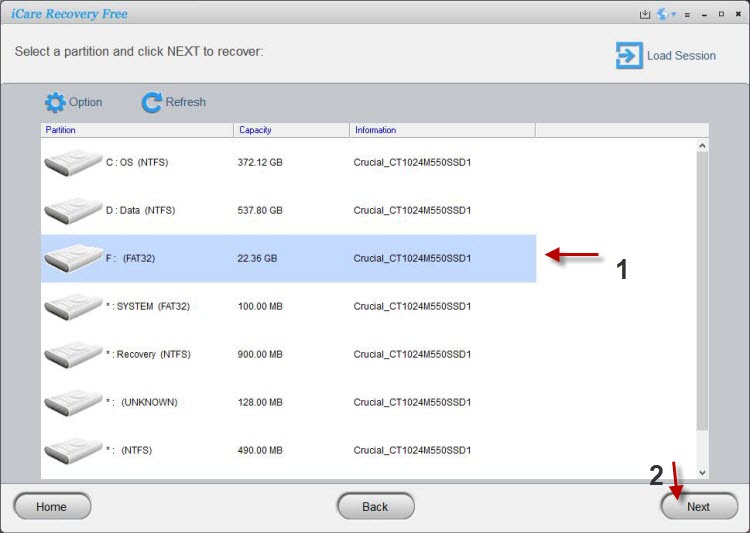 Step3.  Preview the found pictures and recover all files you need.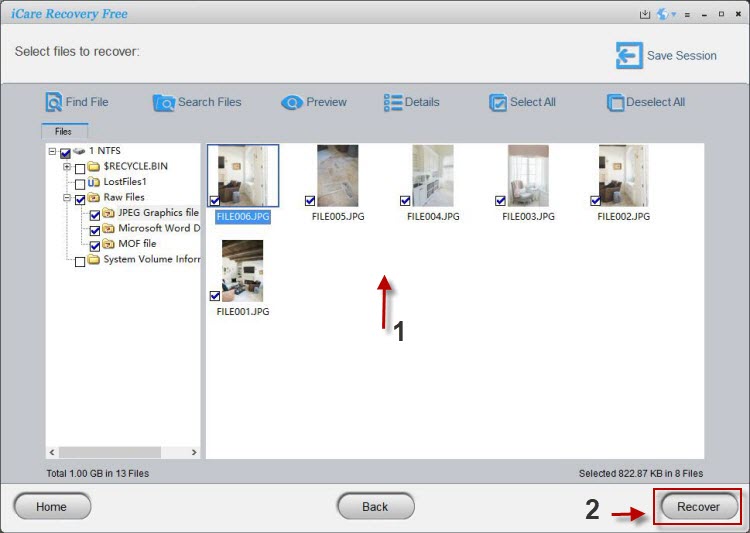 Symptoms & 5 Free Sandisk Repair Tools
To fix Sandisk error, here are some repair tools that you may use for fixing the damaged Sandisk memory card.
Free Repair Tool 1: Windows built-in Error-checking tool
Connect the card to your computer, right click and find its "Property" and use Windows built-in Error-checking tool to check if it contains bad sectors and fix the errors on sd card.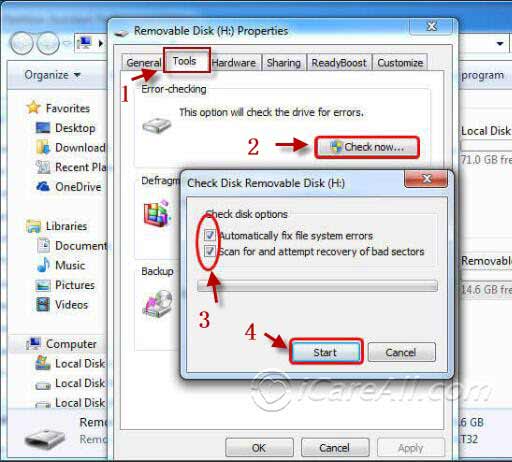 Repair Sandisk sd card with Error-Checking
Free Repair Tool 2: Repair Sandisk SD&HD&USB with Partition Resizer's Check Partition
Note: IM-Magic Partition Resizer is a 100% freeware for repairing errors on your sd/hd.
Download and install the freeware on your PC and then get your sd or external hd connected to PC and then open Partition Resizer. Right click the sd that shows on Partition Resizer, navigate to "Check Partition" to start repairing.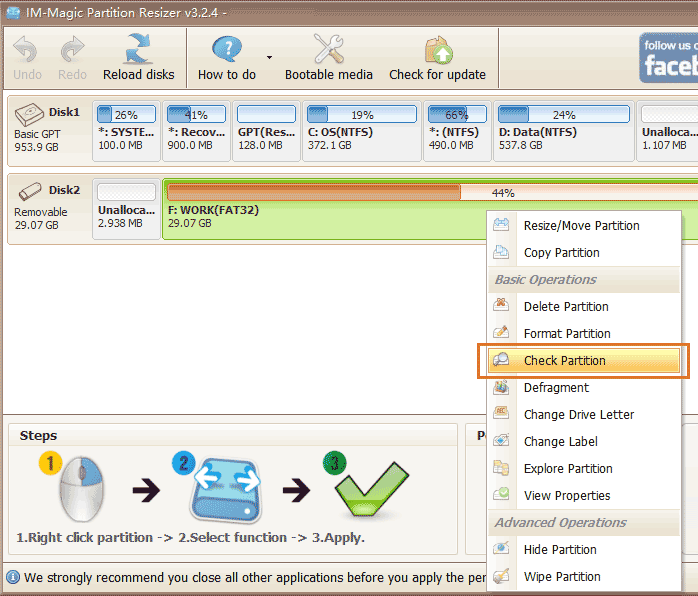 Repair Sandisk sd card with Partition Resizer
Clicking 'OK' to confirm the operation of fixing damaged sectors on SanDisk SD and start to repairing and fixing.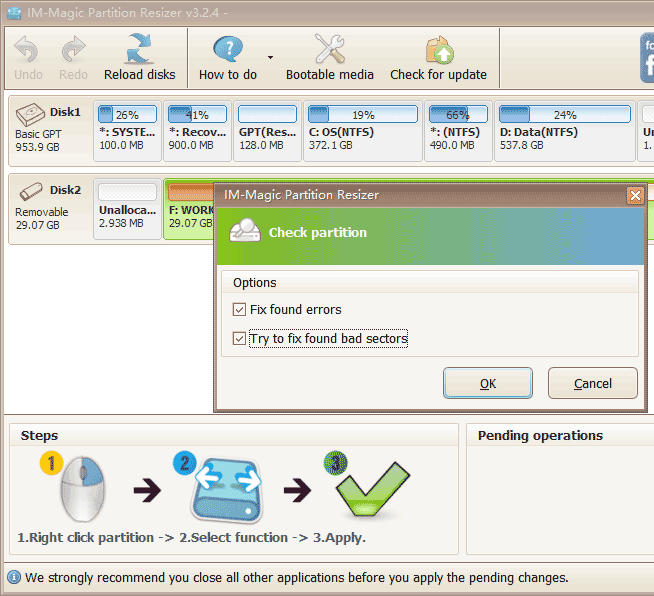 Repair Sandisk sd card with Partition Resizer
Free Repair Tool #3 - Easeus Partition Master Home Edition
Easeus Partition Master would work pretty much the same repairing bad blocks on corrupted memory card as the rest repair tools and its home edition offers free for home users.
Free Repair Tool 4: Repair Sandisk SD with CMD
While there is another solution which is more effective, CMD command prompt, the system tool to perform all kinds of commands on the Windows system computer.
Repairing Sandisk sd/microsd card with cmd chkdsk /f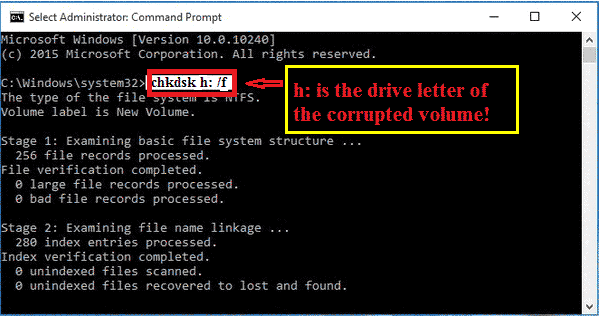 Repair damaged Sandisk SD card with chkdsk /f
This process is similar to formatting, you need to recover data first.
Step1: Insert your SD card into computer with a card reader. Run CMD.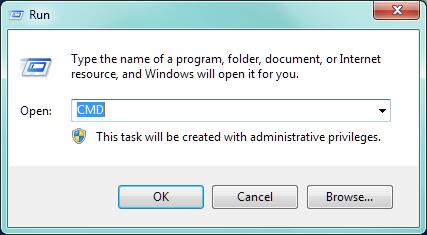 Repair damaged SD card with CMD
Step2: Type"format l: /fs:ntfs"(l is the drive letter of your raw SD card)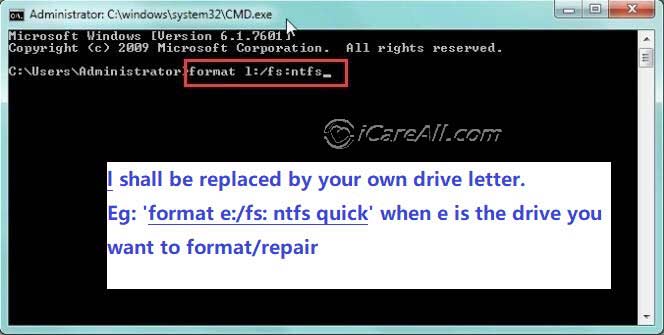 Repair damaged SD card with CMD
Free Repair Tool 5: Remove Sandisk write protection using cmd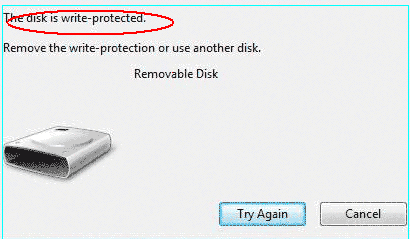 If your Sandisk has reported write protected, then remove Sandisk sd card write protection with cmd.
Step1: Run CMD command prompt by pressing "Win+R", press OK to go.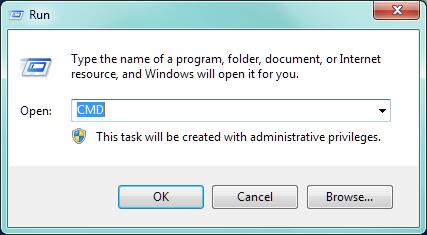 Remove write protection with CMD
Step2: Type "diskpart" in the window, press "Enter" to go.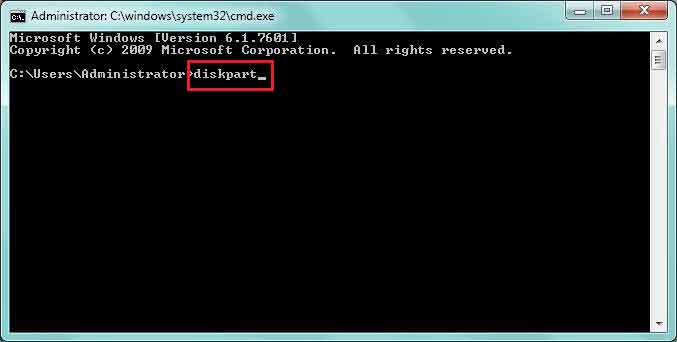 Remove write protection with CMD
Step3: Type "list disk" in the window, press "Enter" to go.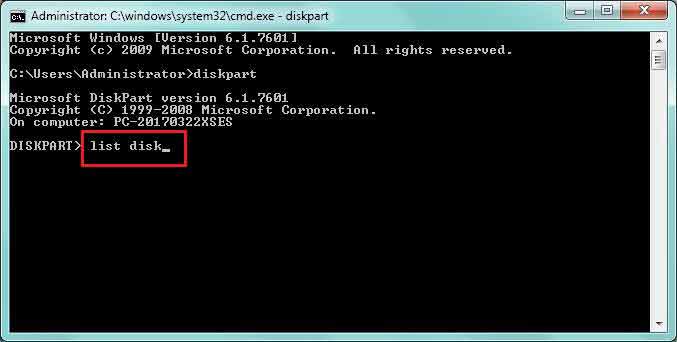 Remove write protection with CMD
Step4: Type "select disk 2" (2 is the disk you need to remove write protection.), press "Enter".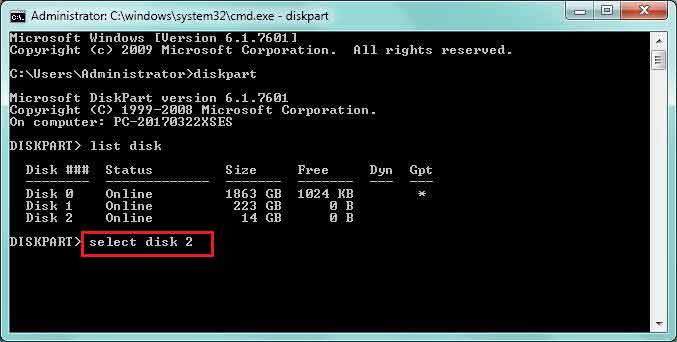 Remove write protection with CMD
Step5: Type "attributes disk clear readonly" in the window, and press "Enter".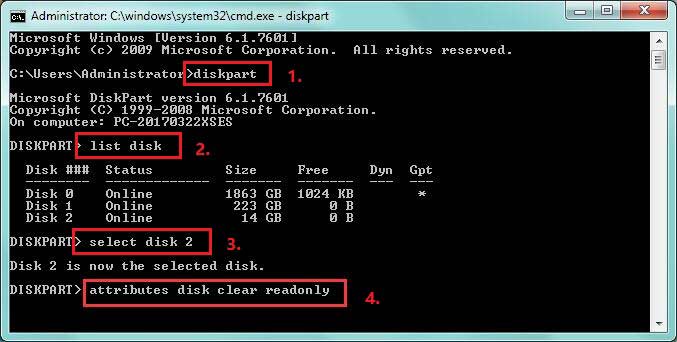 Remove write protection with CMD
Also read: 7 best free sd card repair tools
FAQs
Question#1: Unable to format Sandisk sd card, how may I format a Sandisk sd card that cannot be formatted?
Solution: When Sandisk sd card cannot be formatted, you may use the following cmd to remove its write protection.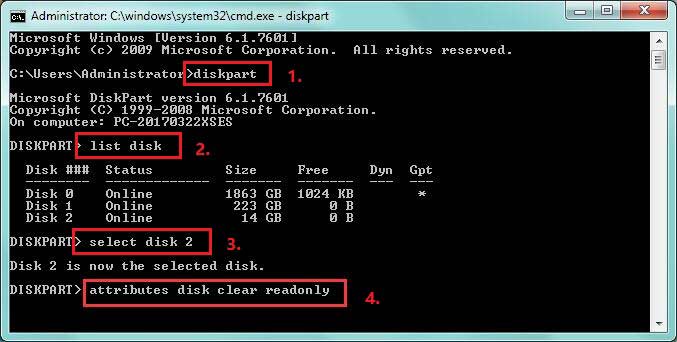 If you do not know how to use the above cmd, a free tool named IM-Magic Partition Resizer Free that has write protection removal ability may work for you.
(It's clear readonly function is to remove write protection which is preventing a formatting/changing on your sandisk memory cards)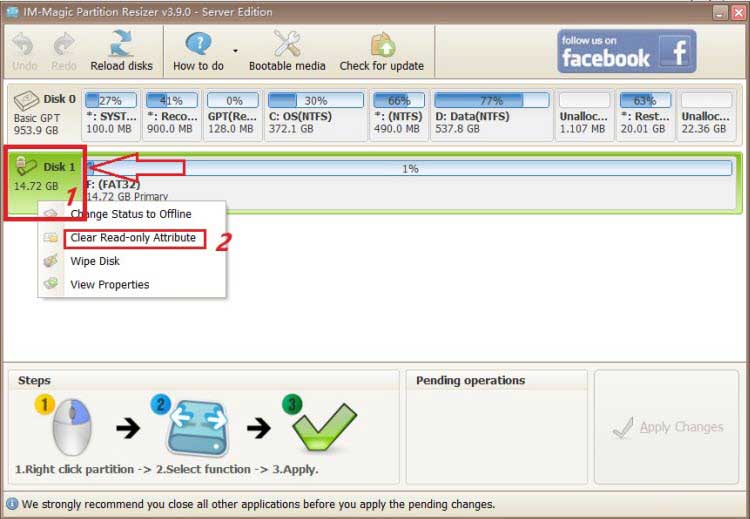 Not working? More help on this guide: how to format an sd card that is unable to format
Question#2: Sandisk sd card has raw format
When Sandisk sd card shows file system raw, you may format it to be fat32 or exfat or ntfs to get it work. Note: please backup data from sd card before the formatting. If sd card data is no longer accessible, use this tool for help.
Question#3: Sandisk sd card not detected
Solution: Update sandisk sd card driver or fix possible errors on Sandisk sd card using chkdsk or format it to make it work.
More guide here: Sandisk sd card not detected [6 free fixes]
Question#4: Sandisk sd card io device error
Solution: When sandisk shows io device error, it means the sd card has write protection, which can be disabled if it is the physical or logical write protection that has been added to the sd card. Here are the ways to get it removed.
Also read: how to remove sd card write protection
Video - how to format a write protected sd card
Useful guide:https://www.wikihow.com/Remove-Write-Protection-on-an-SD-Card
What Should You Pay Attention When SD Card Has Error?
First of all, you should stop using your SD card when it reports any kind of error because any operation might put original data in danger. No matter what error message you receive on your SD card, you had better not format the card because formatting will somehow make it more complicated for recovering inside data even if it did not erase everything on the card.
If you mistakenly format SD card, you should remember not to write any data on the card because new added data might overwrite the original data. If the original data is overwritten, it will be not readable. What is more, you should put your SD card in safe place to avoid any possible physical damage.
Force a format on Sandisk? you may read this article:
Recommend: 10 free disk/usb format tool to force a formatting
Or you may also read this guide: 8 free ways to fix corrupted sd card
Or you may want to read: 10 free ways to remove write protected memory card
Or also read: 5 free ways to format sandisk memory card
The above tools would work for the following Sandisk sd card errors
Related Articles
Hot Articles