How Do I Format A Sandisk SD/USB to FAT32
Demand for formatting Sandisk sd card or flash drive is increasing due to variuos kinds of requests. Here are free Sandisk fat32 format utilities you may use to change its file system to no matter raw/ntfs/exfat/fat or unrecognized format to fat32.
FAT32 Format Tools for Sandisk SD/USB - 5 free on Windows pC
There are many ways that can lead to a fat32 formatting, you can do it without any software or with free fat32 format tools.
#1 - Format Sandisk fat32 without software
A right click formatting in Windows computer will show you a format option fat32 if you right click your Sandisk sd/usb in file explorer. Don't know file explorer? Simply go to your desktop, double clicking the computer icon, usually it named 'THIS PC', and then you will see your Sandisk sd/usb there.
Also read: Sandisk sd/usb not detected in computer fixes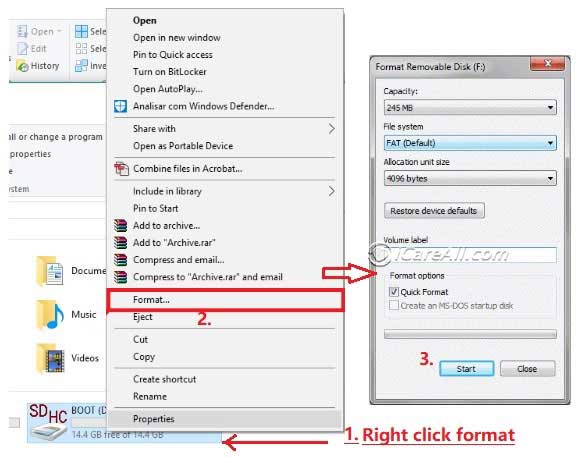 Right click your storage media, and select the format option, and here in the last window, choose the options to FAT32 under the File system column.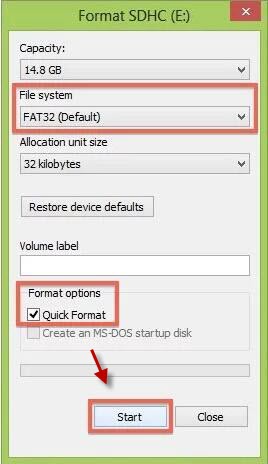 And then confirm the formatting by clicking Start button. And then wait for a fat32 file system formatting to be done within a few seconds.
This method is efficent for both Sandisk sd card, usb flash drive or SSD.
#2 Format Sandisk fat32 in Disk Management without software in Windows 11/10/8/7/Vista/XP
Disk management is able to format Sandisk sd/usb fat32 if you right click the Sandisk storage media in disk managment. Here are the detailed steps.
Insert Sandisk into your computer if it's an external storage media such as flash drive or memory card
Right click 'This PC' on your computer destop, go to 'Manage', and then click 'Disk Management'
Right click your sandisk in this map, and then go to option 'Format'
Choose the file system to FAT32 in the coming up window and then confirm the formatting.
#3 Format Sandisk FAT32 using Free Tool Rufus
Rufus is a free format tool that is able to perform a formatting easily even when Sandisk cannot be formatted by other tools.
#4 Format Sandisk FAT32 using IM-Magic Partition Resizer Free
Besides formatting Sandisk fat32, this free tool is able to repair damaged Sandisk sd/usb with its 'Check Partition' property that provides more than a bad blocks repairing. What's more, this free tool is able to remove the readonly write protection attribute for the Sandisk usb/sd if it fails to format/wirte/delete
Download links for the above tools and more tools are here: 8 free usb/disk format tools
#5 Format Sandisk FAT32 with USB Disk Storage Format Tool
Download links for the above tools and more tools are here: 8 free usb/disk format tools
Format Sandisk to Fat32 on Mac
Disk Utilities provided by MAC can get Sandisk usb/sd/ssd formatted to be FAT32 if you select its file system to FAT under the file system selection options.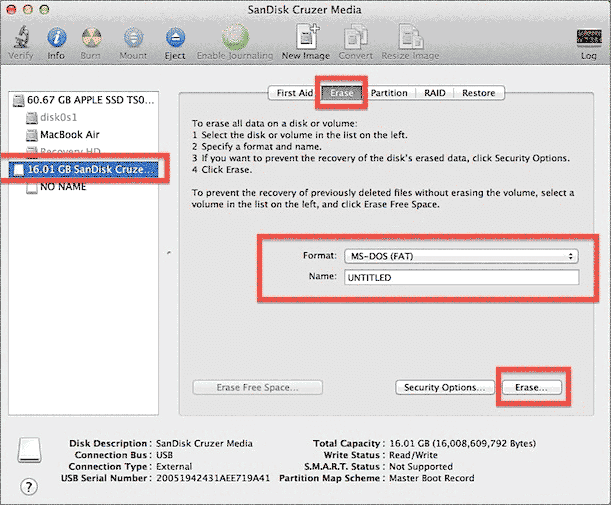 Detailed guide here: how to format sd/usb stick fat32 on MAC
Still unable to format Sandisk? -> Read this: how to format a Sandisk sd card that cannot be formatted
Question: How do I set sandisk sd card fat32 on android mobile?
Answer: If the default format setting in mobile, usually the erase sd card or format sd card option under the storage setting, does not provide a fat32 formatting, you need to turn to a computer, and a Windows computer may be useful.
You may firstly format sandisk in mobile and check whether it becomes the fat32 file system, if not, come to the computer for the fat32 formatting.
Users who need sandisk fat32 format software
Case I : Users who need to format sandisk memory card to fat32, such as
Sandisk 128gb micro sd card format fat32
Sandisk sdxc format fat32, sandisk 64gb format fat32, sandisk ultra 64gb format fat32
Sandisk extreme plus format fat32
Case II : Format sandisk flash drive to fat32, such as
Sandisk 64gb flash drive format fat32,
Sandisk ixpand format fat32
How to format Sandisk cruzer 64gb to fat32
Hot Articles