How to remove write protection from Sandisk pendrive/SD memory card - 2 efficient free ways
Background
There are always some wirte protection error on devices like Sandisk ultra usb or sdhc card that has write protection and cannot be formatted when devices has damages or its write protection was accidentally turned on. Here this article would share the ways to fix sandisk write protected sd card or usb drive.
Also read: format write protected sd card in 4 free ways, or how to remove write protected usb/sd with 10 free ways
2 Efficient Ways for Sandisk Write Protected Cruzer Blade/Ultra, SDHC without formatting
Recovering data from write protected Sandisk sd/usb? Try iCare Pro Free
#1 - Remove sandisk write protected sd/usb using cmd in Windows 10 8 7
Windows CMD diskpart is able to remove the readonly lable for most storage devices including Sandisk pen drive (cruzer blade, ultra usb 3.0), memory card (sdhc card, sdxc, cf card) that are write protected no matter 16GB, 32gb or 128gb...
Here are the steps.
Open diskpart in cmd, and then type 'list disk' to let it show your write protected sandisk in Windows 11/10/8/7 command line
Type 'select disk *', here 'select disk 1' is an example, you need to see which one represents your sandisk sd/usb, and then get it correctly selected. (If you do not know which one is your sandisk, open your computer, see how it shows in 'This computer')
Type 'attribute disk clear readonly' is to remove the sandisk write protection from your sd card or usb.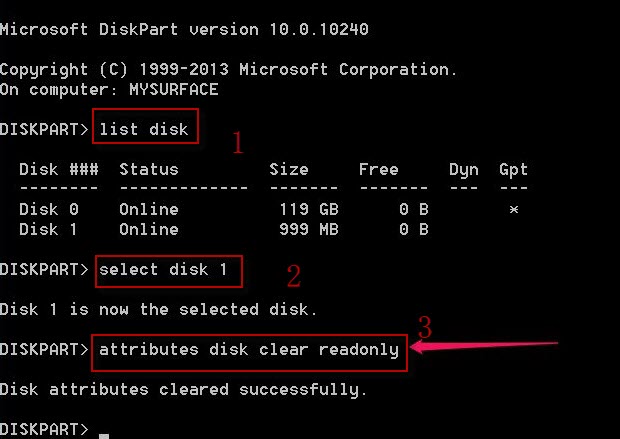 Remove sandisk write protected memory card or usb drive using cmd in Windows 11/10/8/7/Vista/XP
And then format sandisk in Disk management or right click it and format; or format it with a sandisk format tool. Also read: free usb format tool
#2 - Remove Sandisk write protection by deleting sandisk in Disk Management
When the first method did not work, try the second one to remove your device in disk management and then reload it, and reinitialize it in disk management which should work for a damaged Sandisk sd/usb.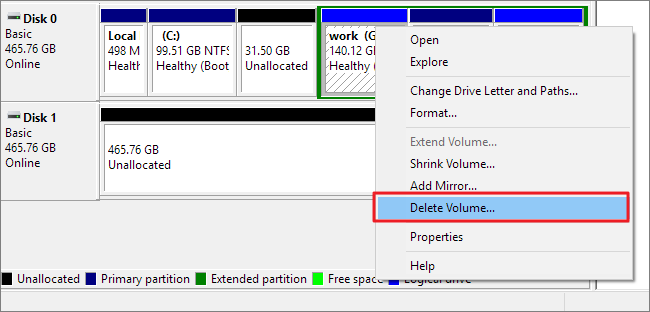 Here are the steps.
Note: You may also initialize the Sandisk if the right click option shows the option to initialize it. The process is very much like the way you format it.
How to Format Write Protected Sandisk SD/USB
Besides the above two ways that introduces methods to remove sandisk write protection without formatting, here are some format tools that may work on your Sandisk sd/usb that has write protection.
#1 Rufus, an efficient free tool that can do a quick format on your usb/sd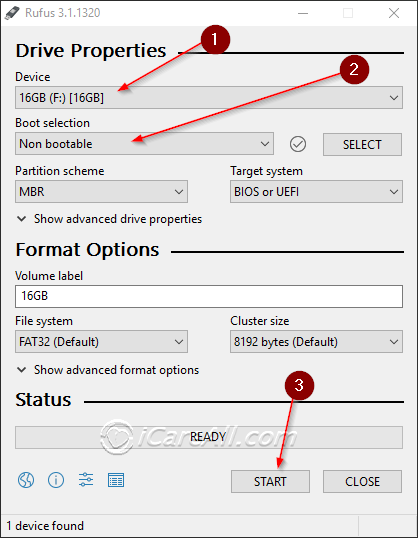 #2 IM-Magic Partition Resizer Free
Here are two steps you may do with the free tool. One is to remove the readonly attribute with this tool, and then another step is to format Sandisk sd/usb with this free tool. It can be useful if you do not know how to remove the write protection on your media. A right click option to remove the readonly attribute is provided by this free tool.
Step 1 - Right click Sandisk sd/usb on Partition Resizer, and remove readonly attribute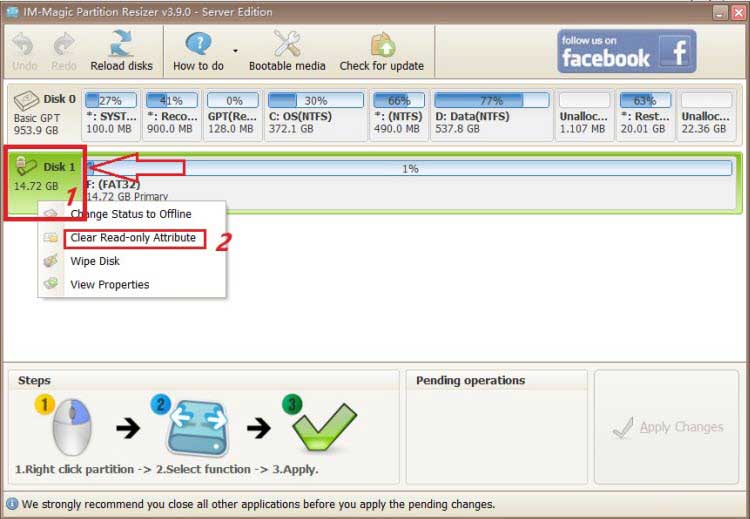 Step 2 - Right click the same Sandisk sd/usb and now this time choose the format option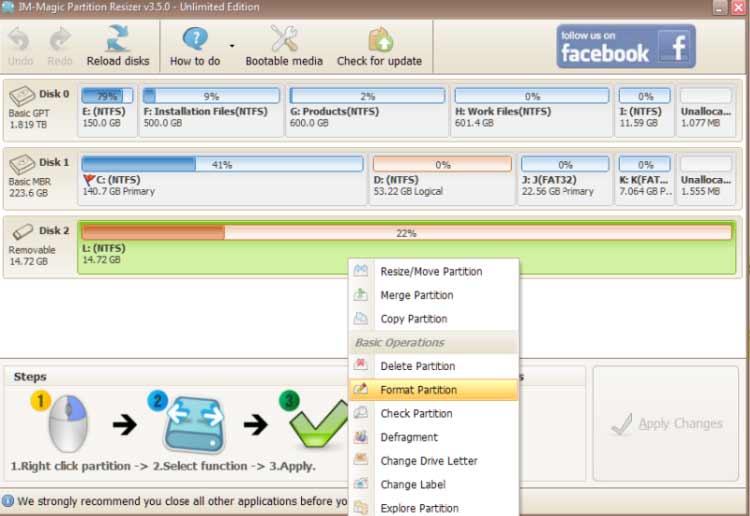 Also read: how to format write protected sd card
FAQs
Sandisk ultra usb 3.0 write protected, how to remove write protection from Sandisk usb drive in Windows 10

The write protection can be removed from Sandisk ultra usb by cmd or disk management in Windows 10 computer. The methods work for write protected Sandisk cruzer blade/glide pen drive.

How to remove sandisk sd card write protected in Android phone

Formatting write protected sandisk memory card could be done by sandisk sd card formatters. If you want to remove the write protection in Mobile phones like Samsung, HTC etc., you may try the following options: factory resetting, or erase option in your Android phone. If it did not work, you may need to get the Sandisk memory card connected to a computer and follow the above ways to get it fixed.

Sandisk cruzer or ultra usb cannot be formatted or deleted

The write protection also indicates that your device is dying when it cannot be repaired. You may buy a new one after data restored to another storage media.

Sandisk write protection remover or removal tool

Most disk/usb format tools can be used to work as Sandisk write protection remove software when there is no dedicated removal software available in Windows/Mac/Android.

Sandisk write protection switch, how to turn off Sandisk write protected switch?

There is no write protected switch that can be turned off on Sandisk. If it's an sd card, you may use a card reader that has write protection lock and insert Sandisk sd card to the card reader and get the lock turned off on the card reader.
Last updated on Nov 01, 2022
Related Articles