Format Sandisk iXpand FAT32/NTFS/EXFAT in Windows/MAC
Part 1 - Format Sandisk iXpand FAT32/NTFS/EXFAT on Windows 11/10/8/7
Formatting an iXpand fat32/exfat/ntfs can be done in Windows with several ways.
Format ixpand usb with disk management format option
Format ixpand pen stick with right click media, format option
Format ixpand usb with free usb format tools
Here we would illustrate the eaiest way with right click media format option, by which you may get an ixpand flash stick formatted to whatever file system you want it to be.
FAT32 - most usb flash drives less than 32GB storage capacities use fat32 as their file system by factory setting
EXFAT - a file system that is used when storage device is over 32GB and which can be recognized by both Windows OS and MAC machines
NTFS - a file system that can let you save a file larger than 4GB onto a flash drive.
Step 1: Insert your Sandisk ixpand to a computer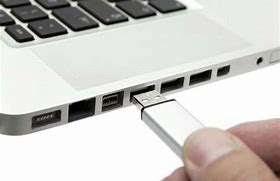 Step 2: Right click your ixpand thumb drive, and there is option 'Format', The File system column offers options: FAT/FAT32/EXFAT/NTFS, which you may choose upon your own demand.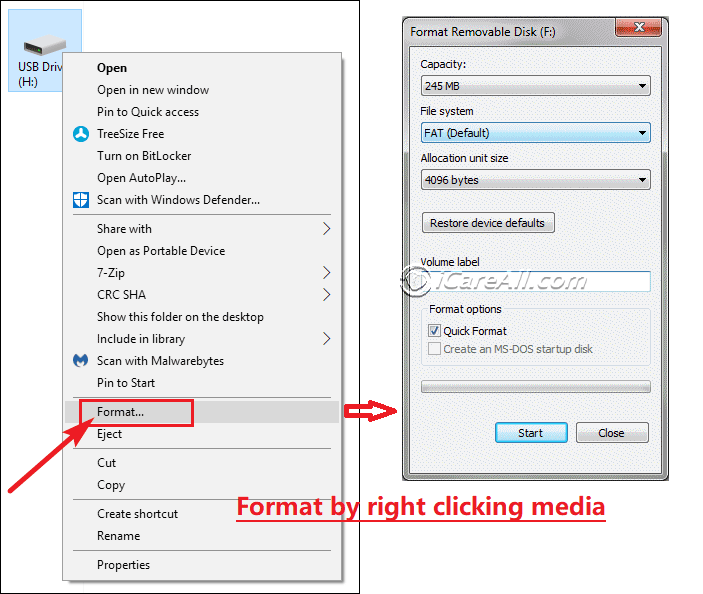 Choose the file system you want to get ixpand formatted with options: fat32, fat, exfat, ntfs.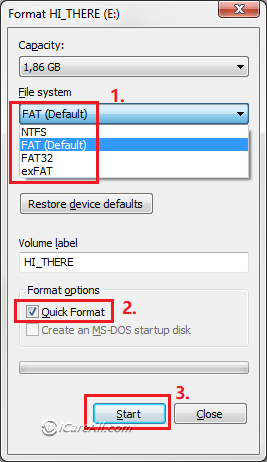 Format ixpand fat32, exfat, ntfs by selecting the option in File system column.
Select quick format if you want to speed up the format processing.
More free format ways? Also read: format sandisk usb flash tool which also mentioned the ways to fix the usb when it cannot be formatted and how to format sandisk usb with otg on android.
Part 2 - Format Sandisk ixpand on MAC
Disk Utilities is the tool that can format ixpand fat32 or exfat on MAC. Here the following photo shows the way to get it done. Open disk utilities and operate the following steps with the following steps
Click sandisk usb on the left column
Select Erase tap
Choose Format options (fat, exfat, hfs+ file systems), get one selected
Click Erase button for confirmation to get it done.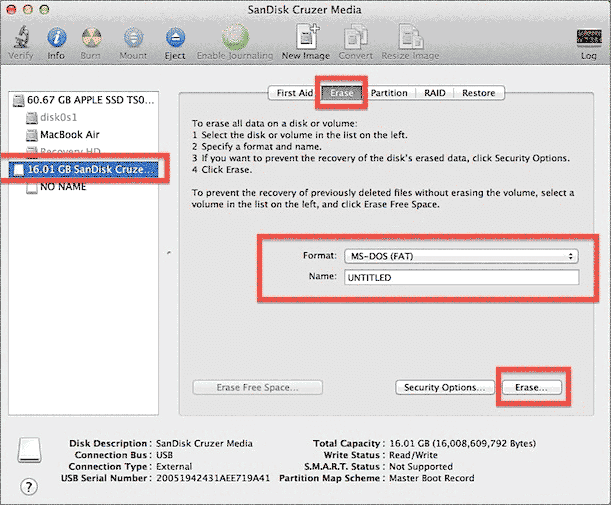 Format ixpand fat32 by choosing MS-DOS(FAT)
Also read: free usb format tool on mac
Hot Articles