How TO Recover Deleted Photos from Canon Camera SD/CF Card(Video Included)on Windows 10/MAC
Background
Can I recover deleted photos from my Canon camera? How do I recover deleted videos from my canon camera if the videos were deleted on Canon camera by mistake? I just did accidentally pressed format sd card on Canon EOS camera and all photos and videos were gone from the camera. Is there any Canon photo recovery software free to recover deleted images videos from my Canon digital camera?
If this just happened to your Canon camera such as EOS, iXus, powershot, canon rebel, canon eos rebel t6, canon 80d, canon rebel t6i... don't worry, this page introduces safe canon data recovery that could bring photos videos back.
Note: To keep the best Canon data recovery, you should stop using the memory card sd/cf from your Canon digital camera. Pull it out of the camera and avoid it from new data overwriting: ie, do not use it for new data storage or make changes on the sd card.
Where did deleted photos/videos go on Canon memory card?
Can deleted photos be retrieved? How do I get images/videos back when the deletion was done by accident? Where did the photos go after deleting on the camera?
Answer: The files were not in the recycle bin since Canon camera does not hold a recycle bin for removed images/videos on the sd card or cf card. They were marked as empty space for new data storage.
The deleted files were still retrievable untill they were totally wiped out by new photo storages. So it's vital to keep memory card untouched from new data storage if you still want the photos back.
Quick Navi
How do I recover permanently deleted photos/video from my Canon Camera?
The truth: Chances are if you have deleted images/videos a long time ago, you could still restore them with professional undelete tool if the deleted files were not overwritten by new files on the Canon memory card sd/cf.
Recommendation: Download iCare Data Recovery Pro for free canon sd card scanning even if the photos or videos have been permanently deleted or when photos disappeared from sd card on canon camera. What's else, it could also restore images and videos from Canon sd/cf card if formatted by mistake, canon sd/cf not working/detected, sd card error (blank, no sd card inserted, sd card access denied...)
Step1. Select a 'Deep Scan Recovery' scan that would start a free scanning for canon data recovery on Windows 11/10/8/7.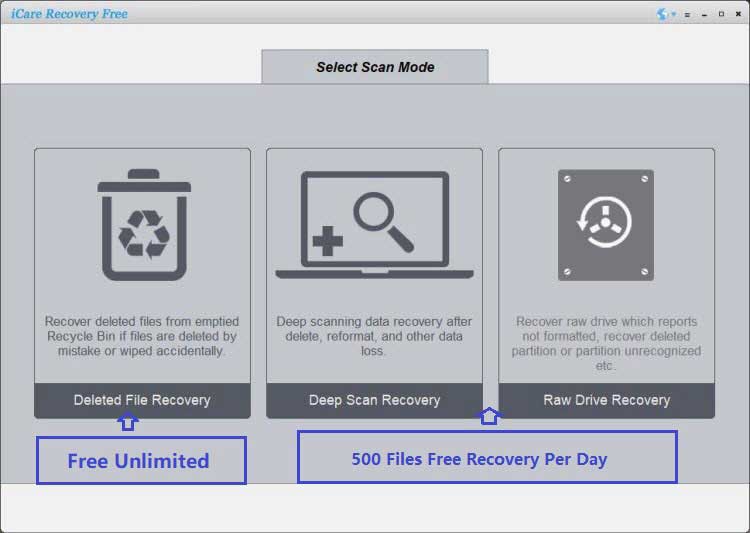 Step2. Choose the SD/cf card and then wait the software to show your deleted images/videos.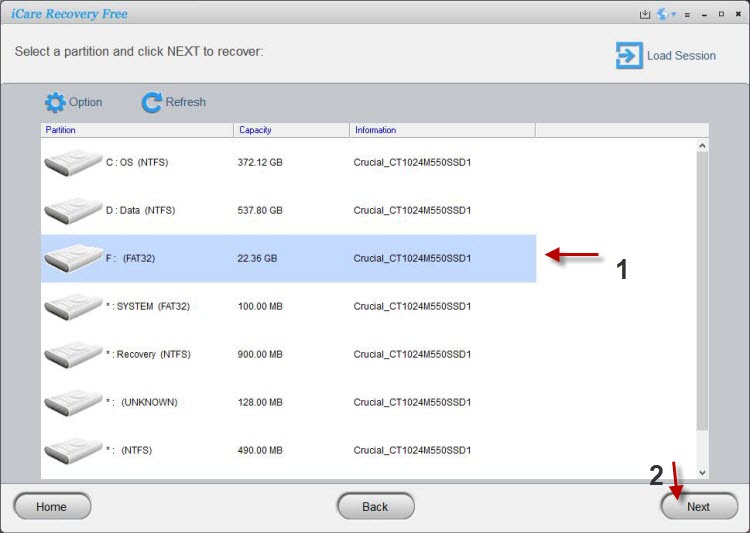 Tip: Usually it takes about 10 minutes - 30 minutes to finish a 32gb memory card scanning.
Step3. Double clicking one image for preview, if the image could be previewed, it would be restored as 100% sound. Or you may save files one by one for free to see whether photos were still sound for recovery.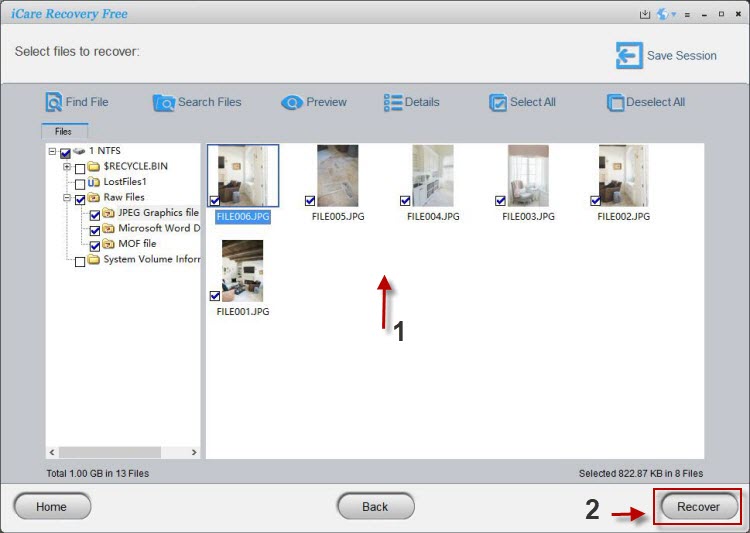 Canon photo recovery for Windows 11/10/8/7 needs installation of canon recovery software on Windows computer, please do not install the tool on the memory card to avoid data overwriting.
Canon Photo/Video Recovery for MAC - 100% free
If there is only MAC comupter or MACbook for Canon memory card recovery, here is a nice option that you may use Canon sd/cf recovery tool for MAC for free.
Lazesoft is a mac file recovery utility that works for various kinds of digital camera memory card including Canon sd card, cf card etc that you may use it for free canon data recovery on MAC.
Step 1, Download Lazesoft Mac Data Recovery install it on your MAC. Connect your memory card to mac computer.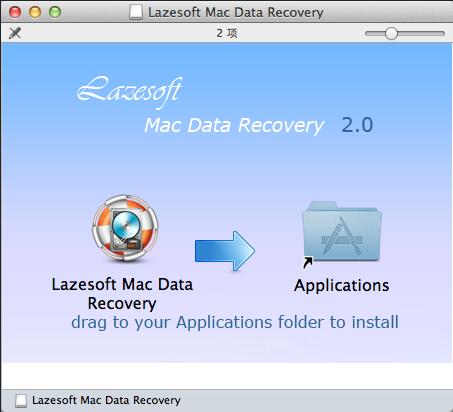 Lazesoft Mac Data Recovery for cf card recovery on mac
Step 2, Open the camera recovery for mac utility, start recovery with this free tool.
Step 3, Save the data and done.
Video - How to recover files Canon camera memory card on mac
Also read: free photo recovery on mac
Scenario #1 - photos were deleted a long time ago, I kept taking new images with my Canon eos, can I still recover the deleted photos?
Resolution: The chance of canon recovery depends on whether the deleted images were overwritten or not, ie its place was overtaken by new images/videos or not.
It is not alone when your photos were 5%-30% overwritten since new data overwriting if you continued using the canon camera and the new files are large files such as videos that usually take a lot of space on the memory card. That may lead to a partial restored images unable to be open, corrupted.
It would be a 100% successful recovery if you deleted the images a long time ago and you haven't used the camera later on.
Solution: start free canon sd card scanning and see what could be found by free canon sd card undelete tools on Windows 10/7 such as iCare Data Recovery Pro.
It is totally free to recover 1GB images. It would ask a $79.99 for a license if your files are over the free recovery limit.
FAQs
Question: how do I recover deleted photos from my canon eos 80d? how to recover deleted photos from canon eos rebell t6?
Answer: 'how to recover deleted photos from canon 80d or eos rebell t6' is no different from recovering files from canon camera introduced on this page, you may simply use iCare Recovery Pro free for a canon eso picture recovery no matter what type of canon eos you are holding or other types of canon cameras you use.
Question: how do I recover deleted video from my canon camera free?
Answer: Recovering videos from canon camera free with iCare Recovery Pro that is able to restore deleted videos for free if the video is within 1GB.
Tags: canon photo recovery for mac, How to recover deleted videos from canon camera, canon powershot recover deleted photos, canon rebel recovering deleted photos, canon photo recovery software free, canon photo recover, canon photo recovery tool
Hot Articles