10 Best Free Data Recovery Software for MAC [5 freeware+5 half free]
Top 5 best data recovery software for mac review - 100% freeware
#1 - Lazesoft Mac Data Recovery [100% Freeware]
#2 - Softtote Mac Data Recovery Free [100% Freeware]
#3 - PhotoRec [100% Freeware]
#4 - TestDisk for Mac [100% Freeware]
#5 - Exif Untrasher [100% free, limited to photos]
IMPORTANT NOTICE - PLEASE STOP USING YOUR DEVICE TO KEEP THE BEST CHANCE OF RECOVERY AND AVOID DATA OVERWRITTEN.
Any change to the flash drive would result in data overwritten. The above list flash drive recovery software are read-only if you do not install the recovery program on the flash drive.
#1 - Lazesoft Mac Data Recovery Review - 100% free
As an excellent mac data recovery freeware, Lazesoft Mac Data Recovery is a 100% free program for recovering files after delete, format, damaged internal mac drive or external media like flash stick, memory card...
What we like
It's completely free of charge as a freeware
No limitation inside of the software, you may save unlimited data for free
Easy to use with step by step guide
It supports mac os 10.5 and higher Intel Macs including Mac OS 10.9 Mavericks, Mac OS 10.8 Mountain Lion, Mac OS X Lion 10.7, Mac OS X Snow Leopard 10.6, Mac OS 10.5 Leopard and Mac OS Server 10.5 Leopard.
Supported file systems: HFS, HFS+, HFSX, FAT12, FAT16, FAT32, NTFS, NTFS5, EXFAT. - It supports various kinds of mac internal drives, external drives, usb sticks, memory cards...
What we dislike - not much to complain for this freeware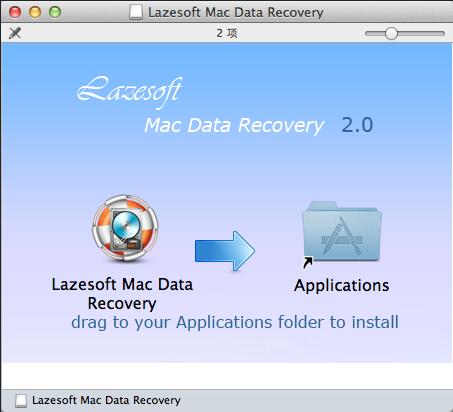 Lazesoft Mac Data Recovery
How to use Lazesoft Mac Data Recovery
Download url: http://www.macdatarecoveryfreeware.com/downloads/lazesoftmacdatarecovery.dmg
Step 1, Download Lazesoft Mac Data Recovery and connect your device to Mac machine if it's an external device.
Step 2, Run the freeware and scan device for mac file recovery
Step 3, Save data onto another digital media to save drive from being overwritten.
Video - How to use Lazesoft Mac Data Recovery
#2 - Softtote Mac Data Recovery Free Review - 100% free
As another completely free mac data recovery software, Softtote is second to Lazesoft as one of best data recovery mac utilities which supports various file systems ie it supports many types of digital devices ranging from flash drives to memory card, as well as hard drives no matter the drives were used on Mac or Windows that you could use this freeware on MAC for free file recovery.
What we like
It supports HFS+, FAT, NTFS, and ext2 file systems
No function or data saving limitations
Completely freeware on MAC
Free tech support
Works on Mac OS X 10.6 (Snow Leopard) ~ and 10.13 (high sierra)
What we dislike - no complain on this freeware
Download url:http://www.softtote.com/downloads/Softtote_Data_Recovery_Free.dmg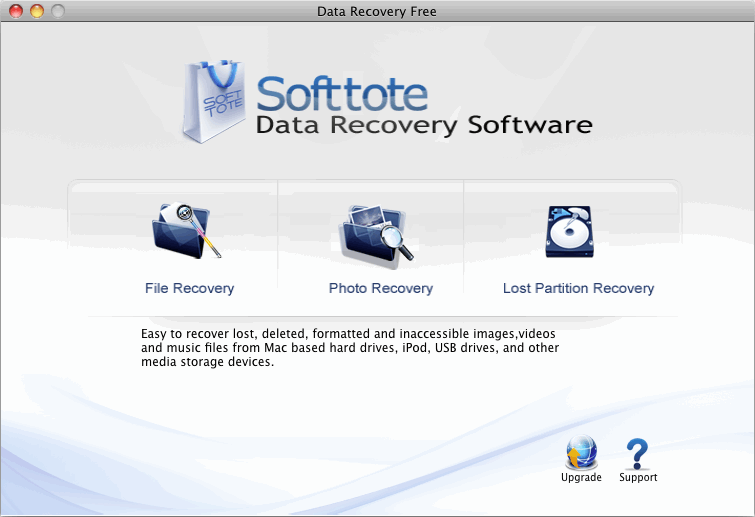 Softtote Mac Data Recovery Free
Video Guide - How to recover files on mac with Softtote Mac Data Recovery Free
#3 - PhotoRec Review [100% freeware]
As an outstanding free software, PhotoRec asks no pay from users and it is totally open to anyone even on its source code. This program is provided by TestDisk on cgsecurity.org that users may download it for different platforms for free recovery since it is with cross system application. It's the unique program that can be used on MAC, Windows, Linux etc. It's not limited to MAC OS.
What we like
It can be used on not only Mac but also Windows and other machines
It supports FAT, NTFS, EXFAT, EXT2/3/4, HFS+ (Almost any types of digital devices)
It also works with cd-roms besides other common digital storage devices (Most file recovery utility won't provided cd-rom recovery)
What we dislike - It's Dos built with not easy to use user interface (We will include video guide on this page for you to follow), restricted to image formats (It can be extended with its another freeware TestDisk mentioned in the coming #4 freeware)
Download link: https://www.cgsecurity.org/wiki/TestDisk_Download
(This program is bundled with TestDisk, another program from the same developer)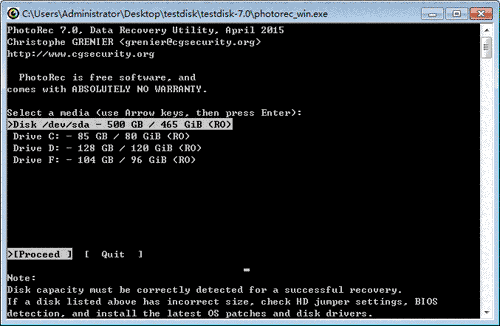 PhotoRec
PhotoRec Video tutorial - how to use PhotoRec to recover files on MAC
#4 - TestDisk for Mac Review [100% freeware]
Since TestDisk is in the same bundle with PhotoRec that you may find it is another useful recovery tool not limited to MAC but it can be used on other OS machines.
TestDisk VS PhotoRec
TestDisk has everything included in PhotoRec and it adds other functions that can easily rebuild broken file tables, boot sectors, and even make non-bootable hard drives bootable again. It could restore more files than PhotoRec, not limited to image format.
What we like
It supports FAT, NTFS, exFAT, ext2/ext3/ext4, HFS+, and many other file systems.
It could fix many errors and problems on your digital devices.
Cross platforms that can be used on almost any machines, any os
What we dislike
The tool is excellent for advanced computing users; unfortunately, it's not easy to take advantage of all the features TestDisk for Mac offers because this data recovery tool lacks a graphical user interface.
Download link: https://www.cgsecurity.org/wiki/TestDisk_Download
TestDisk Video Tutorial
#5 - Exif Untrasher [100% free for photo recovery]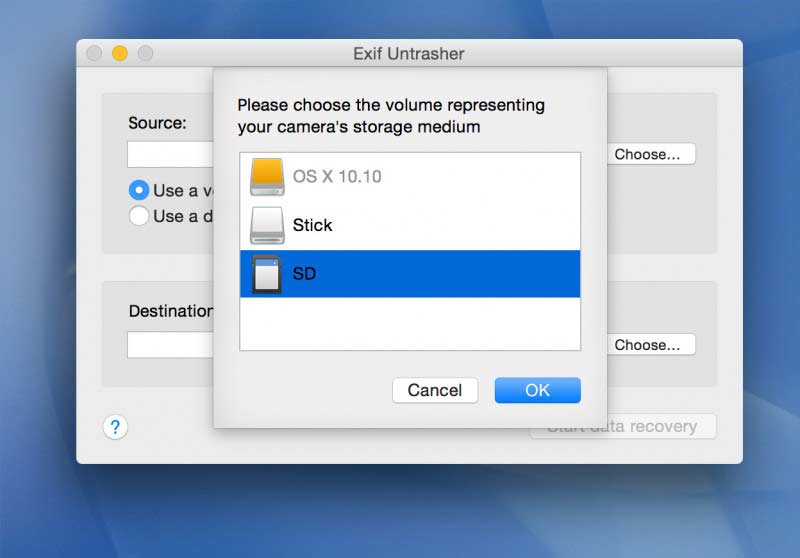 Exif Untrasher
As a photo recovery freeware on MAC, Exif Untrasher provides graphyical user interface for users to recover photos free of charge.
Download url: https://www.bluem.net/files/Exif-Untrasher.dmg
Part 2 - More Free Mac Data Recovery Software [Not completely free]
Here are some other free data recovery software for mac but not 100% free of charge since most of them are limited to 1GB free recovery that users need to pay to get a license key to activate the full functions.
They would still worth your trial if your device could not be recovered by the freeware in the first part.
#6 - Easeus Data Recovery Wizard for Mac [1GB free file recovery]
#7 - Stellar Data Recovery for Mac [1GB free recovery]
#8 - Ontrack EasyRecovery for MAC [1GB free file recovery] Download link
#9 - M3 Mac Data Recovery [1GB free file recovery]
#10 - Disk Dril Data Recovery for Mac [Only free to back up files, no free recovery for a single file]
Last updated on July 19, 2020
Hot Articles