SD Card Not Showing UP in Windows 10 Computer Fix
Can't detect sd card on Windows 10? WhenWindows 10 not reading sd card or sd card is not showing up/detected/recognized in Windows computer 10 8 or 7, desktop or laptop, here are some basic knowledge that you may need to know the difference: whether the sd card can be detected in device manager or disk management?
Scenario #1 - When internal or external sd card reader not being detected by OS Windows 10 computer, or it cannot be detected in file explorer, if it does show up in device manager or disk management, then your sd card may have logical damages which are probably caused by virus infection, bad blocks, unsafe removal, power surge/outage...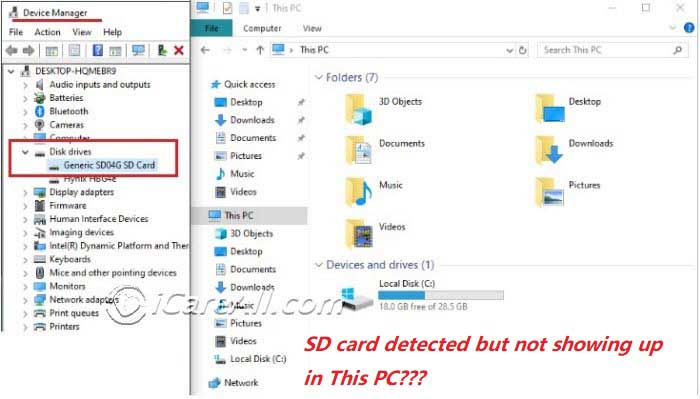 SD card detected but not displaying in This PC file explorer
SD card not found here in device manager? Get help here: SD card does not display in device manager fix,
This can be fixed by changing a new driver letter or path for sd card under disk management.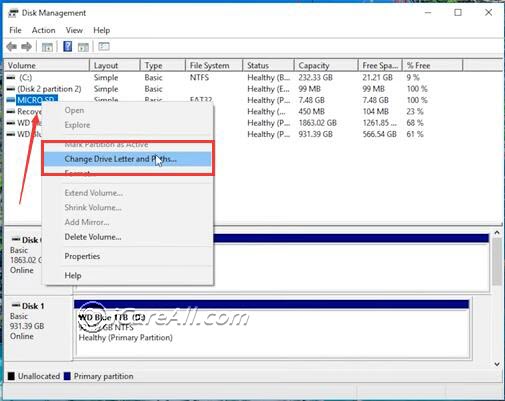 SD card not detected disk management? Also read: how to fix sd card not showing up disk management
Here are the steps to get sd card detected in computer.
Insert sd card to a Windows 10 computer with a memory card adaptor
Open disk managment by right clicking 'This PC' -> 'Manage' -> Disk Management (select one by one)
When disk management has loaded your sd card, right click the sd card, go to option 'Change Drive Letters and Paths' (The above image shows exact what it look like)
Does not work? Try more solutions here: how to fix sd card not showing up disk management
Scenario #2 - SD card can neither be detected in Windows 10 this pc nor device manager, disk management, cmd chkdsk/diskpart...
What could be the error when sd card could not be detected in anywhere on your computer?
Quick fix -> Try it on another computer, try it with another memory card adaptor to determine the error come from the memory card or computer, or sd card adaptor.
Does not work? Still unrecognized?
You may try to update the sd card driver in your computer by the following methods in Windows 10 computer.
Update sd card driver under device manager -> right click every item under 'Universal Serial Bus controllers'
Uninstall every item under 'Universal Serial Bus Controllers', reload your sd card, and then click 'Action' -> 'Scan hardware changes' to get device reinstalled with latest driver.
More details are here: How to fix sd card not recognized on computer [10 ways]
Fix SD card not showing up in android [7 ways]
Also read: 10 ways to fix corrupted memory card
Last updated on Sept 14, 2023
Related Articles
Related External Resource