SD Memory Card Shows Blank Asking to Format - 3 Fixes
Background
"I have about 1GB data (images, videos and music) on my 8GB memory card. However, when I turned on my digital camera today, memory card shows blank or has an unsupported file system. Trying to open my SD card copy some files, it says memory card needs to be formatted. What to do when a memory card shows blank and asks to be reformatted? Can I format the blank SD card and recover lost data? If data got erased after formatting, how to recover formatted memory card data?"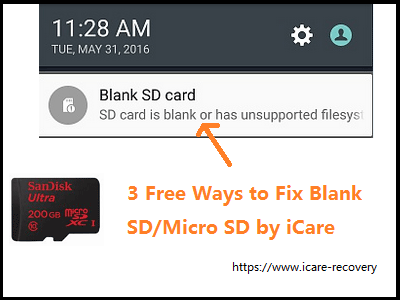 Are you wondering what to do when memory card shows blank and wants to be formatted? This article will tell how to recover files from a damaged sd card and fix the blank error. Usually, you can recover data from blank SD card that has unsupported file system, and RAW error.
Why memory card is blank with unsupported file system
Why does memory card show blank? When a storage card is saying blank, the capacities of the memory card might show 0 byte. Meanwhile, Windows might detect the memory card as unknown device and reports RAW or unsupported file system when you connect the card to your computer.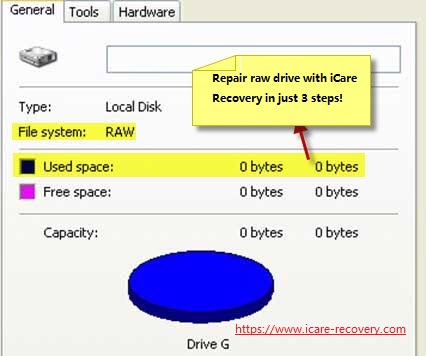 It could be the reason of the following:
Virus infected your memory card when you connect it to PC - can be repaired
Unsafe removal or eject the memory card without safe removal - can be repaired
Physical damage (chip damage) - can not be repaired by any software
Bad blocks after saving data again and again (logical damage) - can be repaired
Besides the above causes of memory card damage, sometimes your memory card would just go without control or wild all of a sudden. The error message you may see is something like
'Blank SD Card, sd card is blank or has unsupported file system'
'Windows can't format F'. Check to see that the disk and drive are connected properly.
The disk in drive H is not formatted. Do you want to format it now?
Card not formatted. Format card with this camera.
Location is not available. The disk structure is corrupted and unreadable.
F:\ is not accessible. Data error (cylic redudancy check)
USB Device not recognized
H:\ is not accessible. Access is denied.
Removed SD Card. SD card removed, Insert a new one.
Location is not available. F:\ is not accessible. The file or directory is corrupted and unreadable.
3 Free ways to repair blank memory card that asked reformatting
The following solutions were updated on 22/11/2018 that are different from the above video for reparing damaged memory card.
Solution 1: use Error-checking option to fix errors on memory card that you may right click your memory card on PC and then select its 'Property' and navigate "Tools" option to check and repair errors and bad sectors.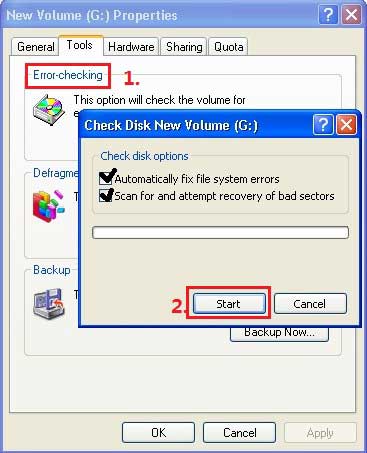 Solution 2: use disk management format option to format the blank memory card, or right click the memory card on PC and then select "Format"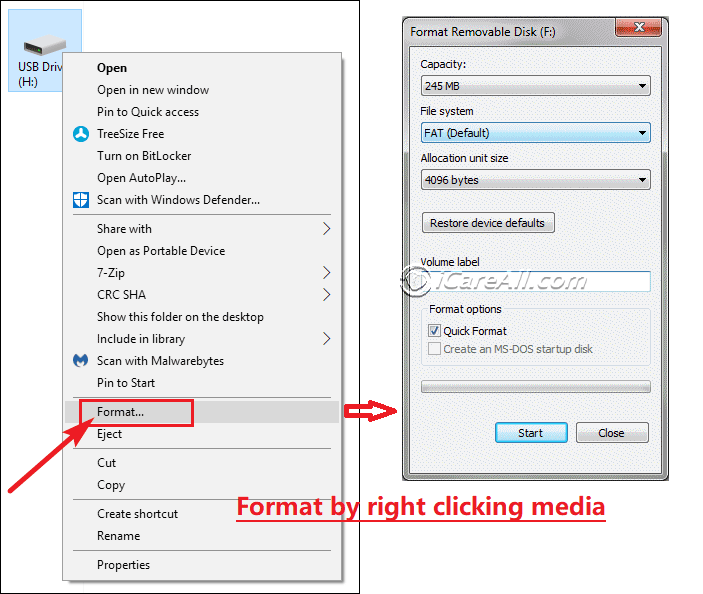 Solution 3: repair blank memory card with cmd diskpart
Type: "format F: /fs:fat32" and enter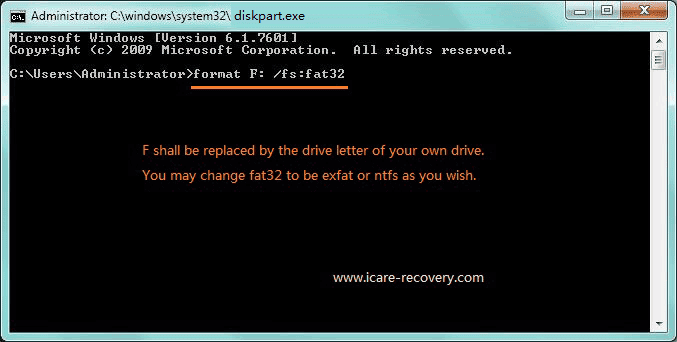 Or you may try the following ways instead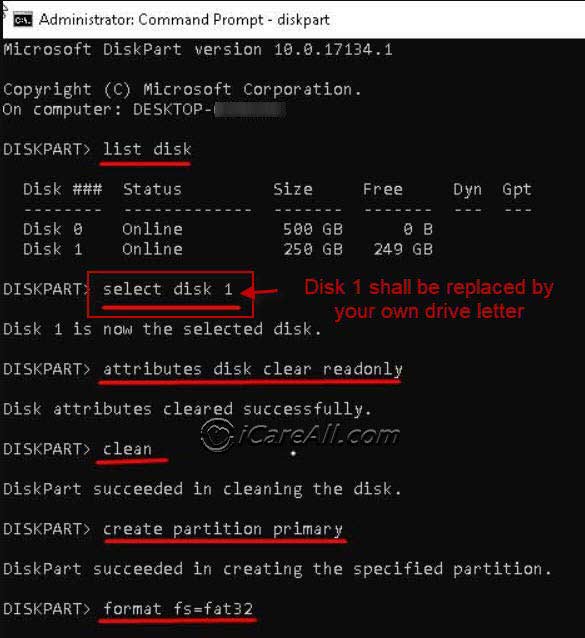 Also see: blank sd card recovery solutions, or 7 free sd card repair tool
Recover Files from Blank Memory Card that says Unformatted
If there are important files on the SD card, it's important to recover files off the card. Although memory card shows blank, all data is still stored on its original place. What you need to do is to use iCare Data Recovery Pro software to extract data from the damaged memory card.
Steps to Recover Files from Not Formatted Storage Card
Step1. Insert the storage card to your computer. Install iCare Data Recovery on your computer. Run this program and select 'Deep Scan Recovery' mode to start.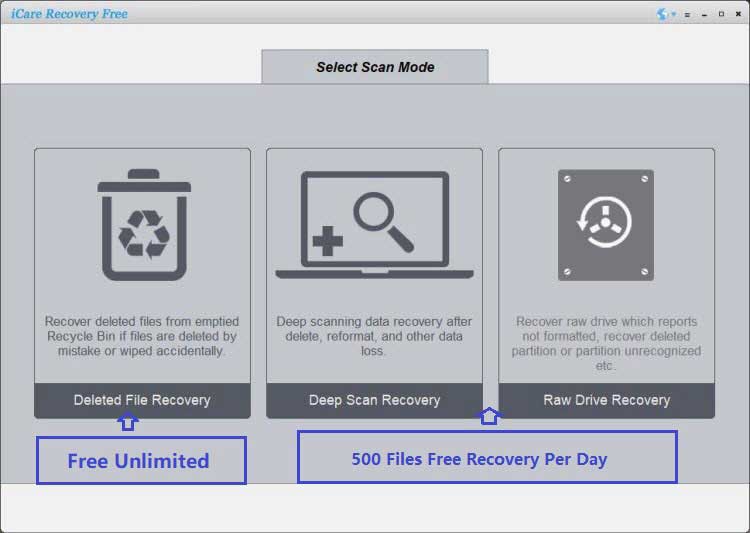 Step2. Choose your memory card to scan. Wait a few minutes, it will find your files .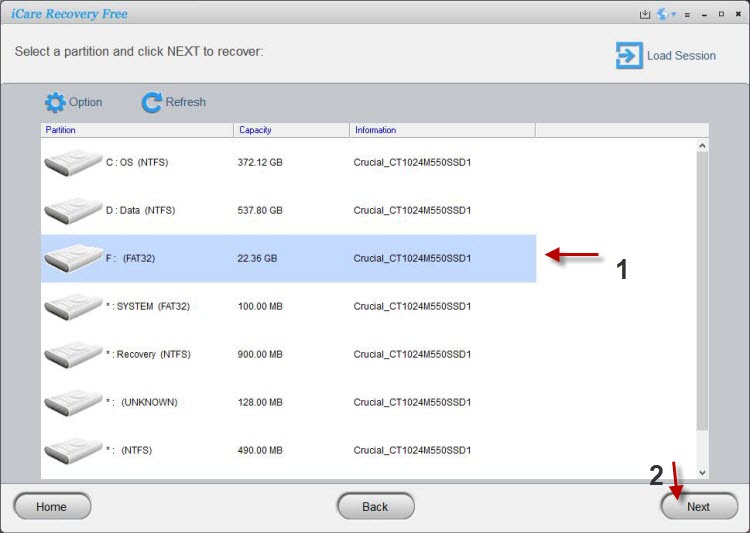 Step3. You can have a preview of found files after completing scan. So you have the chance to decide which files to recover.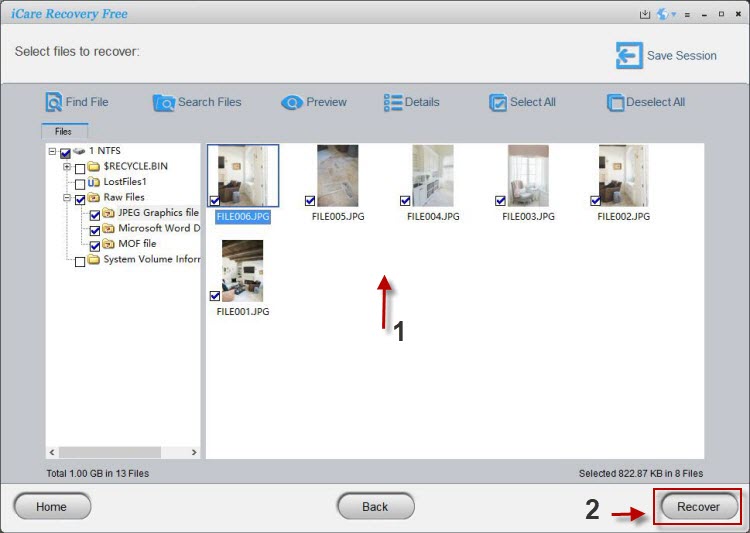 What to do if memory card chip is physically damaged
How to tell your memory card is of physical damage?
the recovered files are all corrupted
windows cannot see your memory card nor the camera, nor your phone, nor the software
The only option for a physical damaged memory card would be "local repair shop" and especially the 100% clean data recovery service center that may do a little hope for recovering the inside data, but the price is usually of 300-1000USD.
You may Google "data recovery service center + your location/city" to find available shops.
Last updated on Nov 28, 2023
Related Articles