Samsung Galaxy Android Phone Data Recovery
Do you know any Samsung Galaxy Android phone data recovery software? Today, more and more Android phone users trend to use Samsung Galaxy smartphone for its fashionable design and outstanding features. However, as a Samsung Galaxy cell phone user, you might mistakenly delete files on Samsung Galaxy. Or you have to face important data loss after reformat Samsung Galaxy Android phone by mistake. Or you are a new user of Samsung Galaxy smartphone who is not familiar with its features and unfortunately face system damage or corruption problem. In all those data loss situations, you may need to look for data recovery from Android phone Samsung Galaxy.
How to Perform Samsung Galaxy Cell Phone Data Recovery?
iCare Data Recovery provides a read-only solution for Samsung Galaxy data recovery, so you can follow the guide below to complete the data recovery:

Step1. Free download and install iCare Data Recovery on PC. Launch the software and select a proper scan mode.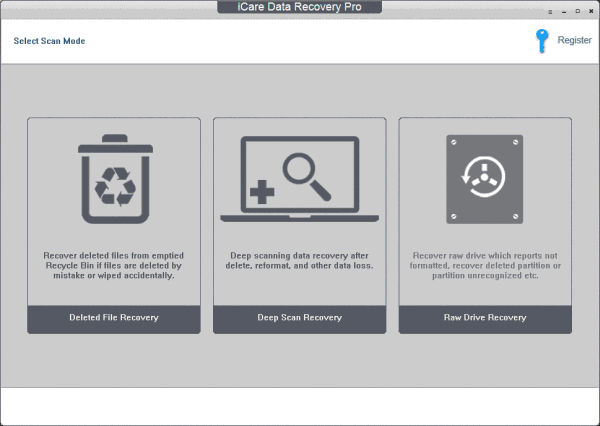 Step2. Choose the Samsung Galaxy phone and then you only need to wait patiently when the software is scanning.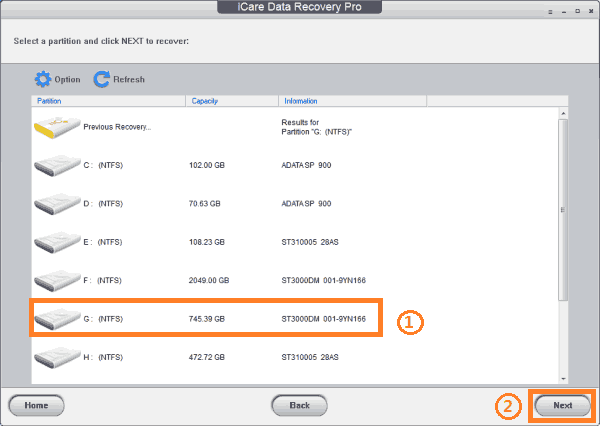 Step3. You can preview files when scanning is completed and then save the lost data to a different place.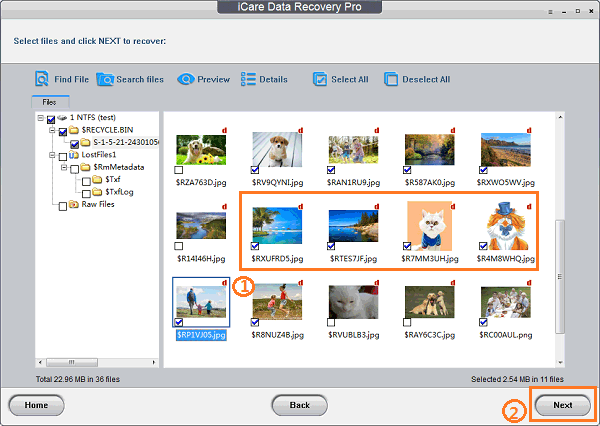 Recover Deleted Files from Samsung Galaxy Android Phone
You might believe that files have been permanently when you perform delete on Samsung Galaxy Android phone, but the truth is that you can use iCare Data Recovery to recover deleted files before new data is written to the phone.
Restore Formatted Samsung Galaxy Mobile Phone Data
You can perform format on a Samsung Galaxy mobile phone and delete all data immediately, but the deleted files will not be permanently erased from your mobile phone in which situation you can unformat the phone and get back lost files by relying on iCare Data Recovery.
Samsung Galaxy Smartphone Cannot Recognize Micro SD Card
Today's smartphone usually has internal memory, but it also allows users to add a memory card to the phone as an external storage media. Usually, Samsung Galaxy smartphone is compatible with all brands of micro SD card. However, Samsung Galaxy smartphone might fail to recognize micro SD card inserted in. You may receive message that there is no micro SD card inserted in Samsung Galaxy when you want to view pictures or write data. If micro SD card is not recognized by Samsung Galaxy, you can connect it to your computer and run iCare Data Recovery to get back files from unrecognizable micro SD card.
Similar Data Loss Problem on Samsung Galaxy
Samsung Galaxy Android phones include Samsung Galaxy S series smartphone and Samsung Galaxy Note series smartphone. Generally speaking, all smartphone developed by Samsung Electronics runs Android operating system. Therefore, you might meet similar data loss problem on Samsung Galaxy Android phone:
Samsung Galaxy cell phone says memory card needs to be formatted
CHKDSK is not available for RAW drives on Samsung Galaxy phone
Samsung Galaxy mobile phone is not accessible
Samsung Galaxy cell phone shows memory card is write-protected
PC reports I/O device error when you attempt to copy or move files from Samsung Galaxy phone
Samsung Galaxy Note Smartphone Photo Recovery
Samsung Galaxy note smartphone includes Samsung Galaxy Note 2, 3, 4, 5. All Samsung Galaxy note smartphone runs Android operating system. You need to perform data recovery by connecting the phone to a Windows computer since iCare Data Recovery is a program that only works on Windows OS. You can run this data recovery software to recover files from Samsung Galaxy Note mobile phone after deleting, formatting or when the phone shows error message on memory card.
Samsung Galaxy S Series Smart Phone File Recovery
Samsung Galaxy S series smart phones are popular with both youth and elders, especially women. On the one hand, Samsung Galaxy S series has fashionable design. Many people like to buy a Samsung Galaxy S series phone because they feel it makes them more confident due to its beautiful design. And on the other hand, Samsung Galaxy S series smart phone has outstanding characteristics. Many people reflect that Samsung Galaxy S series phone enables them take photos with high quality and it provides unique visual enjoyment for them when they use it to watch videos. So far, Samsung Electronics has released Samsung Galaxy S, S2, S3, S4, S5 and S6 smartphone.
You might meet different kinds of data loss problem on Samsung Galaxy smart phone. If you lose files from Samsung Galaxy smart phone due to any reason, you should remember not to write new to the phone. Then, you can use iCare Data Recovery to retrieve anything you want. This data recovery software allows you to restore all kinds of files from Samsung Galaxy smart phone.
Data Recovery from Other Samsung Phone
As the largest electronics company in Korea, Samsung Electronics has also developed many other types of smartphone in addition to Samsung Galaxy note and Samsung Galaxy S. iCare Data Recovery is helpful with data recovery from all Samsung smartphone, so you can use this software to resolve data loss problem on following Samsung mobile phone:
Recover data from Samsung Galaxy A series smartphone
Data recovery from Samsung Galaxy E series mobile phone
Retrieve files from Samsung Galaxy J series cell phone
Restore photos videos from Samsung Galaxy Y series phone
Can You Install iCare on Samsung Galaxy Phone for Data Recovery?
Sometimes, probably you do not have a computer when you want to recover files from your Samsung Galaxy smartphone because you are not at home. As you know, today's smartphone works as small person computer, on which you can install different programs, watch videos, listen to music, send an email, or even write documents, etc. Then, somebody might doubt if they can install iCare Data Recovery on their Samsung Galaxy smartphone so that they can perform data recovery on the phone without connecting it to a computer. The answer is no! Well, iCare Data Recovery is a Windows data recovery program. Although it is available for Android phone data recovery, it cannot work on Android OS. Therefore, you have to connect your Samsung Galaxy smart phone to a Windows computer and then install the software on the same computer to recover lost files.
What will happen after install iCare on Samsung Galaxy Cell Phone?
If you download iCare Data Recovery and want to install it on your Samsung Galaxy cell phone, you might receive message that the software cannot work on the device. Besides, it might overwrite the lost files when you save iCare Data Recovery on your Samsung Galaxy mobile phone. If so, you may lose the chance to get back the data you need. Therefore, please remember not to save iCare Data Recovery on your Samsung Galaxy mobile phone for data recovery, because this software cannot work on Android OS.
Pay attention:
If your Samsung Galaxy smart phone reports any error message and disables you to access data, you had better not download any program to fix the problem. It might cause further data loss due to new data being added to your phone. Besides, it might corrupt the files stored on Samsung Galaxy phone if the program contains any virus.

---
Related Articles