Free to Recover Deleted Text Message From Samsung Phone
Also read -> how to recover message from Android
Deleted Samsung text message by mistake? Lost text sms after Samsung factory reset? Messsages deleted for other causes? Don't worry, here are two Here are two free ways to retrieve deleted messages from Galaxy/Tab or other Samsung phones.
Restore message from Samsung backup&restore
If the messages were previously stored to Samsung account/cloud, then it is easy to pull them back to your phone. Note: Samsung account and password are required. If you happened to forget the password, then you may try the second way.
How to retrieve deleted messages on samsung galaxy s8/9/10 note 8/9/10 or s9 plus a71 a20??? on Samsung cloud
Go to settings, tap Accounts and backup -> Backup and restore (provided by Samsung cloud[Enter your account and password].)
Click 【▼】 and select the previous device from the device list.
Check message to be recovered, and then click recover now
How to recover message from Samsung with android recovery app
How can I retrieve deleted text messages from my Samsung without a computer? If there were no previous backup, then this part would help you retrieve deleted text message on Samsung Galaxy without computer. This free app is called Restore Image which is totally free. And it works with most Samsung mobile phones.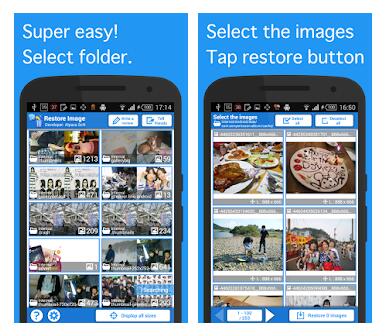 Restore Image for Android Phone Recovery
Download url:https://play.google.com/store/apps/details?id=alpacasoft.restoreimage&hl=en
Though this message recovery android app is called Restore Image, however it could restore other information from your Samsung mobile too. And it does not ask root permission that means you can recover deleted message from Samsung mobile without root. You may start a free try by searching 'Restore Image' in your Google APP Market.
Failed with Restore Image? -> android data recovery app [5 free recovery app]
Other FAQs
Q: Deleted messages are not in Samsung recycle bin, where did the deleted messages go? => Answer: the deleted messages were marked as empty spaces for new data to overtake them on your mobile. There is no such recycle bin on a Samsung mobile, and the recovery can only be done via a previous backup or with some undelete app.
How to retrieve blocked text message on Samsung galaxy, is it possible to unblock message on Samsung?
Undo message blocking on Samsung? You can recover blocked text message SMS on Samsung phone with the following steps.
Go to the main-screen, click on Call & Text Blocking > History > Text blocked history.
Now click and hold blocked messages  to restore.
After that, click on Menu icon on top and at last, click on Restore .
Also read: how to retrieve blocked message from Android phone
How do I retrieve erased text message from Samsung android phone?
If the sms is deleted and erased by mistake, an android message recovery app would help at this time, for example: Restore Image.
Last updated on Nov 01, 2022
Related articles
External Resource