Android Mobile Phone Online Recovery Free?
There are almost no free online phone recovery services. If there were some online, they shall be paid services. Here we would like to share information regarding to online phone recovery services, free phone recovery apps, free memory card recovery tools.
Note: There are no such online recovery tools. It's not the same as convert tools online. Plus the backup and recovery tools&services are not you are looking for since they need a previous backup to perform a recovery.
Online android phone recovery services
#1 Ontrack Phone Recovery Service
https://www.ontrack.com/en-us/data-recovery/mobile
Ontrack not only provides phone recovery service but also offers recovery tool that help restore files from the phone.
Phone recovery service price: $950 plus backup media (Evaluation of case is free of charge)
Phone recovery tool price: starting from $59 per year
#2 File Savers Data Recovery Service
https://www.filesaversdatarecovery.com
Services: Computer repair, Android data recovery, corrupted hard drive recovery, camera card data recovery services etc.
File Savers Data Recovery Service is a leading provider of professional data recovery solutions. With a team of experienced technicians and state-of-the-art technology, they specialize in recovering data from various storage media, including hard drives, solid-state drives, RAID arrays, and flash drives. Whether your data loss is due to hardware failure, accidental deletion, virus infection, or any other reason, they have the expertise to retrieve your valuable files.
Price: The cost of File Savers Data Recovery Service varies depending on several factors, such as the type of storage media, the severity of the data loss, and the required level of expertise and resources for recovery. Each case is unique, and therefore, it is best to contact File Savers directly for an accurate assessment and cost estimate. They will evaluate your specific situation and provide you with a customized quote based on the complexity of the recovery process required.
Keep in mind that data recovery can involve specialized equipment, skilled technicians, and time-consuming procedures, which can contribute to the overall cost.
It is not difficult to find online service for android phone data recovery, but it would be better if you can spend the least money or even no money to get back every lost file from a smartphone with help of recovery tools for android phone. This article will guide you to free download data recovery software for recovering mobile phone including Samsung, HTC, Nokia, LG, Blackberry, Huawei and Windows phone, etc.
#3 Datarecovery.com
Datarecovery.com is a renowned data recovery service provider that offers a wide range of services to help individuals and businesses recover their lost or inaccessible data. Their comprehensive services include:
Hard Drive Recovery: Specialized in recovering data from physically damaged or mechanically failed hard drives, including desktops, laptops, external drives, and enterprise-level storage systems.
SSD Data Recovery: Expertise in retrieving data from solid-state drives (SSDs), utilizing advanced techniques to overcome unique challenges associated with flash-based storage.
RAID Data Recovery: Proficient in recovering data from various RAID configurations, including RAID 0, RAID 1, RAID 5, RAID 6, and RAID 10, regardless of the cause of failure.
Server Data Recovery: Capable of recovering data from servers, including file servers, database servers, email servers, virtual servers, and more, ensuring minimal downtime and maximum data integrity.
Tape Data Recovery: Specialized in tape data recovery, supporting various tape formats, such as LTO, DLT, DDS, AIT, and more, providing solutions for physical damage, logical errors, and backup failures.
Memory Card Data Recovery: Skilled in retrieving data from all types of memory cards, including SD cards, microSD cards, CompactFlash cards, and other flash-based media.
Forensic Data Recovery: Equipped to handle forensic data recovery cases, preserving digital evidence in a forensically sound manner for legal investigations or litigation purposes.
Datarecovery.com employs highly trained technicians and utilizes cutting-edge technology to ensure the highest success rates in data recovery. They offer 24/7 emergency services, free evaluations, and a "No Data, No Charge" policy, where you only pay if they successfully recover your data.
Price: Datarecovery.com offers free evaluations, where they assess the recoverability of your data and provide you with a firm price quote before proceeding with the recovery process. The price varies from different cases. No fixed price available.
Free Android Phone Recovery (Methods&apps)
Note: If it's the problem from the phone, please pull out your memory card out at first to avoid data overwritting.
#1 Fix Android mobile by factory resetting
Factory resetting an Android mobile device can be an effective solution to fix various software-related issues. By performing a factory reset, you restore the device to its original factory settings, erasing all user data, apps, and settings. To initiate a factory reset, go to the device's Settings, find the "Backup & reset" or "System" section, and select the option to reset the device. It's crucial to back up your important data beforehand, as it will be permanently deleted during the process. Keep in mind that a factory reset should be considered as a last resort, and you should consult device-specific instructions or seek professional assistance if needed.
#2 Android phone fix apps
There are several Android phone fix apps available in the market that aim to diagnose and resolve various issues with your Android device. Here are a few popular ones:
Clean Master: Offers features like junk file cleaning, memory boosting, app management, and antivirus scanning to optimize device performance.

CCleaner: Helps clean up junk files, clear app caches, and manage apps to free up storage space and enhance device speed. https://www.ccleaner.com/ccleaner-android

SD Maid: Provides file management tools, system cleaning, app control, and database optimization to improve overall device performance.

Avast Cleanup: Offers junk file cleaning, RAM boosting, battery optimization, and app management features for optimizing device performance.

Mobile Booster & Cleaner: Provides features such as junk cleaning, RAM boosting, battery optimization, and CPU cooling to enhance device speed and responsiveness.
It's important to note that while these apps can be helpful, they may not be able to fix all issues, especially hardware-related problems. If you encounter persistent or severe issues with your Android device, it is recommended to consult professional assistance or contact the device manufacturer's support team for further guidance.
Free Android Memory Card Recovery on PC
If your data is saved on the memory card: tf card, or what we call MicroSD card on your android mobile, you may use a memory card recovery tool - iCare Data Recovery Free at first. You can perform DIY data recovery using the data recovery software for smartphone online in your computer.

Run iCare Data Recovery on a Windows computer to fix memory card data loss problems.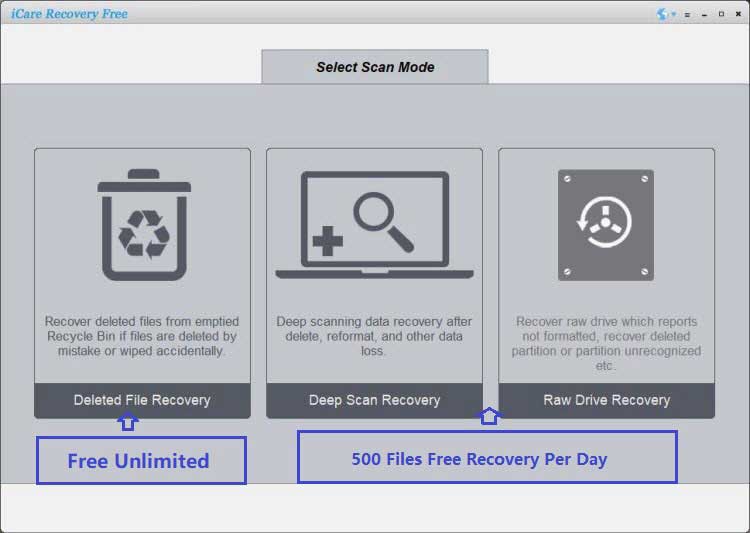 Free Android Internal Memory Recovery for Phone Samsung, HTC, Blackberry…
If you did not use a memory card in your mobile, don't worry, there are also many useful android recovery software for the phone internal memory.
100% Free Android Recovery Tool - DiskDigger (Windows and android editions are both available)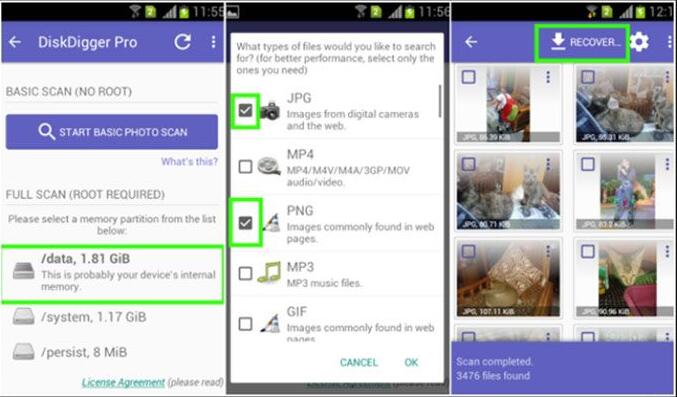 More free tools for android online recovery? -> 5 free android recovery tools download
Hot Articles
Last updated on Nov 28, 2023
Data Recovery > Howto Articles > Android Mobile Phone Data Recovery Software Online Free Download