Unformat Android Phone SD Memory Card
"How to unformat Android phone memory card after reformat by mistake? I reformatted my memory card in Android phone after clicking a wrong option. I mistakenly click Format option when I was attempting to click another option on my Android phone. I want to know if there is any way to unformat memory card on my Android phone."
"Is there an unformat tool that can help me recover lost files after formatting a memory card for Android phone? Today, I removed my memory card out of my Android phone and inserted it to my laptop to transfer some photos. However, I mistakenly formatted memory card on my computer. I want to undo format memory card so that I can get back all lost files, but I do not know if it is possible. Can you share any advice or tip to me to unformat Android phone memory card?"
Format memory card in Android smartphone and lose all previous photos? In order to unformat Android phone memory card, first you need to stop putting new data to the memory card. Thus, you can avoid overwriting the lost files. If lost data gets overwritten by new data, you will lose the chance to unformat your memory card. In order to undo format to recover memory card data in Andriod, you should use an unformat tool.
Unformat Software for Android Phone SD Memory Card Recovery
Do you want to get a useful unformat tool for Android phone memory card data recovery after format? iCare Data Recovery is a read-only unformat tool which enables you to undo format any memory card such as SD card, mini SD card, micro SD card, etc for Android phone. This data recovery software will first scan the formatted memory card to search all lost files and then allows you to select the files you need to recover. As an unformat program, iCare Data Recovery supports to recover data from any brand of Android phone like Samsung, Blackberry, Sony, Motorola, HTC, etc. This data recovery has user-friendly interface, so you can handle it easily.
Steps to Undo Format SD Memory Card Android Phone

Preparation: Free download and install iCare Data Recovery on Windows computer. Connect the formatted memory card to the computer and launch the software.
Step1. Select a proper scan mode after running the software.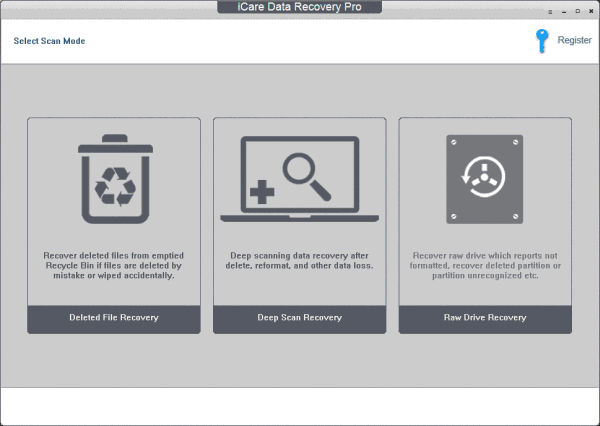 Step2. Choose the memory card as aim disk and then let the software scan it. You only need to wait patiently when the software is searching lost files on the memory card.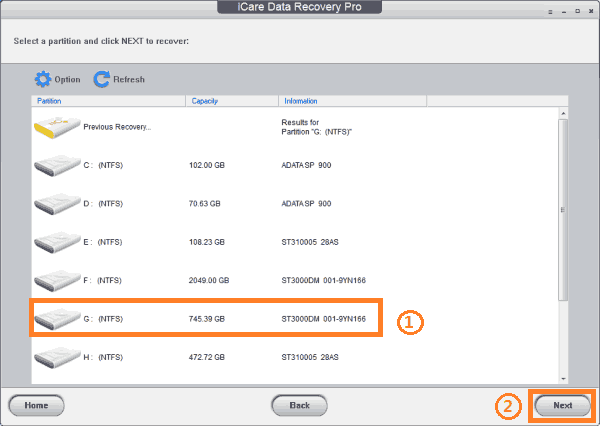 Step3. You can preview files like images and Microsoft documents after scanning. Then, you can select all needed files and save them to another drive.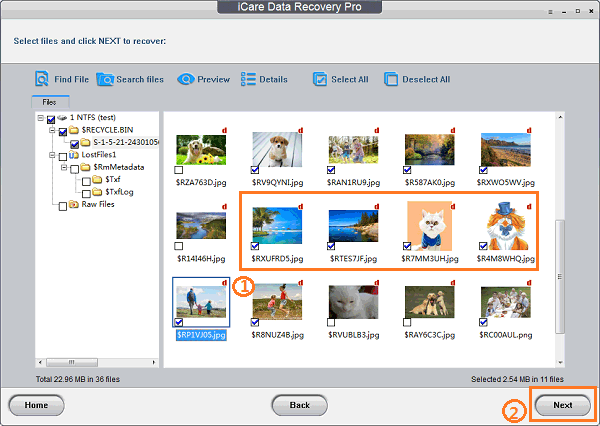 Why Can You Recover Reformatted SD Card in Android?
It is a common situation that you may think that it is impossible to unformat memory card because all data has been erased at once when you perform format on the card. You will no longer feel strange if you know that formatting only erase address table from the memory card instead of the true data. Therefore, before the lost data is overwritten by new add data, you always have a good chance to unformat SD card with all data back.
Undo Format after Quick Format Mobile Phone SD Memory Card
You may have different solutions to format a memory card. When connecting the memory card to computer, many people would like to quick format memory card because it takes a short time to complete the format. You do not need to complete format (full format) memory card when you only want to simply erase the memory card. iCare Data Recovery is the best Android data recovery software, able to recover all types of files after quick formatting memory card. Therefore, you can free download and install this data recovery for memory card on your computer when you want to unformat Android phone memory card to recover any lost data.
Unformat Android Phone SD Card after Complete Format
Sometimes, you may full format Android phone memory card after inserting to your computer. Many people say that it is impossible to unformat memory card after full format because full format will erase everything permanently and completely. As a matter of fact, it is not true. You are allowed to unformat Android phone memory card even after full formatting as long as you have not added any new data to the formatted memory card.
Unformatted Error on Cell Phone SD Memory Card
Unformatted error is another different situation for cell phone memory card data loss. You usually have no choice but to format memory card when it has unformatted error. In this situation, you can also use iCare Data Recovery. It has the function of deep scanning the unformatted memory card without formatting it. The data recovery software also allows you to unformat cell phone memory card even if you formatted the unformatted card, but you should remember not to write new data to the memory card.

---
Related Articles
Hot Articles