Quick Solution
The good news is you are able to restore any SD card file without reformatting it using iCare Data Recovery Pro.

Why SD Card Requests for Format?
SD card needs format due to damaged file system which shown as RAW, unknown or unsupported. Below are some situations in which an SD memory card need to be formatted:
SD card becomes raw and reports to be formatted
SD card stopped working no matter which device you inserted it into
Virus, Trojan or malware has attacked SD card which lead to corrupted card
Related FAQs:
How can I get photos off an SD card without formatting? The SD card says needs to be formatted on my computer, but formatting will wipe all files. I cannot afford to lose any data from the card. So can somebody tell me the solution for SD card photo recovery without formatting?
Similar Cases from More Users
"Android phone says SD card is not formatted error, but I cannot format it because there are many files on the card. Inserting the SD card to another phone, I still receive the same error message. Connecting the SD card to PC, Windows system also reports the error message. Should I format the SD card to fix the error? Can I recover files after formatting SD card?"
"I have searched online that many people advice me to format SD card to convert it from RAW file system to FAT32. If I format the SD card, will I lose files on the card? However, how can I fix the RAW drive error on the SD card without formatting?"
"I cannot read any data on my 8GB SanDisk SD card. Can I open RAW SD card without formatting it? How can I extract files off an unformatted SD card?"
What you need to face after formatting an inaccessible SD card?
According to the FAQs shown above, it is obvious that any SD card brand might request for reformatting whether in your phone or on your PC. The worst thing is you have to accept the result that all data would be wiped out after formatting the SD card especially when the system reports RAW or unformatted error.
SD Card Data Recovery without Formatting
Here, you will be directed to recover files from SD card without formatting .
You are able to recover data from SD card without formatting when formatting is required. What you need is to use a data recovery tool. iCare Data Recovery Pro is a read-only data recovery program which helps recover files from SD card and other types of storage unit when it is unreadable or shows error messages. You can follow the steps below to recover files from SD card when reports it has not formatted error:
Step1. Run the data recovery software and select a recovery mode.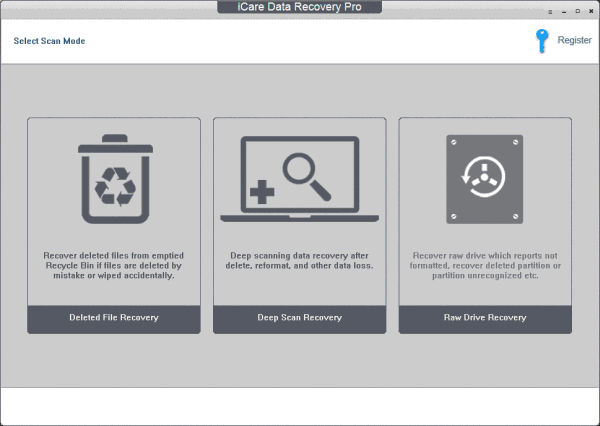 Step2. Select the SD card and let the software scan for lost files.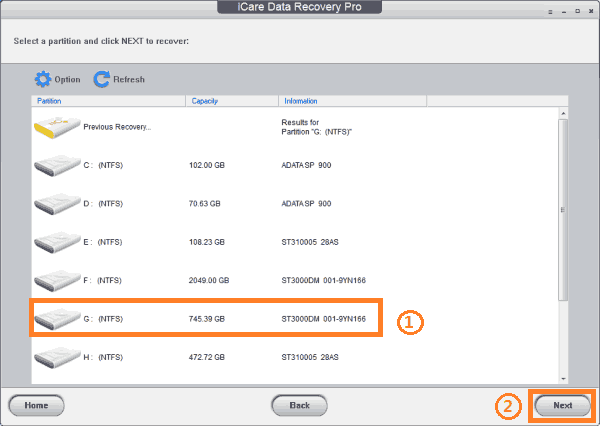 Step3. Preview found files and recover the ones you need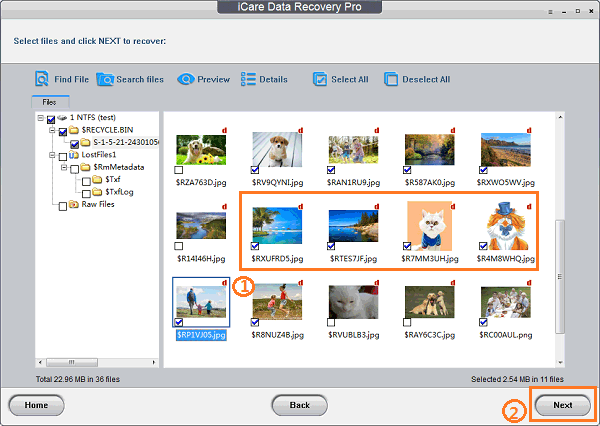 Damaged SD Card Try Reformatting It
A damaged SD card is trying to reformat to fix certain problem? Here, the damage usually refers to logical damage. An SD card often gets logical corrupted due to virus infection, unsafe removal, improper operation, bad quality, and more. Most of the time, simple reformatting repairs a corrupted SD card when it requests for format. Therefore, just reformat the damaged SD card after recovery using data recovery software to allow SD card function well.
How to Recover Data from Corrupted Android/Camera SD Card without Formatting?
Android phone and digital camera are two kinds of devices that are compatible with different SD card. The task of recovering files from a corrupted SD card on mobile phone or camera without formatting can easily be accomplished by iCare Data Recovery Pro.
Whether it is Android smartphone like HTC, Blackberry, Samsung, etc or digital camera like Nikon, Canon, Olympus, Kodak, Samsung, etc, you can restore data by attaching the unworkable SD card to a Windows computer through a proper card adapter.
How to Fix/Access Damaged SD Card without Formatting It?
One situation: You cannot format the damaged SD card due to denied access from SD card.
Whatever the situation is, the truth is you still cannot access the SD card without formatting it.
Then how do you access a damaged SD memory card without reformatting? Well, formatting is a necessary process to fix any SD card when it requests to, make your effort to proceed format the SD card in order to make it work again.

Recommendationd: Windows cannot complete format on SD memory card>>
---
Related Articles
Hot Articles