Recover Data off Unformatted External Hard Drive
"When I connected my external hard drive to my computer, Windows 7 system recognized it as an external disk. However, when I clicked on the external hard drive to access files inside, Windows said you need to format disk in drive before you can use it. Checking the Properties of the external, the Capacity, Used space and Free space show 0 byte. And the file system of the external has changed to RAW. Now, what I want to know is how to recover data from the unformatted RAW external hard drive."
"System reports not formatted error on my WD Password external hard disk and disables me to access the drive, but I have many important excel files stored on this drive. How do I recover excel file without formatting the external hard drive? Thanks for any kind help!"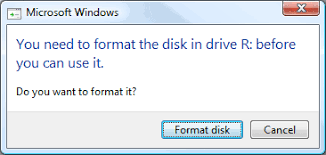 HD raw needs formatting when you try to access the drive.
Video - recover data from unformatted drive

Also read: my external hard drive says it needs to be formatted
Unformatted External HDD File Recovery
Unformatted error is a common error which occurs on different kinds of storage media. When you receive the unformatted error on external hard drive, the drive will become inaccessible. In this situation, the only solution for getting back those inaccessible files is to rely on read-only hard drive data recovery software - iCare Data Recovery. This software supports various kinds of external hard drive including Seagate, Samsung, Western Digital, Hitachi, Maxtor, and more.
Steps to Restore Data off Unformatted Portable Hard Disk
Format recovery program free download to get lost files back off any portable hard disk which shows unformatted on PC:
Step1. Connect the external hard drive to a Windows PC. Download and install the read-only data recovery software to the computer. Launch the software and select a recovery module.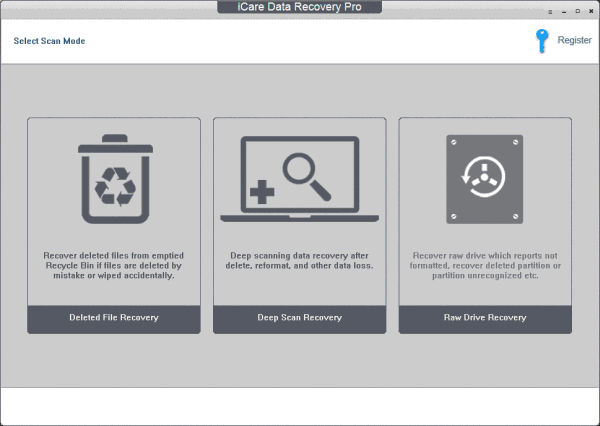 Step2.  Choose the unformatted external hard drive and let the software scan. You have no need to do anything but to wait before scanning is completed.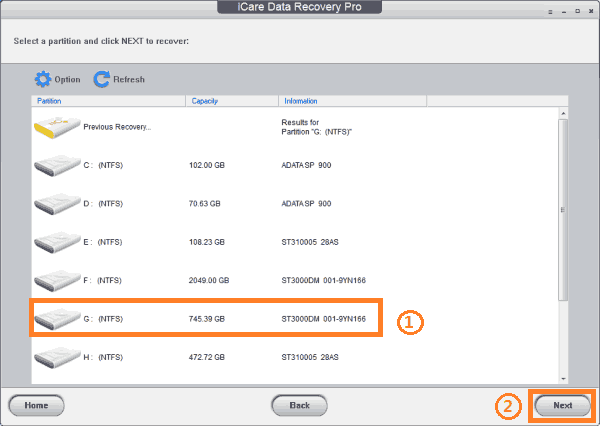 Step3. You are allowed to preview found images and office files after scanning. Then, you can select the files lost from the unformatted external HDD and recover them.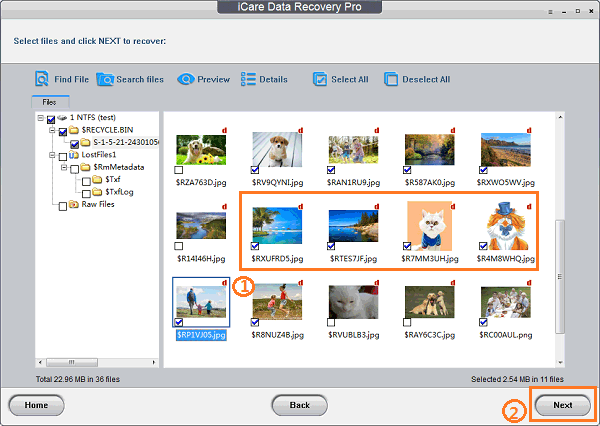 Unformatted External HDD Recovery under Windows
The data recovery software can work on almost all Windows Operating System such as Windows XP, Windows 7, and Windows Vista, etc, so you can connect the unformatted external hard drive to Windows PC to perform lost data recovery. Usually, Windows system will show the external hard drive as a RAW drive when you receive not formatted error message. You do not need to worry because the data recovery software can detect an unformatted RAW drive and deep scan it for all types of files. It allows you to preview some files like images and office files after scanning so that you can check if they are the data you need. Some large files like videos cannot be previewed, but you can view them after recovering.
Format External HDD to Fix Error
The data recovery software can merely help recover lost data from external HDD when you cannot access it due to not formatted error, but what can you do to fix the error? Usually, you can format the external hard drive to fix the error when all needed data has been retrieved successfully.
Notice:
When external hard drive needs to be formatted, you may be quite wondering whether you can format it or not. Generally speaking, formatting will not lead you to lose everything on the card permanently, but it is very important that you cannot write any new data to the external hard drive. New added data might overwrite the original data, in which situation data will become unrecoverable. In order to avoid mistakenly writing new data to the external HDD after formatting, you had better not format it before data recovery.
Windows Was Unable to Complete Format
If you have ever encountered unformatted error on external hard disk, you may also run into the situation that Windows cannot format the external whether you perform full format or quick format on it. When meeting such kind of problem, probably the external HDD has bad sectors. Therefore, you can try to check and repair bad sectors on the external by following the guide below: right click the external hard disk and choose "Properties" => click "Tool" =>> click "Check now" button under "Error-checking".
If you still want to format the external hard drive when receive message like "Windows was unable to complete the format", you can employ a format program. With a format program, you may be able to format the external successfully, but it may cause some damage to the external hard drive.
Data Recovery When Run into Other Similar Issue
You can rely on the data recovery software to perform data recovery when you meet other similar issues. For instance:
External hard disk is not recognized / detected by PC
Windows system reports I/O error on the external hard drive
Receiving message like "disk drive is corrupted"
More other situations for external hard drive data loss

Also read: corrupted hard disk recovery
---
Resource
iCare Data Recovery Pro : powerful all in one rescue software for Windows All OS
Other Articles
Related External Resource