SDHC Card Repair and Recovery Guide
SDHC card is a type of SD card that has high capacity, so you can store many files on an SDHC card. An SDHC card is usually used in digital camera, PDA, multimedia player, mobile phone and DV for data storage. However, any data stored on an SDHC card for those devices might be lost due to many reasons, while SDHC card error is a common reason. Usually, you probably face following errors on your SDHC card:
1. SDHC card RAW file system not formatted error
2. SDHC card cannot be recognized by any device
3. SDHC card I/O device error
4. SDHC card copying problems
5. SDHC card is not accessible
This page will introduce all possible errors on an SDHC card and share methods to fix various kinds of errors without touching any data stored on the corrupted SD card.
Part1: [Video]SDHC Card Photo Recovery
Also read: memory card data recovery, or 10 ways to fix corrupted sdxc card
Important! – First Step for SDHC Card Error Fix
You probably encounter various kinds of errors and problems on your SDHC card due to different reasons, but the most important step for all errors fix on an SDHC card is to get back the previous data from the SDHC card. Any further operation that you perform to fix the error might lead the previous data on the card to be lost permanently. Generally speaking, you have two choices to recover data from SDHC card, either recover data from backup (if you made backup in advance) or recover data with a useful data recovery program.
Part2: SDHC Card RAW Asking to Reformat Fixes
RAW is a common error that can occur on almost all storage media, so you do not need to feel surprised if you find that an SDHC card shows RAW file system and requires formatting no matter in your digital camera, mobile phone or on your computer. The symptom of RAW not formatted error is that you usually receive error message and cannot read or write any file to the device that has the error. Then, what can you do to fix the issue when an SDHC card wants to be reformatted and changes to RAW file system?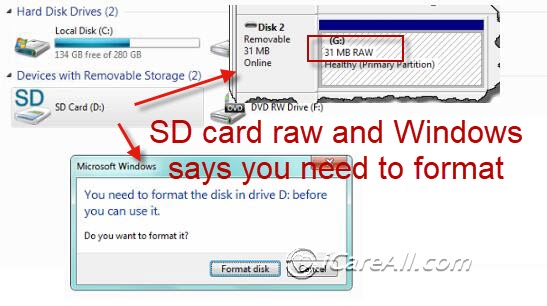 Solution:
You only need to follow two simple steps to fix RAW drive error on an SDHC card which asks to be reformatted on camera, smartphone or Windows computer.
Step1. Connect the SDHC card to PC and recover data from the card from a backup or using a data recovery tool (You can skip this step if you do not need the data stored on the card).
Step2. Insert sdhc to pc, open Disk Management, right click the SDHC card and select "Format" option to format it to change RAW to FAT32.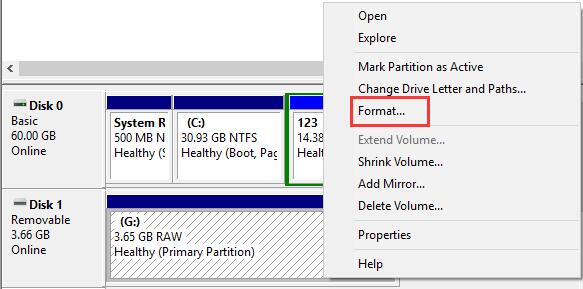 Also read: how to fix phone sd card needs formatting
SDHC Card Not Recognized by Any Device
The symptoms of not recognized error on SDHC card usually include:
1. Digital camera asks to insert a valid media for data storage when you use it to take photos
2. Cell phone says there is no memory card inserted when you want to read data from the card
3. SDHC card does not show up after connecting to a computer
Solutions:
1. If SDHC card is not recognized by an old digital camera or smartphone, you had better check if the card is compatible with the device.
2. If SDHC card is compatible with the device but it cannot show up, you can connect it to computer and go to Disk Management to see if it shows normally there. You can try to format the SDHC card under Disk Management.
3. If SDHC card is not recognized by PC, you should check if the card reader supports SDHC card. In addition, you should also make sure that the hardware and device driver on your computer are compatible with SDHC card.
4, Update sdhc card driver in Windows device manager.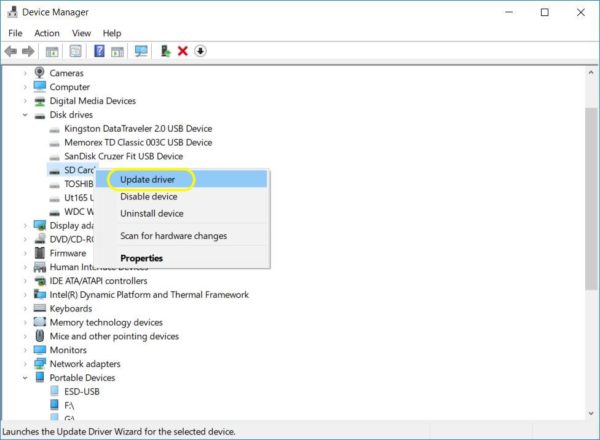 Also read: how to fix sd card not working in phone
SDHC card I/O Device Error
I/O device error is an error, which usually disables you to read or write any file from SDHC card. This problem probably occurs due to virus infection, bad sectors on SDHC card, improper operation, improper connection, incompatibility problem and more.
Solution:
1. Update the device driver to ensure that it can be compatible with SDHC card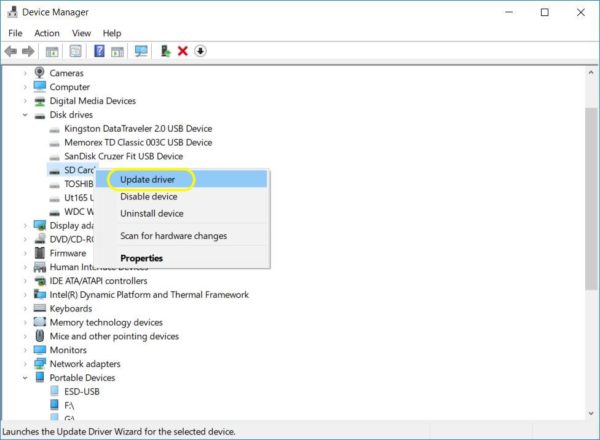 2. Check if the SDHC card is connected properly to your computer
3. Check if the SDHC card is physically damaged
SDHC Card Copying Problems
Your SDHC card can be recognized normally but you cannot copy files from this card? Or you cannot copy other files to this SDHC card? You can check following reasons if you meet this problem:
1. You cannot copy files from or to an SDHC card if the SDHC card is write protected or the files you want to copy are readonly. In this situation, you just need to remove the write protection or clear the readonly attribute on the files.
2. You cannot copy files from or to an SDHC card because the files are in use by another program. In this case, you just need to close the program that is using the files.
3. You cannot copy data from or to the SDHC card because the files are corrupted due to virus infection or other similar reasons.
SDHC Card Is Not Accessible
SDHC card might become inaccessible when receiving following messages:
1. SDHC card is not accessible, access is denied
2. Invalid media type reading drive
3. Sector not found in SDHC card
4. Please insert a disk into drive
5. SDHC card is not accessible. The file or directory is corrupted and unreadable on your flash stick
If you cannot access your SDHC card after getting the similar error message, you can try to perform error-fix on the card to fix the problem.
If you want to recover data from SDHC card when it got lost due to any reason, you can use best software for SDHC card recovery.
10 ways to fix corrupted sdxc card
---
Related Articles
More Articles That You May Be Interested
Hot Articles
External Resource