Free Fix/Solve Drive File or Directory Is Corrupted and Unreadable Error without Data Loss in Windows 7/8/10
Last updated on 6/16/2017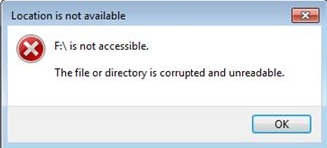 How to fix/repair/solve/remove wd/Seagate/Samsung/Toshiba external hard drive/hdd/c drive/usb flash drive/sd memory card not accessible file directory corrupted unreadable error without losing data in Windows 10/8/7/xp when Windows gives error message saying: "c/d/f/h:/ is not accessible the file or directory is corrupted and unreadable, please run chkdsk utility"? How to recover files from inaccessible external drive/usb/sd saying corrupted unreadable directory for Windows 7/8/10?
Answer: Free recover data from usb hard drive/pen drive/memory card with file directory corrupted and unreadable error by using free iCare Data Recovery Pro and do/perform hard drive/memory card file or directory corrupted unreadable fix/repair latter.
>>100% Safe free data recovery before/after fixing file direcory corrupted unreadable error

Download iCare Data Recovery Pro to restore photos/videos from memory card including SD, XD, and CF card after formatting it by mistake or due to memory card error.
Recover Data from External HDD/SD/Flash Drive Saying Corrupted File or Directory
Do you keep getting Windows xp/7/8/10 error messages reporting drive is inaccessible the file or directory is corrupted and unreadable while you are trying to open/use/access files and folders on a WD/Seagate/Samsung/Toshiba external hard disk/usb pen drive/sd/micro sd memory card? In order to fix/solve the external hdd/sd card/usb drive error directory corrupted unreadable problems without data loss, you are supposed to download and try external hard drive file recovery software iCare Recovery Pro free version to recover inaccessible hard drive/memory card images, apps, music and files back.
Go try free iCare Data Recovery pro here to retrieve corrupt file directory hard drive/flash drive/sd memory card data:

Also run a deep scanning there to take inaccessible documents, videos, photos and files back as possible as you can.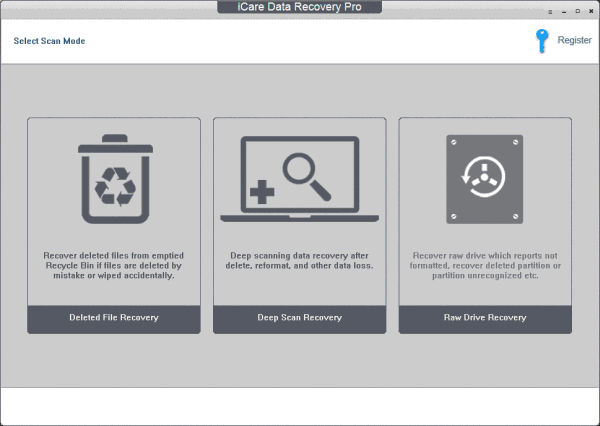 ==>If this hard drive/usb/memory card also is detected as raw file system and gives drive not formatted error message, also go visit this page: RAW format hard drive/sd memory card asks to format
Fix/Repair The File or Directory Is Corrupted and/or Unreadable Error in Windows
When you do encounter such drive inaccessible file or directory corrupted and/or unreadable error, you often can easily follow the Windows error warning to run chkdsk tool to delete/remove the corrupted unreadable directory problems on usb hard drive/thumb drive/cf memory card.
How to run chkdsk utility from boot on Windows computers? Click Start => Run => Type in "cmd" and enter "chkdsk /f g:".
Please Note: Change the command lines correspondingly when your external drive/usb/memory card drive letter is not G.
Chkdsk also cannot delete/remove/fix file directory corrupted unreadable error issues, go read this page: Repair corrupted file or directory error without data loss
External Hard Drive Corrupted and Unreadable Fix
External hard drive saying it is corrupted or unreadable, and also cause such file or directory corrupted unreadable error problems on your PC? No panic! It seems not to be as bad as you think. After performing corrupted external drive file recovery smoothly, go format usb hard drive to see whether it is still recoverable. And also go fix/repair corrupted and unreadable external drive with disk diagnostic software.
==>Visit this page to read more about free hard disk diagnostic tools: Best free hard drive testing programs
---
Related Articles
Hot Articles