3 Ways to Fix SD Memory Card Cannot Mount or Be detected
Last updated on Sept 14, 2023
This article aims to help resolve unmount problem on various kinds of memory card including SD, SDHC, SDXC, XQD, CF, XD and memory stick.
How to Fix Unmounted Micro SD Card in Mobile Phone
If the SD card works normally before but cannot mount in phone suddenly, you can switch off your phone and reinsert the card to it again. Usually, SD memory card can mount normally after rebooting the cellphone.
Video - how to fix unmounted sd card in android phone
How to mount an SD card in different cellphone?
1. Mount SD card android device
Mobile phones like Blackberry, HTC, Samsung, Huawei, OPPO, Xiaomi, LG, etc are running Android operating system. Here are steps to mount a micro SD/SDHC/SDXC on those brands of android cell phones:
Step1. Click "Settings" app on android mobile phone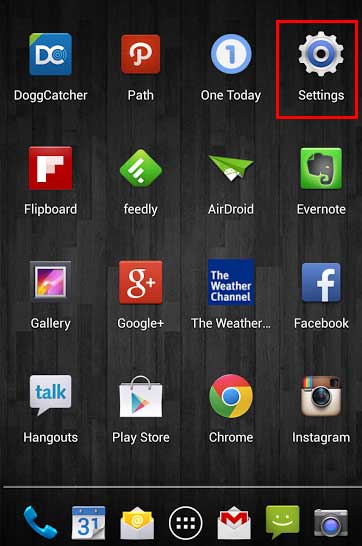 Step2. Click "Storage"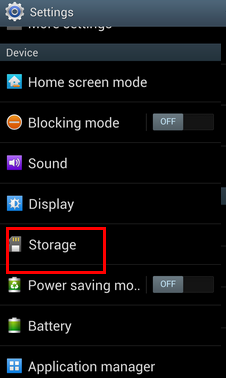 Step3. Click "Format (Erase) the SD card"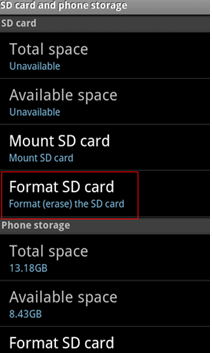 Step4. Click "Mount SD card"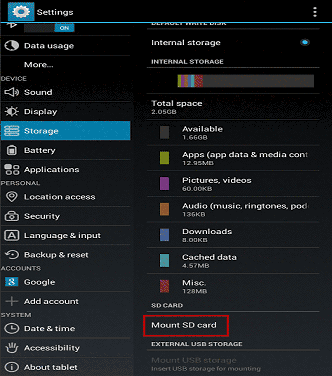 Related problem:
2. Mount SD memory card on Samsung galaxy phone
Samsung galaxy phones like Samsung Galaxy S, S1, S2, S3, S4, S5, S6, etc also run android operating system, but the method to mount a memory card in Samsung Galaxy is a little different. If Samsung Galaxy cannot recognize SD or fail to mount SD, see below:
Click "App" on the home screen of Samsung Galaxy phone > click "Settings" > "Data Usage" > "Storage" > "Mount SD card"

Recommend: You may meet the similar problem that mobile phone asks to insert an SD card. Please go to this page for solution: Android phone says no SD card inserted insert new one>>
Repair Computer Wont Read My SD Memory Card Issue (Same fix if it cannot fix the unmounted sd in android phone)
When an SD memory card fails to mount on a cellphone or cannot be read by Windows computer, you can try following methods to try resolving the problem after eliminating the hardware issues or system issue like card reader broken, USB port broken or similar issues:
Fix #1. Connect SD card to PC via a card reader instead of USB cable
If the SD card can mount in phone but cannot be recognized by computer, you can try plugging it t PC through a card reader. PC sometimes fails to recognize an external memory card when you insert the card to a phone or camera and connect the phone / camera to PC through USB cable, but computer read the SD memory card perfectly after connecting it via a card reader.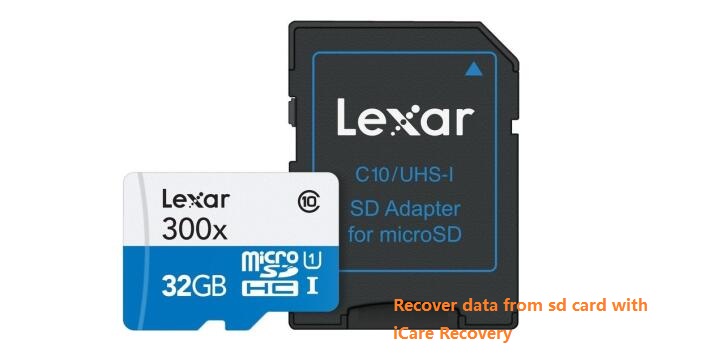 Use a card reader
Fix #2. Reformat SD card - to match the filesystem, try a different filesystem until your media can recognize it.
You can try reformatting SD card to fix the problem that it cannot be read by computer. Reformatting an SD card is to the one that can be used on your device. If your device is working with exfat memory card, then you need to format your card exfat too.
Note: I have a phone that reads FAT memory card, and if you use a memory card larger than 32gb, it is usually made with exfat by factory, and then you need to make the new card FAT to let your phone work with it. (Old phones works with FAT filesystem, fat32 is ok.)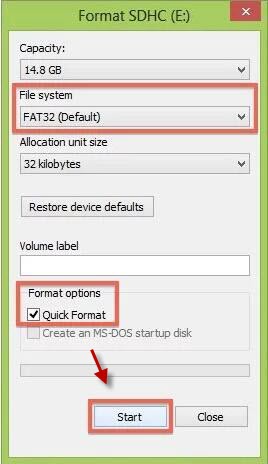 Format memory card fat32/ntfs/exfat
See this user:
"I upgraded my SanDisk 16GB micro SD card to 32GB, after which the micro SD card cannot mount on android phone."
A 16GB micro SD card is usually formatted to FAT32 file system, but a micro SD card that is more than 32GB needs to be formatted to exFAT or NTFS. Therefore, this user finally resolved his problem by reformatting the card to NTFS file system on Windows.
See the original post on forum>>
Fix #3. Update driver device
If the driver device on computer is not compatible with the SD memory card, you need to update the drives following: Open "Mange" > "Device Manager" > right click the SD memory card and click "Update Driver"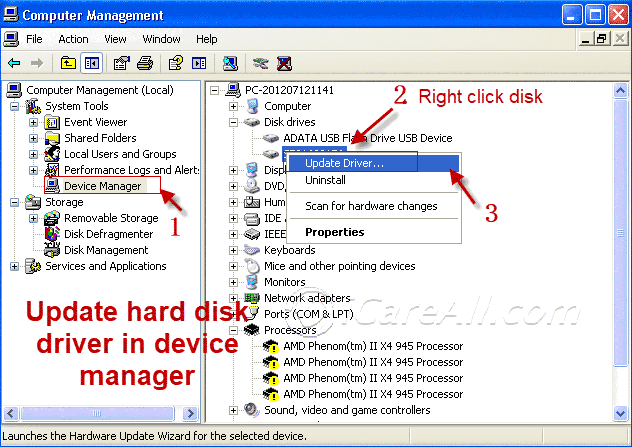 All methods above are available for unreadable SD memory card fixing on each Windows OS like Windows XP, Vista, 7, 8, 8.1, 10.

Still did not work? Try more sd repair tools here: 5 free Memory card repair tools

Recommend: If you want to learn more details about this problem that SD card cannot be recognized by PC, please go to this page: SDHC is not recognized fix>>
SD Memory Card Won't Mount Scenarios
You have an SD memory card which contains lots of precious photos and videos, but you are unable to read any data because this tiny card cannot mount by android device or computer or the sd card get corrupted?
1. SD Card (micro SD/SDHC/SDXC) Not Mounting by Android Phone
Click "Settings" > "Storage", you can see SD card inserted in your android phone and read data on it. However sometimes, your smartphone probably says SD card cannot mount or SD card not found.
Here the SD card usually refers to a micro SD card, micro SDHC or micro SDXC because today's mobile phone is perfectly compatible with micro SD memory card.
2. SD Memory Card Not Recognized by Windows Computer
All kinds of memory card whether it is SD card series, CF card, XD-picture card or memory stick can be read by Windows operating system through a proper card reader or USB cable. If a memory card is unable to be detected by Windows PC, the reasons can be various.
Here are some situations that an SD memory card is not able to be read by desktop or laptop:
SD card does not show up after opening "My Computer", but it shows under "Disk Management"
SD memory card neither show in "My Computer" nor "Disk Management"
Why Cannot Mount SD Memory Card – SDHC, SDXC, CF, XD, Micro SD
SD card won't mount is a problem that can be caused by many reasons. In our experience, the different reasons that lead any memory card to be unable mount or detected can be following 4 types:
1. Card reader / USB port / Card slot / USB cable problems
This often occurs when a memory card is not able to be detected by computer. It is easy to check if there is any problem with the card reader, USB port, USB cable or card slot.
For example,
The USB cable is broken
USB port of computer is broken
Card reader is damaged
Card slot is squeezed
You just need to reinsert the memory card to another computer / phone or use another card reader.
2. Android / Windows system problems
If it is caused by system problems, probably the memory card inserted to your android phone or computer is not compatible with the system or the driver device on computer needs to be updated. For example, a driver device that can recognize an SD card might fail to detect an SDHC, so you should check whether it is available for the memory card you connect to your computer.
3. SD memory card is connected to PC cannot mount by phone
When an SD memory card is connected to PC, phone might fail to mount it. This is a normal case, so you do not need to worry if an SD memory card is showing as removable media on computer but android phone says SD card cannot mount. Usually, SD card will mount successfully after removing it safely from computer.
4. SD memory card problems
The most serious and difficult situation is that there is any problem with SD memory card itself. Generally speaking, the issues include:
SD card is physically damaged – If SD memory card is damaged, you usually lose the chance to fix it but to replace it with a new one.
SD card is dirty – The reason why SD card can be recognized by phone or other device is that it has chip. If the SD memory card is dirty, it will cause loose contact between SD card and phone / computer.
SD card is infected with virus – Virus attack probably corrupts the SD memory card and leads it to be unable to mount on any device.
SD card is formatted improperly – An SD memory card needs to be formatted into proper file system based on its storage capacity. For instance, an SD card from 1 to 2 GB is usually formatted to FAT12 / 16 file system. An SDHC (usually from 2 to 32GB) is formatted to FAT32 file system. An SDXC (32GB up to) is formatted to exFAT file system. Improper file system of memory card probably fails to mount. If an SD card, CF card or XD card is used for digital camera, you had better check your camera to see what file system it supports.
How to Recover Data from Memory Card That Is Unable to Detected
Since the reasons for SD card not mount problem are different, the solutions are different too.
When you are sure that SD memory card is not able to mount by any device, you are not able to read data on it. Therefore, you need to use a data recovery tool to recover files from unmounted SD card.
Free Memory Card Recovery

Download iCare Data Recovery Pro Free to recover files from mobile phone camera memory card including photos, videos, music...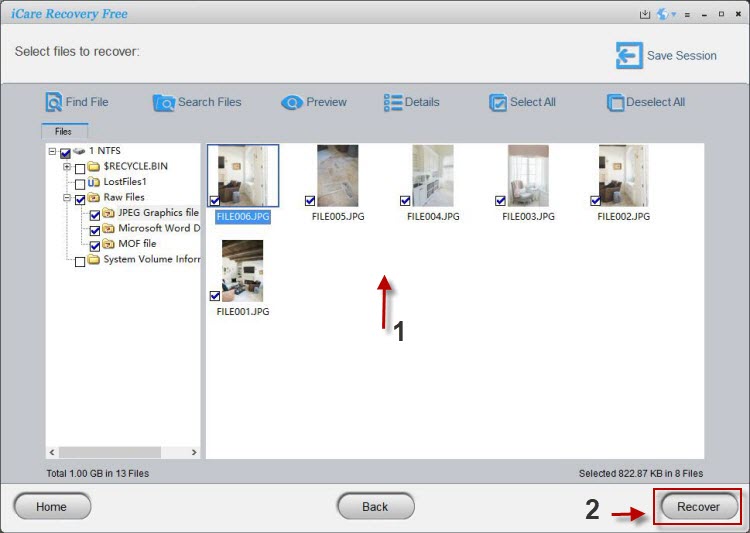 Here, we introduced some common ways to fix the issue on different brands of memory card including SanDisk, Samsung, Lexar, Transcend, Sony, Toshiba, Panasonic, etc from 1GB to 2TB and even more.
If micro SD / SDHC / SDXC card cannot mount on a cellphone or cannot be recognized by computer because of USB problem, the only method is to change a new card reader or connect the card to a different USB port or computer. If SD memory card is not compatible with the system, you can update driver device. Besides, remove the SD card out of the device and clean the memory card chip or card slot to make it clean.
Hot Articles