SD Card Is Not Recognized on Xiaomi Phone/Redmi Note Pro
"I have an SD card which is not recognized on Xiaomi phone, but I want to view some pictures from this corrupted SD card. I tried to insert this SD card to another smartphone, but it is still not recognized. I also tried to connect it to my computer through a card reader, but SD card is not recognized by PC either. What to do in order to recover all inaccessible data from an unrecognized SD card for Xiaomi mobile phone?"
"It does not work when I inserted my SD card to my Xiaomi mobile phone. I received a message saying please insert a memory card. Why does my Xiaomi mobile phone show such an error message? Can I do something to fix the problem and get back my lost files?"

Quick fix -> SD card not detected in mobile phone fix
Please calm down if your SD memory card is not recognized by Xiaomi phone, Redmi Note 8/9/12 pro, Miui 12 or computer. In this situation, you had better check if your SD card is physically damaged. If the answer is no, you have a good chance to recover lost photos from SD card. Keep reading! This article will tell you how to recover files when SD card is not recognized on Xiaomi mobile phone or computer.
Part1: Data Recovery When SD Card Is Not Recognized by Xiaomi/Redmi
There are three ways to recover data from Xiaomi phone sd card in the following part with or without software or on android or on a Windows computer. It will be lucky if you have a backup on cloud services such as the Google drive. If not, you may try other ways.
Way1: Retrieve sd card data from Xiaomi from cloud backup
Steps to restore Xiaomi phone data from Google Drive:
On your Xiaomi phone, ensure that you are signed in with the same Google account used to back up the data to Google Drive.
Install the Google Drive app from the Play Store if it's not already installed.
Open the Google Drive app on your Xiaomi phone.
Tap the menu icon (three horizontal lines) to access the sidebar.
Tap "Backups" from the sidebar menu.
You should see a list of available backups. Tap on the backup that contains the data you want to restore.
Select the types of data you want to restore, such as contacts, calendar events, app data, etc.
Tap "Restore" or "Restore all" to initiate the restoration process.
Wait for the process to complete. The restored data will be available on your Xiaomi phone.
Note that the availability and options for restoring data from Google Drive may vary depending on the specific Xiaomi phone model and the version of MIUI (Xiaomi's custom Android skin) installed on the device. Make sure that you have previously backed up the desired data to Google Drive before attempting to restore it.
Way2: Try DiskDigger to Undelete files from Xiaomi Phone without pc
DiskDigger is a popular data recovery tool that can help you undelete files from your Xiaomi phone. Here's how you can use DiskDigger to recover deleted files:
Download and install the DiskDigger app from the Google Play Store on your Xiaomi phone.
Launch the DiskDigger app.
Grant the necessary permissions for the app to access your device's storage.
In the DiskDigger app, you will see two options: "Basic Scan" and "Full Scan." The Basic Scan option usually suffices for most file recovery needs. Select the desired scan option.
Choose the storage location or partition from which you want to recover deleted files. It could be the internal storage or an external SD card.
DiskDigger will start scanning the selected storage location for recoverable files. This process may take some time depending on the size of the storage and the number of deleted files.
Once the scan is complete, DiskDigger will display a list of recoverable files. You can filter the results by file type or search for specific file names.
Select the files you want to recover by tapping on the checkboxes next to them.
Tap the "Recover" button to start the recovery process. You may be prompted to choose a destination folder to save the recovered files. It's recommended to select a location other than the one being scanned to avoid potential data overwriting.
Wait for DiskDigger to complete the recovery process. The recovered files will be saved to the specified location.
Note that the success of file recovery using DiskDigger depends on various factors, such as the extent of file fragmentation, overwriting, and the duration since the files were deleted. It's important to use DiskDigger as soon as possible after file deletion to maximize the chances of successful recovery.
Way3: Recover files from Xiaomi sd card on Windows 10/7
iCare Data Recovery Free is a data recovery program, which is designed for Windows users to recover data after formatting, deleting and other data loss problems. Therefore, when your SD card is not recognized by Xiaomi mobile phone, you can make use of this data recovery software to restore any lost file. This data recovery software works on Windows OS to help recover files from any device including SD card even when it is not recognized by any device. With help of iCare Data Recovery, you can easily get back what you need because this software is easy to use with user-friendly interface.
Steps for Xiaomi Phone Unreadable SD Card Recovery
Free Memory Card Recovery

Download iCare Data Recovery Pro Free to recover files from mobile phone camera memory card including photos, videos, music...
Preparation: Free download and install iCare Data Recovery on your computer. Connect the SD card to this computer and launch the data recovery software.
Step1. You should select a proper scan mode after running the software.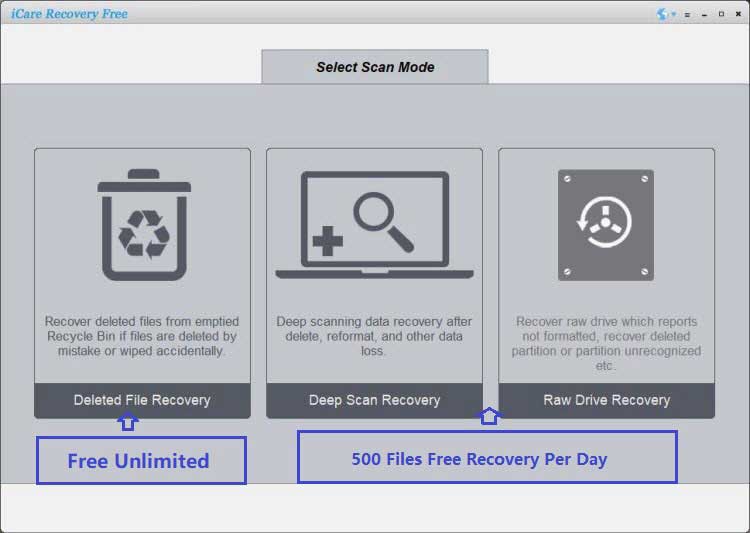 Step2. When the software show all drives, you can select the SD card as aim disk and then you only need to wait patiently when the software is scanning to search lost files.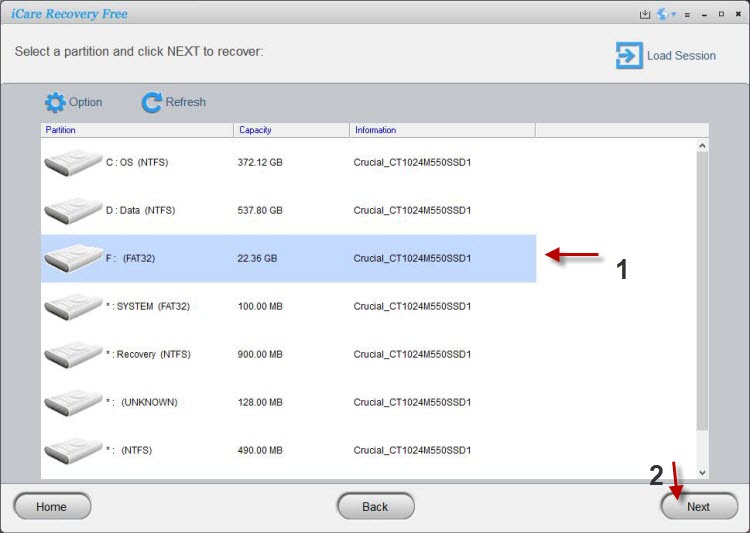 Step3. You can preview files after scanning and then save all needed files to a different place instead of the SD card.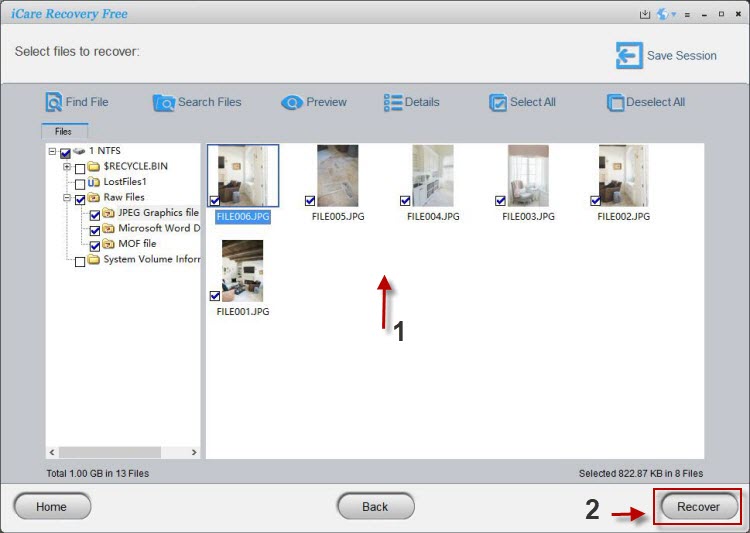 PC Recognizes SD Card When It Is Not Detected on Xiaomi Phone
Sometimes, your SD card is not detected on Xiaomi mobile phone, but PC is able to recognize the SD card when you connect it to your computer. Probably, PC recognizes the SD card as a RAW format device or unknown drive. Or SD card does not show up in My Computer, but it shows up as a removable disk drive under Disk Management. It does not matter which situation you meet, it is good news that your SD card is still recognized by PC. You have a quite good chance to recover SD memory card files if it is recognized by computer.
Recommend: how to fix sd card not working in phone
SD Card Cannot Show up on XiaoMi [7 Fixes]
If your SD card is not showing up on your Xiaomi phone, you can try the following fixes:
#1 Check the SD card, clean it: Ensure that the SD card is properly inserted into the SD card slot on your Xiaomi phone. Remove the card, clean the contacts with a soft cloth, and reinsert it firmly.

#2 Restart your phone: Sometimes, a simple restart can resolve temporary glitches. Turn off your Xiaomi phone, remove the SD card, and then power it back on. After the phone has fully booted up, reinsert the SD card and check if it is detected.

#3 Use a different card reader: If you are using a microSD card with an adapter, try using a different card reader or adapter to rule out any issues with the current one.

#4 Test the SD card on another device: Insert the SD card into another device, such as a computer or another smartphone, to check if it is detected. If the SD card is not recognized on other devices as well, it could indicate a problem with the card itself, and you may need to replace it.

#5 Format the SD card: If the SD card is detected but not accessible on your Xiaomi phone, you can try formatting it. Note that formatting will erase all data on the card, so ensure you have a backup if needed. Go to Settings > Storage > SD card (or similar) > Format and follow the on-screen instructions to format the card.

Or you may format the sd card on a computer to be fat/fat32 to see which file system does the phone support. The formatting on a Windows pc is easy if you see the sd card under your pc, right click the sd card, and then the format option will show up.

Also read: 5 sd card formatters

#6 Check for software updates: Ensure that your Xiaomi phone is running the latest software version. Go to Settings > About phone > System updates and check for any available updates. Install any updates if available, as they may include bug fixes and improvements that could resolve SD card detection issues.

#7 Factory reset: If all else fails, you can try performing a factory reset on your Xiaomi phone. This will erase all data on the phone, so ensure you have a backup. Go to Settings > System > Reset > Erase all data (Factory reset) and follow the on-screen instructions. After the reset, set up your phone again and check if the SD card is now detected.
If none of these solutions work, it is recommended to contact Xiaomi customer support or visit a service center for further assistance.
Quick fix -> How to repair damaged sd card with 6 free tools
How to Protect SD Card from Being Unreadable on Xiaomi Smartphone?
You should remove SD card only after switching off the phone.
You should protect SD memory card from being infected with virus. For example, you should not use your Xiaomi mobile phone to visit unsafe websites or open unsafe links.
You should not disconnect an SD card with a computer unsafely, ie pull it out without safe removal mode.
You had better not use your Xiaomi phone when it is nearly power off in order to cause unexpected damage to the SD card due to sudden power off your phone.
You should use SD card properly whether in Xiaomi phone or after connecting it to computer in order to avoid bad sectors
More to read -> How to recover data from android phone free
Last updated on Sept 14, 2023
Related Articles