Free Download RAW Partition Recovery License Key/Full Crack in Windows 7/8/10
Last updated on 6/14/2017

Need to free download raw partition recovery license/serial key/full crack to fix/repair corrupted/blank/0 bytes space raw partition and also recover inaccessible files from raw file system partition in Windows xp/7/8/10?
Solution: 100% safe freeware iCare Data Recovery Free is a good data recovery alternative for you to recover raw format partition/volume data back, instead of unsafe free data recovery software license key/full crack searched online, before fixing/repairing raw partition to ntfs/fat32.

>>100% Free RAW partition/volume recovery alternative software
Download iCare Data Recovery Pro to free recover files from raw file system hard drive partition/volume safely and smoothly.
Why Not Download Free RAW Partition Recovery Full Crack/License Key Searched Online
In these days, when computer hard drive partitions becomes raw/blank/corrupted, in order to retrieve inaccessible raw format partition files, many people would search free raw partition recovery program full crack/license/serial key over the internet so that they can perform raw partition file recovery completely for free.
However, that is absolutely wrong and unsafe since these found raw file system recovery tool full crack/license code is really possible to be virus infected, to cause random computer crashing, to bring personal/sensitive data leaking and even to corrupt your hd/ssd/computer, etc.
However, also no worry. You can still free download completely free and safe raw partition recovery utility iCare Data Recovery Free to take lost data back for free.
Best Free RAW File System Partition Recovery Alternative Download in Windows 7/8/10
If you are still worrying about the safety of downloading free raw format partition program full crack/serial/license key to your Windows 7/8/10 computer, merely go download 100% free raw format partition recovery alternative iCare Data Recovery Free which is safe, read-only and effective for people to rescue data from partition with raw file system error smoothly with its Advanced File Recovery mode completely for free before you start to convert/format raw to fat32/ntfs on hard drive partition.
Whether you have searched and downloaded safe raw partiton/volume recovery software/full cracke yet, go try the Advanced File Recovery mode of iCare recovery sofware free to see whether it is really free, safe and workable for your raw partition/volume data loss troubles.
Download the free patiton raw recovery software now to retrieve photos, videos, apps and files from computer internal/external hard drive partitions/volumes in raw format.
How to Fix/Repair RAW Partition in CMD/Diskpart/Command Prompt
Up to now, with the help of iCare Data Recovery freeware, you perhaps have retrieved lost information back from raw format hard drive partition/volume. And, then, you can begin to fix/repair raw partition with command prompt/diskpart/cmd. Of course, if the computer command prompt/lines cannot complete format raw partition, you can also download partition formatting tools to take chances.
==>Merely read more detailed steps to format raw partition with command prompt/cmd/diskpart
Free Download More Professional iCare Data Recovery Pro
In comparison with iCare Data Recovery Free, which offers completely free data recovery solution, free iCare Data Recovery Pro is also a free data recovery tool that is able to recover 2GB of data for free. And, it also provide users with more data recovery features, like Lost Partition Recovery mode which helps cope with raw/corrupted/deleted/lost partition data loss issues, and Deep Scan Recovery mode which helps deal with nearly all possible data loss troubles related to USB hard drive/flash drive/sd memory card.

Download free icare data recovery pro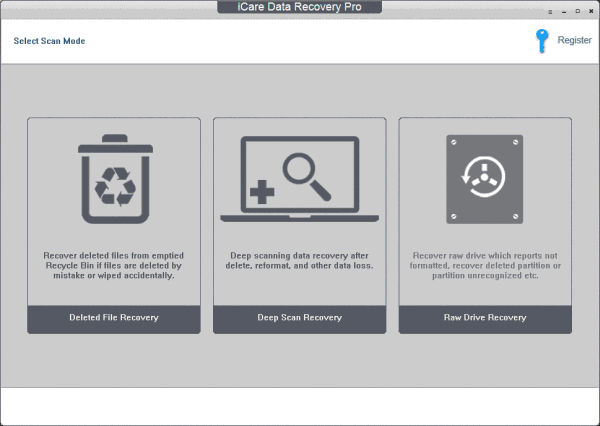 ---
Related Articles
Hot Articles