Samsung Cellphone Photo Music Video Recovery
Last updated on July 3, 2020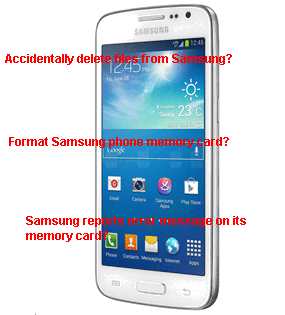 Ultimate solution -> 5 free samsung galaxy photo recovery software
iCare Data Recovery Pro : samsung recovery from memory card or micro sd card etc.
Samsung phone is widely used by different people. You may lose precious photos, videos, music and other types of files from Samsung phone due to different reasons. iCare Data Recovery is able to perform free Samsung recovery from any memory card in all data loss problems, such as:
Recover deleted photos from Samsung mobile phone memory card
Samsung phone format recovery from memory card
Samsung mobile reports not formatted error on its memory card
For all kinds of data loss issues, you can run iCare Data Recovery Pro on a Windows computer for Samsung phone recovery.
Suppose you are on a holiday trip. You took a lot of photos with your Samsung Galaxy phone. But you deleted them by mistake or you reset the phone. All the photos are gone! Do you feel very frustrated? We may do everything possible to avoid data loss, but sometimes it does happen against our will. But good news is that there is data recovery software to help you. According to experts' opinion, the deleted files are not erased from memory card immediately; the file system marks the space as free for new files to take their space.
You can download the iCare Data Recovery Pro to get lost photos, music, video files back.

>>Quick Solution for Samsung Phone Data Recovery
Download iCare Data Recovery Pro to rescue pictures, video files and audio files and more from Samsung mobile phone in all data loss problem including deleting, formatting.
Video Tutorial: how to use iCare Data Recovery for file rescue
---
Samsung Photo Recovery Video Recovery
Here we recommend you some helpful Samsung phone data recovery tools.
iCare Data Recovery is one of the most powerful data recovery free software to recover deleted photos from memory card in Android phone, flash drive, external HDD, internal hdd, etc. No matter if you lose photos on computer, or on digital camera, iPod, cell phone, or memory stick. It works for all data loss scenarios including deletion, format, drive corruption, etc. It supports general photo formats such as JPG(JPEG), PNG, GIF, BMP, PCX, PSD, TGA, TIF, TIFF, and camera raw formats such as CR2(CRW), Nikon(NEF), Fuji(RAF), Pentax(PEF), Olympus(ORF). iCare performs read-only scan and recovery, so it's risk-free.
iCare Data Recovery is a digital photo recovery tool capable of recovering deleted, formatted, and corrupted photos, videos and audios from computer hard disks and removable memory cards. It supports various file formats ranging from general photo formats such as JPG, GIF, TIFF, PNG, to camera raw photo formats such as CR2(CRW), Nikon(NEF), Fuji(RAF), etc. It can recover video and audio files as well, such as MP3, MP4, AVI, WMV, FLV, MOV, WAV and so on. It also works on PC hard drives and digital devices.
Simple Tutorial with Screenshots of iCare
Step 1 - Select a mode after running the program on Windows.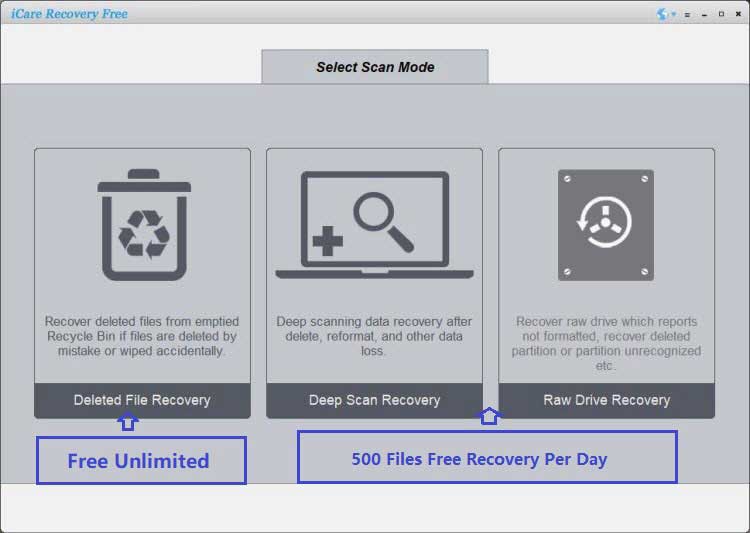 Step 2 - Select the aim disk for scanning.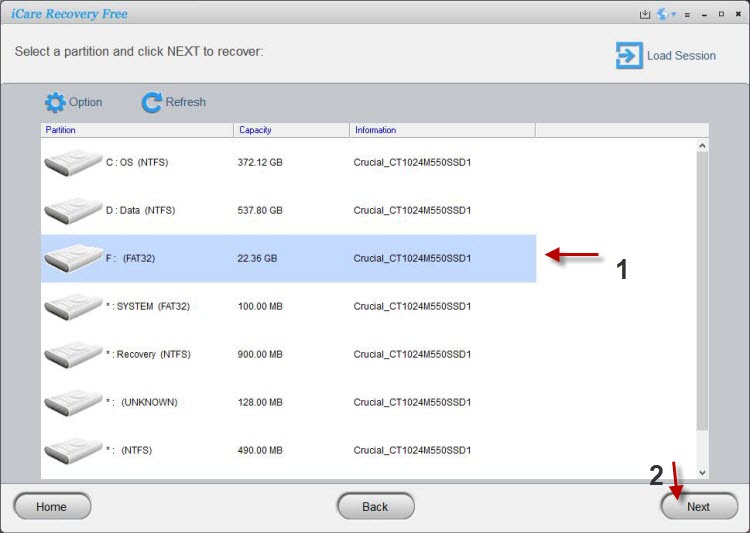 Step 3 - Preview and save files.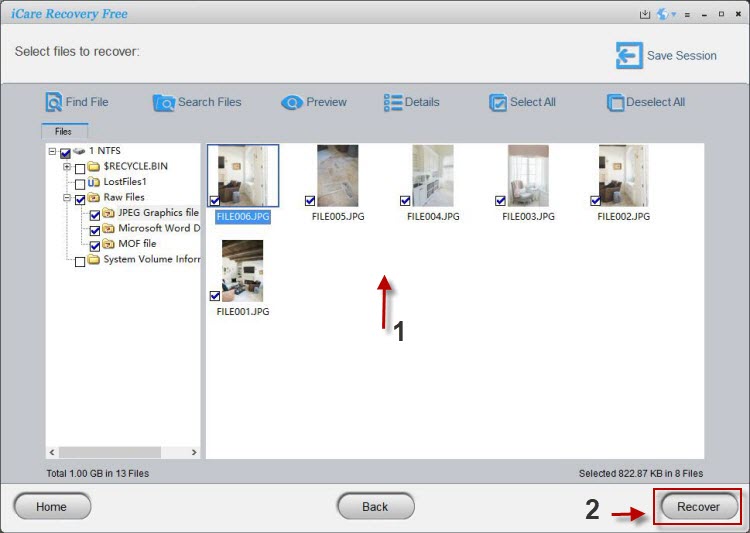 Although we give the example of Samsung Galaxy, the tools we recommend to you are able to perform data recovery on all kinds of digital cameras, and most other digital devices.
How to Recover Deleted Files from Samsung Mobile Phones for free:
First take out the memory card out of the digital device you are using. Connect it to a PC with a card reader. It should appear as "removable storage medium" if the connection is correct. Once you lose photos, you should stop using the device and go through this recovery procedure as soon as possible, for it maximizes your chances of successfully recovery.
Download and install the photo recovery software recommended in this article. The navigation or menu may vary from one tool to another, but they are easy to use. One thing they have in common is the in-depth scan for lost files. The files will be listed for your preview. At last, you can make selections and recover them.
Deleted Samsung Galaxy Photo Recovery
It is mostly that users use Samsung Galaxy to store their casual photos that they take here and there. When photos are deleted by mistake, what can we do? Stop using the phone and then recover deleted files from memory card.
Samsung Galaxy Format Memory Card Recovery
Mostly people would buy memory card like sd card, micro sd card to use on their phone and store music, photos, videos. When memory card has been formatted by mistake, or memory card has not formatted error, data stored on the card are not really deleted. There is still hope to get photos back from formatted memory card or deleted by accident.
What you should do is to download iCare Data Recovery and install it on a Windows PC. Then, this software will deep scan the memory card to search every single lost file.
1. Even a new file probably rewrite the lost files on Samsung, causing the overwritten data to be unrecoverable.
2. If the files were corrupted, they might be unreadable even you use data recovery software to get them back.
Related Articles
Hot Articles