Photo Recovery & Photo Repair for Phone/Camera SD Memory Card
Summary
Have you ever lost any photo from your mobile phone, digital camera, SD memory card, XD card, TF card or CF card due to different reasons? This article will introduce various of photo recovery solution for different photo loss situations. And also recommend a useful tool for you to recovery deleted or formatted photos from your digital device.
Content Table
"I mistakenly clicked the formatting option on my mobile phone, and I lost some photos which are very important to me, is there anyway to recover them?"
This is one of the numerous photo loss situations we've ever met, in this page, I will list all the situations you lose your photos, and show you how to use the easiest way to recover or repair your photos.
Deleted Photo Recovery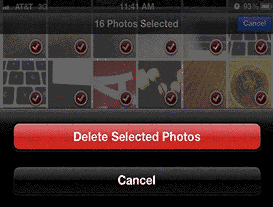 You probably delete one or more photos by mistake or on purpose. Sometimes, you mistakenly delete a picture because you press the wrong button when you are viewing it on your device. Or sometimes, you delete all images intentionally but finally you realize that you have not made any backup. Or you empty recycle bin after deleting pictures from an internal hard drive on your computer.
There are so many situations you may lose your photo: deletion by mistake, formatting, sudden ejection from computer, Raw Drive formatting, system crash problem, they will make you heartbroken if you lose some precious photos which record your memories. This page will give solution for each situation as follows:
Deleted photos from mobile phone :
Photo Recovery Software for iPhone
If you deleted photos from iPhone, it will be easier. Because iPhone's album has a recovery function, which can help you recover your deleted photos easily.
The steps are as follows:
Step 1: Open your album on your iOS system.
Step 2: Scroll to the button, you will see a "recently deleted" option, tap on it and select choose the photos you want to recover.
Photo Recovery for Android Cellphone
Android phone has the ability to take photos and save them in smartphone internal memory or a memory card. Android is an operating system released by Google Inc. and Open Handset Alliance. When Android was released, it was mainly used in smartphone. The first Android phone was released in October 2008. Along with the development of Android OS, today it is available for smartphone, tablet PC, digital camera and game console, etc. Nowadays, Android operating system has the most users in the world. Many mobile phones run Android OS:
Photo Recovery Samsung Mobile
Samsung cell phone is world famous. Samsung mobile like Samsung Galaxy series run Android operating system. Samsung Galaxy including Samsung Galaxy S/S2/S3/S4/S5/S6/S7 and Samsung Galaxy Nexus, Galaxy Note, etc occupy a large share in market.
If you lose any photo from a Samsung mobile phone due to any reason, it is possible for Samsung phone photo recovery. Apart from Samsung phone, you can also restore pictures from Samsung digital camera.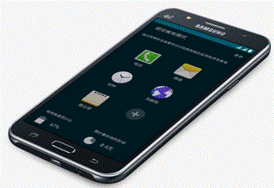 If you lose any photo from a Samsung mobile phone due to any reason, it is possible for Samsung phone photo recovery.
Apart from Samsung phone, you can also restore pictures from Samsung digital camera.
Restore Deleted Pictures off Other Smartphone Blackberry HTC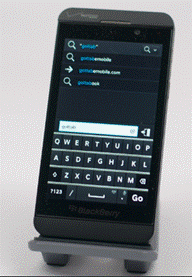 In addition to Samsung mobile, there are some other brands of cellphone like Blackberry, HTC, Xiaomi, Huawei, LG, etc. You are able to retrieve pictures from all kinds of cellphone.
Samsung cell phone is world famous. Samsung mobile like Samsung Galaxy series run Android operating system. Samsung Galaxy including Samsung Galaxy S/S2/S3/S4/S5/S6/S7 and Samsung Galaxy Nexus, Galaxy Note, etc occupy a large share in market.
If you lose any photo from a Samsung mobile phone due to any reason, it is possible for Samsung phone photo recovery.

If your device is Android system, a backup will help you. But if you mistakenly deleted your photos without backup, you can do as follows:
Step 1: Check another folder, sometimes, your photo can be found at another folder.
Step 2: Choose a deleted photo recovery tool to help you. About this, I have already introduced something in another article, you can go to this page at Photo Recovery for Android Cellphone.
There's still another quick solution to solve this problem. You can try a photo recovery tool to restore your photos back easily.
Deleted photos from computer or other media device:
If you deleted your photos from your computer, you can find them at your recycle bin, but if you empty your recycle bin, you also need a tool to help. If you deleted photos from your camera or other data storage device, this tool also help.
Photo Recovery Software Free Download for Digital Camera
A photo recovery tool is often available for image recovery from digital camera in all brands. Digital camera is able to produce images in different formats such as JPEG , TIFF, RAW, etc.
RAW Image Recovery
A RAW format image usually has no quality loss, so you can save an image in RAW format if you want to remain the best quality of a picture.
Canon Photo Recovery
Canon digital camera image filename:IMG, RAW format image filename: CR2
Nikon Picture Recovery
Nikon digital camera image filename:DSCN, RAW format image filename .nef
Sony photo recovery
Sony digital camera image filename:DCS RAW format image filename .arw.
FujiFilm photo recovery
FujiFilm digital camera image filename : DSCF, RAW format image filename: .raf
From all my trail experience, I would like to recommend iCare Data Recovery, a read-only program, which you can trust. This is the free download address: iCare Data Recovery
Photo Recovery for SD Memory Card TF XD CF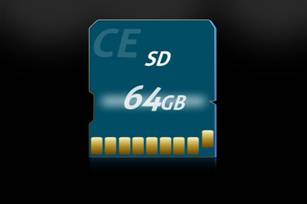 Whether you use a mobile phone or digital camera to take photos, memory card is a common external storage medium that is compatible with phone or camera for data storage.
TF micro SD card
TF card is also called micro SD card. It is type of SD card, which has small size but large storage capacity. TF card is often used in different mobile phones for file storage.
XD card
XD card is a type of memory card that was developed by FujiFilm and Olympus. It is usually used in FujiFilm camera and Olympus digital camera for photo video storage.
CF card
CF card usually has large size, which is compatible with digital camera and PDAs.
==> If you are looking for a photo recovery tool for SD memory card, TF, XD or CF, please refer to this page – Memory card photo recovery free>>
USB Flash Drive HDD External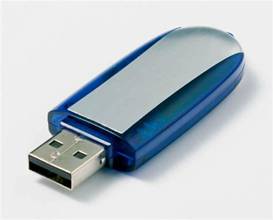 USB flash drive or external hard drive is removable disk that is used to save or transfer data. A USB drive or portable hard drive is compatible with Windows computer, with which you can save different types of photos and other types of files. You can also use an internal hard drive or removable hard drive as backup device for photo storage from camera / cellphone memory card.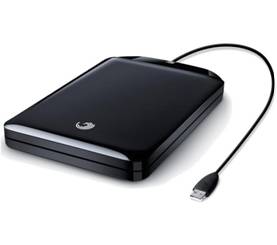 Recover data from other situations
Restore Images after Formatting by mistake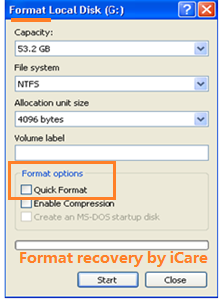 You will erase all images on a device whether you perform format due to mistake or other reasons. All images would become invisible whether you perform a quick format or complete format.That's different. You can learn more about how to unformat your photos or other data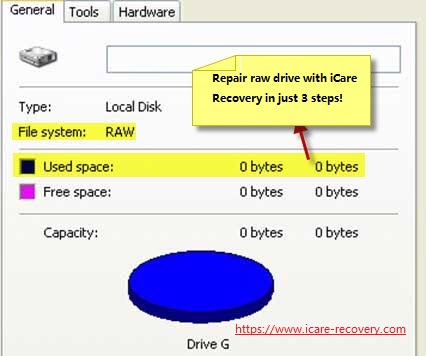 RAW is a damaged or corrupted file system. When any device changes to RAW file system, it will show as an unformatted device and disable you to access any file. A RAW device, whether it is an SD memory card, memory stick or internal hard drive often shows 0 byte space.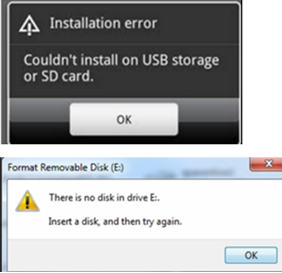 You can use CMD to format your disk to recover your device, you can learn the instructions here:Ccommand Line to Rrecover Data
But this process will make your photos on it erased, so you need to recover your data first. You can try a data recovery tool first, such as iCare Data Recovery, this is a free download address: https://download.icare-recovery.com/icarepro.zip
Rescue Photoss from Corrupted Media like smartphone, digital camera SD memory card, USB thumb drive, etc
A corrupted media, whether it is a memory card, flash drive, internal hard drive or external HDD, would become inaccessible, so you cannot access any pictures from a corrupted storage medium. A corrupted storage media probably shows different error message like:
There is no disk in drive, please insert a disk and then try again
Disk drive is corrupted and not accessible.
The storage medium is write-protected
Disk in drive is not formatted do you want to format it now?
Recover photos lost from abrupt ejection Sometimes you abruptly eject your USB flash drive, external hard drive disk, memory card from your computer, or you put out your SD card abruptly, you may probably lose or corrupt some of your photos.
I have already introduced some solutions for corrupted media photo, you can learn more at How to Recover Corrupted Data
Recover photos deleted from sudden interrupt of your transfer process
While you are transferring your photos from your memory card, USB, external hard drive disk, a sudden interrupt also cause damage to your photos, they may partly lose or damaged.
Recover photos deleted by system crash
System crash not only for computer, your mobile phone, USB flash drive, external hard drive disk can also have this problem. This problem may make all of your data gone or damaged. This situation may be more difficult if your photos have all been damaged. But there's still hope. I will show you the way.
For all the situations above, you can recover photos by a professional photo recovery tool.
Free Photo Recovery Software Download for Lost Picture Recovery
For any lost image recovery, you may use photo recovery software – iCare Data Recovery. It is a read-only photo recovery program, and works for any media device.

>>Quick Solution for Photo Recovery
Download iCare Data Recovery >> to recover pictures from digital camera, cellphone, SD memory card, TF card, XD or CF card, etc in all data loss situations.
You only need 3 steps:
Step1. Run the software and select a scan mode.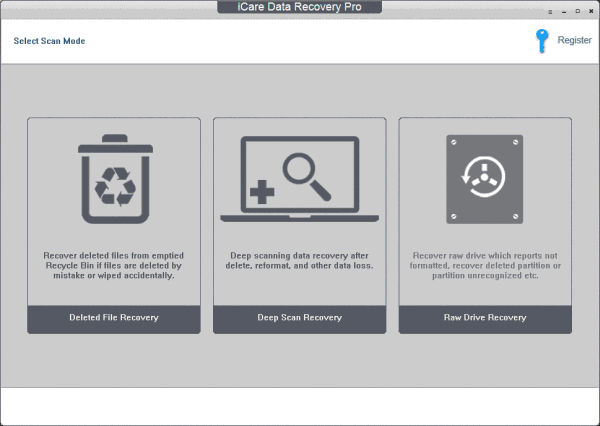 Step2. Wait patiently when the software is scanning to search lost photos.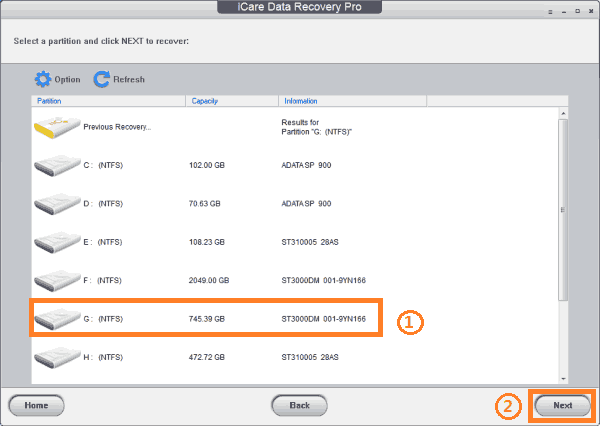 Step3. Preview found images and save them to another drive.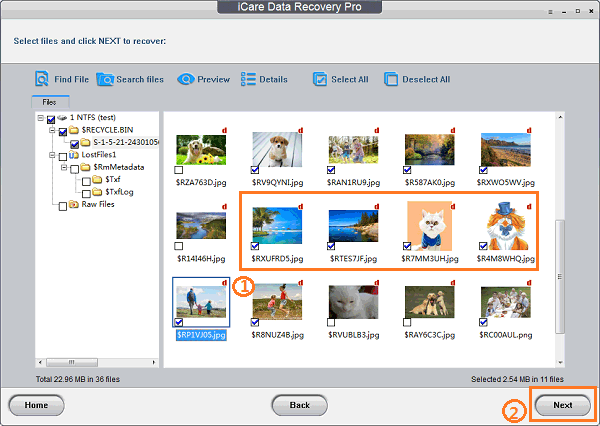 Tips:In order to restore all photos after deleting, formatting or when devices reports error, the most important thing is to stop writing new data to the device which was used to save the lost images.
Repair photos which are physically damaged or corrupted
Digital photos are damaged
This problem will be difficult to solve, because the photo recovery software is read-only software, it can only get your lost data back, instead of changing it. So if your photos have been damaged, you need to find a professional photo repair work.
Real photos repair
All I talked above is about digital photos, but if you want to repair real photos, there are also some solutions for you.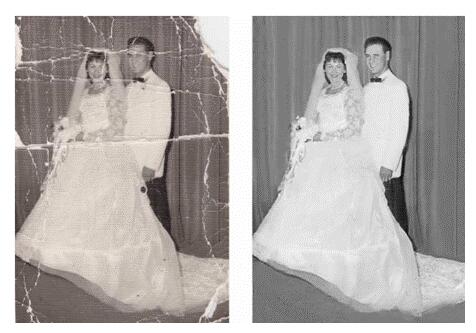 The old photos on your album are easily damaged, they might be stained, creased, teared if you don't save them well. When you find your photos damaged, you will need these photo repair service. I will recommend some reliable photos repair websites or software for you.
Websites: $6-12 per piece
www.photofixrestore.com
http://www.fixingphotos.com
Software: $9-49
Photo Retoucher $9.99 one time
Retouch Pilot $39.95
If you are a photoshop expert, this tool may help you make it
Photoshop $29.99 monthly
GIMP FREE
GIMP is a software similar to Photoshop, and is totally free.
Hope the information above can help you solve your problem.
Little tips for your photo safety:
1. when you deleted your photos on the computer or other device, you need to stop using your device to avoid rewriting your device data.
2. Make a backup for data safety is a wise choice
3. A reliable data recovery software can help you solve many data loss problem.
Last updated on Nov 01, 2022
Related Articles