Photo Recovery APP & Photo Repair for Phone/Camera/PC
Summary
Have you ever lost any photo from your mobile phone, digital camera, SD memory card, XD card, TF card or CF card due to different causes? This article will introduce various of photo recovery solution for different photo loss situations. And also recommend a useful tool for you to recovery deleted or formatted photos from your digital device.
"I mistakenly clicked the formatting option on my mobile phone, and I lost some photos which are very important to me, is there anyway to recover them?"
This is one of the numerous photo loss situations we've ever met, in this page, I will list all the situations you lose your photos, and show you how to use the easiest way to recover or repair your photos.
Deleted Photo Recovery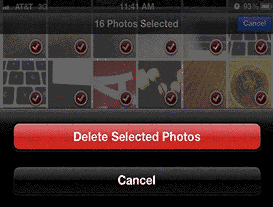 You probably delete one or more photos by mistake or on purpose. Sometimes, you mistakenly delete a picture because you press the wrong button when you are viewing it on your device. Or sometimes, you delete all images intentionally but finally you realize that you have not made any backup. Or you empty recycle bin after deleting pictures from an internal hard drive on your computer.
Deleted photo recovery from iPhones
Photo Recovery Software for iPhone
If you deleted photos from iPhone, it will be easier. Because iPhone's album has a recovery function, which can help you recover your deleted photos easily.
The steps are as follows:
Step 1: Open your album on your iOS system.
Step 2: Scroll to the button, you will see a "recently deleted" option, tap on it and select choose the photos you want to recover.
More ways to undelete photos from iPhone
There are several apps available that claim to be able to recover deleted photos from iPhones(NOT FREE). However, it's important to note that these apps may not always be effective, and their success depends on various factors such as the specific device, iOS version, and the time that has passed since the photos were deleted.
One popular app that you can try is "Dr.Fone - Data Recovery" by Wondershare. It offers a free trial version that allows you to scan for deleted photos and preview the recoverable files. If it finds your lost photos, you'll need to purchase the full version to recover them.
Another option is "PhoneRescue" by iMobie. It's a paid app but offers a free trial that lets you scan for deleted photos and preview the recoverable files before making a purchase.
It's worth mentioning that these apps may not always be able to recover all deleted photos, and there's no guarantee of success. Additionally, always make sure to back up your iPhone regularly to prevent data loss and have a reliable backup solution in place.
#2 Photo recovery on Android mobile phones (Free)
DiskDigger is a popular app for photo recovery on Android devices. It allows you to scan your device's internal storage or SD card to recover deleted or lost photos. Here's how you can use DiskDigger for photo recovery:
Install DiskDigger: Visit the Google Play Store on your Android device and search for "DiskDigger." Download and install the app.
Launch DiskDigger: Open the DiskDigger app on your device.
Choose the Scan Type: DiskDigger offers two scan modes: Basic Scan and Full Scan. The Basic Scan is usually sufficient for most photo recovery needs. However, if you can't find your photos with the Basic Scan, you can try the Full Scan, which takes longer but provides a more thorough search.
Select Storage Medium: DiskDigger will ask you to choose the location where you want to scan for deleted photos. You can select either "Internal Memory" or your device's specific SD card if you have one.
Scan for Deleted Photos: After selecting the storage medium, DiskDigger will start scanning for deleted photos. This process may take some time, depending on the storage size and the number of deleted files.
Preview and Recover Photos: Once the scan is complete, DiskDigger will display a list of recoverable photos. You can tap on any photo to preview it. Select the photos you want to recover by marking the checkboxes next to them.
Recover Photos: After selecting the desired photos, tap on the "Recover" button usually located at the bottom of the screen. DiskDigger will ask you to choose the location to save the recovered files. Select a folder or destination on your device, preferably not on the same storage medium you are recovering from, and confirm the recovery process.
It's important to note that successful photo recovery depends on various factors, such as the time that has passed since the photos were deleted and the actions performed on the device after deletion. Additionally, DiskDigger may require root access on your device for certain advanced recovery features.
Also read: 3 free photo recovery app for android phones
#3 Deleted photos recovery from computers [Free]
If you deleted your photos from your computer, you can find them at your recycle bin, but if you empty your recycle bin, you also need a tool to help. If you deleted photos from your camera or other data storage device, this tool also help.
Free Photo Recovery Software Download for Lost Picture Recovery
For any lost image recovery, you may use photo recovery software – iCare Data Recovery. It is a read-only photo recovery program, and works for any media device.

Download iCare Data Recovery >> to recover pictures from digital camera, cellphone, SD memory card, TF card, XD or CF card, etc in all data loss situations.
You only need 3 steps:
Step1. Run the software and select a scan mode.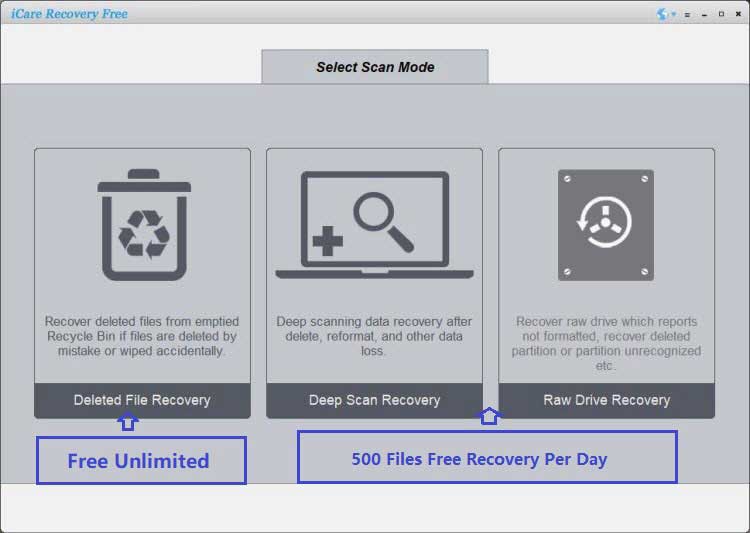 Step2. Wait patiently when the software is scanning to search lost photos.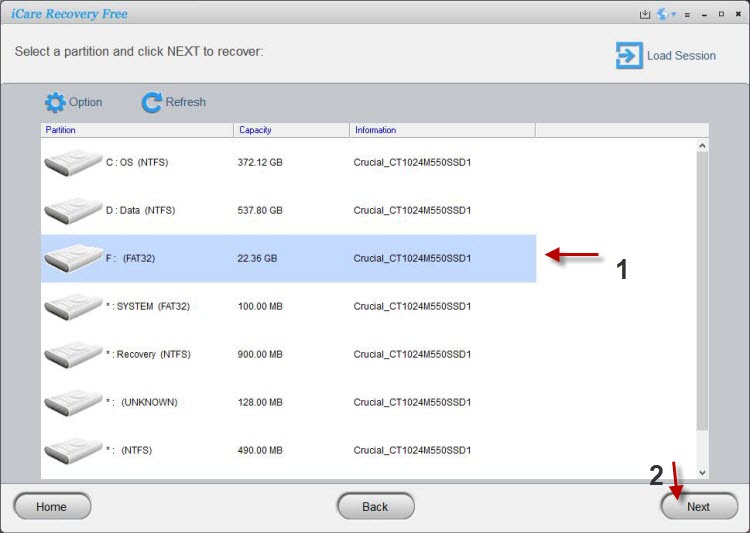 Step3. Preview found images and save them to another drive.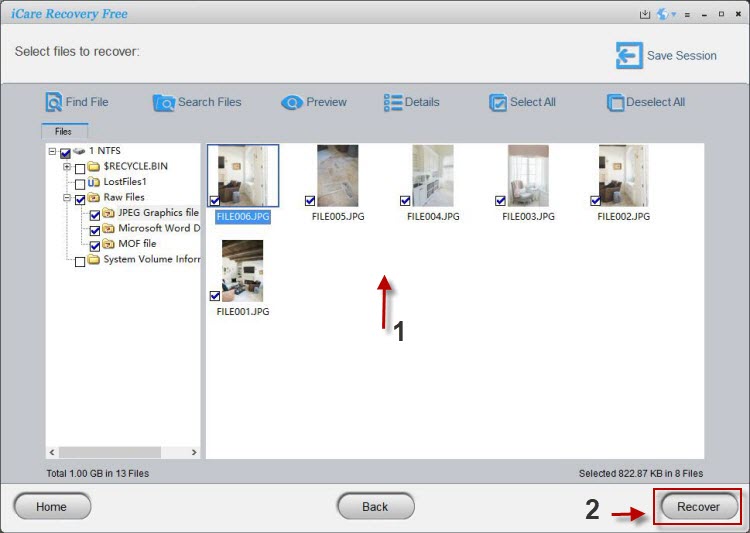 Tips: In order to restore all photos after deleting, formatting or when devices reports error, the most important thing is to stop writing new data to the device which was used to save the lost images.
Also read: free sd card photo recovery tools [7 free]
Repair photos online/apps
Digital photos are damaged
This problem will be difficult to solve, because the photo recovery software is read-only software, it can only get your lost data back, instead of changing it. So if your photos have been damaged, you need to find a professional photo repair work.
Real photos repair
All I talked above is about digital photos, but if you want to repair real photos, there are also some solutions for you.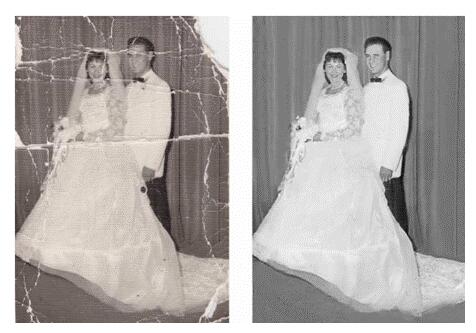 The old photos on your album are easily damaged, they might be stained, creased, teared if you don't save them well. When you find your photos damaged, you will need these photo repair service. I will recommend some reliable photos repair websites or software for you.
Websites: $6-12 per piece
www.photofixrestore.com
http://www.fixingphotos.com
Software: $9-49
Photo Retoucher $9.99 one time
Retouch Pilot $39.95
If you are a photoshop expert, this tool may help you make it
Photoshop $29.99 monthly
GIMP FREE
GIMP is a software similar to Photoshop, and is totally free.
Hope the information above can help you solve your problem.
Little tips for your photo safety:
1. when you deleted your photos on the computer or other device, you need to stop using your device to avoid rewriting your device data.
2. Make a backup for data safety is a wise choice
3. A reliable data recovery software can help you solve many data loss problem.
Last updated on Sept 14, 2023
Related Articles