HP Computer Data Recovery
There is no doubt that computer brings much convenience to our life and work, but it is a terrible problem for many people when lose important data on HP. This article will share solution for data recovery on HP computer in all data loss situations:
Recovering data after deleting from recycle bin on HP computer
Recovering data from formatted hard drive, external hard drive, memory card, pen drive, memory stick, etc on HP PC
Data recovery when HP laptop reports disk drive not formatted error message, RAW file system, I / O device error, etc
Recovering MP4, 3GP, AVI, MPEG, MP3, WMA, WOV, BMP, PNG, GIF, TIFF, PSD, PDF, excle file, word file, etc on HP
Retrieving files from corrupted or crash disk drive on HP laptop
Restoring data when external hard drive, thumb drive, pen stick, etc is not recognized or detected by HP computer
How to Recover Data on HP Computer?
You can use iCare Data Recovery Pro for lost data recovery on HP computer in any situation such as mistakenly deleting, formatting or HP computer disables you to open hard disk drive, etc:

Step1. Free download and install iCare Data Recovery on HP computer. Then, run the data recovery software and select a proper scan mode.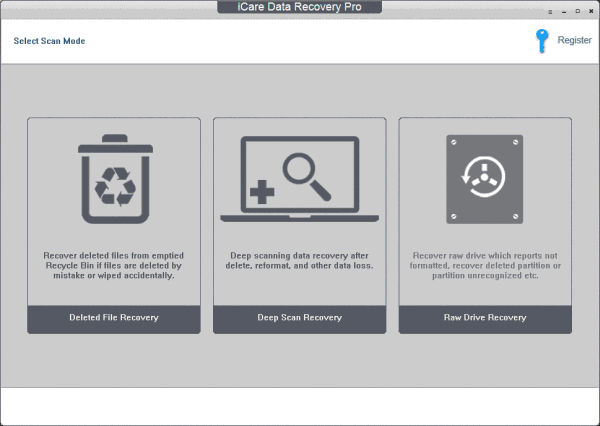 Step2. Choose the disk drive where data got lost and then you only need to wait when the software is scanning to search lost files.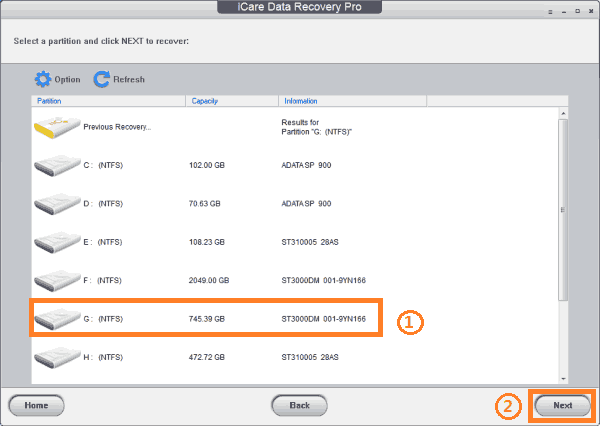 Step3. Preview images and Microsoft documents after scanning. Then, you can save the lost files to another drive.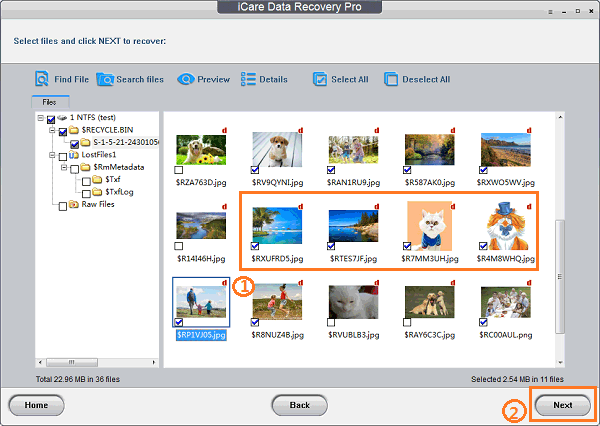 Recover Data from Formatted HP PC
Whether you use a HP desktop or laptop, probably you have formatted a hard disk drive or removable disk on the computer due to mistake or other reasons. Do you have any good idea for data recovery after format disk drive on HP PC? iCare Data Recovery is a Windows data recovery program, which is able to recover data from any formatted disk drive including hard drive partition, external hard drive, memory card, flash drive, pen stick, etc. Therefore, you can use this software to recover lost data after performing format on HP computer.
HP Computer Data Recovery after Deleting
On the one hand, iCare Data Recovery allows you to recover files after deleting from internal hard disk drive on HP computer. It supports to recover data after deleting by pressing Delete or Shift + Delete buttons on your computer. And on the other hand, iCare Data Recovery also allows you to recover data from SD card, micro SD card, mini SD card, CF card, XD card, etc after deleting on digital camera or mobile phone. This software supports all kinds of storage media for deleted file recovery whether you perform deletion on your HP computer or other devices.
HP Laptop Does Not Recognized Portable HDD
A portable HDD, also called external hard drive, works similarly to hard disk drive, but it is usually connected to a computer via a USB cable. Many computer users like to use a portable hard drive to save and transfer data because it has a large capacity and is compatible with all computers. However, it will be frustrating when a portable hard drive is not recognized by HP laptop when you need to read some data on it. Usually, a computer might stop recognizing a portable hard drive due to PC malfunctions or portable HDD failure. If the external hard drive is recognized by other computer but it does not work on HP laptop, probably there is something wrong with the HP laptop:
1. On some old computer, although it has USB interface>, system disables this function in BIOS settings by default. Therefore, your HP computer might fail to recognize external hard drive when you plug it to the computer.
2. Windows system does not support the USB interface. This kind of problem usually occurs on some old computers. Nowadays, almost all computers supports USB interface.
3. There is not enough power supply on USB port, which leads the computer not to recognize the portable hard drive.
HP Computer Is Infected with Virus
Virus is able to attach itself to some files or programs and spreads quickly through Internet, storage media, etc. When you install a malware on your HP computer or visit some unknown links, your computer is easily infected with virus. Virus attack might corrupt file system of disk drive on your HP computer, destroy files or folders stored on the disk drive and even cause system crash. Disk drive might turn to RAW file system when its file system is corrupted due to virus infection of your HP computer. Virus infection might destroy the operating system of your HP computer, in which situation you may fail to enter the Windows system normally when you boot your computer. Virus infection is also a possible reason for blue screen of death problem on a computer. In a word, virus infection might cause many troubles to your HP computer. Therefore, it is quite necessary to install antivirus software on your computer to protect it from being attacked by virus. In addition, it is important not to visit some unsafe websites or links in order to prevent your computer against virus infection.
HP PC System Crash due to Sudden Power Failure
Computer system is susceptible to corruption or crash due to sudden power failure. Unexpected power failure of HP computer might cause hardware damage or data loss. It is important to offer uninterruptible power supply to prevent unexpected damage or system crash to your HP computer. Therefore, you should not press the power supply button when you are performing any operation on your HP desktop in order to prevent it against system crash or other similar problem.
About HP
HP is short for Hewlett-Packard Development Company, L.P., whose head office is in Palo Alto, California, USA. HP is one of the world's largest IT enterprises, which was founded in 1939. HP mainly develops and manufactures printer, software, computer and service, etc.  HP has accomplished the acquisition of Compaq in 2002.

---
Related Articles