MPEG File Recovery
MPEG, also known as MPG, refers to Moving Picture Experts Group. MPEG video refers to the video which has MPEG format. MPEG formats include MPEG-1, MPEG-2, MPEG-4, etc, which are widely used in different fields. You are able to play a MPEG video on different programs, but you may also lose the videos in some situations. Today, many computer users like to save MPEG videos on hard disk drive so that they can easily play the video anytime they like. However, the MPEG videos will get lost if you mistakenly delete it from the hard disk drive without any backup. Or you may quick format or complete the storage media that contains MPEG videos. Then, is it possible to recover lost MPEG files from hard disk drive or other storage media? This article will tell you the method to recover lost MPEG videos in different data loss situations.
How to Recover MPEG Files?
You can use iCare Data Recovery Free , a read-only data recovery tool, to get back MPEG files from any storage media by following steps:

Step1. Free download and install iCare Data Recovery on your computer. Then, run the software and select a proper scan mode.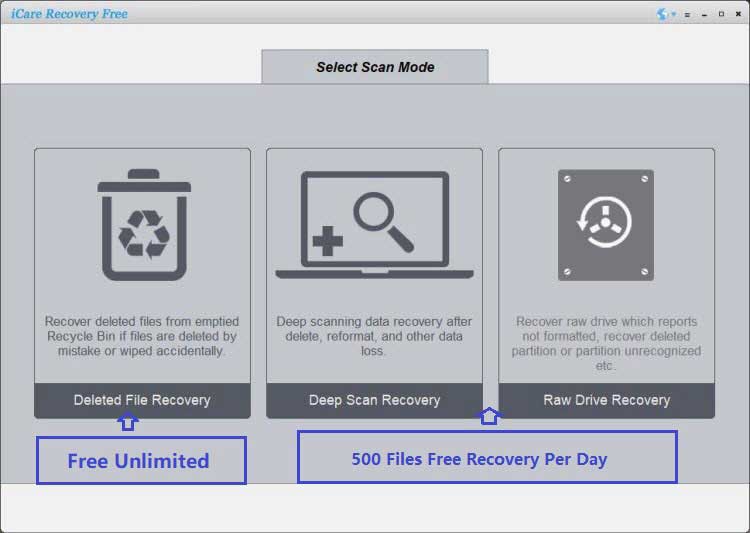 Step2. Choose the disk drive which contained the lost MPEG files and then the software will scan the selected drive to search lost files. You should wait patiently before the scanning is completed.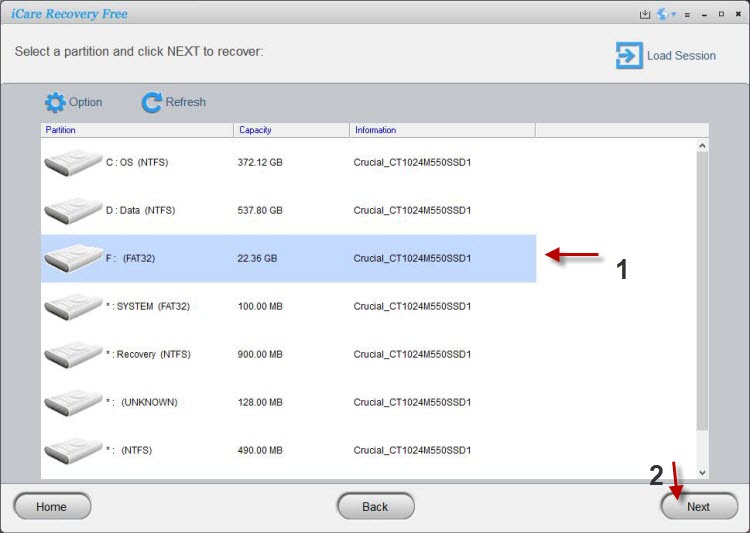 Step3. You can preview files like images and documents after scanning. Although you are unable to preview MPEG videos because it is too large, you can select all needed MPEG files and recover them successfully.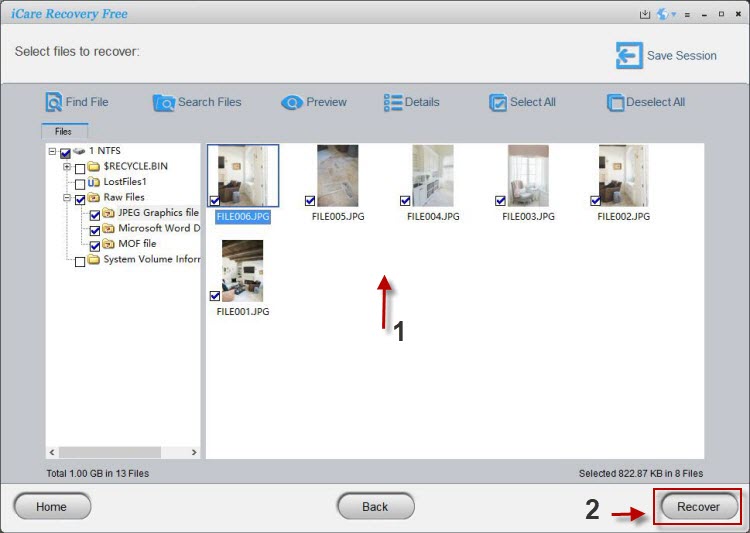 iCare Recovery for MPG Video Recovery in Different Situations
iCare Data Recovery, as data recovery software to resolve various kinds of data loss problems, is able to recover MPEG videos in different situations. You can use this software to restore lost MPEG video as long as it is not overwritten by new added data:
Recover MPEG videos after formatting (quick format or complete format)
Undelete MPEG files after emptying recycle bin on computer
Restoring MPG files from corrupted storage media due to virus infection, bad sectors, improper operation, etc.
MPEG data recovery from external hard drive, pen drive, hard drive, USB stick, thumb drive, memory card, etc
Supports for MEPG file recovery on Windows XP, Vista, 7, 8, 10 and Windows Server 2003, 2008, 2012, etc
MPG file recovery on NTFS file system, FAT32 file system and HFS+ file system
Recovering MPEG files when storage media reports raw file system error, not formatted error, I/O device error, etc
With iCare Data Recovery, you can also restore other types of videos in similar data loss situations, such as recovering MP4 videos, 3GP videos, AVI videos, WMV videos and more.
What Is MPEG File?
MPEG (Moving Picture Experts Group) is a video format, which was formed by ISO (International Standardization Organization) and IEC (International Electrotechnical Commission) in 1988. MPEG aims to set standards for moving pictures and audio compression. The MPEG standards include MPEG-1, MPEG-2, MPEG-3, MPEG-4, MPEG-7 and MPEG-21, etc.
1. MPEG-1
MPEG-1 was published in 1992, which is the first MPEG lossy compression standard for audio and video. MPEG-1 is mainly used on video CDs, digital satellite/cable TV services, etc. The publishment of MPEG-1 makes VCD, MP3 and some other MPEG-1 products widespread.
2. MPEG-2
MPEG-2 was published in November 1994 for digital television. Compared with MPEG-1, MPEG-2 has a better image quality, more image formats and image compression standards. MPEG-2 is often used in digital television, over-the-air digital television, DVB and DVD standard.
3. MPEG-3
MPEG-3 is used in HDTV video and audio compression standard. However, it was realized that MPEG-2 standard is able to accommodate HDTV, so MPEG-3 was not published finally.
4. MPEG-4
MPEG-4 has a higher compression factors than MPEG-2. MPEG-4 standard is widely used in video telephone, videophone and video email and so on.
MPEG File Only Plays Audio
MPEG is a video format, so you can see images and listen to audios when playing it on media player. However, sometimes, you may find that MPEG file only plays audio. What is wrong?  Is the MPEG file corrupted? Usually, this kind of problem might be caused by many factors. First of all, you should check if there is something wrong with the media player. Sometimes, you might meet problem to play a video when the media player is corrupted. In addition, probably the MPEG file is corrupted due to improper operation or virus infection. Usually, you might lose the MPEG video forever if it is corrupted due to virus infection. Therefore, you should run antivirus software on your computer to protect all data stored on the computer from being infected with virus or spyware.
MPEG Player for Windows
MPEG player for Windows refers to video player which supports to play MPEG videos on Windows operating system. If you want to play a MPEG video on your computer, you need to play it on a media player which supports MPEG format. Nowadays, many media player allows users to play videos with different formats such as MPEG, AVI, MP4, FLV, 3GP, etc. Sometimes, if your MPEG video cannot play, it does not mean that the video is corrupted. In this situation, the first thing you should do is to check if the media player supports this video format.
Can You Play a MPEG Video on Digital Camera?
Digital camera is usually used to take pictures, but today many digital cameras are also able to take videos. Usually, most digital cameras allow users to take videos and save the videos in AVI format. Then, some people might doubt whether it is possible to play a MPEG video on digital camera. Well, it depends on whether the digital camera supports MPEG format or not. Simply say, if your digital camera supports MPEG format, you may play a MPEG video on camera. Otherwise, you cannot play MPEG video on a digital camera. Besides, you should know that it might be impossible to play a MPEG video in digital camera if it is too large. If you want to play a MPEG file in a digital camera which does not support MPEG format, you can convert the MPEG video to AVI format on your computer by using MPEG to AVI converter.
How to Share MPG Files to YouTube?
YouTube is the world largest video websites, on which you can free upload, download and watch different kinds of videos in all fields. Then, do you know how to share MPEG videos to YouTube? Well, it is quite easy to share MPEG videos to YouTube. First of all, you should sign up to get a YouTube account. Since YouTube is a free online service website, you can free sign up for an account. Then, you can upload the MPEG video and edit it. If you have several videos to share, you can upload them one by one. Finally, you can publish the video so that others can search for, browse and watch the videos you uploaded.
In addition to upload MPEG files to YouTube, you can also share other formats of videos to YouTube such as MP4, AVI, 3GP, MOV, FLV, etc.
---
Last updated on Nov 28, 2023
Related Articles