PDF Deleted Recovery
Do you know PDF files? It is file format which is independent of application program, operating system and hardware. Do you know how to create a PDF file? Do you know what a PDF file is used for? A PDF file is able to remain its original formats, colors and all information when you print the file on paper with any Printer. Usually, you might create a PDF file with a PDF editor and you can share PDF files to others through Internet or printing it on paper. Whether you print a PDF file on a paper or save it on a storage media, you might lose PDF files sometimes. Do you know how to recover a PDF file? Today, this article will share solution for PDF data recovery when it got lost on storage media.
PDF Data Recovery with Software
A PDF file will get lost on your computer due to different reasons. If you just mistakenly delete PDF data on your computer, you might simply restore it from recycle bin. However, if the deleted PDF data was not moved to recycle bin, you need to rely on data recovery software. iCare Data Recovery Pro is a data recovery program that is able to work on almost all Windows operating system including personal operating system like Windows XP, Vista, 7, 8, 10 and Windows Server operating system like Server 2000, 2003, 2008, etc. Therefore, you can use this data recovery software on any Windows computer when PDF files got lost in various situations.
Steps to Retrieve Deleted PDF Files
iCare Data Recovery helps recover deleted files on Windows XP, Vista, 7, 8, 10, so you can follow the guide below for deleted PDF files recovery on any Windows OS:
Preparation: Free download and install iCare Data Recovery on a Windows computer. Then, you can run the data recovery software and follow the steps to retrieve PDF files:
Step1. You need to select a proper scan mode after running the data recovery software on your computer.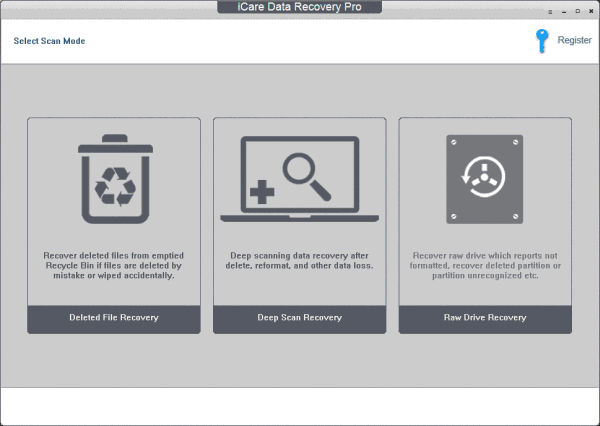 Step2. Choose the drive where PDF files were lost and then you only need to wait patiently when the software is scanning to search all lost files.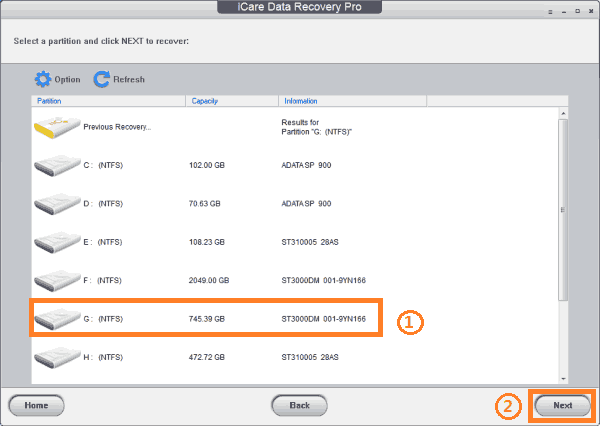 Step3. You can preview and save the PDF files to another drive when the software shows all found data after scanning.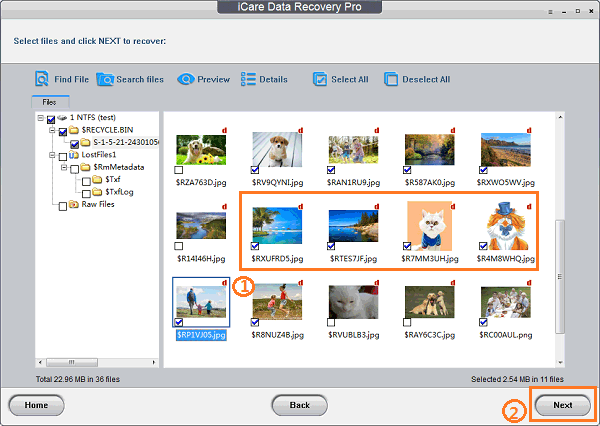 iCare Data Recovery enables you to recover deleted files from pen drive, USB flash drive, memory card, portable hard drive, etc when you accidentally delete PDF from any of those storage devices.
How to Recover PDF Files in Different Situations?
Like all other formats of files, you might lose PDF files in many situations. Is there any difference for PDF recovery when it got lost due to different reasons? Well, here are some common reasons for PDF file loss, in which situation you can use iCare Data Recovery to retrieve PDF files:
1. You might mistakenly delete PDF files from hard disk drive and then continue deleting data from recycle bin. You might delete a PDF file from hard drive by pressing Shift + Delete keys or Delete key on your computer. If you shift delete PDF files on PC, it will not be moved to recycle bin.
2. Probably, you save the PDF files to a disk drive after editing or reading it on your computer. However, you accidentally format the disk drive and lose everything stored on it. Or, you might copy all PDF files to a removable disk like flash drive, pen drive, etc in order to move it to another computer, but you format the flash drive or pen drive by error. You will lose all data on the formatted media at once whether you quick format or full format it.
3. Sometimes, you may fail to read or edit PDF files on your computer because system reports the drive which was used to save the data needs to be formatted. Usually, your computer reports such kind of error message due to various reasons like virus attack, bad sectors, improper operation and more.
4. PDF files got lost due to virus infection. When your computer or storage media is infected with virus, it might result in PDF data loss forever. If you meet this problem, you had better not run antivirus software before recovering data because it might erase the PDF files.
iCare Data Recovery supports to recover PDF files after deleting, formatting or disk drive shows not formatted error or turns to RAW file system. Before getting back the lost PDF files, you should prevent overwriting or physical damage to the disk drive where was used for PDF file storage.
Recover Deleted PDF Files from Thumb Drive
Usually, you need to install a PDF editor or reader in order to create or read a PDF file. Therefore, you probably install the tool on your computer and save PDF files to computer hard disk drive after creating it by using the tool. However, sometimes, you might need to move the PDF files to another computer or storage media. Thumb drive is a storage media which is widely used by many people to save or transfer different kinds of files. When you move PDF files from hard disk to thumb drive, you mistakenly delete data. Then, is it possible to recover deleted PDF files from a thumb drive? As you know, deleted data will be moved to recycle bin if you delete it from computer hard disk. However, files deleted from thumb drive will not be moved to recycle bin. Therefore, if you want to recover deleted files PDF from thumb drive, you need to use data recovery software. iCare Data Recovery also allows you to recover data from thumb drive including SanDisk, Kingston, Lexar, Toshiba, Samsung, etc.
Adobe PDF File Recovery
Adobe PDF files refer to PDF files which are created by Adobe PDF editor such as Adobe Acrobat, Adobe Indesign, etc. You might lose Adobe PDF files after mistaken deleting, formatting or disk drive, USB stick, etc shows error message and disables you to read the file normally. iCare Data Recovery has following features when you use it to restore Adobe PDF files in different data loss problems:
1. iCare Data Recovery helps recover PDF files remaining its integrity and formatting contents. As you know, a PDF file might contain text, color, images, etc, this data recovery software is able to recover the lost PDF files without modifying or hurting any information.
2. iCare Data Recovery allows you to restore Adobe PDF files even when the storage media is corrupted or becomes unreadable. You only need to ensure that the storage media is not physically damaged and the PDF files are not overwritten by new data.
3. iCare Data Recovery can not only help recover PDF files from internal hard disk drive or thumb drive, it enables you to retrieve lost PDF files from any storage media such as external hard drive, pen drive, USB stick and more after deleting, formatting or other reasons.
4. iCare Data Recovery allows you to preview files and you can only select the files you need to recover.  Please remember that you should not save the recovered files to the original storage media.
About PDF
PDF, namely Portable Document Format, is a file format used in Adobe Systems. You can set text, fronts, formats, colors, graphics, hyperlink, audios, etc in a PDF file. A PDF file can be added to magazine articles, product brochures, etc, which is able to preserve the original graphic appearance. You can edit and read PDF files on computer which runs Windows OS, Unix and Mac OS.
---
Last updated on Nov 01, 2022
Related Articles