How to Recover Deleted MOV Video from Phone Memory Card
It is a headache to find that you accidentally delete some precious MOV videos from your mobile sd or computer, or you mistakenly press wrong button and format the disk drive which holds your MOV files, or you are unable to edit and watch MOV videos due to RAW format error. If you run into any of the situations, there is a big risk of data loss. If you do not want to lose any MOV file because of improper operation, stop writing new data to the disk drive which was used to store the lost MOV files. This article will share the solution for MOV deleted recovery by using iCare Data Recovery.
This article contains the following parts:
Steps to Recover Deleted MOV Videos from SD Memory Card
Preparation: Free download and install iCare Data Recovery on Windows computer. Then, you can launch the software and follow the steps below to restore lost MOV videos (You need to connect the storage media to Windows computer if the MOV files got lost on Mac OS):
Step1. Select a proper scan mode after running the software on your computer.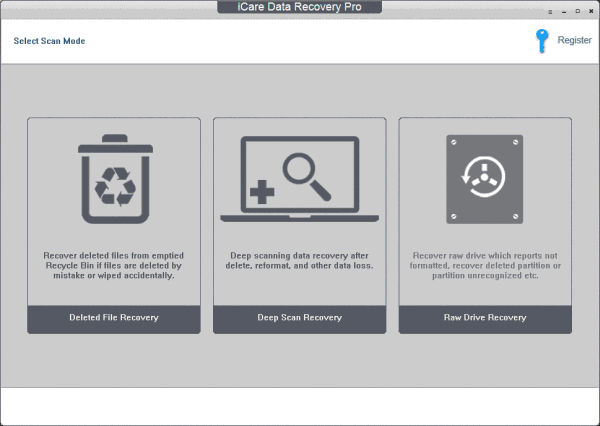 Step2. Choose the disk drive where MOV videos got lost and then you only need to wait the software to scan the selected drive to search lost files.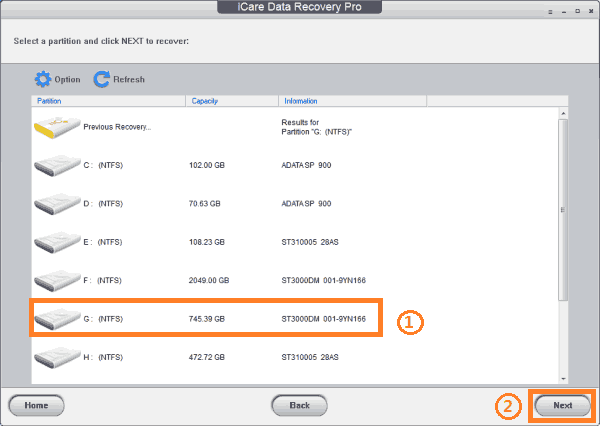 Step3. The software will show all found files after scanning. You can preview some files like images. Then, you can select the MOV videos and save them to another drive. Here is the example of photos that we found on our test.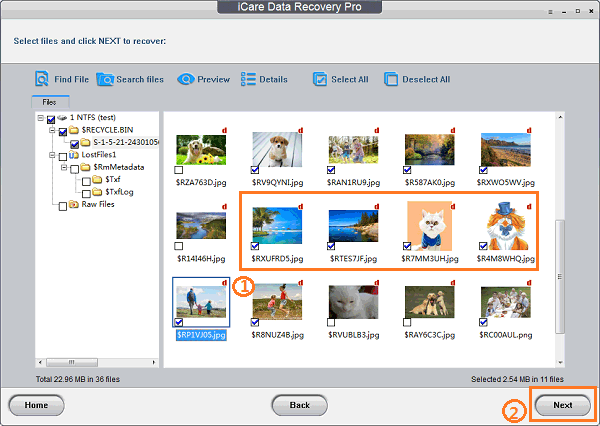 (Note: Augest 30, 2018 iCare improved its recovery for mov files that can find the most lost mov files.)
MOV File Recovery by Software
You have a chance to recover lost MOV files whether they got lost due to formatting, deleting or other reasons, but you should remember not to overwrite the storage media which contains the MOV files. iCare Data Recovery is a data recovery program, which is available for all types of file recovery in various data loss situations. Therefore, you can use this data recovery software to restore lost MOV videos. iCare Data Recovery is a read-only data recovery tool, which is compatible with all Windows OS. If you lose MOV files on Macintosh computer, you need to connect the storage media to a Windows computer to perform data recovery.
Recover Deleted MOV Files from External HFS+ File System
MOV is a QuickTime movie developed by Apple Inc. MOV is a common video format that is compatible with Mac OS. It is quite possible that you might lose some MOV videos when you are editing or playing a MOV video on Macintosh computer. One possible reason is that you might delete a MOV video by mistake from HFS+ external hard drive, after which the deleted data does not go to recycle bin. What can you do to recover deleted MOV files from HFS+ file system on Mac operating system? In this situation, you can plug the external HFS plus hard drive to a Windows computer and then run iCare Data Recovery to restore deleted MOV files. This data recovery software supports to recover files off HFS+ file system.
Recover Deleted MOV Videos after Format
If you accidentally formatted your memory card used in your mobile, iCare Data Recovery is also available for formatted USB flash drive data recovery on Windows operating system, so you can rely on this data recovery software to restore deleted MOV videos after formatting USB drive by mistake.
Cannot Play a MOV File?
As mentioned above, you can play a MOV file either on Windows platform or Mac platform, but sometimes you might find that you are unable to play a MOV file on your computer. If you meet the problem, you should check if you use the proper programs to play the video. Sometimes, if computer cannot recognize the filename extension of the videos, you may receive message that the file cannot be open. In addition, you may be unable to open a MOV file that is corrupted or damaged. Usually, a file might be corrupted due to virus infection or other similar reasons.
Repair Damaged MOV Files

Can a damaged mov video be repaired? Is your mov file really damaged?
1, .mov file were partially overwritten during data loss
2, your mov file were not consistantly stored on your digital device (no program is able to restore them)
3, the software failed to find data for you but other software may work
You cannot play or edit a damaged MOV file. If you realize that MOV files are damaged or corrupted in which situation you are unable to open them on any media player, you may want to look for a way to repair the damaged MOV files.
Here you should make it clear if you cannot access a MOV file because the storage media is corrupted, you can use iCare Data Recovery to restore lost MOV files from the corrupted media. If you can access the storage media normally but the MOV files are corrupted and cannot be open, data recovery software is not available for recovering corrupted files. You need to use some professional video repair tools or ask specialized company for help if you want to repair damaged or corrupted MOV files.
About MOV File
MOV is a file format which is used in Apple's QuickTime, but you can also play a MOV video on Windows operating system. MOV is QuickTime video format developed by Apple Inc., which is used to store movies and other video files. Although MOV was developed by Apple Inc. for Macintosh platform, it is also compatible with Windows OS. Therefore, you can play MOV videos on both Macintosh and Windows computers.
How to Produce a MOV File?
MOV is a video format which is well-known by many people. In some respects, MOV format is even better than WMV and RM. MOV video is supported by many media player and video editor software, so it is a good choice to save videos in MOV format. Do you know how to produce a MOV file? Well, as a matter of fact, QuickTime player is a good program which supports to produce MOV videos. Besides, you can produce MOV video when you use a digital camera like Canon, Nikon, etc to take videos. Usually, when you use a digital camera to take videos, the data will save to the memory card inserted in the camera.
MOV File Is Inaccessible after Changing Its Filename Extension
A MOV file usually refers to a video that has .mov as its filename extension. Sometimes, people want to convert a MOV video to other format like AVI, MPEG, MP4, 3GP, etc and then may simply change the filename extension of the MOV video. After changing filename extension of the MOV video, the video might become inaccessible because you change the way programs on your computer read this file, but the file format does not change. If a MOV file becomes inaccessible after changing its filename extension, you can change the filename extension of this video back to MOV format and it will become accessible again.
MOV to AVI Converter
AVI is a video format developed by Microsoft, which is compatible with Windows computer. Apple Inc. developed MOV format for its Macintosh computer. Apple Inc. also released Apple's QuickTime for Windows, which allows users t play MOV videos on Windows PC. AVI and MOV video are two different video formats, which have different compression encoding and characters. Therefore, if you want to play an AVI or MOV video, you need to use proper player which is able to recognize the format of this video. If a player is able to recognize both AVI and MOV format, usually you can convert MOV to AVI format by using this player. Otherwise, you can rely on professional MOV to AVI converter. You can also convert a MOV video to other video format like MPG, MP4, 3GP and more.
In addition to recovering MOV files, iCare Data Recovery supports deleted excel file recovery, ppt file recovery, photo recovery, 3GP recovery, MP4 file recovery, etc.
---
Last updated on Nov 01, 2022
Related Articles