WAV File Recovery
Question: How do I recover wav files from sd card?
If you store WAV audio files on a memory card or other media, you had better make a copy because audio files are easily to be lost on any storage media due to deleting, formatting or other reasons.
Solution: If you lose some WAV audio files without any backup, this article will introduce method to recover WAV files with data recovery software.
How to Recover Deleted WAV Audio Files?
Without any backup, you need to use data recovery software to recover lost WAV files after deleting, formatting or when you run into other data loss problems. iCare Data Recovery Free is a data recovery program, which supports to restore different types of music from any storage media. Therefore, you can refer to the steps below to get back lost WAV files:

Step1. Free download and install iCare Data Recovery on a Windows computer. Connect the storage media where WAV files got lost. Finally, run the software and choose a proper scan mode.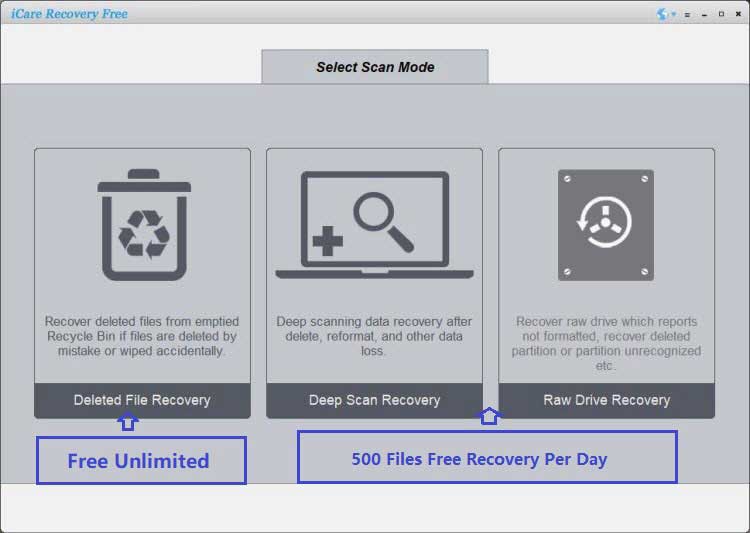 Step2. Choose the storage media where data got lost and then wait patiently when the software is scanning to search lost files.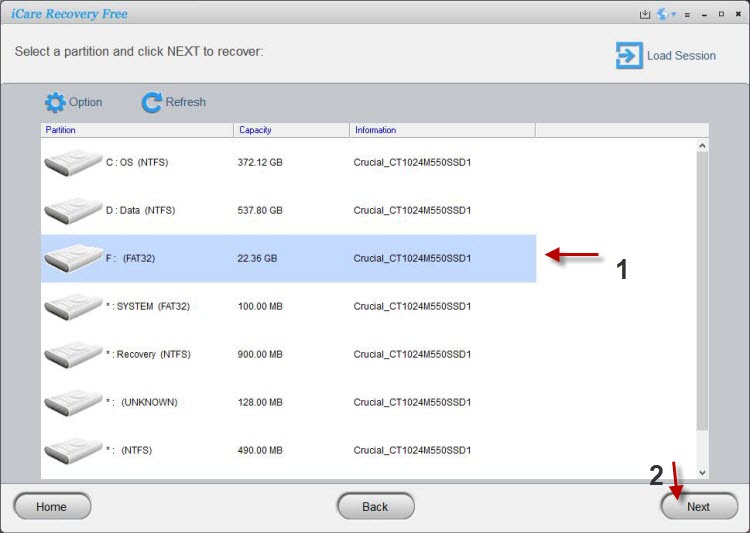 Step3. You can preview files like images and documents. Although you are not able to preview WAV files, you can recover all needed files and save them to another drive.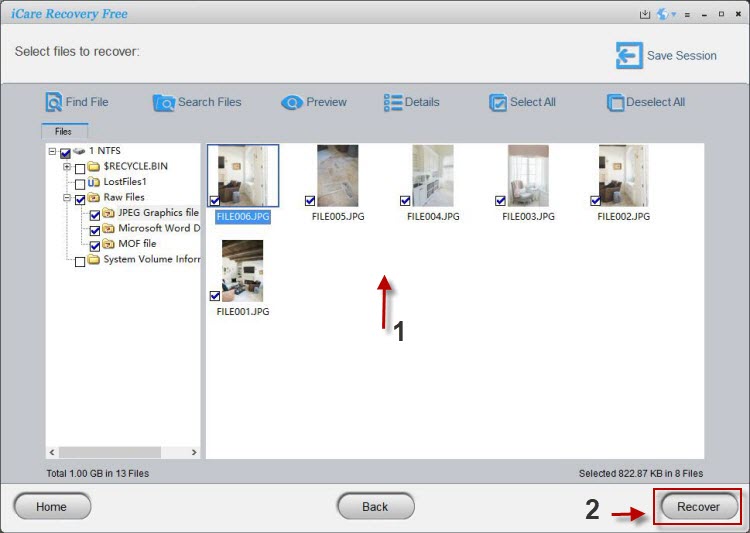 Is It Possible to Play a Corrupted WAV File? How to repair corrupted wai file
You can play a WAV file with proper media player. However, a WAV file might be corrupted because it is infected with virus due to some reasons. For example, you store WAV files on computer's internal hard drive. The corrupted WAV files might not play properly.
The concern: how to repair a corrupted wav audio file?
Repair audio file online with VLC Player
VLC Player download: https://www.videolan.org/vlc/
VLC can be used to repair broken audio or WAV file. To do this:
Get VLC and download it, then install it
Once installed, right click on your corrupt WAV file and select open with VLC media player
If VLC can repair the corrupted WAV file, you can play it from the main screen.
Check playback
Click on the media menu
Select convert / save
In the file table, click Add
Select your broken WAV file from there
What Is WAV Audio Files?
Like WMA, WAV is an audio file format developed by Microsoft. It is used to store Windows Audio information. WAV format is supported by Windows platform and applications. When you save an audio file in WAV format, its filename extension is .wav. A WAV audio file usually has larger size than a MP3 or WMA file, which often occupies large storage space. However WAV audio file is a lossless compression format, so it has a higher audio format than MP3 format and WMA format. You can play a WAV audio format on Windows and Mac OS by playing it on proper media player.
Simply say, WAV format has following advantages and disadvantages:
Advantages of WAV format:
WAV is a lossless compression format, so it is able to store sounds faithful to original source. In addition, WAV is widely supported by many media players.
Disadvantages of WAV format:
The disadvantage of WAV format is that it needs a large storage space to save WAV file.
Recover Deleted / Lost WAV Files on Windows PC
You can listen to WAV audio files by playing them on proper media player on your computer, but you might lose those WAV files in some situations. With iCare Data Recovery, you are able to restore WAV audio files in following situations:
Recover mistakenly deleted WAV files
Recover WAV music after accidentally or intentionally formatting storage media like external hard drive, USB flash drive, hard disk drive, pen drive and more other media.
Recover WAV audio files when storage media says error message like disk drive needs to be formatted, CHKDSK is not available for RAW drives, read / write error, etc.
Supports almost all Windows platforms like Windows XP, Vista, 7, 8, 10, Windows Server 2012, 2008, 2003, etc
iCare Data Recovery is not only able to recover WAV files, but also restore other types of audio files (MP3, WMA, et), videos files(MP4, MPG, MOV, FLV, etc), images (BMP, JPEG, GIF, PNG, etc) and all other types of files when you encounter the similar data loss problem as mentioned above.
Pay attention: No matter how data got lost, you should prevent physical damage and overwriting to the storage media which contains lost data. If the lost data is overwritten or the storage media is physically damaged, you might be unable to get back any file you need.
How to Make a WAV File on PC?
WAV is a lossless compression audio format, which is usually considered as the purest sound format among various audio formats. Many people enjoy WAV music, because it has a higher audio quality than MP3. You can download music that has WAV format and save it to your computer. Then, can you make a WAV file on your computer? Then answer is yes! Usually, you can run Sound Recorder on your computer and record the sound. Finally, you can save the audio files in WAV format. This is the easiest way to make a WAV file on your computer.
Other Audio Formats
1. CD: CD (Compact Disc) is a digital optical disc data storage format. Audio stored in CD is nearly lossless, so CD is a good choice for people who have a high demand for sound quality. You can play CD in a CF player. And you can also play a CD on programs installed on your computer. A CD audio file is a .cda file. A .cda file does not contain the actual audio information, but it only tells where on the CD each track starts and stops. You cannot copy a .cda file to computer's hard disk because it is only a shortcut of the disc. You need to rely on some professional programs like EAC to convert CD format to WAV.
2. AIFF and AU: AIFF (Audio Interchange File Format) and AU are similar to WAV. Most audio editing software is compatible with AIFF and AU formats. AIFF was developed by Apple Inc., which is supported by Macintosh platform and programs. AIFF is standard audio format on Macintosh computer, so it is so popular on Windows computer. Microsoft developed WAV format which is similar to AIFF format for Windows platform.
Background
Today, almost everybody likes to listen to music. Probably, you like to listen to Pop, classical, jazz or rap? In earlier days, you may need to buy CDs or tapes in order to listen to music. Nowadays, you are able to listen to music much more convenient on a computer, smartphone and more other devices. Music is stored as a digital file, so people can listen to music by playing it on a media player installed on their computer or mobile phone. You can find, share or listen to different formats of music online. You can also store music to a memory card or other storage media and play it with proper media player. Music has different formats such as MP3, WMA, WAV, etc, while WAV is one of popular audio format.
Last updated on Sept 14, 2023
Related Articles