WMA File Recovery Free
WMA is an audio format developed by Microsoft. Many applications like Windows Media Player, RealPlayer and more support to play WMA audio. Usually, you can save WMA audio on computer's internal hard disk or phone memory card, etc, and you can listen to the music anytime on your computer or mobile phone by using a proper media player. However, WMA audio stored on any storage media might get lost. It is easy to erase all WMA files on your computer due to mistakenly formatting hard drive. Or a WMV file will be deleted forever when you delete it on your phone memory card. You will be quite upset to lose some important WMA files, so this article will tell you solution for WMA file recovery.
Guide - WMA File Recovery by Software
It is not the most terrible thing when you mistakenly delete WMA files from a memory card, flash drive or hard disk drive, but it will be terrible if you carelessly write new data to overwrite the lost data. As long as the WMA files are not overwritten by new files, you can use iCare Data Recovery Free to restore all lost WMA audios by following the steps below:

Step1. Free download and install iCare Data Recovery on your computer. Connect the storage media that contains WMA files to this computer and launch the software. Finally, you can select a proper scan mode to start data recovery.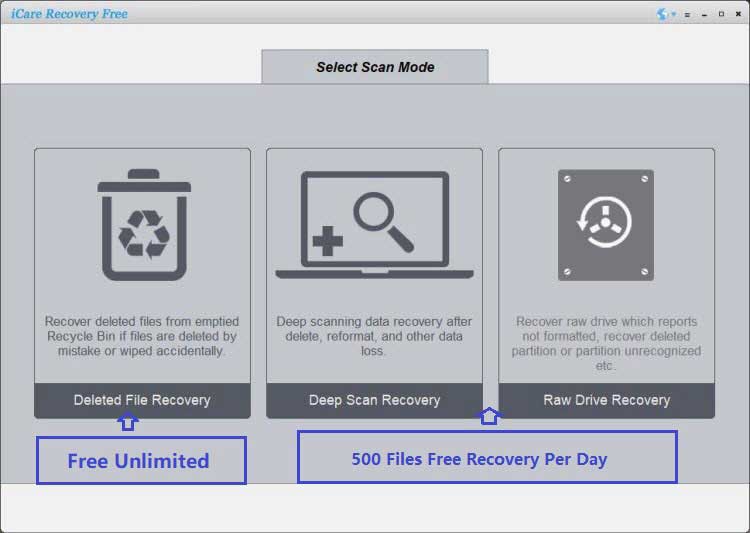 Step2. You should choose the storage media where data got lost and then wait patiently when the software is scanning to search lost files.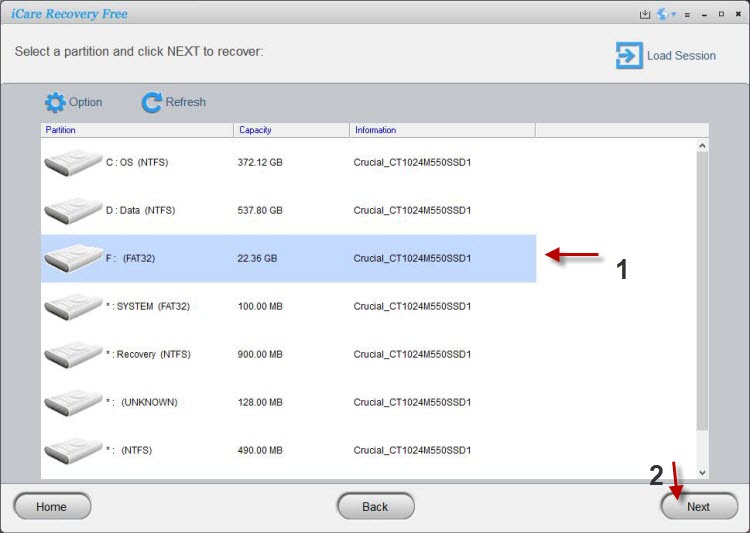 Step3. iCare Data Recovery allows users to preview files, but it does not support to preview audio files. Therefore, you can select all WMA audio files and save them to another drive.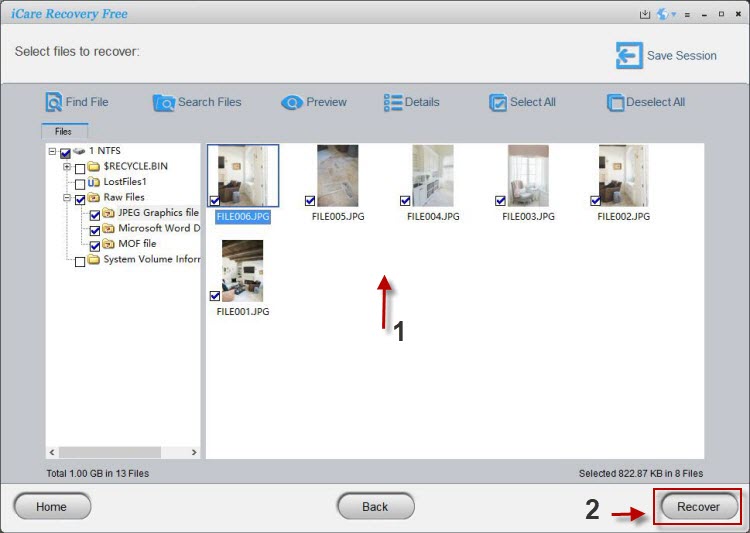 iCare Recovery Features for WMA Audio File Recovery
iCare Data Recovery is a read-only data recovery program that supports to recover various types of files including WAM audio files, so you can use this software to perform WMA file recovery in following situations:
Recover deleted WMA audio files from SD card, micro SD, mini SD, CF, external HDD, USB thumb drive, pen drive, etc
Recover WMA files after quick format or full format storage media on phone or computer
WMA file recovery when it is not accessible due to storage media corruption like RAW file system, not formatted error, bad sectors, etc
Supports to work on Windows operating system like Windows XP, Vista, 7, 8, 10, etc for WMA audio file recovery
iCare Data Recovery is able to recover other types of audio files and videos like MP3, midi, MPEG, MOV, MP4, 3GP, etc.
What Is WMA File?
WMA is short for Windows Media Audio, which is an audio format developed by Microsoft in 1999. When referring to audio files, many people know MP3. However as a matter of fact, has become a competitor of MP3 format, because it has a better audio quality. WMA format is supported by most smartphone and media player such as Windows Media Player, Windows Media Encoder, Microsoft Expression Encoder, RealPlayer, Sony Sound Forge and Winamp and so on.
Differences between WMA and MP3
WMA and MP3 are two common audio formats. Here are some differences between WAM and MP3:
1. MP3 is short for Moving Picture Experts Group Audio Layer III which was developed by Fraunhofer Institute in 1995, while WMA is short for Windows Media Audio which was developed by Microsoft in 1999.
2. MP3 audio files are compatible with many audio players on Windows, Mac, Linux and Android OS. Besides, MP3 files are compatible with almost all smartphone, tablets, DVD players, etc. Some WMA audio files are not compatible with some older digital audio players.
3. MP3 is a lossy compression format, which provides various bit rate options. WMA supports lossy compression and lossless compression.
4. MP3 produces sound at a higher bit rates than WMA which has a smaller file size.
It is able to convert an audio file from MP3 format to WMA by using professional converter, and vice versa.
Can You Play WMA Files on an Android Phone?
Smartphone has taken place of traditional mobile phone, which is widely used by almost everybody in the world. Among various smartphone, Android phone is commonly used by many smartphone users. Android phone usually refers to the smartphone which runs Android operating system. Some popular smartphone includes Blackberry, Samsung, HTC, Huawei, LG, etc. As you know, today's smartphone works similarly as a small computer, which allows users to surf Internet, shop, listen to music, play games and watch movies, etc. Then, is it possible to play WMA files on an Android phone? Whether you want to play a WMA file on computer or other devices, you need to rely on a media player which is compatible with WAM format. Therefore, if you want to play WMA audio files on Android phone, you just need to install a media player which supports WMA format on your phone.
Antivirus Software Erases WMA Audio from Smartphone Micro SD Card
Nowadays, many smartphone has its built-in antivirus software. Sometimes, smartphone users would like to install other antivirus software on their phone, because they think that the software they use is more powerful. However, sometimes, the antivirus software might erase some important data on your phone internal memory or memory card. Although, today's smartphone allows its users to listen to music online, some users still like to download and save their favorite music to phone memory card. However, data stored on memory card in a smartphone might be lost due to various reason, while one possible reason is that antivirus software erase the music from the card because it recognizes the data as virus. If Antivirus software erases WMA audio files from smartphone micro SD card or other types of memory card, you can use iCare Data Recovery to perform WMA file recovery.
How to Record WMA Files?
Do you want to record WMA files? Is it possible record a WMA file on your mobile phone or computer? Usually, you can record WMA files on your computer by relying on some professional tool. For example, you can use Sound Recorder to record sound. Usually, you can follow the guide below to record a WMA audio file:
1. You need to plug an audio input device like microphone to your computer.
2. Then, you can click Start =>> Click All Program =>> Click Accessories =>> and finally click Sound Recorder
3. Click Start Recording and then it will record the sound
4. You can click Stop Recording anytime you like and then save the recorded sound as an audio file. The audio file is usually saved as WMA format by default on Windows computer.
Pay attention:
Make sure that you have a sound card and speakers installed on your Windows computer and a microphone is also needed in order to record sound.
Play WMA Audio Files on Windows Media Player
Windows Media Player (WMP) is a free media player developed by Microsoft. This media player supports to play MP3 audio files, WMA audio files and WAV audio files, etc on any Windows computer. Therefore, you can play or share WMA files on Windows Media Player. This media player also enables you to rip or copy music to compact disks.
Last updated on Sept 14, 2023
Related Articles