Recuva RAW Data Recovery- Free RAW Drive Recovery Alternative to Retrieve RAW Partition/Drive/SD Memory Card Data in Windows
Last updated on 6/15/2017
Is Recuva safe to download/use to recover files from raw file system partition/hard drive/ssd/usb flash drive/sd/cf memory card in Windows xp/7/8/10? Can Recuva work on raw file system hard drive/usb stick/micro sd memory card on Windows xp/7/8/10/vista computers?
Answer: Yes. Recuva is safe and works on a raw file system hard drive/memory card to recover files from raw fromat drive/memory card. But, in comparison with the paid Recuva professional, the raw file recovery functions of the Recuva free are limited and many users also complaint that Recuva recovered files are unreadable/not working/won't open in most cases.
Therefore, another completely free raw data recovery alternative tool iCare Data Recovery Free is your best choice to recover inaccessible files from raw hdd/ssd/partition/usb flash drive/sd memory.
>>100% Safe free raw drive recovery

Download iCare Data Recovery Free to restore data from hard drive/ssd/flash drive/sd memory card that turns into raw and needs to be formatted on Windows computer completely for free.
100% Free Data Recovery Program to Recover RAW Hard Drive/Memory Card Data
Windows xp/7/8/10/vista computer USB hard drive/flash drive/ssd/sd/cf memory card shows/becomes raw file system in Disk Management and asks to format/needs to be formatted before any use/access? Instead of Recuva, you can use another 100% free raw data recovery utility iCare Recovery Free to take inaccessible pictures, videos, audios and files from hard drive/mciro sd memory card/pen drive with blank or unsupported file system/not formatted error issues.
With its Advanced File Recovery modes, you often can deal with different raw drive recovery problems caused by blank/ 0bytes space, virus infection, unrecognized file system, corrupted/dropped external drive/thumb drive/tf memory card and more.
==>If you are wondering to format/convert raw file system to fat32/ntfs on a hard drive/usb stick/micro sd memory card after drive raw file system recovery, also check this: Format raw to ntfs without losing data
Free Recover Data from RAW Partition with iCare Data Recovery Pro
Computer hard drive partition/volume does not contain a recognized file system type raw and also cannot be accessed due to partition not formatted/unformatted error now? Wonder to fix/repair/remove raw partition without losing data/formatting in Windows? Be calm. Also download and use iCare Data Recovery Pro free edition which offers a specially Lost Partition Recovery mode to help deal with nearly all partition/volume related file recovery situations, including deleted/corrupted/lost/missing/blank partition problems, to recover data from partition in raw format.  
==>Also read more details to know what to do when you get error disk not formatted do you want to format it now
Have not retrieved inaccessible files from partition/volume/external drive/usb stick/memory card with unsupported raw file system after running Recuva on your computer? Or files retrieved by Recuva could not be used/viewed? Go try another professional free data recovery tool iCare Data Recovery Pro to take chances here.
Download the free iCare Recovery Pro now to restore raw partition/volume data with ease and success.
Fix/Remove Recuva Recovered Files Unreadable/Not Working/Wont/Fail to Open
You do have downloaded and installed Recuva on your PC to recover hard drive/ssd/flash drive/memeory card changing/turning to raw file system from ntfs/fat32? However, unfortunately, Recuva recovered files unreadable/not working/wont/fail to open now? OK! Honestly, the data recovery results really depends on many factors, like the hard drive memory card states, the lost/inaccessible raw drive file states and whether you do have rewritten them, etc. So, A deeper scan is often needed to rescue data from raw format storage device as much as possible.
If it still does not change anything else, also go try more free data recovery software, like iCare Data Recovery software.
Of course, if you do have formatted raw drive from raw to ntfs, also go try formatted drive data recovery tools to take chances.

free download iCare Data Recovery Pro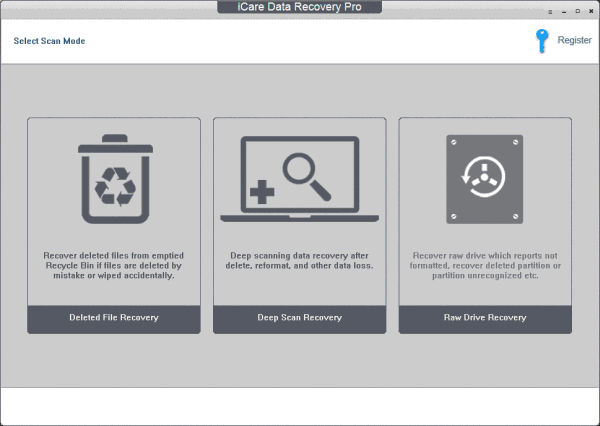 ---
Related Articles
Hot Articles