4 Ways to Fix Raw SD Card without Formatting [2023]
Background
It must be desperate when the computer says your SD card is raw and you need to format it when you need some data on the SD card. This article will show you how to open raw SD card without formatting and keep your data safe.
Table of Contents:
How Do I fix RAW SD Card without Formatting? - The Story
"I connected my SD card to my computer just now, and my computer said the disk in drive is raw, and I need to format it before I can use it. I really need the data, I know if I format the SD card, the data will all be removed, it is really horrible. What can I do to recover my data? Is it possible to fix raw SD card without formatting?"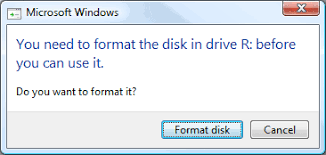 Fix raw SD card without formatting
This is an online question which may occur among storage cards, this article shows how to fix raw SD card without any data loss.
As we all know, format is an operation to erase all the data on the device, if you format your SD card, all data will be removed at a blink. However fixing a raw memory card, you do need to format it from raw file system to NTFS, exfat or FAT32, which are used by Windows system. So, to protect your data, you need to recover your data before you format it.
4 Ways to Fix Raw SD Card without Formatting or Losing Data
Fix #1 - Recover raw memory card without data loss
iCare Pro Free will be applied for free raw sd card recovery if you do not want to lose the data inside of the memory card.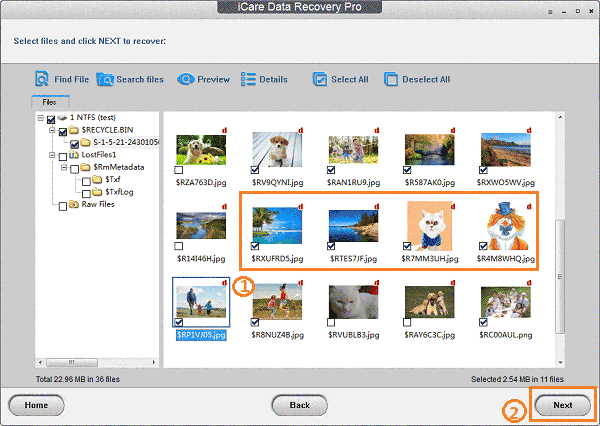 Recover Raw memory recovery without data loss
Fix #2 - Repair raw sd/microsd/cf card with error-checking tool
Error-checking is provided in Windows as to repair damaged file system for many kinds of devices and memory card is included. This is key for repairing damaged sd card when it has raw file system.
Step 1 - Connect memory card to a computer via a card reader
Step 2 - Right click the memory card in the computer, and go to its Properties -> Tools -> Check now (Error checking)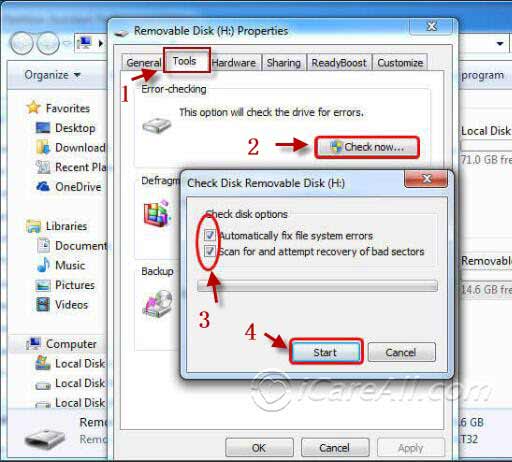 Fix raw SD card without formatting
As we could see the photo that the error-checking has an option "Automatically fix file system errors", which means to get the file system fixed when raw is an unrecognized file system that cannot be read by your device.
Fix #3 - how to repair sd card with chkdsk [Video]
If it reports chkdsk is not available for raw drives, see the following solutions
Fix # 4 - Repair raw sd card with chkdsk /f/r/x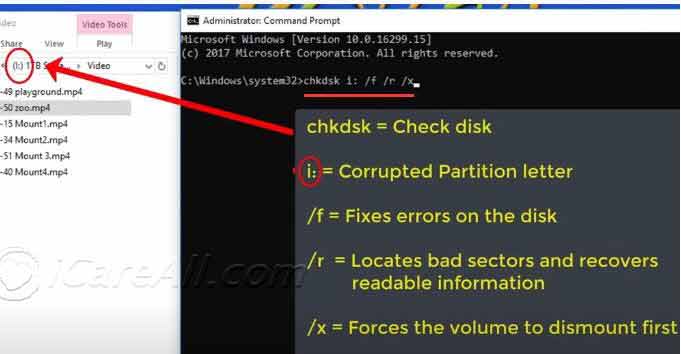 Chkdsk /f /r /x to repair raw memory card
Video - how to use chkdsk /f /r /x to repair device
The following video shows how to operate chkdsk command lines for a device repairing.
What kind of file system does your device read? -> Mostly fat32, ntfs, exfat as to most Windows and mac compatible OS. (HFS+ is for mac os)
Also read: 8 ways to fix damaged sd card without formatting
Data Matters in Damaged RAW SD Card Format
When data comes as the primary factory for recovering a damaged raw memory card, you may feel safe if you could get the out of the damaged sd card ahead of all repairings or changings made to the memory card.
Among all the data recovery tools in the market, I will suggest you to choose a safe and read-only program, like iCare Data Recovery It is a read-only software which means it won't change the file format, so the data found won't be unreadable, and it won't do harm to your computer. But what makes iCare Data Recovery special is it sharp ability of data recovery, data loss problems like raw drive error, formatting, deletion, device corrupted can be solved easily, and it suitable for many devices including USB flash drive, SD memory card, external drive, PC, phone, etc.
If your computer is in Windows system, you can free download this useful data recovery tool here.
Instructions to Repair Raw Memory Card without Data Loss
Step1: Install iCare Data Recovery on your computer, insert your memory card into computer
Step2: Run the program, enter "Deep Scan Recovery" module, select your SD card.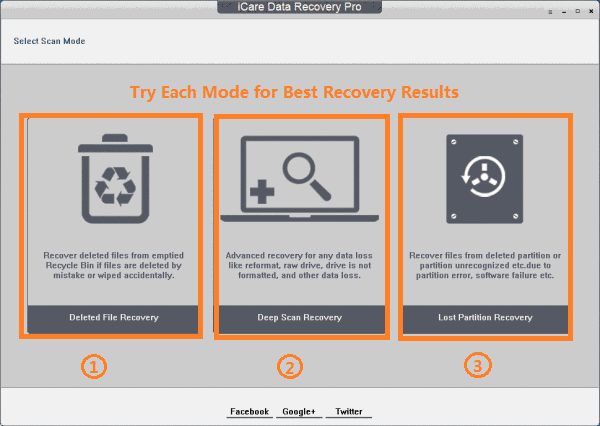 Raw memory recovery without data loss
Step3: Preview the found data, choose those needed to recover, and save them to another drive.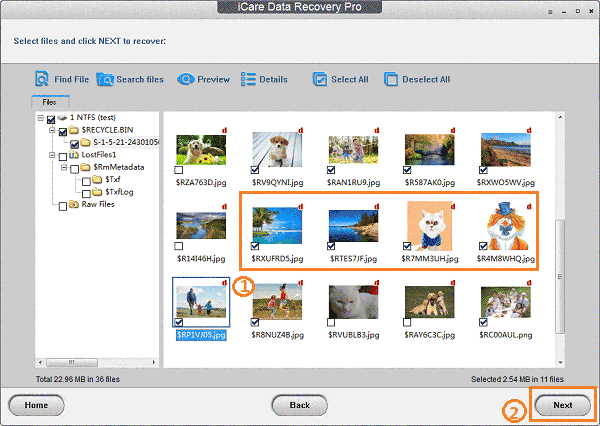 Raw memory recovery without data loss
Then your data can be recovered easily.
Free to Convert Raw SD Card into NTFS or FAT32
Data recovered, then you can convert your raw SD card to normal safely, you can use CMD command line or try a formatter freeware.
Free to Convert Raw SD Card into NTFS or FAT32 with CMD
Attention:
When you use CMD command prompt, do not make mistake, writing a wrong letter can format a wrong disk drive sometimes.
Step1: Run CMD.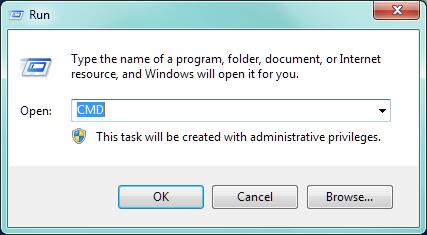 Fix raw SD card with CMD
Step2: Type"format F: /fs:fat32"(F is the drive letter of your RAW SD card).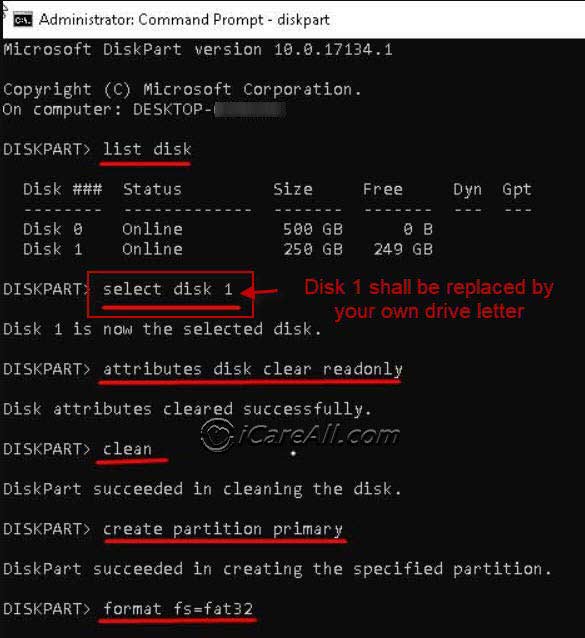 Fix raw SD card with CMD
If this solution doesn't work, you can also try a professional format tool, here is a free one you can try.
Free SD Formatters: https://www.icare-recovery.com/howto/sd-card-formatter.html
Also read: How to fix RAW SD card using CMD ->
Last updated on Nov 28, 2023
Related Articles