Nikon Digital Camera Photo Recovery
Nikon digital camera allows its user to store pictures to a memory card inserted to the card slot of the camera. However, files stored on the Nikon digital camera memory card might be lost due to many reasons, such as:
Nikon Digital Camera Photo Recovery Software Download
For all data loss problems on Nikon digital camera, you can free download iCare Data Recovery Pro to perform digital camera file recovery. It is a photo recovery tool for Windows for lost image recovery from Nikon camera.

iCare Data Recovery helps deep scan the memory card in Nikon digital camera and allows you to recover all types of files in batch.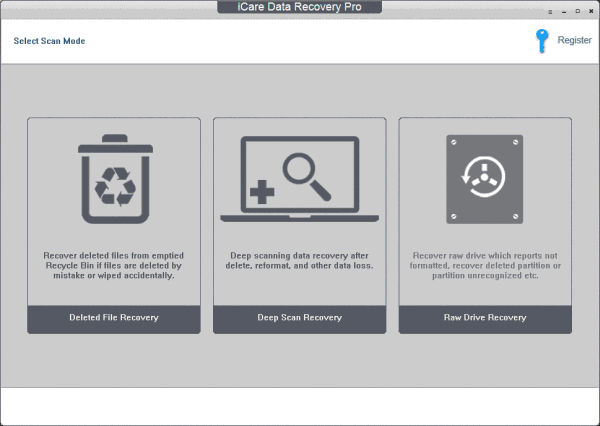 Nikon Camera Photo Recovery Software for Deleted Image Recovery
You can delete images on Nikon digital camera after pressing Delete button on the camera. Or you may delete photos from Nikon camera memory card after connecting it to a computer. Files deleted from Nikon digital camera will be erased immediately, so there is no chance to restore deleted photos from recycle bin. Only data recovery software like iCare Data Recovery is available for undelete pictures from your Nikon digital camera. This software allows you to restore any type of images including JPEG, BMP, GIF, PNG, RAW, etc.
Nikon Camera Memory Card Recovery after Format
Nikon digital camera appeals to many photographers because it produces wonderful and nice pictures to keep some unforgettable moment of life. However, you might lose all those precious pictures after formatting memory card by mistake. In addition to picture, you might also store videos like AVI, MP4, 3GP, etc and other types of files on a Nikon digital camera. iCare Data Recovery is also helpful with data recovery from formatted Nikon digital camera memory card.
Nikon Digital Camera Says No Memory Card
You usually need to insert a memory card in your Nikon digital camera in order to store data, but Nikon camera might say there is no memory card inserted sometimes when you attempt to save or read any data. It is impossible to save any data when Nikon digital camera reports that it is unable to use the memory card. Even worse, the previous data stored on the memory card will become inaccessible. In this situation, iCare Data Recovery enables you to restore all previous inaccessible data from the memory card for Nikon digital camera as long as you connect the memory card to a Windows computer and avoid writing new data to the memory card.
Nikon Digital Camera Shows RAW Error on SD Card
SD card is a type of memory card that is compatible with all Nikon digital cameras, with which you are able to save many different kinds of files. However, you will fail to save or read data if Nikon digital camera says SD card has RAW file system needs to be formatted. If you get the error message on SD card or any type of memory card on Nikon digital camera, you should not format the card before running a data recovery program for all inaccessible file recovery.
Other Similar Error on Nikon Camera
Data will be lost from Nikon digital camera due to various reasons. You might receive similar error message on Nikon digital camera as below:
Nikon Digital Camera Sales
Nikon digital camera is developed by Nikon Corporation which is a Japanese company. You can find different types of Nikon digital cameras, such as:
Nikon Coolpix
Nikon Coolpix digital camera includes Nikon Coolpix S series, Nikon Coolpix P series and Nikon Coolpix L series. Usually, Nikon Coolpix S series appeals to many ladies because this series of digital camera has fashionable design. Nikon Coolpix P series is more practical than S series. Nikon Coolpix P series is a good choice for users who do not have enough money to buy an expensive digital camera. Usually, you need to spend about hundreds of dollars buying a Nikon Coolpix digital camera on Amazon.
Nikon SLR D series
Nikon SLR D series digital cameras are Digital Single Lens Reflex Cameras, which are more expensive than Nikon Coolpix series digital cameras.
A good digital camera is able to help take pictures with high quality, but it does not mean that you will not lose data from a good Nikon digital camera.

---
Last updated on Oct 20, 2021
Related Articles