Nikon Digital Camera Photo Recovery - 3 Free Ways
Summary
Retrieve deleted images videos from Nikon camera D3500/d5300/d3400/d5100? Try the following free Nikon camera recovery software to undelete files from Nikon camera sd card after delete, format, unreadable, raw, unknown file system etc.
Tips to Increase Nikon Camera SD Card Recovery
Add no more data to the Nikon camera once there were data loss or sd card error
Pull the memory card out of the Nikon camera safely, and then insert it to PC for recovery with a memory card reader
Never change the sd card before the data recovery, never save new data to the sd card before the recovery
How do I use Nikon memory card on a computer?
A memory card reader is a required material for retrieving photos videos from Nikon camera since the memory card recovery tools or repair methods are all provided on a computer.
This following image displays how a memory card reader looks like.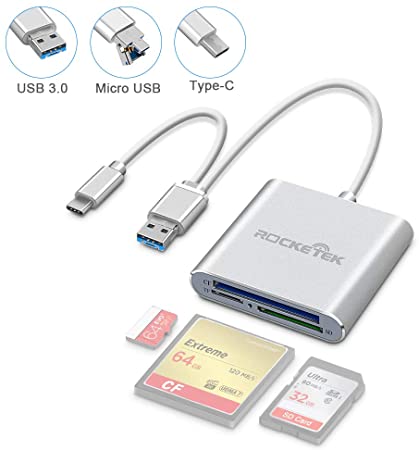 3 Free Ways to Recover Photos Videos From Nikon Camera SD Card
When digital camera uses memory card such as sd card, sdhc, sdxc to store the recorded images, videos, the data is on the memory card that's the subject which is the key of the recovery: Recovering files from Nikon sd card. The following free methods are free ways to bring data back from Nikon sd card.
The following free methods are able to help retrieve data from Nikon cameras including the following types:
Free to recover files from Nikon Coolpix like P900, P700, P520, P500, P330, P310, P100, A300, S8200, S6300, S6100, S3700, B500, A10, L810, L340, L120, L110, L100, L26, W100, and more Nikon Coolpix digital cameras.
Free to recover deleted photos and videos from all types of Nikon cameras like Nikon D7100, D7000, D700, D800, P7100, P7700, D5300, D5200, D90, D3200, D3100, D3000, Nikon D3300, and Nikon D3400.
#1 - Undelete Nikon camera memory card using attrib cmd
When Nikon sd card has been used on different devices, from camera to pc, from pc to camera... the sd card will easily be infected with virus that can remove data from sd card and all images videos can be erased by unknown causes, mostly the virus damage.
The following attrib can easily show the data from the sd card when files were deleted due to unknown causes.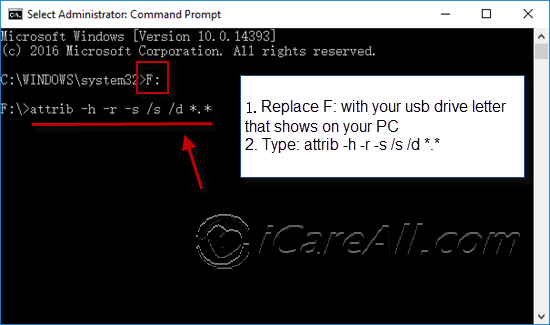 How to use it?
Insert sd card to pc with a card reader, and see what's drive letter it has, and remember it for the following use
Run cmd from Start, and type CMD in the run window
Type F: when f is your sd card that you need to replace with your own Nikon sd card drive letter
Type attrib -h -r -s /s /d *.* , and press enter key to see whether it works
If it did not work for you, try the following.
#2 - CMD UNDELETE
"Undelete /dt" is the cmd that you may try when the files or videos were not restored in the first step.
Step 1: Run cmd from Start or anywhere you would like to
Step 2: Insert Nikon memory card to pc with a memory card reader and see what's the drive letter for the sd card
Step 3: Type "F:" when f represents your sd card, of course you need to replace it with your own drive letter here
Step 4: Type "Undelete /dt" and press enter key
Also read: sd card photo recovery cmd
#3 Free Nikon camera data recovery software
This is a free third party utility that could be very efficient when your sd card data were not restored by the first two methods. It shall be used on a Windows computer.
iCare Data Recovery Free is able to help restore data from Nikon all types of cameras on a Windows computer when you insert the Nikon memory card to the computer with a card reader for recovery.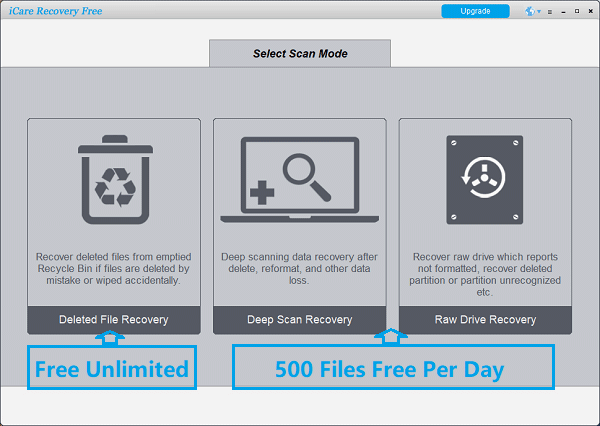 Platforms: Windows 11/10/8/7/Vista/XP
Price: Free
Supported SD card: all types memory card not limited to sd card
Background of Nikon Data Recovery
Nikon digital camera allows its user to store pictures to a memory card inserted to the card slot of the camera. However, files stored on the Nikon digital camera memory card might be lost due to many reasons, such as:
Nikon Digital Camera Photo Recovery Software Download
For all data loss problems on Nikon digital camera, you can free download iCare Data Recovery Pro to perform digital camera file recovery. It is a photo recovery tool for Windows for lost image recovery from Nikon camera.
iCare Data Recovery helps deep scan the memory card in Nikon digital camera and allows you to recover all types of files in batch.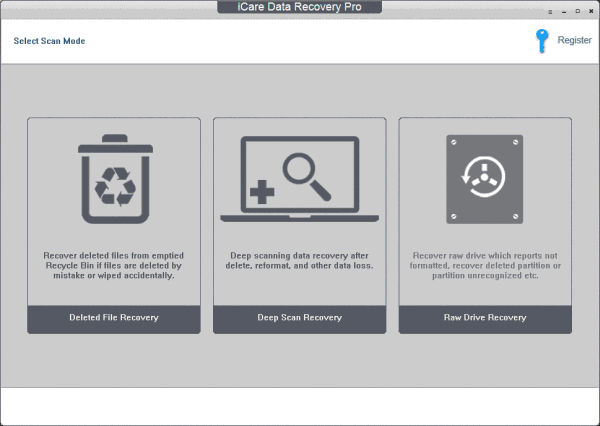 Nikon Camera Image Types
The recovery metioned on this page includes the recovery for Nikon camera files including the following
Images: (JPEG, NEF, RAW, TIFF, etc)
Videos (MOV, AVI, MP4, MTS, etc) from Nikon digital camera
FAQs about NIKON Camera Data recovery
Question: Does Nikon camera have recycle bin?
Answer: There is no recycle bin in Nikon camera from factory. If you deleted images or videos by mistake, it's better that you pull the sd card out immediately and insert it to pc for a recovery with free tools like iCare Data Recovery Free.
Also read: Nikon camera recycle bin
Question: How do I recover deleted photos from my Nikon camera for free?
Answer: There are three steps that you may recover deleted photos from Nikon for free.
Power off Nikon camera, take sd card out, insert sd card to pc with a card reader
Download free Nikon photo recovery tool iCare Data Recovery Free and install it on a computer
Run the free tool and search deleted photos videos from the sd card and save them for free
Question: How can I recover permanently deleted photos from my Nikon camera?
Answer: If the photos were deleted a long time ago and you saved tons of new images to the same sd card, then most deleted photos can be corrupted due to file overwriting. If it's just photos that were deleted and you have not saved a lot of photos, then you may use the free third party tool to start a free Nikon sd card photo recovery.
Question: how to recover deleted photos from Nikon camera internal memory?
Answer: Usually Nikon cameras such as Nikon D7200 uses sd card, sdhc, sdxc card to store images videos. If you want to restore data taken on Nikon camera, you may use iCare Data Recovery Free to start free sd card recovery.
Note: If the photo or video were not full taken and then the Nikon Camera powered off, you may reconnect the sd card to the camera once the battery is full charged and mostly data can be repaired automatically.
If it did not repair by the above way, you may try some other file repair utlities to see any luck.
Question: RAW Nikon NEF file corrupted, how to repair nef image?
Answer: When nef file is corrputed, you may repair it with the following ways.
Open nef with another photo viewer program to get it open
Convert nef file to other image formats such as jpeg
Open it with Microsoft camera codec pack
If none of the above works, try some nef repair tools that usually need a pay
Detail: repair corrupted nef file
Nikon Digital Camera Sales
Nikon digital camera is developed by Nikon Corporation which is a Japanese company. You can find different types of Nikon digital cameras, such as:
Nikon Coolpix
Nikon Coolpix digital camera includes Nikon Coolpix S series, Nikon Coolpix P series and Nikon Coolpix L series. Usually, Nikon Coolpix S series appeals to many ladies because this series of digital camera has fashionable design. Nikon Coolpix P series is more practical than S series. Nikon Coolpix P series is a good choice for users who do not have enough money to buy an expensive digital camera. Usually, you need to spend about hundreds of dollars buying a Nikon Coolpix digital camera on Amazon.
Nikon SLR D series
Nikon SLR D series digital cameras are Digital Single Lens Reflex Cameras, which are more expensive than Nikon Coolpix series digital cameras.
A good digital camera is able to help take pictures with high quality, but it does not mean that you will not lose data from a good Nikon digital camera.
Related Articles