How to Recover Deleted Photos From Nikon D3100
Summary
Retrieve deleted photos from Nikon D3100 DSLR camera? Try the following undelete software to restore data (raw nef/jpeg, videos included) from Nikon camera SD/SDHC/SDXC memory card.
What You Should Do to Increase Nikon D3100 Photo Recovery
Stop using your Nikon camera once images or videos were deleted or lost due to improper operations to avoid data overwritting
A memory card reader is required: take the sd card out of the camera, and then insert it to pc with a memory card reader
Never change anything on the SD card including trying to repairing damaged sd card before the images or videos were fully restored to avoid data overwritting
Download a read-only utility such as iCare Data Recovery Free that can perform read-only mode and which is free
How to Recover Deleted RAW IMAGES or Video from NIKON D3100
Preparation: Insert sd card to a Windows computer with a memory card reader at first.
Step1. Download the free Nikon camera photo recovery tool on your Windows computer, (All Windows computer supported), and then install it on the computer. Open the program, and then choose a recovery option to go.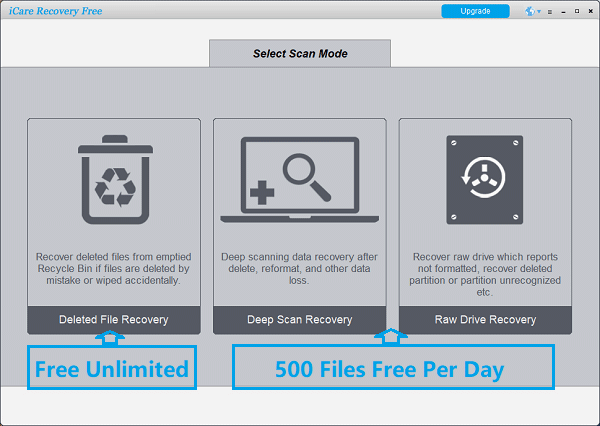 Step2.   Select the camera sd card as target to start free scanning.
Step3. Save images, videos on another digital storage drive.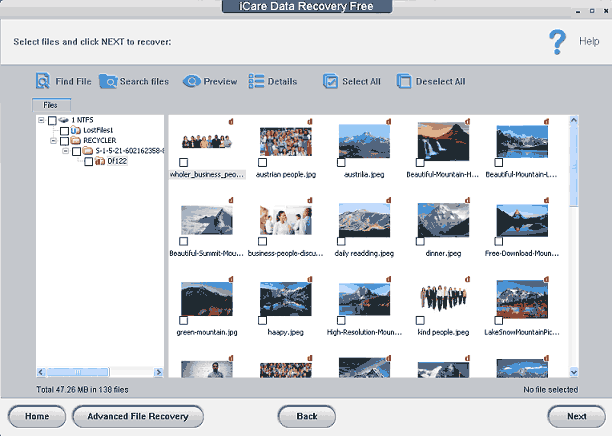 Common Scenarios for Nikon D3100 Data Loss
As for Nikon D3100 camera users, these following data loss may happen and let's analyze the details.
Deleted a few images or all images or including videos on the camera memory card -> 90+ deleted images, videos could be restored if no new files were saved since the deletion
Formatted sd card on Nikon D3100 by mistake? -> Most likely to be restored if there were no data overwritten
SD card showing error message on Nikon camera, not working? -> It depends
Other logical errors on SD card -> Data can be restored
Physical damages on SD card -> No hope with recovery apps or software
Also read: Nikon sd card photo recovery
Canon D3100 Data Recovery for MAC
Step 1: Download the mac utility to undelete files from Canon D3100
Step 2: Insert sd card to MAC and scan the sd card with the mac recovery utility
Step 3: Preview images or videos to see whether it can save your files.
Note: Recovering the deleted images or videos for Nikon camera on MAC computer? Download for MAC (This mac utility is from another third party software developer and it only offers free scanning and it will show you whether it could find your lost image in the trial. It needs a subscription fee to save found data!)
Hot Articles