No Nikon Camera Recycle Bin? Free Nikon Recovery Tool Download
Summary
Retrieve deleted photos or videos from Nikon camera? Try the following Nikon recovery software to undelete files from Nikon camera or camcorder.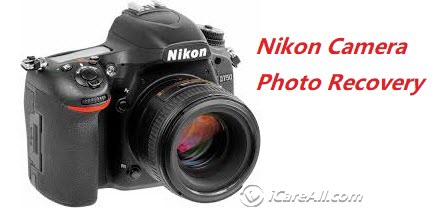 Question: Is There a Recycle Bin on Nikon Camera or Camcorder?
Source: As the Recycle Bin is a trash holding folder on a computer, computer users may find the most recent deleted files from the recycle bin and undelete them by just a few clicks.
The truth: There is recycle bin on a computer produced by Microsoft operating system, however the camera Nikon manufacturer does not provide the trash bin on the camera.
Amazing: Some recovery tools like iCare Data Recovery Free is able to help restore permanently deleted files from the recycle bin when users have emptied the recycle bin.
Note: It's able to restore deleted images and videos from Nikon camera too when the deleted files were not overwritten by new files.
3 Steps To Undelete Photos from Nikon Camera or Camcorder (Images, Videos)
iCare Data Recovery Free, the free recovery tool is able to recover unlimited files from Nikon camera or video recorder on Windows computers.
Note: Besides Nikon, this free tool is able to retrieve data from other cameras such as Canon, Sony, Fujifilm, Samsung etc. (Almost all types of digital cameras, and all brands covered)
Materials for Recovery:
A memory card reader that can connect the camera sd card to a computer
A Windows computer
iCare Data Recovery Free (free tool)
Preparations: Power off camera, and then take out the sd card or any storage card that you used on your camera, and insert it with a memory card reader to PC.
Step1. Download the free Nikon file recovery tool, install it on your computer, open it and choose a recovery option to go.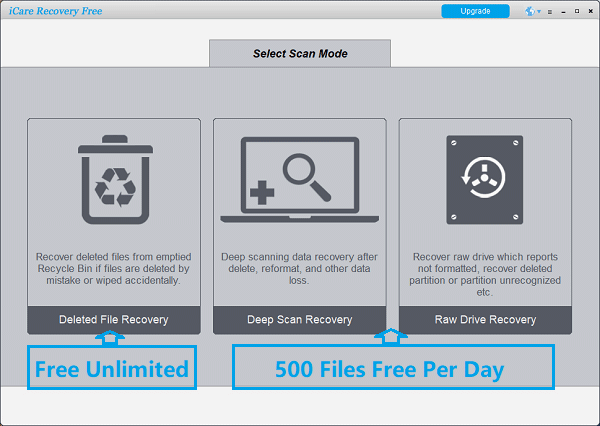 Deleted file recovery: It's the recovery option for quick undeleting images, videos from the camera sd card.
Advanced file recovery: If the images or videos were lost more than just simple deletion, for example, when the Nikon sd card is not showing up or not working, or the sd card has format error or other damages, it's better that you go with Advanced File Recovery mode.
How to choose a recovery mode: Simply click the mode, and it would lead to the following step.
Step2.   Select the sd card as target to get free scanning.
Step3. Save deleted images videos on computer instead of the sd card.
Also read: Nikon photo recovery software, or canon cf card recovery
Hot Articles