The Best 18 Data Recovery Software Free 2021
Last updated on Jan 23, 2022
Hello, friends there! Looking for completely free data recovery software? OK! No worry! You come to the right place. After actual downloading and testing, we do have listed a series of best data recovery freeware for you.
The Best Completely Free Data Recovery Freeware 2021
Go check below best data recovery freeware options:
As a 100% free data recovery program, iCare Data Recovery Free is a new free version released by iCare Recovery recently and allows any user to retrieve unlimited data from the selected hard drive or memory card for free.
With two well-designed data recovery modes: Deleted File Recovery and Advanced File Recovery modes, this iCare freeware could help deal with most of devices no matter corrupted or data deleted, etc.
Pros:
It is user-friendly and easy to use.

Its Deleted File Recovery mode is able to recover files deleted/wiped by mistake or emptied from Recycle Bin freely.

Its Advanced File Recovery modes can help retrieve data from most digital devices after most data loss situations.

It works well with all Windows operating systems, like Windows XP, 7, 8, 10 and more.

It supports all commonly used storage devices, including internal hard drives, USB hard disks, USB drives, Micro SD, Mini SD, SD card, SDHC, SDXC, CF or TF memory card, etc.
Unlike the old free version which only recovers first 1GB of data for free, this new version can help recover unlimited data for no cost.
All retrieved files and folders will be automatically packed into one folder so that you can check them as you wish.
Several options are listed there to select desired files freely, like Find files, Search files, thumbnail, Select all and more.
Click and preview listed files to check whether the scanned files are still recoverable.
All recovered files are automatically saved into one folder based on your saving path.
Cons:
It doesn't work as well as its paid version, iCare Data Recovery Pro with far more data recovery modes, like Deep Scan Recovery and Lost Partition Recovery modes.

Up to now, it offers Windows and English edition only. So, it cannot work under Mac OS environment.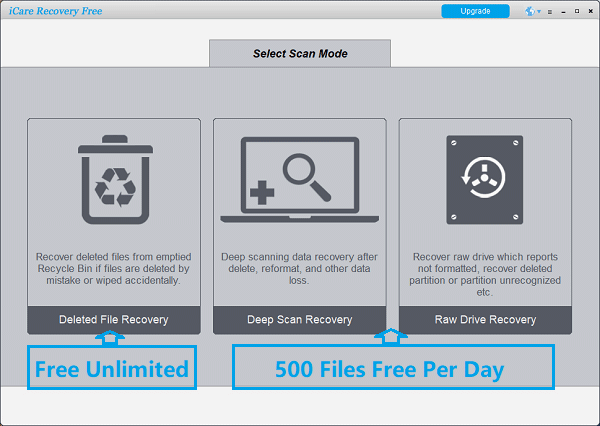 2). Recuva
As well-known data recovery freeware, Recuva is often downloaded and applied by most users who get stuck in file loss troubles due to unexpected delete, shift delete, format, reformat or virus attack. As an easy-to-use data recovery program, it is able to help you recover lost data based on different file types and file locations with ease and fast speed.
Pro:
Recover data according to file types, like Pictures, Music, Documents, Videos, Compressed, email and more. So, it could be really convenient when you do need recover files with the same file types.

Scan lost data based on file locations, like choosing "On my medical card or ipod", "In my documents", "In the Recycle Bin", "In a specific location" or "I'm not sure" options to start a scan.

Allow people to do a Deep Scan when the first scan has failed to find files.

The first scan is often completed within seconds. So, it is really fast.

Data recovery result report will be automatically shown there after the data recovery process is completed.
Cons:
It will automatically install CCleaner on your PC, if you do not pay attention to remove the setting before Recuva installation.

If the first simple scan cannot recover lost files, the Deep Scan can take over an hour on a large drive.

Without clicking Switch into advanced mode option at the right up corner, you often cannot preview any listed file there.

All the retrieved files will not be automatically packed into one folder, just being displayed there disorderly.

While your storage device gets bad sectors or corrupted, many files and folders could not be found and retrieved.

With no Back option, in order to start a Deep Scan, you do have to restart this software and find Enable Deep Scan option there.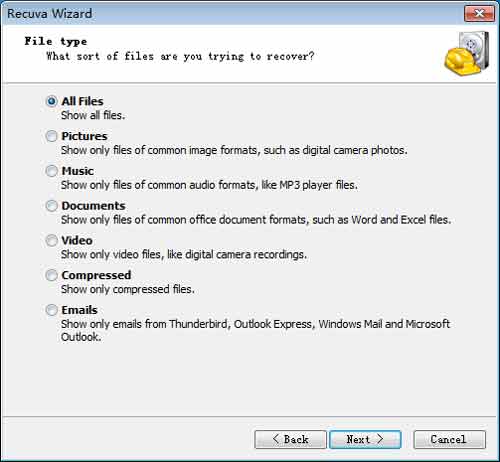 3). PhotoRec
PhotoRec is also a free data recovery utility that helps recover documents, videos, images, archives from computer hard drives, CD-ROMs, digital camera memory cards. With a Dos-like interface, PhotoRec allows you to use keyboard buttons to give any data recovery order to complete the data recovery process. So, It is a good choice for users who are familiar or get used to Dos-like interface.
Pros:
It is an open-source data recovery program and can be downloaded applied by anyone for free.

It is portable. Use it at anytime and anywhere after saving it on your moveable storage devices.

It helps recover files with over 200 file formats, like txt, exe, png, jpg, zip, swf, gif, ico and more.

It also works on not only the common hard drives, flash drives and memory cards, and also CD-ROMs and the like devices.

It is compatible with Windows, DOS, Linux and Mac operating system.
Cons:
The Dos-like interface is difficult for beginner to understand and use. Find a step-by-step guide to use it, if necessary.

There is no mouse support.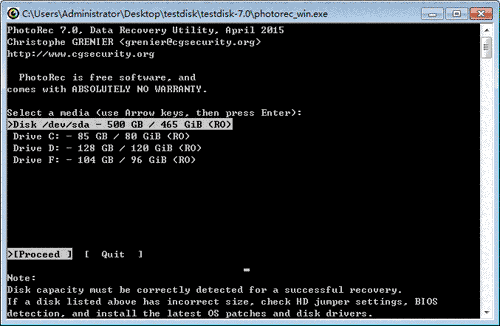 4). TestDisk
As a companion program of PhotoRec, TestDisk is much more effective in retrieving data from computer hard drive partitions which are missing, deleted, formatted or corrupted and also have a similar DOS-like command line data recovery interface.
Pros:
It helps recover partition files and folders 100% for free.

t helps cope with many common partition data recovery problems.

It also works well on Windows, DOS, Linux and Mac operating system PC.

It also supports different hard disks, USB drives, memory cards and CDs, CD-ROMs, etc.
Cons:
You are supposed to Log in with administrator account to operate this software on your PC.

Only computer keyboard buttons could be used to give any order while using this software.

People are supposed to restart computer to access the data you have retrieved.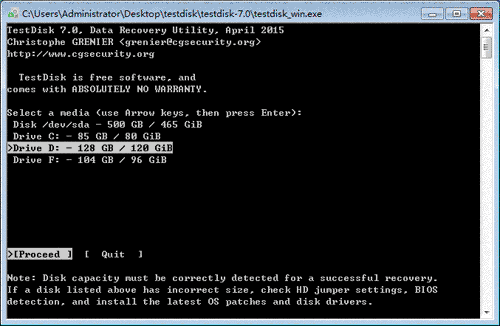 5). PC Inspector File Recovery
Like above data recovery tools listed there, PC Inspector File Recovery software is also a 100% free data recovery app and is able to recover files from hard drive or partitions with FAT12/16/32 and NTFS file system types on Windows computers.
Pros:
Offer 10 language services, like French, Italian, Spanish, English, Chinese, German, Russian and more.

Offer three simple file recovery modes: Recover Deleted files, Find Lost Files and Find Lost drive, for users.

Offer Rescan drive button to allow users to restart a drive scanning directly.

Support FAT12/16/32 and NTFS file system types.

Support Windows 95, 98, ME, NT, 2000 or XP and the like Windows operating systems.
Cons:
Scanned files could not be previewed there.

Do not work when your storage device is physically damaged.

Do not support common CD-R/CD-RW/DVD devices.

Highlight desired files one by one, since there is no special option to select all files with one click.

Fail to close this software all the time during testing and have to end it with Windows task manager. And it cannot change raw file system ntfs when usb failed to open with raw format
Please Note: You'd better create a new folder to hold all retrieved information since everything retrieved will be randomly listed on the allocated destination storage device.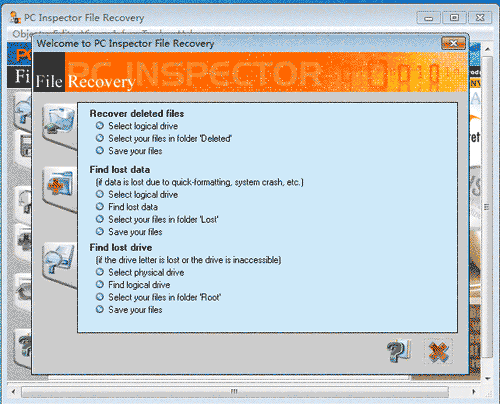 6). Free undelete
Free Undelete is also another completely free data recovery utility to help people recover deleted files with ease and fast speed. 
Pros:
It is surely free to recover files deleted or emptied from Recycle Bin by accident or mistake.

It is fast and the device scanning process is able to be completed with seconds.

Easily Double click the desired partition or device to start a quick scanning.

Could not review the scanned data, but, a window will be popped out tell whether the file is successfully recovered or not.

Offer a filter function to find files according to names or file types. Clear filter, when it is not necessary any longer.

Select another storage device to hold all retrieved files so that any new data will not rewrite your original information.

Support many Windows OS, including Windows XP, 2000, NT4, Windows 7 and more.
Cons:
It is free for personal user only.

No shortcut button to select all files at once. Highlight your desired files one by one.

Recovered files will not be packed into one file folder automatically created.

Do not work under Windows 98, Windows SE and Windows ME environments.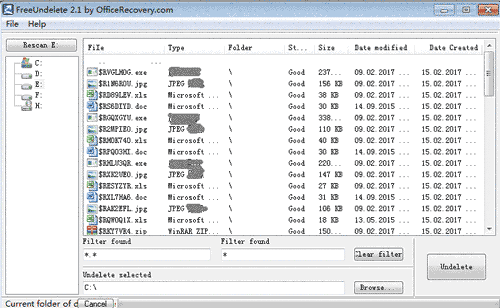 7). Wise data recovery
Wise Data Recovery software is completely free data recovery software that scans your hard drives, memory cards and flash drives fast and also recover deleted, missing, inaccessible and lost files easily and effectively.
Pros:
It runs really fast (Just complete 120GB partition scanning within seconds in our tests).

Offers many common language options.

Offers fast search tool to find needed images, audios, videos, documents, emails and files. Freely input key words there.

A portable version allows people to take it elsewhere with a removable storage device.

Works well from Windows XP to Windows 8 computers.
Cons:
Retrieved files are not listed in their original folder structure.

Only a portion of original images are previewed and scanned back.

The data recovery results may not be as well as we think (Only 56 files be scanned out from a 120GB partition in our test). 

Offer no any special deep scan recovery mode which help recover much more lost data back as other apps here do.

Do not support Mac or Linux operating systems.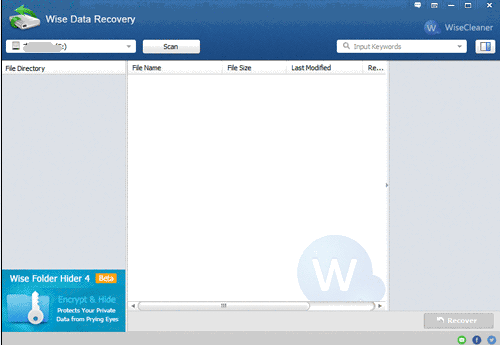 8). Glary undelete
Glary Undelete is also a free data recovery tool that offers quick and effective ways to retrieve accidentally deleted files from hard drive, camera memory card, USB key or emptied Recycle Bin easily. It also helps analyze the recovery possibility of the selected files with Good, Very Good, Medium and Poor before any data recovery.
Pros:
It is free to undelete wide range formats of files from hard disks, USB drives, memory cards and the like storage devices.

Offer a filter option to search desired files by name, size, date or state.

Show the searched files in folders or file types according to user needs.

Click Check all button to select and retrieve all listed files to recover.

Support most of Windows operating systems.
Cons:
It allows people to preview images well there only.

All recovered files will not be packed into one folder orderly.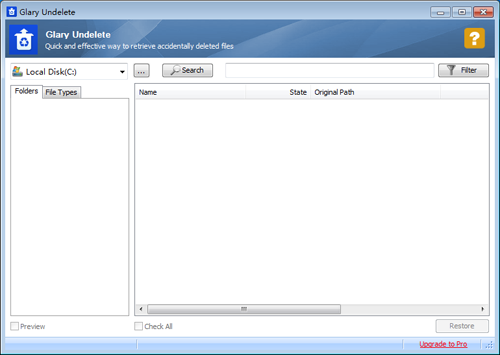 9). Pandora recovery
Pandora recovery is also another best free data recovery software that help recover deleted or lost data. With a best wizard guide after installation, you can always easily complete the data recovery process and retrieve wanted storage device information with ease. It is nice. Moreover, with a sweet Search and Browse data recovery modes, this software also could be a nice program when you do not want to waste time in scanning entire software and need recover several files, or only a little portion of lost data from a large storage device
Pros:
It is free to help recover lost data for everyone there.

A Simple Wizard guide will lead you to start the software with ease and also offer you useful tips.

Allow you to firstly check Recycle Bin to see whether deleted data could be restored back directly by clicking Open Recycle Bin button there.

Three effective recovery methods for you to search, select and recover desired information back freely, like Browse, Search and Deep (Surface) Scan recovery methods.

Allow you to freely change the data recovery modes as you wish.

Quick Review function to check all scanned information.

Recover drives with corrupted tables, formatted drives, memory sticks, jump drives, digital camera card, CD, DVD and more devices.

Support Windows computers well.
Cons:
Deep scan recovery mode will take a really long time to complete a thorough scan.

Only images could be previewed well on bottom section.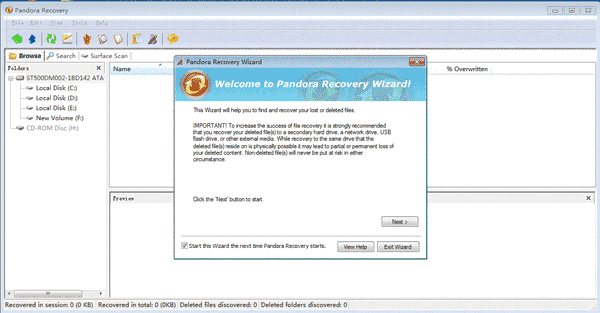 10). Puran file recovery
Puran file recovery software is also an easy-to-use free data recovery utility which offers effective features for people to recover deleted or lost videos, images, files and apps successfully, like Deep Scan, Full Scan, advanced Search and more. It supports more 50 file formats and works well with FAT12/16/32 and NTFS file system storage devices.
Pros:
It is completely free to recover data from hard drives, partitions, USB drives, memory cards and the like storage devices.

Allows users to select a language freely before any installation.

Simple instruction window pops out and introduces main functions and features before any data recovering process.
So, it is really easy to understand and operate.
It is fast software and scans everything within seconds.

All scanned files and folders are also shown there in tree structure and easy to be checked.

Select all files at once with a special Select all option.

Four scan options scan and recover lost data effectively, including Deep scan, Full scan, Find lost files and Scan custom list.

In our test, most of videos, images, files and apps are retrieved successfully.
Cons:
It allows people to preview only the first 1024 bites of the selected files in HEX and ASCII formats.

It allows users to preview images only within 10MB.

Its Deep Scan could take longer time to complete a thorough scan. For example, in our test, it takes nearly 20 minutes to scan a 120GB partition.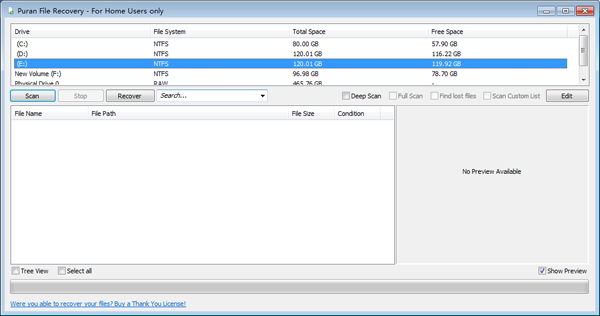 Conclusions
Have you found one that is exactly designed for your data recovery problems? No matter whether you will finally select freeware or shareware listed above, hope you can always make a decision based on your own situations and needs.
Please Note: In case of any permanent data loss trouble, also never put new data on the original hard drives, flash drives or memory cards before a successful data recovery.
---
Last updated on Sept 14, 2023
Related Articles