iCare Undelete Free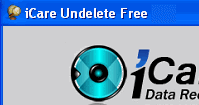 iCare Undelete Free - 100% freeware
Recover files deleted by accident
Recover photos deleted from camera card
SHIFT+DELETE file recovery
Emails, office documents, photos undelete recovery
Hard disk, external hard drive, SD card, CF card, Memory Stick, USB drive, Flash drive, pen drive, etc. supported

Why iCare Undelete Free?
Have you ever deleted a file or document folder and then realized it was a crucial mistake that you have ever made to your files? Do you happen to take a snapshot, delete it by accident and then need a recovery? Have you performed SHIFT plus DELETE and need some important files back? Have you run into the situation you want your files back just after you emptied the Recycle Bin and see files were gone? Did you employ someone deleted vital company files after his quiting the job?
No problem! iCare Undelete Free recovers files deleted from your Windows computer, Recycle Bin, digital camera card, or MP3 player. And it's free!
The software enables you to:
Restore deleted files from your hard drives: C, D, or E.
Restore deleted files from your floppy drives: A and B.
Recover deleted files from USB devices: Digital cameras, MP3 players, USB sticks and etc.
Recover deleted files from ZIP drives.
Supported Windows Plantform: Windows 10, 8.1, 7, Vista, XP, 2000 Pro; Server 2012, 2008, 2003, 2000
Undelete Freeware - Deleted File Recovery
Files emptied from the Recycle Bin, or those bypassing it.
Files deleted by viruses or application programs recently
Files accidentally deleted on a share network
Files deleted using removed directories
Files deleted by hot key SHIFT+DELETE
Files deleted using a DOS prompt command