How to Securely Erase a Hard Drive permanently - 4 ways
Freeware to Erase Disk Permanently without Recovery
There are two ways to remove files from storage media such as a hard disk permanently, logically or physically.
Note: The following methods also works for all usb flash drives, memory cards, removable disks...
#1 - Remove files folders permanently without recovery by Partition Resizer Free
Freeware Partition Resizer is able to wipe partition completely that cannot be recovered by any data recovery tools to ensure the data removing.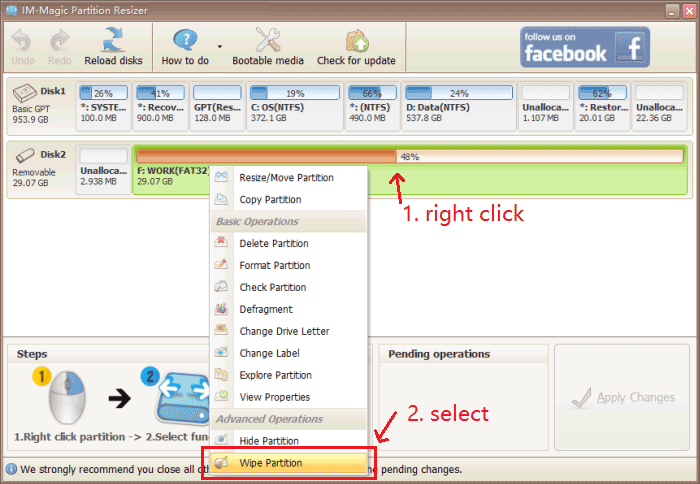 Wipe hard disk drive with freeware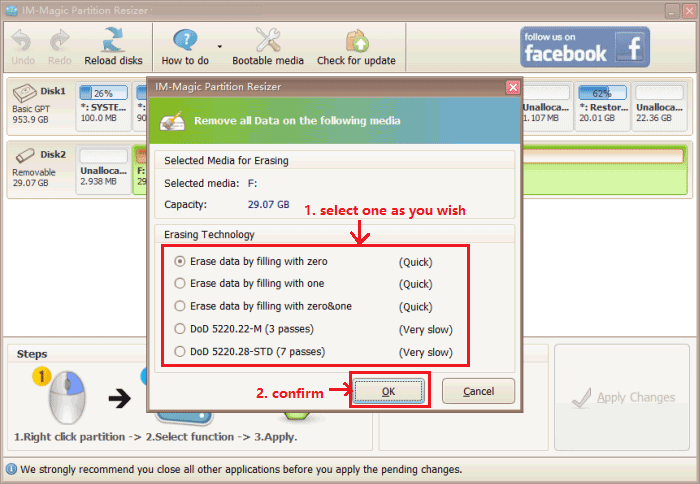 Wipe hard disk drive with freeware
Also read: https://www.resize-c.com/howto/erase-hard-drive.html
How to Security Erase a Hard Drive on Windows XP, 7, 8 or 10 Computers?
After backing up data well, you can go start to security erase your hard drive or SSD with several ways free:
#2. A hard drive data wiping program is more effective (Ccleaner, Eraser)
Of course, if you do also doubt whether such hard drive erasing process will also leave any possibility of data recovery, you can also take chances with some data wiping programs which often have been designed their own professional features to wipe everything once for all. And, the problem for you is only to select an effective and proper one for your case.
By the way, such software will also needs to be paid. Hope you can make your decision based on your own conditions.
Video - how to use ccleaner or erase to wipe disk completely
CCleaner download: https://www.ccleaner.com/ccleaner/download
Eraser download:
https://sourceforge.net/projects/eraser/files/Eraser%206/6.2/Eraser%206.2.0.2990.exe/download
#3. Completely format hard drive and overwrite entire disk (overwrite disk with huge data)
Generally, the commonest and quickest way for people to completely clean a hard drive or SSD with sensitive or precious information is to fully format it patiently and then, overwrite it with useless or new information completely. Merely right click the drive to choose format option and select full format. And then, wait patiently till the formatting process is completed.
And, then, in order not to let anyone have any chance to recover data from this hard drive again, the core step for you right now is to rewrite the whole drive completely with a huge amount of data that can be over 800gb movie .mp4 files or any file that is large when your disk is around 1tb.
How? -> Copy files from elsewhere and then paste them onto the formatted disk.
Of course, if you only needs to reuse your own hard drive, you can not worry too much and are able to rewrite it with new data which will be saving there in the future. However, if you are in a hurry to sell this drive, you may have to manually save useless information to completely rewrite entire hard disk.
Please Note: The fully formatting process often will clean hard drive sectors one by one and could takes a really long time. Just be patient.  
#4. Erase your hard drive with command clean - not completely wiping that data can be restored
And then, you can also do a command clean there on your Windows XP, 7, 8 or 10. And here are some simple steps for Windows 7 computer users:
Sep1. Click Start and open Run.
Sep2. Enter "cmd" and open Command Prompt window.
Step3. Type in "Diskpart" and "list disk" in order.
Step4. Select the desired drives listed and type in "Clean".
Please Note: The other Windows versions may have different ways to access the command prompt window, just go search the actual methods, if necessary.
Updated: erasing files using cmd diskpart clean won't permanently erase disk, unless you do the next job -> save new files to the erased disk.
How to make it work? => save tons of new files onto the disk after you erase it with cmd diskpart clean.
Need Completely Wipe Out Hard Drive without Recovery Possibility
"Hello, I have used a 1TB WD portable hard drive for only ten months and recently am going to sell it online for some reasons. And, before positing it online, I am wondering whether there are some ways to make a complete deletion on this hard drive so that any of my hard drive data, especially some personal pictures and documents, will not be recovered again by anyone. Is it possible for me? Thanks!"
"Hi, everyone! One of my roommates recently has bought a Seagate external HDD and want to completely wipe this second-hand drive and use it on his Windows 8 computer. Though this hard drive is empty now on his PC, he still worry whether there are some traces or the like file information left there and leave an negative impact on the future use. So, what would be the best way to completely erase hard drive so that he can reuse it again freely? Thank you for any suggestion! "
Hello, no matter why you have to security erase the hard drive, the best way for you now is to format it before any selling or reusing. And the, everything inside will be overwritten gradually by the latter saving information. Of course, in order to avoid any data recovery possibility, also go try some hard drive wiping tools to take chances, if necessary. 
What You Are Supposed to Do in Advance to Avoid Data Loss
Generally, it is really simple to completely wipe a hard drive or SSD, external hard drive, USB drive, or memory cards. However, there is also one more thing that you also should know that the data wiping process cannot be reversed. Once you have done it, any left drive content will not be restored again. Hence, in case of losing any important document, photo, video, music, mail and more files, you are supposed to back up everything useful well in advance. Just save all useful data to another USB flash drive, hard drive, CD, DVD or the like storage device well.
Of course, if possible, some hard drive data backup software also could help you a lot.
Conclusion:
No matter why you do have to make a complete deletion on your hard drive or SSD, you'd better always extract important data out and prepare data backups well elsewhere in advance.
---
Last updated on May 14, 2023
Related Articles
Hot Articles