SanDisk Cruzer/Ultra USB Not Showing Up (Cruzer Blade, Ultra usb 3.0 included) - Best 6 free Fixes
Quick fix -> 6 efficient ways for Sandisk usb not working fix
"My SanDisk ultra usb 3.0 flash drive is not showing up nor detected in My Computer or Disk Management, but I want to get back my data stored on this flash drive. Can anyone tell me why does my SanDisk flash drive stops working? Is there any way to get back lost files from an unreadable SanDisk flash drive?"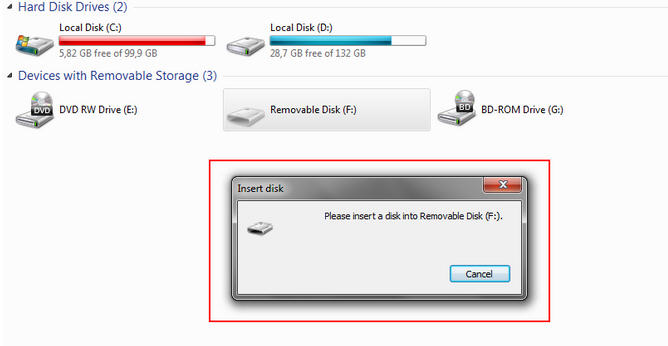 Sandisk cruzer usb drive not recognized please insert a disk into removable disk
"Today, I inserted my SanDisk flash drive to my PC to transfer some data, but Windows system said flash drive is in RAW format and did not allow me to open the drive. Then, I removed the flash drive from my computer and reconnected it to another computer, this time my SanDisk flash drive is not showing up and Sandisk reported no media in disk management. What can I do to get back my lost data?"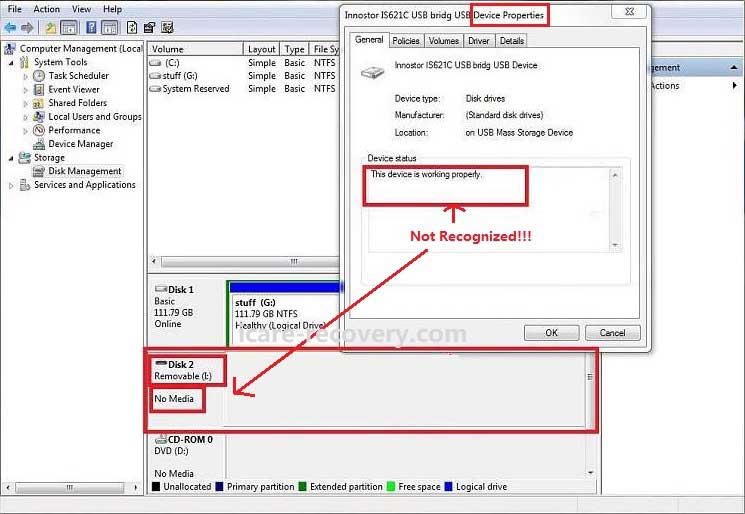 Sandisk usb drive not detected in computer disk management
"Is it able to rescue data from a SanDisk ultra usb 3.0 that is not working on my computer? I have a 128GB SanDisk flash drive, but it is not readable on my computer. I have tried all my best to resolve this problem, but I still cannot read any data. If anybody knows the solution, please tell me."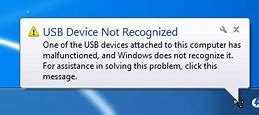 Sandisk usb drive not recognized in computer
My sandisk flash memory won't open in my computer when I clicked the removable disk icon in this computer, however it just won't work.

Sandisk usb drive not working in computer
Solution 1 - Uninstall Sandisk USB Stick in Device Manager and Reload
This is to update Sandisk cruzer driver in Windows 10 or 7 when the usb is not detected in Windows computer or my computer. Uninstalling the sandisk from device manager by a right click uninstall option, and then reinsert sandisk usb to computer, and scan for new changes from ACTION and get the new sandisk usb driver downloaded automatically on Windows pc.
Step 1 - Open device manager by right click 'This PC' -> Manage
Step 2 - Click 'Device Manage' -> Right click Sandisk device -> Uninstall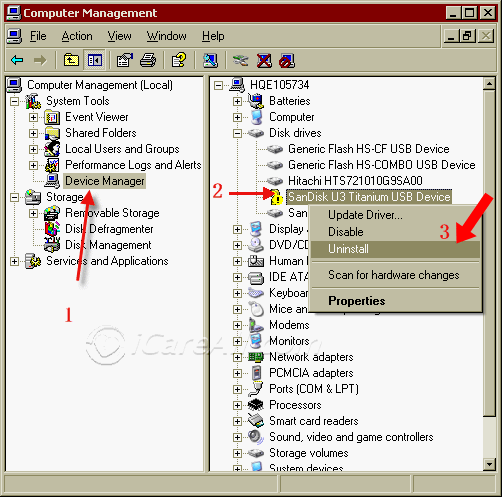 Uninstall Sandisk device in computer
Step 3 - Reconnect your Sandisk to computer, scan for hardware changes under computer management in the same window. This would reload Sandisk driver by this step. The computer would automatically download sandisk driver on windows computer.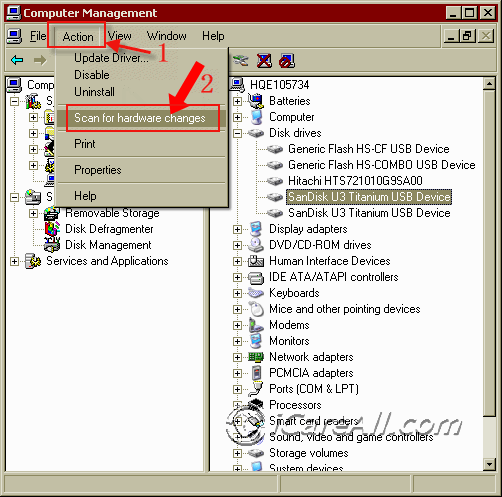 Scan to recognize Sandisk device
Solution 2 - Sandisk usb driver update by changing its driver letter
The drive letter conflict between sandisk flash drive and other hard drive or other flash drives may result in a undetected problem for sandisk cruzer or usb. You may change a new drive letter in Windows pc for your sandisk usb and test whether it may work.
Insert sandisk usb stick to computer, open it in disk management
Right click sandisk usb, change drive letter and path
Assign a new drive letter for your sandisk usb
Solution 3 - Enable usb root under device manager
Go to "Start">" Control Panel">" Hardware & Sound">" Device Manager">" Universal Serial Bus"
Double-tap on the first "USB Root Hub"Right click and go to its properties
Go to the "Power Management" tab. Uncheck "Allow this computer to turn off this device to save power" option and tap on "Ok".
Note: Apply this change to every USB ROOT HUB
Solution 4 - Enable Sandisk usb in bios

As you see in the above image that Bios has a setting that can control whether to display usb or not. To make sure this usb controller setting is enabled, you may do the following in bios.
Restart pc, press pause break before the os Windows logo appears
Check the instruction screen to see which button you need to press to enter BIOS, some times F8, you need to read carefully to press the right button to enter bios
Press pause break button and press the instructed key to go to the system setup
Select ADVANCED -> ONBOARD DEVICES/INTEGRATED PERIPHERALS and press enter
Select 'USB Controller', press + or _ to change it to get it 'Enabled'
Save the setting and exit the BIOS
Video - how to enable usb port in bios
Solution 5 - Sandisk Pendrive Not Detected Fix by Regedit Change
The following fix method is provided by Sandisk official.
STEP 1 - Backup the registry
1. Unplug the device from the USB port.
2. Run regedit.
Window 10: Type regedit, in the 'Search the web and Windows' field (lower-right) and then select 'Regedit - Run Command'.
Windows 7, 8 and Vista: Click the Start button, type regedit in the search box, and then press Enter.
Windows XP: Go to Start > Run, type in regedit and then click OK.
3. From the registry menu, choose File > Export.
4. Name the file SNDK.reg and save it to your desktop.

STEP 2 - Remove SanDisk info from the registry

WARNING: DO NOT delete any registry key other than keys that include VID_0781. Deleting registry keys other than keys that include VID_0781 MAY cause your computer to not boot properly.

1. From the registry menu, click Edit and choose Find.
2. Type in VID_0781 and click Find Next.
3. Once the search finishes, right-click the highlighted registry key and select delete.
4. Press the F3 key to find the next registry key that includes VID_0781.
5. Right-click the highlighted registry key and select delete.
6. Repeat this process until the search returns with No results Found.

NOTE: Under Windows 7, 8 and Vista, some registry keys may be protected and cannot be deleted. Simply skip over these keys if you receive a message that the key cannot be deleted.

7. Once all registry keys containing VID_0781 have been deleted, reboot your computer.
8. Plug the device into the computer after it's finished rebooting.
Solution 6 - Sandisk usb driver update by Chipgenius
Download chipgenius from the internet, unzip it
Insert your usb stick to computer, open chipgenius, and detect sandisk usb driver information and locate its driver software
Download sandisk proper driver software (according to what has been detected in chipgenius), install it on the computer for your sandisk, open it, run it to get sandisk usb drive updated
Usually the above sandisk usb driver update would work for most sandisk flash drives such as sandisk cruzer blade, sandisk cruzer glide 64gb when you want to download sandisk driver.
More ways to fix usb not detecting on computer [10 free ways]; or sandisk usb driver download
6 Ways to fix Sandisk USB/HD not showing up or detected error - Video Guide
Also read: 9 free usb repair kit
Usually, a flash drive shows as a removable disk after it is connectted to computer. When your SanDisk flash drive is not showing up, you might believe that the flash drive is corrupted or damaged.
The solutions offered on this page may work for your Sandisk usb when
Sandisk not detected by mac
Sandisk usb not lighting up
ixpand not detected by pc
sandisk 32 otg pendrive not detected on android...
Useful sandisk usb drive troubleshooting navi
Data Recovery When SanDisk Flash Drive Is Unreadable
This free data recovery software allows you to recover various kinds of files even when SanDisk flash drive is not showing up in my computer with just 3 simple steps.

Step1. Download and install iCare Recovery Pro Free on computer. Launch the software and choose a scan mode.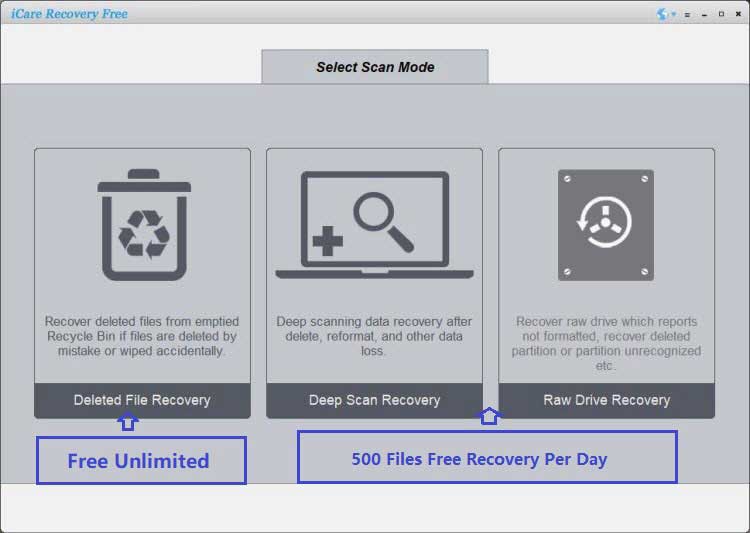 Step2. Select the detected device and wait the software to scan it for lost data.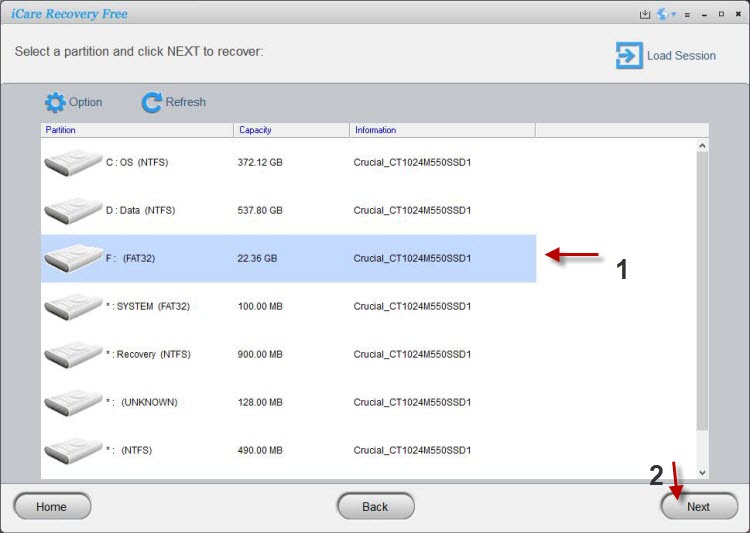 Step3. You can preview the lost data and recover it to another drive after scanning.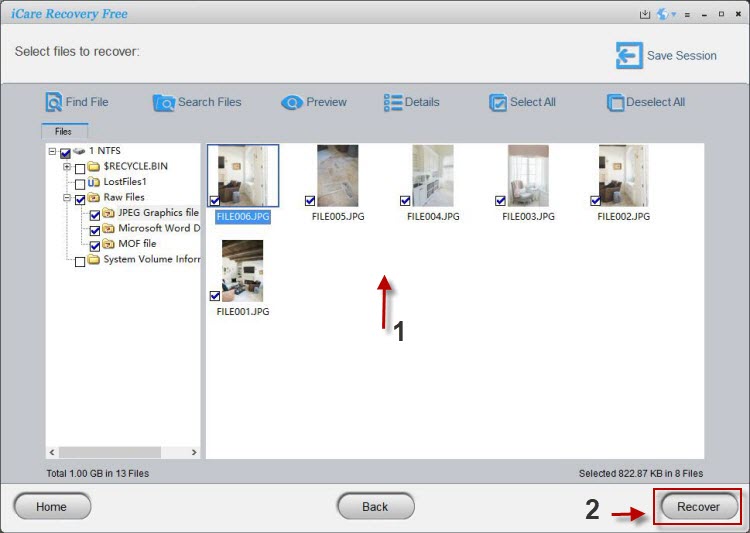 Also read: free sandisk cruzer data recovery
Hot FAQs
1, Q: My sandisk 32gb otg pendrive not detected in Android, how to fix it?

A: When the sandisk pendrive was not recognized in Android via otg, the file system may not match, you may

backup data

onto somwhere else, and then

format the pendrive in Android

with otg cable connected; if it still did not work, connect it to a Windows computer and try the above methods; or your sandisk pendrive is probably dying.

2, Q: My sandisk usb is not lighting up

A: You may try it on another usb port, or try it on another computer, backup the data to somewhere else at first, and then try formatting it or try the above methods to fix it.

3, Q: Sandisk cruzer won't open; sandisk us not accessible, not working, logical error or physical error?

A: Logical errors can be repaired with usb repair tools or you may update its driver to get it show in your computer or device while phsical bad cannot be repaired by any resource.

4, Q: Sandisk usb 3.0 flash drive not working?

A: It may contains logical errors or physical errors. You may firstly repair the logical errors on Windows computer with as many ways as possible; if the flash stick is still not working, you may try it on another pc or use another socket to test if it's physically damaged.

5, Q: Sandisk cruzer blade not showing up in my computer

A: When my computer or this pc does not show sandisk cruzer blade or sandisk ultra usb, you may update its driver as a first repairing. If the Windows driver update does not work for your Sandisk cruzer, you may use the usb driver update tools that were introduced in the above page as a second repairing. If it still does not work, then you may try it on another computer to see whether it was damaged, or you may try reformat the usb since usually a formatting can make a damaged flash drive work from many logical damages.
Fix sandisk usb drive not show up problem with the following solutions
Last updated on Nov 28, 2023
Related Articles