SanDisk Cruzer/Ultra USB Driver Download for Windows/Android
The Scenarios:
Sandisk cruzer is not detected on Windows 10 computer
Sandisk usb driver not working
Sandisk flash drive not recognized by phone/device/pc
Fixes: Sometimes a Sandisk usb driver update may get your sandisk usb error fixed especially when it's not detected or no longer recognized by pc.
These following sandisk driver download links/update are for you when you need
sandisk drivers, sandisk cruzer micro 2gb driver download
sandisk usb driver windows 10/8/7, sandisk anisha usb device driver
sandisk ultra usb 3.0 driver download, sandisk cruzer glide driver
Sandisk USB Driver Update Links/Ways
Part1 - Sandisk USB Driver Download on Windows
Note: Sandisk does not provide an official driver for sandisk flash drives or memory cards, so most often when you see sandisk usb driver download, these drivers are provided by third party companies who provide driver update with paid services.
Here are some free usb driver tools that you may download for safe and free usb driver update.
#1 Chipgenius
Download link: https://www.softpedia.com/get/System/System-Info/ChipGenius.shtml
Or https://www.mediafire.com/file/o5p373govnqkggr/ChipGenius_v4_19_0319_2019.rar/file
Video - how to use Chipgenius
#2 Broadcom Controller Drivers (Also works for sandisk usb)
Download url: https://www.driverscape.com/
#3 JMicron card reader
Download url:
https://dl.dell.com/FOLDER00951853M/5/CardReader_JMicron_W7_A01_TKH3F_ZPE.exe
Part2 Update Sandisk usb driver without software (Automatically by Windows)
#1 Device Manager Disk drives uninstall
Sandisk cruzer blade or utra usb driver can be downloaded automatically in Windows computer if you insert the usb in a computer, uninstall it in device manager, reinsert, and scan for new changes from ACTION and get the new sandisk usb driver downloaded automatically without any third party programs.
Step 1 - Right click 'This PC' on your computer desktop, and go to option -> Manage
Step 2 - Click 'Device Manage' -> Cick the + incon in front of Disk drives and then click -> Uninstall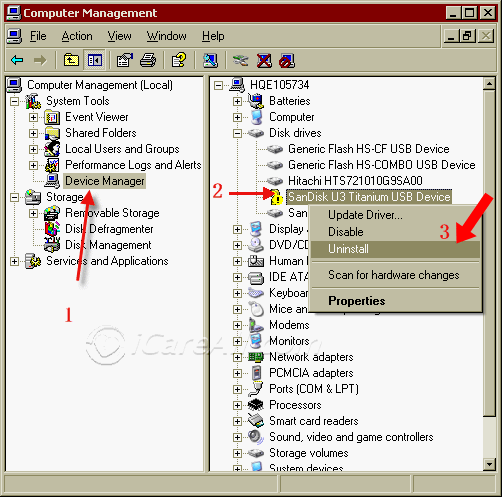 Uninstall Sandisk device in computer
Step 3 - Insert sandisk usb again, and come backup here in the management part of computer by the same right clicking THIS -> Manage.
Now, this time, click the ACTION tab in the up front part of computer management, and then go to option "Scan for hardware changes" to load sandisk usb driver on Windows 11/10/8/7 easily.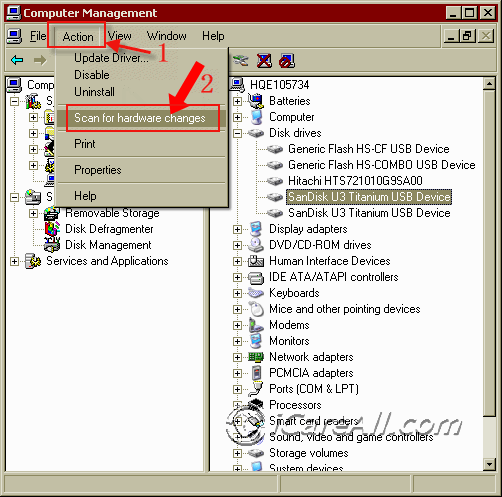 Scan to recognize Sandisk device
Resource: https://kb.sandisk.com/app/answers/detail/a_id/10/~/cruzer-flash-drive-not-detected-by-windows-pc
#2 Sandisk cruzer driver download by updating the driver in Device Manager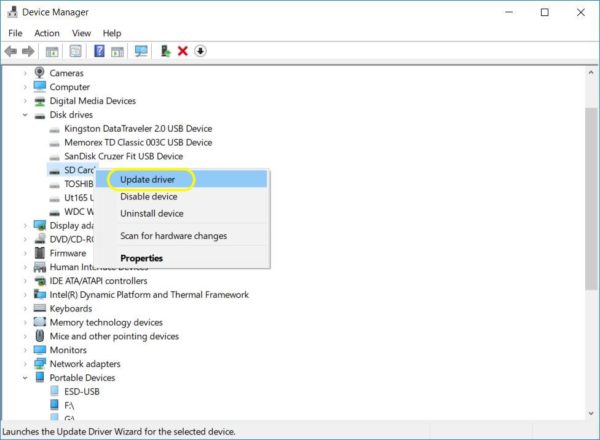 #3 Update Sandisk ubs driver in Universal Serial Bus Controllers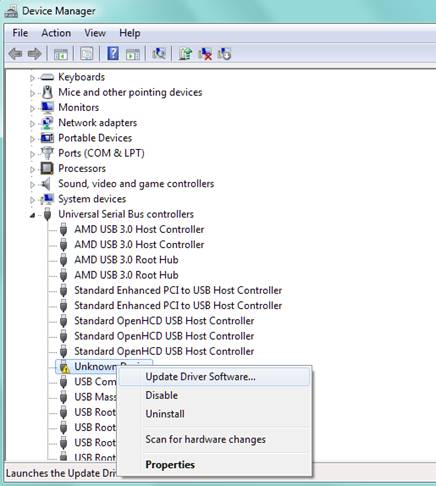 #4 - Update Sandisk usb driver by changing its driver letter in disk management
#5 Sandisk usb driver update by formatting sandisk to fat32
When sandisk flash drive is not working, a reformatting may get it work and fat32 is suitable for all sandisk flash drives.
Formatting sandisk cruzer/ultra can be done in a Windows computer by a right click formatting and you can choose the file system FAT32 in the format window.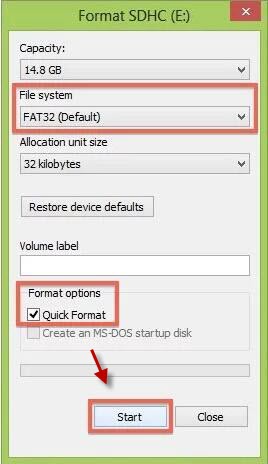 Also read: how to format sandisk usb fat32
Part3 - Sandisk usb driver for android
The Question: Is it possible to update sandisk usb driver on android, or what if you want to update sandisk sd card driver on android?
The Solution: When there is no sandisk cruzer driver for android phone, you may format the usb on android to get some logical errors fixed simply by a reformatting(Erase USB storage).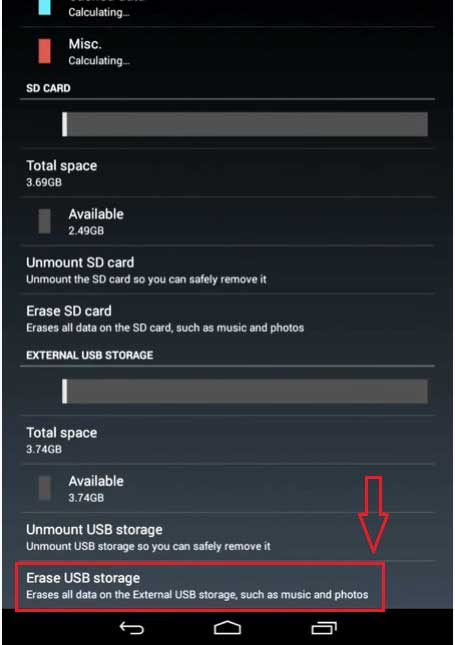 Useful sandisk usb drive troubleshooting navi
Data Recovery When SanDisk Flash Drive Is Unreadable
This free data recovery software allows you to recover various kinds of files even when SanDisk flash drive is not showing up in my computer with just 3 simple steps.
You can preview the lost data and recover it to another drive after scanning.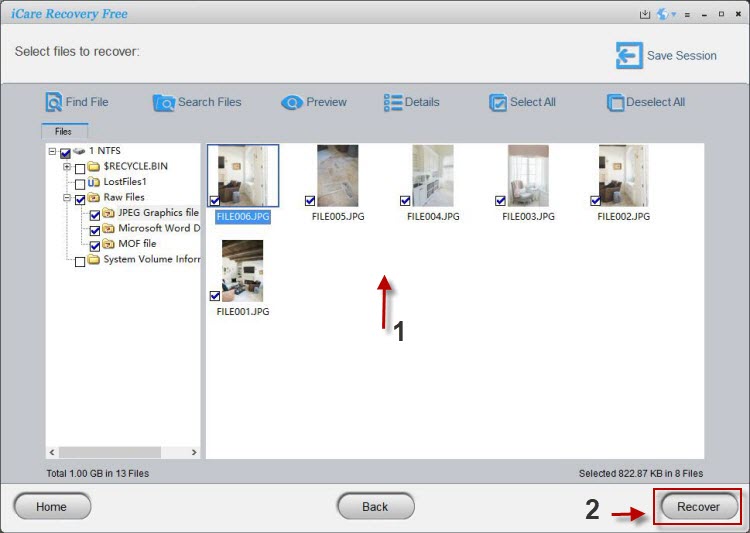 Also read: free sandisk cruzer data recovery
Hot FAQs
1, Q: How do I download Sandisk driver?

A: When the sandisk usb is not working properly, we recommend you go to Sandisk official support help online website to look for some help at first. The url is https://kb.sandisk.com/app/answers/detail/a_id/4306/~/usb-flash-drive-support-page; if you want to update Sandisk usb driver, there is no sandisk released usb driver available, the only option is to download some other usb driver instead, such as chipgenius, broadcom usb driver...

2, Q: How do I get my computer to recognize my Sandisk?

A: There are many causes for a sandisk not being recognized, here you may check all possible cauases here https://www.icare-recovery.com/howto/sandisk-flash-drive-is-not-showing-up.html

3, Q: Sandisk ultra usb driver, sandisk cruzer glide driver, sandisk usb 3.0 64gb driver, are they using the same driver?

A: These are different products from Sandisk, you may get the sandisk usb driver download on Windows 10 or 7 automatically.
Last updated on Nov 28, 2023
Related Articles