How to Recover Photos From Kodak Camera Free
The Scenarios: Kodak memory card error, Kodak memory card is not showing pictures? or Kodak memory card not showing anything? Deleted raw kdc image on Kodak camerra?
Don't worry, this page provides a free Kodak camera sd/cf card recovery.
This article includes:
Can you retrieve images from Kodak gallery
How to recover photos from Kodak free with Kodak easywere software free alternative
How to Undelete Photos from Kodak Gallery
The question: How do I recover photos/videos from my kodak camera?
If you accidentally deleted photos on Kodak gallery, there is a free way to undelete pictures by using freeware iCare Data Recovery Pro free that could help retrieve deleted images, videos from Kodak and it also works if you want to recover deleted files from camera internal memory.
Kodak Easywere Free Alternative - 100% safe without rish
iCare Pro Free is a free Kodak easywere software alternative for recovering photos from Kodak memory card recovery when you accidentally deleted or formatted images on the Kodak camera sd card or kodak camera internal memory. Here are the steps for a recovery.

1. Download iCare Data Recovery Pro Free Launch iCare and insert your memory card or kodak camera to computer Windows 11/10/8/7 and you will see a main menu. Click the "Deep Scan Recovery" button to move on.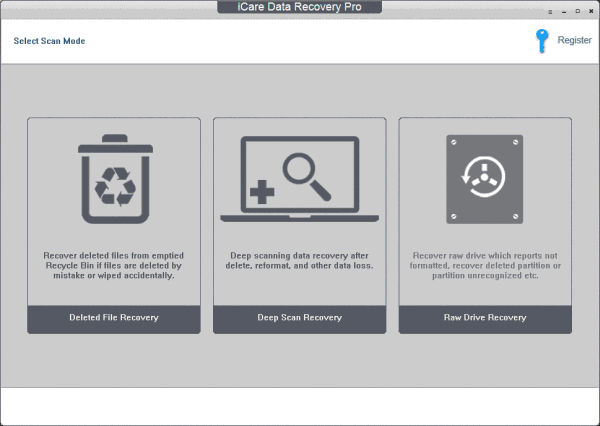 2. Select camera drive/card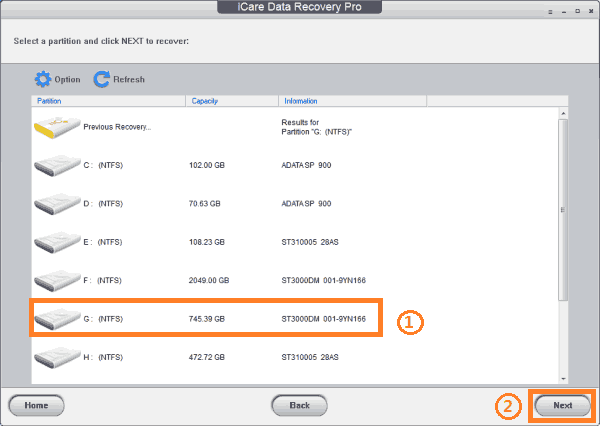 3. When scanning is done, you can select "Show Files" to preview the scanning result.

4. Select the photos to recover and choose where to save them by clicking the "Save Files" button. Afterwards, you can see the recovered photos from the location you selected.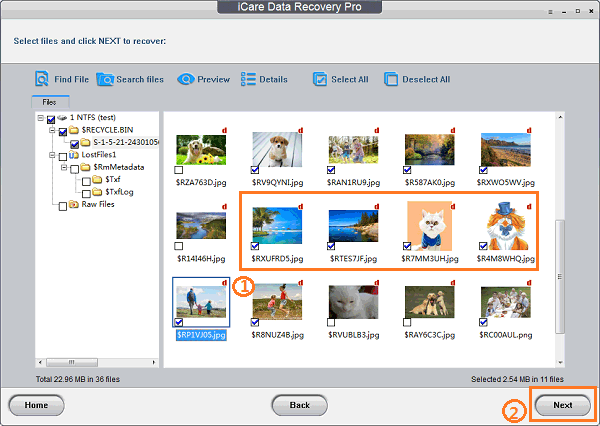 Note: This free tool has limiation of 1GB free recovery.
Do & Don't
Do put the Kodak camera in a safe place.
Do consult your Kodak camera user's guide.
Do not take any photos when your camera gets a memory card error.
Do not save new files to your camera when it cannot connect to computer.
When you insert memory card in Kodak camera, the digital camera cannot detect memory card? Do not worry! You still have chance to retrieve lost files by using iCare Data Recovery software.
How do I Recover Permanently Deleted Photo from Kodak
For travel lovers, Kodak camera is a nice device to capture cherished moment into images during journey. However, no matter how excellent the device is, it will encounter some unexpected errors. At times, you may delete your photos in a hurry. Alternatively, when you insert a memory card into camera, the screen prompts, "Memory card error. Memory card parameter error"...
While snapping photos, you may easily delete some photos without thinking over whether they are meaningful or not. When you get a break to view all these photos, you might disappointedly find the photos you saved is worthless and eagerly want to recover the photos. Here iCare Data Recovery can help you to bring them back.
First download a copy of iCare Data Recovery Free from the page
Download and install it on your computer.
Connect your camera to computer, and then launch the program.
Click "Deep Scan Recovery" on the main menu to move on.
Select your device from the partition list and then press " Recover" to start scanning the deleted files
Click "Show Files" to preview the photos you want to recover.
Select the photos and set a location for them. After clicking "Recover", you can view the recovered photos.
FAQs
Q1. I have an older Kodak camera. I have saved photos on the internal memory, but the camera cannot power up at all. How can I retrieve photos from the dead camera?
A: You may check whether there is a card inside or charge your camera again. If these do not wok, connect directly the camera to the computer. Run iCare Data Recovery to recover the photos.
Q2. Last night I unintentionally delete a photo from my SD card on my Kodak camera. I have tried many photo recovery programs and retrieved numerous photos except the one I just wiped. Is there a better program would be able to recover it. Let me know if anyone has better suggestions.
A: The recovered photos mostly will be renamed, so you may check every single photo to ensure the one you want. If you need, iCare Data Recovery Pro would be a good one. It can safely retrieve all data from damaged, corrupted or formatted digital camera.
Question: Where are my pictures located on my kodak Easyshare?
Where are my Kodak EasyShare pictures?
C: > Users > Public > Public Pictures > Kodak Pictures
Question: What happened to photos on Kodak Gallery?
If photos are not showing in gallery, it means the kamera gallery storage is logically damaged that won't show images. You may use iCare Pro free to restore photos from Kodak gallery.
Question: how to recover deleted pictures from kodak memory card free
RECOVER DELETED PHOTOS FROM KODAK is easy with professional recovery tool like iCare Recovery Pro if you stop using your camera for taking more photos once you know there are photos deleted by mistake, pull out the camera memory card, and insert it to a Windows computer, download the program iCare Recovery Pro, and start a free recovery. It's totally free if the images are within 1GB.
Also read: memory card recovery free software
More Related Articles You May Like